Friday 13th January 2017
We are so pleased that the snow didn't really come to fruition today.  We aren't party poopers for those of you who love the snow, but the disruption it can cause is what ruffles our feathers.  Well done to everyone who made it into school without slipping or falling.
Once in school, we were treated to the most amazing 'Mad Science' Assembly.  We are currently working towards our Primary Science Quality Mark and so this was an exciting introduction to some of the things we have coming up.  There is also the offer of a Science Club run by our visitors in school this term, so please look out for their letter in your child's bag.  First week done and dusted already! Have a lovely weekend.
Thursday 12th January 2017
Before the holidays, I was delighted to receive so many 'BFG Dream Jars' from the children.  It has been wonderful seeing so many of them come back into school with your lovely ideas, hopes and wishes on them.  I am hoping to display these over the next few months around school, so please look out for them appearing and share in the dreams of others.
Wednesday 11th January 2017
A new year means a new start for lots of things and at school we are aware that sometimes, we have lots of information that all comes out at once, usually at the start of a new term.  We appreciate that this can be a little overwhelming but please do not hesitate to ask us here in school.  Your child's class teacher, the office staff and myself are all happy to help if we can.  We would rather that if you had concerns that you didn't take to social media to discuss them or speculate as sometimes this can generate more panic or confusion.  Remember, we have a school Twitter feed too and if you follow us on Twitter, you can directly message me and I will endeavour to answer any questions you may have.
Tuesday 10th January 2017
Last night, your child may have come home with a letter regarding some exciting new P.E initiatives, club and competitions that we are entering into.  Some initiatives are for certain year groups only, but do keep on checking each half term.  All children at some point will have access to the competitions or clubs, some of which will be held at other local schools and venues and others that will be in house activities at lunchtime for pupils. Mrs Belsten is in charge of all things PE and is inspiring all of us with her energy and enthusiasm for it!  Please also check to see that letter about Snow Day which should be with your child tonight.  This letter pre-empts the weather forecast we have coming over the next week or so, so please do hang onto it as it explains all of the possible scenarios and how we deal with them in school.  The letter can also be accessed by clicking on the link below
Monday 9th January 2017
Happy New Year everyone and welcome back!  I am hoping that you all had a relaxing break.  I know that leading up to Christmas and with finishing so late, we were all exhausted but the long break after Christmas certainly helped to recharge my batteries.
As with most holidays, we only have to be back five minutes and it is like we've never been away!  Everyone has settled back into their routines brilliantly and we look forward to all the  new learning opportunities that 2017 will offer us.
Thursday 15th September 2016
'Animal In-tuition' visited our upper juniors today as part of their topic of 'Our Environment'.  As the pictures below suggest, we had some very interesting visitors – some with 4 legs, some with 8 legs and some with over 100 legs! The children are a lot braver than I am, as I didn't even venture into the same room as these creatures, but they were (mostly) happy to hold, stroke or look at them, learning lots about the evolution of these creatures.  Ask your child which creatures they met and what they learned about how we as humans came to be!
Wednesday 14th September 2016
Today is the first day that Reception pupils have taken part in outdoor PE.  These sessions are run by sports coaches from Cheshire Primary Coaches who have worked at Warren Wood for several years.  All of their coaches get to know the children through these sessions, but also run a lunchtime activity club for us and after school clubs too.  They teach a variety of sports skills and activities ranging from 'Active Kids' sessions to full sports such as football, lacrosse, orienteering and den building.  Such activities build up throughout the school life of the pupils and so a good range of different activities will be learned by your child, over time.
It was lovely to see all of Reception in their PE kits, wearing smart and uniform white plain tops and dark tracksuit bottoms.  Unfortunately, not all of our pupils have remembered our dress code, which hasn't changed for years!  Creeping back in have been football shirts, expensive trainers and tracksuits and this has cause some confusion between pupils as to what is allowed.  Therefore, a letter has been sent home tonight to clarify such discrepancies.  Please remember, whilst uniform is not statutory, it gives pupils a common sense of belonging, it looks smart and it makes your life easier in not worrying about 'what to wear' or breeding completion. We would ask that for the benefit of all pupils, that we keep to these requests with pupils wearing what is stated on the uniform letter and website as agreed by our governing body.  In terms of specifics about trainers,  whilst our letter says 'black or blue' we appreciate that trainers come in all colours and that you may have purchased others that vary from this.  This is fine also, but please be mindful that your child will be doing outdoor sports in all weathers and sometimes on the field and so standard trainers may be easier to maintain than more expensive ones that you may not like damaged.  Thank you for your co-operation in this matter.
Tuesday 13th September 2016
Today, we celebrated the 100th birthday of the author, Roald Dahl.  Everyone entered into the spirit of the day brilliantly and dressed up as their favourite character.  Have a look at our gallery below and see if you can spot yourself or your child!  If you are on Twitter, you will see these pictures as they happen daily to keep you fully informed of day to day life at Warren Wood.  You can find us on Twitter using our tag @W_W_P_S  and when using this today in a national broadcast, we even got a retweet from the famous poet, Michael Rosen!
Thank you so much to everyone for all the time and effort you went to in creating or buying cotumes which helped to make it such a memorable day for all of us.
Monday 12th September 2016
Our first full week in school with our Reception pupils in full time too.  It is lovely to see them having settled in so well and I am trying desperately to learn everyone's names and faces.  That goes for parents too, so please bear with me whilst I get used to the new faces amongst you.
As our school year begins and our old routines settled back down, just a few reminders.  Firstly, Reception pupils are starting their day at 8:50am and being collected at 3pm for the next few weeks.  This is to establish routines for you and us in getting to know each other, places where you stand to pick your child up etc.  Once the Reception pupils are fully settled, we will send home a letter advising you of when they will also be collected at 3:15pm.  This will help those of you with older siblings in school to establish your routines too.
Secondly, the three gates for entrance to school will be locked at 9:15am and re-opened at 3:00pm.  During our building work, when our front gates were used manually, I know many of you chose to arrive a little earlier to collect your children.  However, in the interest of safeguarding and the fact that the playground and outdoor spaces are used for teaching and learning until 3pm, we cannot have the grounds open before this time.  Please be mindful that Mrs Field our caretaker will be unlocking these gates at 3pm but cannot be in three places at once, so please bear with her as she moves between gates!  The exception to this will be the front gate which will soon be back to being used with the electronic buzzer and keypad.  Should you need to pick up your child early, please buzz at the front gate and come straight to the front office to collect them where the office staff will be happy to help you.
Whilst these rules may be different from how they have been in some parts of the building work, can I assure you it is how they always were and we are only ensuring that we keep your children as safe and happy whilst they are in school as you do when they are will you.
Friday 9th September 2016
From the creation of a brand new school hall in the centre of or building to the reality of day to day school life.  Today, that reality is 50 Reception pupils eating a school dinner in the hall for the first time.  It was an amazing sight to behold – lots of beautiful manners were heard from pupils asking with a 'please' and a 'thank you' and everyone settled down and wolfed down their dinner brilliantly.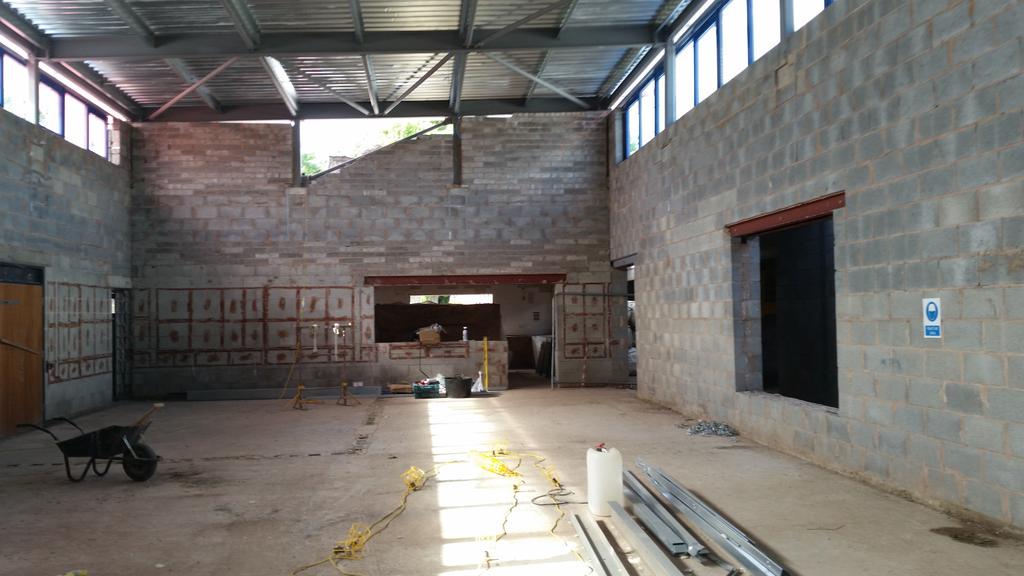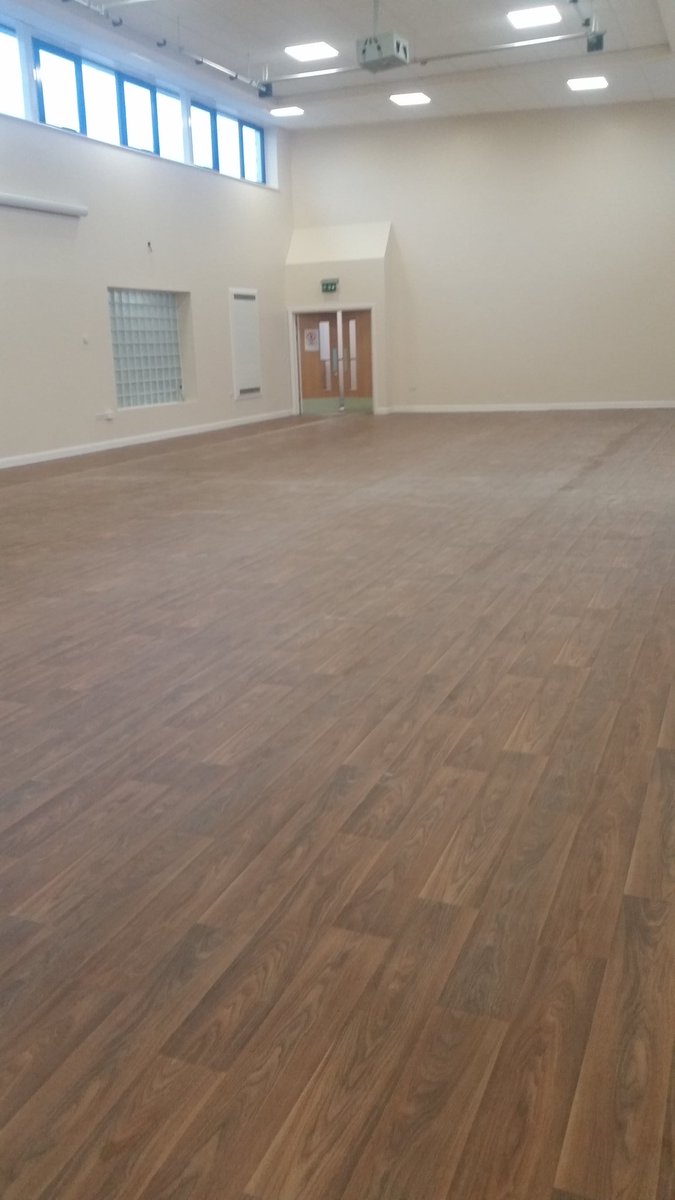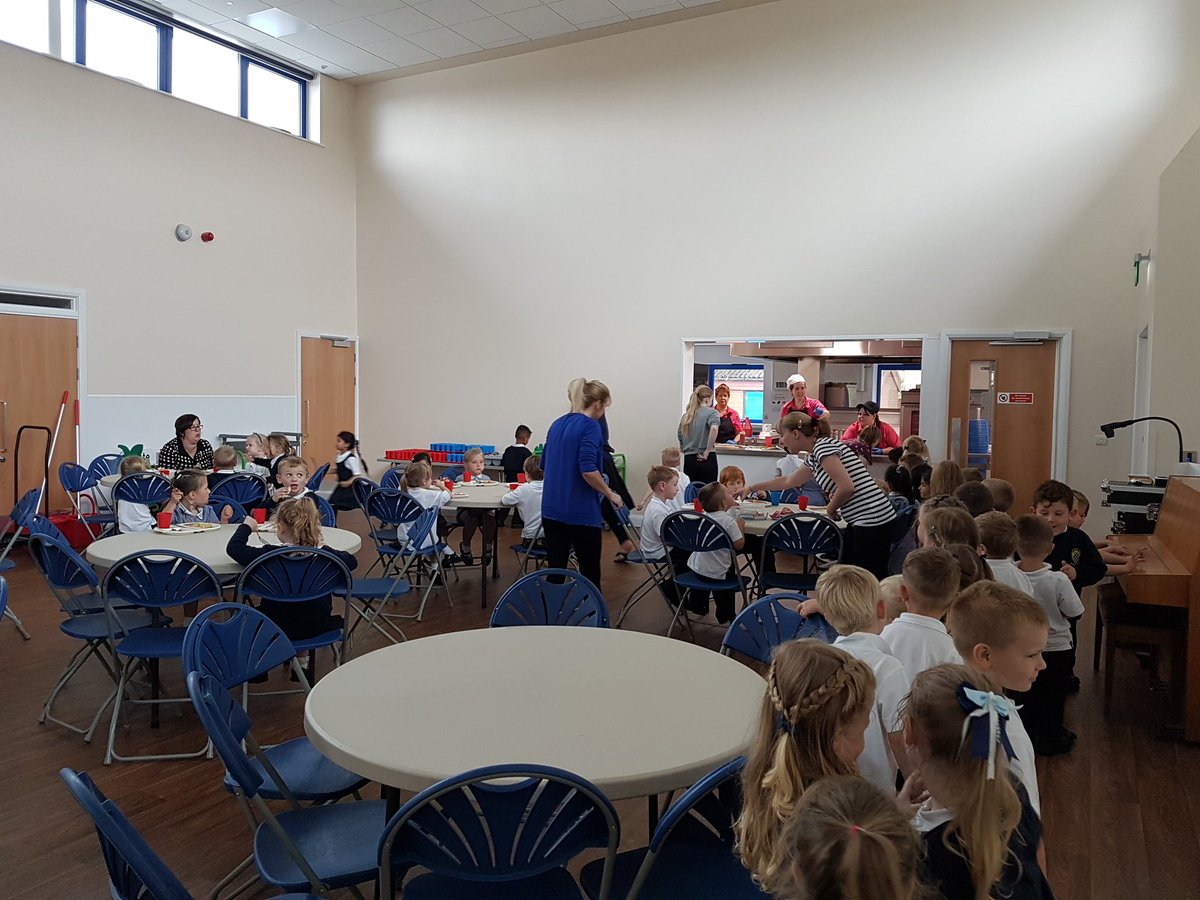 Our kitchen staff (pictured below) are (from L-R) Marilyn Chapman (General Assistant), Silvia Emerick (Cook) and Vicki Redshaw (Assistant to the Cook).  They are trying to learn the children's names whilst serving them their lunches each day.  They will be serving children lunches to suit their dietary needs but also in the hope of encouraging them to try new foods too.  All children will be encouraged by our midday staff to try a little of everything, but leave what you can't manage or don't like.  This was certainly the way many of our generation were raised to use our table manners and so we are happy to encourage this as we serve and feed the pupils.  That said, our dinners are so delicious that I never leave anything on my plate and with 2/3rds of our entire school having a school dinner each day, I think many of you agree with me!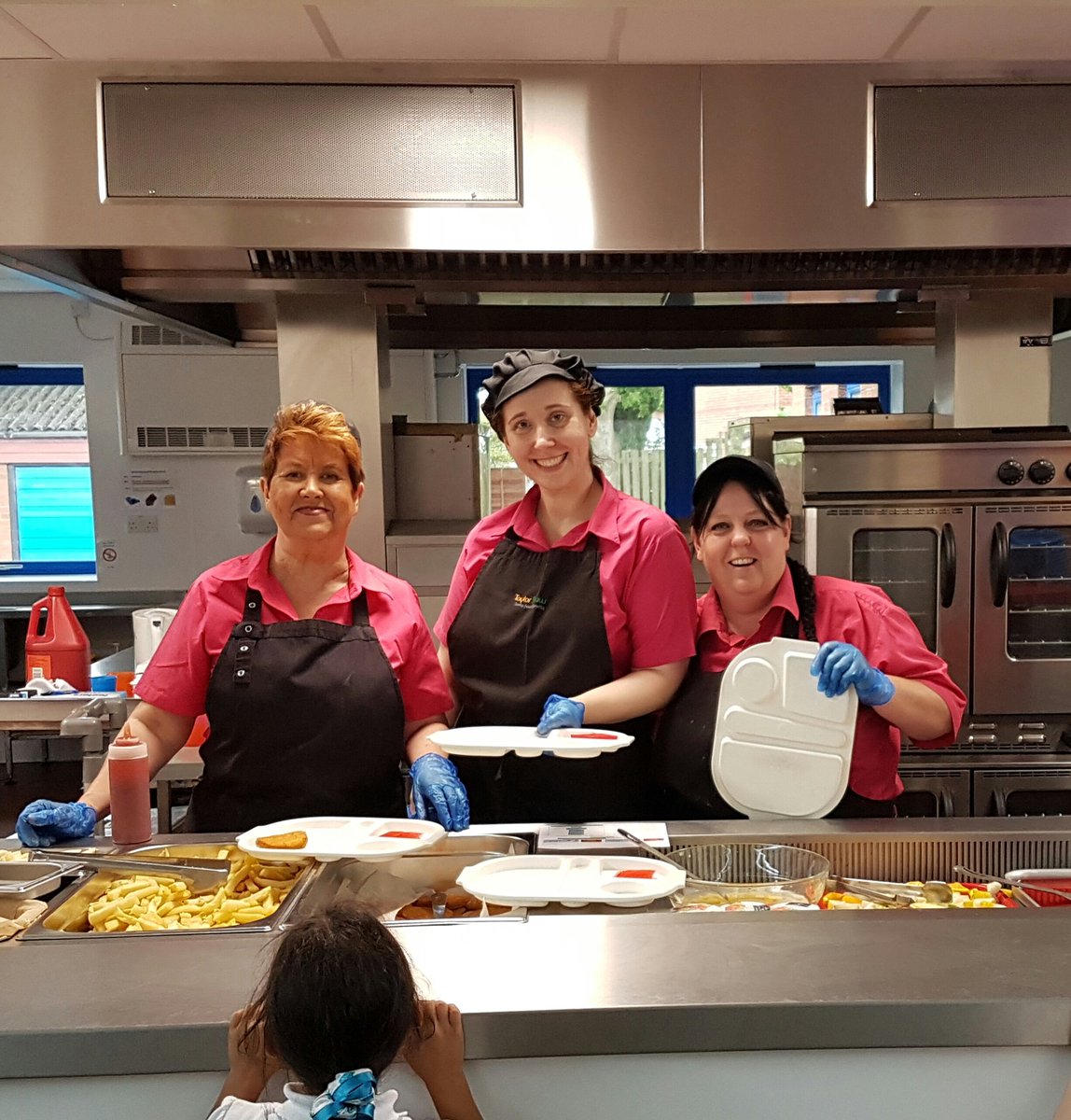 Thursday 8th September 2016
On this day last year, our new hall roof was only just being fixed together and put in place.  Today, our car park is finally being finished in what signifies the last major piece of work in our school rebuild.  The car park is for staff and visitors to our school from other schools and agencies only.  We also take deliveries and have services who visit school on a weekly basis and this must also provide access for them.  We must respectfully remind parents that the car park is not to be used for dropping your child off or picking up after school, even if they have an appointment.  Our electric gates may not be working at the moment, but once they are again, this will be easily enforceable, but in the meantime, please do try to remember as it keeps it safe and fair for all.  Thank you.
Wednesday 7th September 2016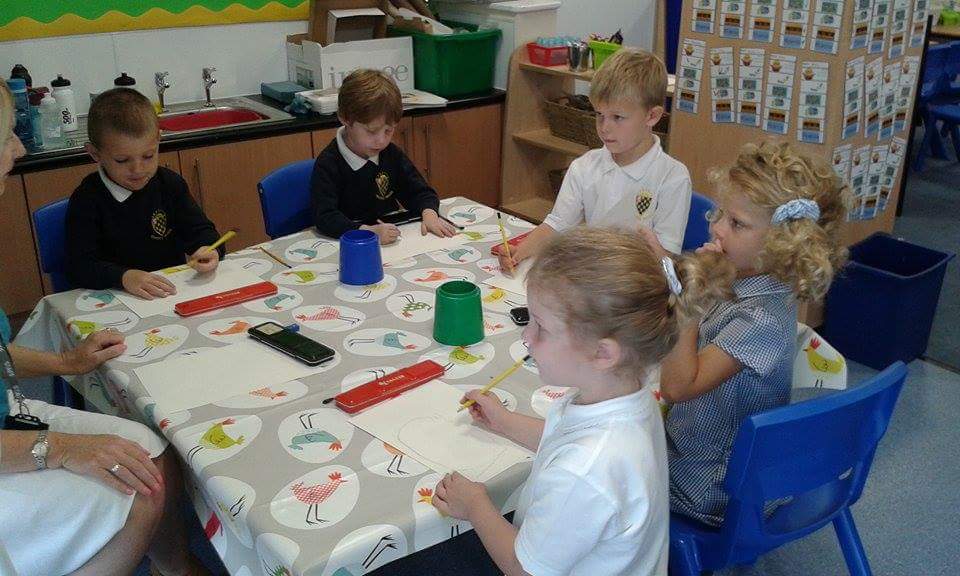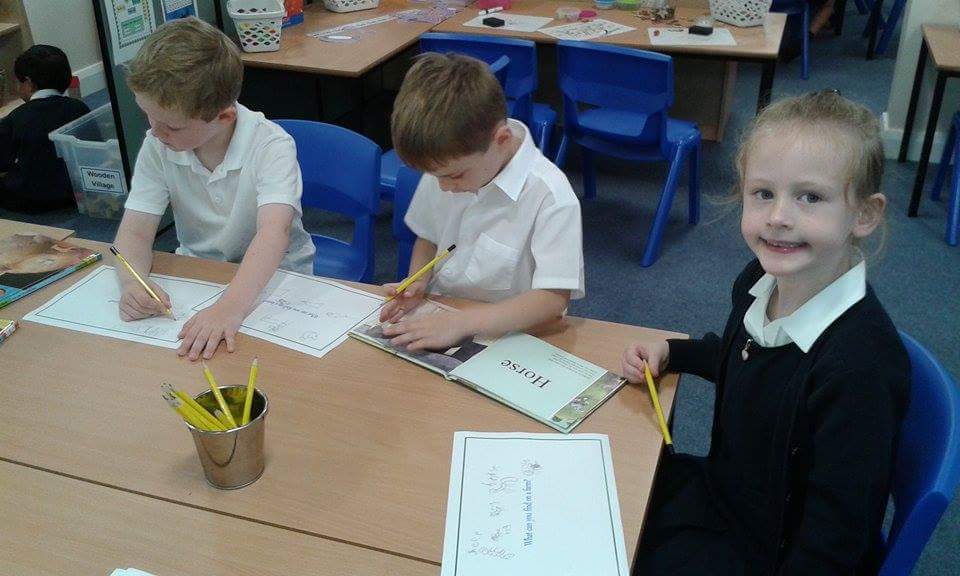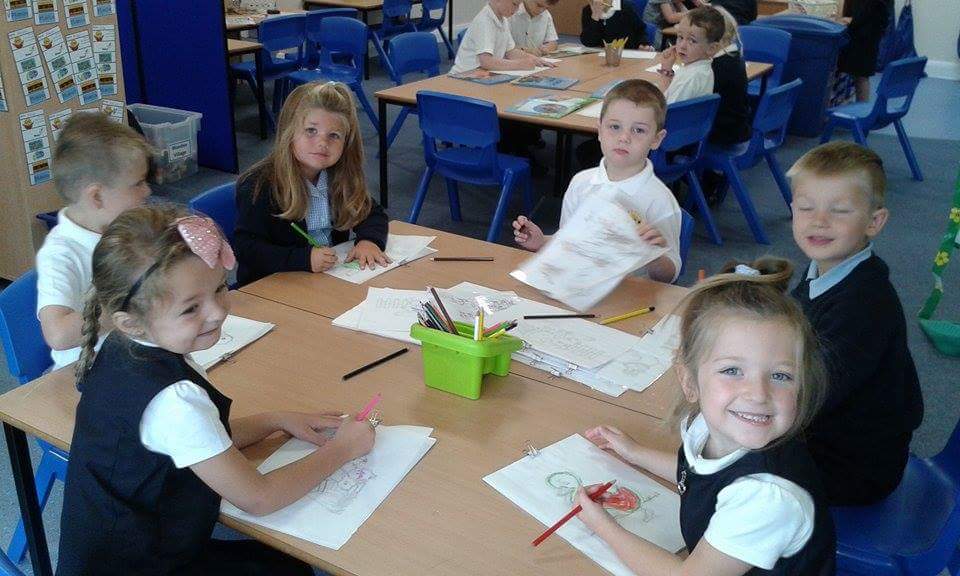 As everyone settles down in their new classes and with their new teachers, it is a real joy to walk around school and see just how much everyone is enjoying their learning.  Pictured above are Year 1 pupils using different art skills in portrait painting and drawing.  Even if the work provides challenge (which of course we make sure it does!), pupils are beginning to display real resilience in their attitudes to learning.  Our ethos is very much about this – knowing it is alright to make mistakes as this helps us to learn how to get things right, how to change and adapt and how to move forward.
Tuesday 6th September 2016
An exciting day for our Year 6 pupils as they are given the ultimate Warren Wood responsibility – their very own reading partner in Reception.  Each pupil is paired up with a younger pupil to support them in their early reading experiences.  However, experience tells us that they become so much more than that – they become friends for life!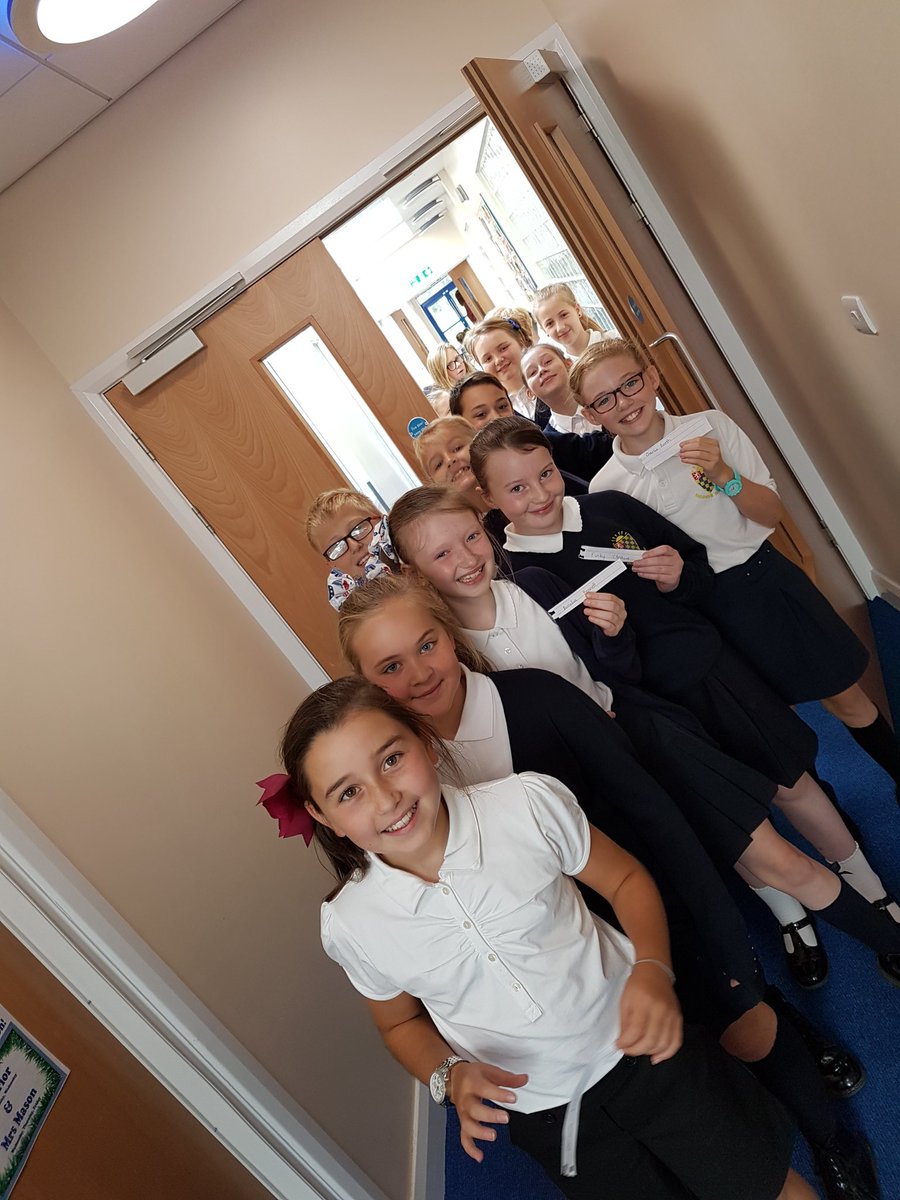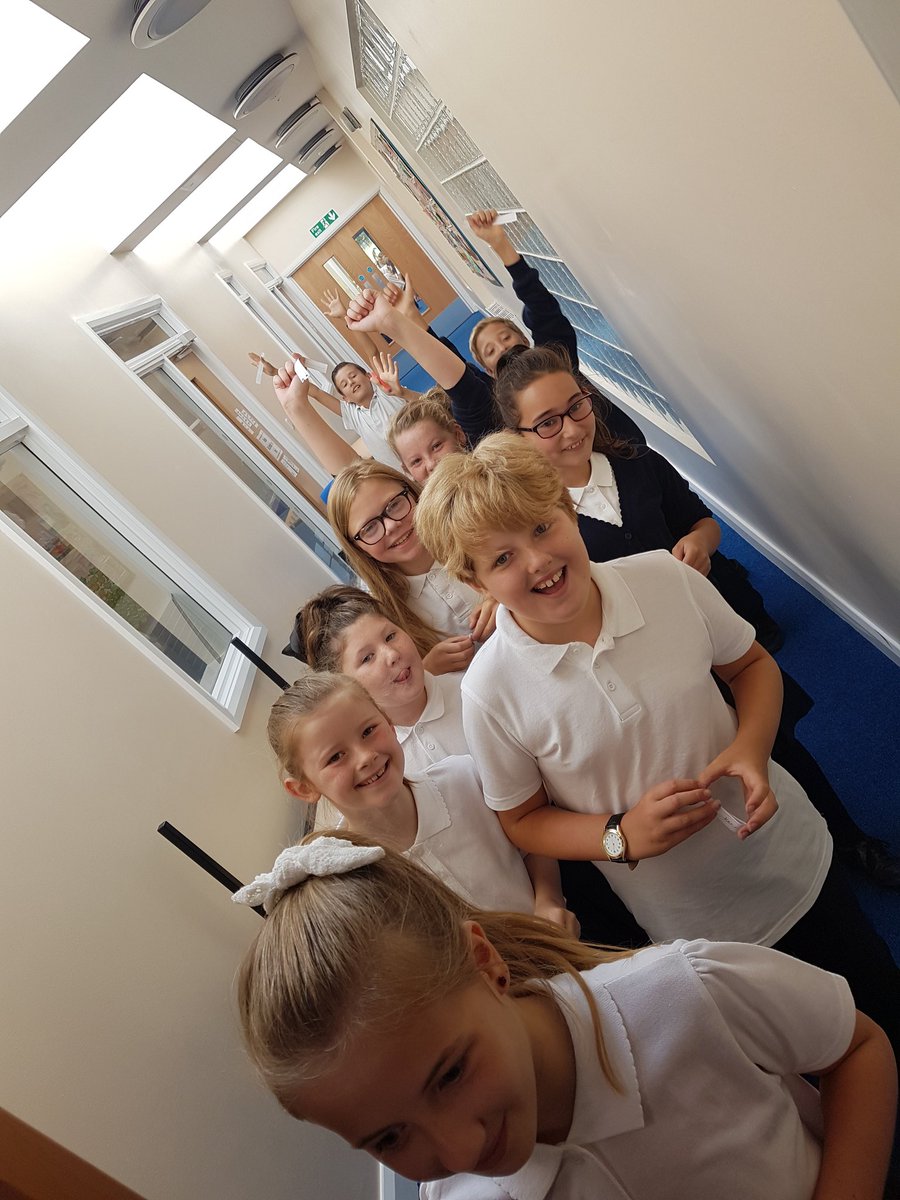 If your child is in Year 6 or Reception, please ask them about their new Reading Partner – I'm sure you'll be hearing lots about them as the year unfolds.  In fact, as this scheme works so well for our pupils, we rolled it out to our Year 5 and Year 1 pupils too!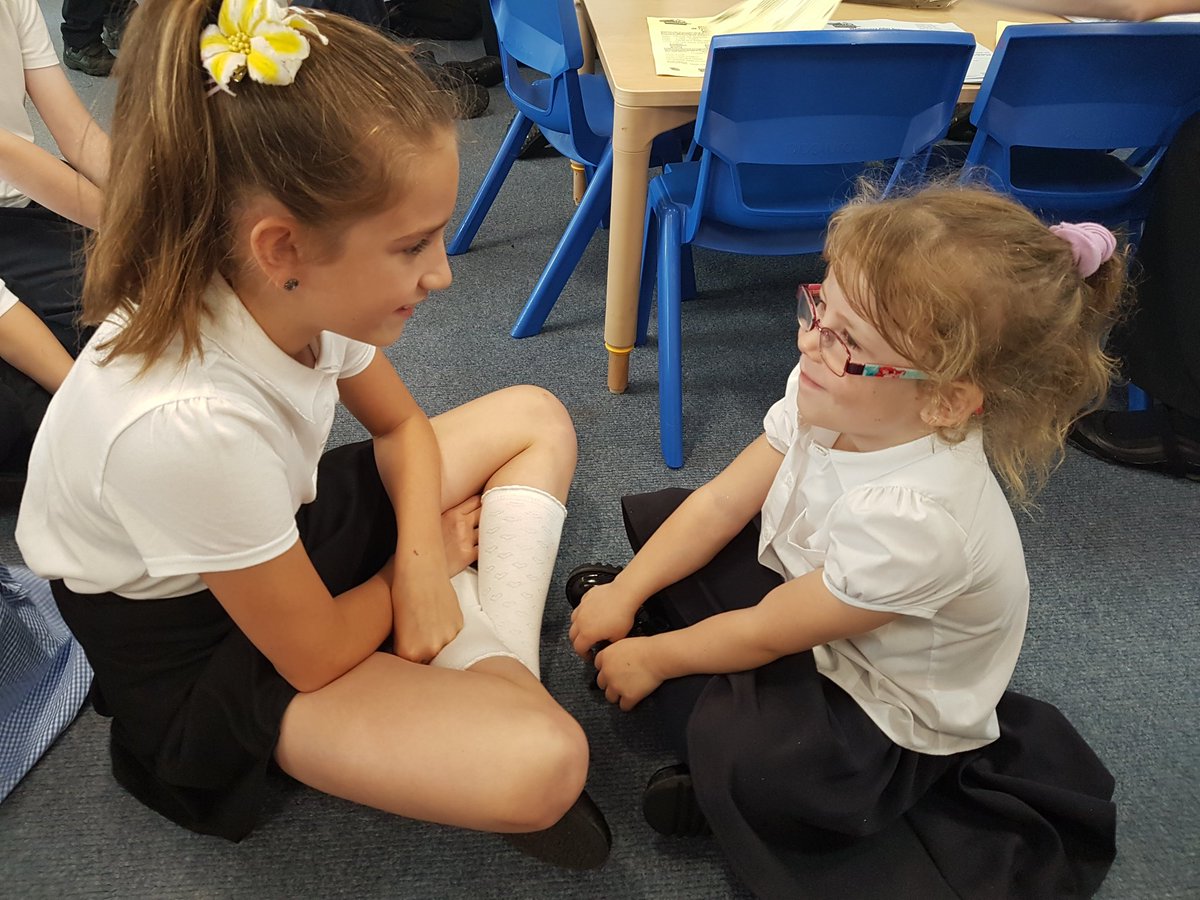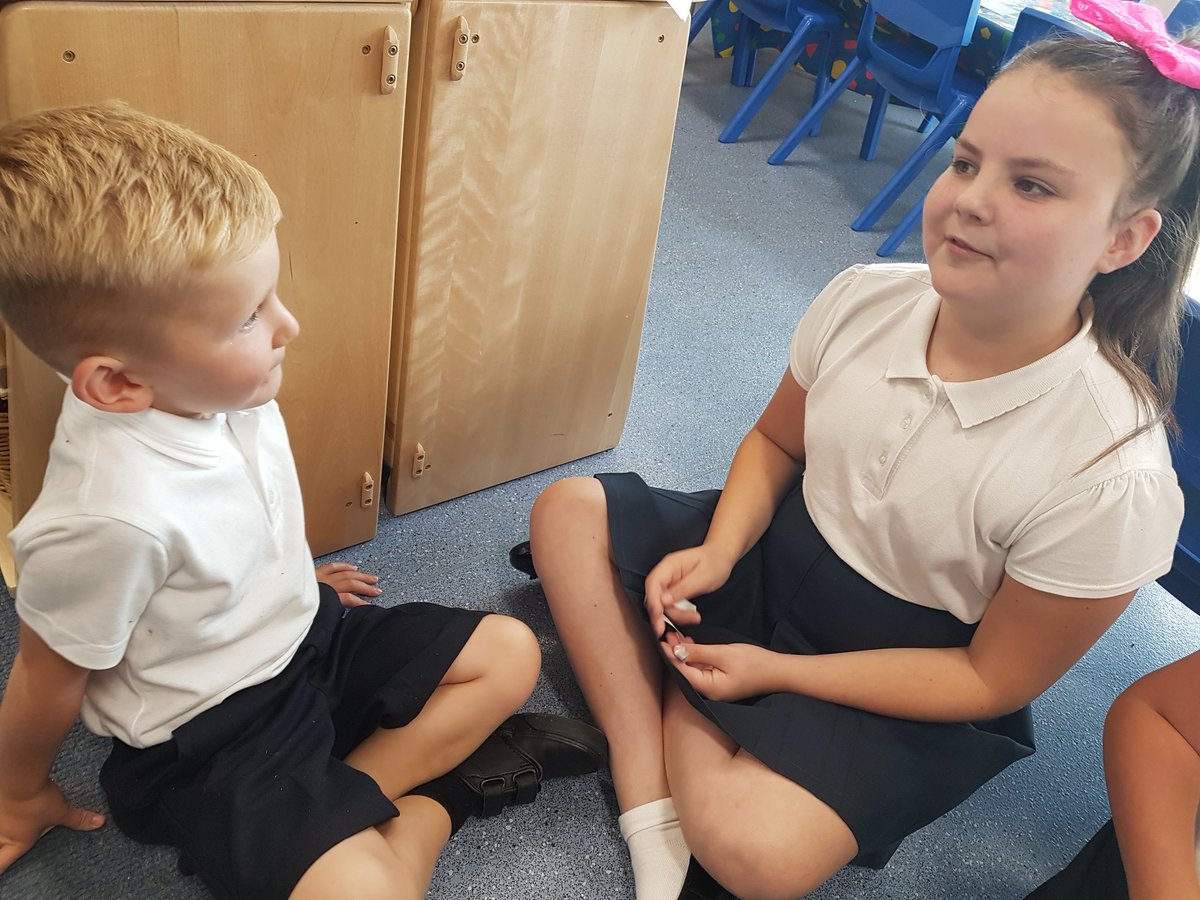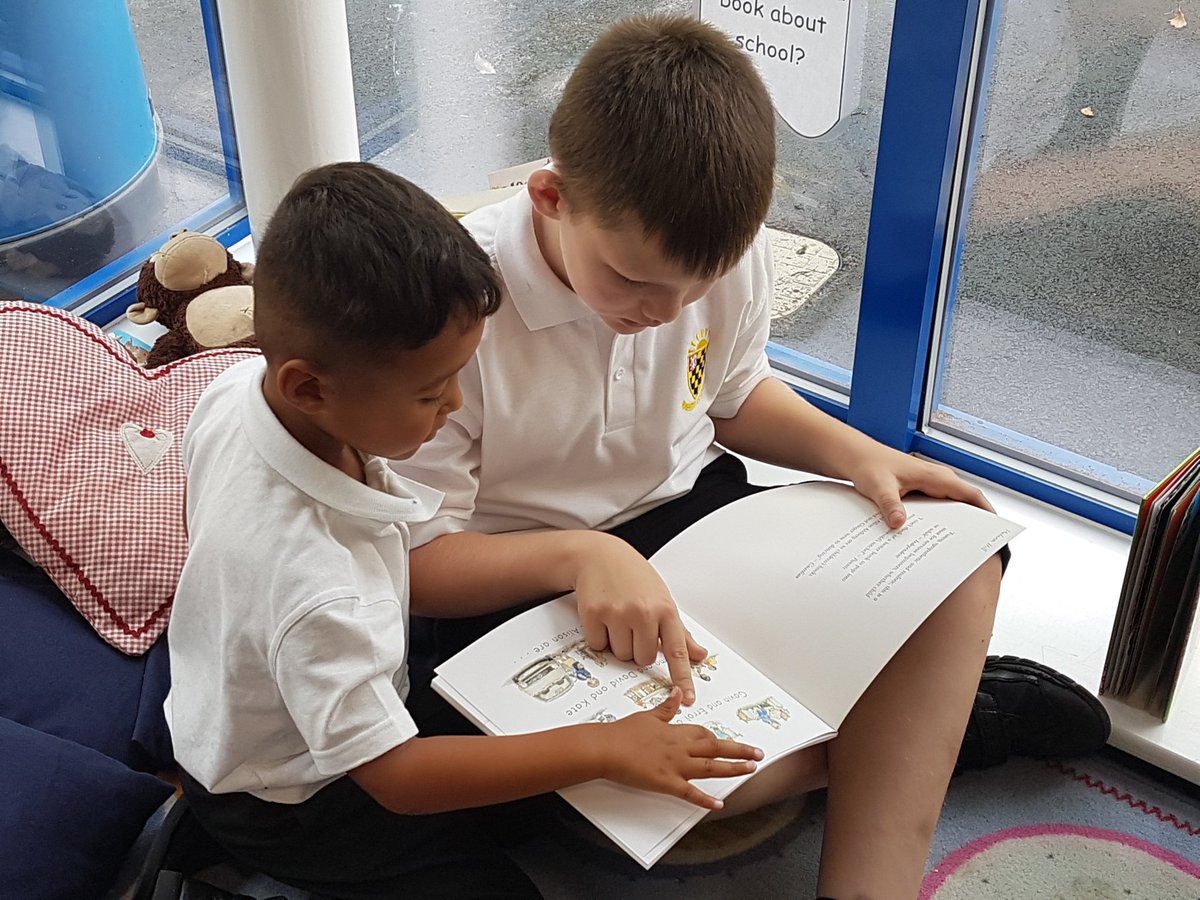 Monday 5th September 2016
Welcome back everyone! What a wonderful start to the day, the term and the year ahead.  Everyone came in with smiles on their faces and ready to learn.  Our first assembly of the year was entitled 'Dreams'.  We thought about our dreams for the year, how we want things to be, the targets we have for ourselves and how we want to improve.  We have started to serialise 'The BFG' by Roald Dahl too.  Each week, I shall be reading several chapters to the school and discussing the morality, feelings and resolutions made throughout the story.  After this, a walk around school to see everyone in class was a joy and if we carry on like this, it's going to be a great year!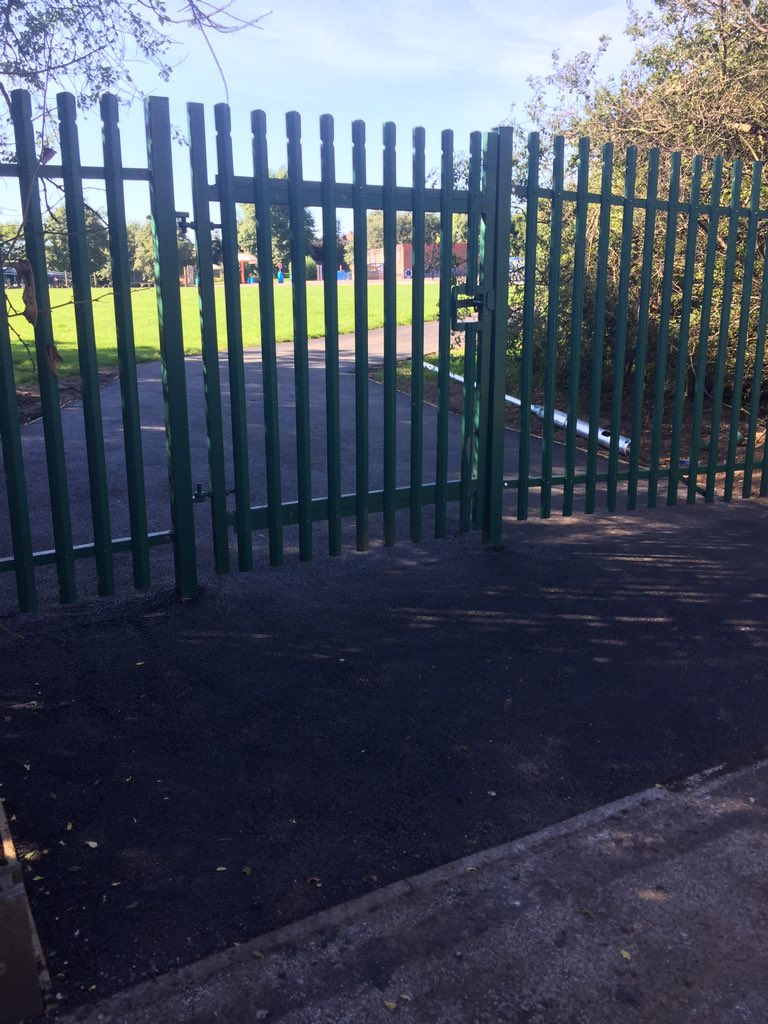 We are also opening up a third entrance to school.  This is situated at the back of the playground, leading onto Shearwater Road.  There is a path from it, along the top of the field which takes you to a new bike shed too.  This gate, along with our others, will be opened at 3:00pm each day.
A special mention must go to our Reception pupils too who started school for the first time today.  There were so many smiling faces, hardly any tears…and that was just the parents!  Seriously, your children settled in brilliantly for Day 1 and are a credit to you and their pre-school settings.  We have high hopes for you all!  Welcome to Warren Wood!
Friday 2nd September 2016
Whilst all of you are enjoying the last day of your holiday, all of the teachers, teaching assistants and midday staff are in school having first aid training.  This covers all aspects of emergency first aid and medical situations for children and adults.  Whilst we are not experts by any stretch of the imagination, we are now all fully up to speed with methods and techniques of first aid that will help pupils, parents and staff around school should we ever need to know.  See you all on Monday.
Thursday 1st September 2016
Welcome back to all the staff.  It is a lovely to be back after the summer break – and I really do mean that!  Whilst I love my holidays and having a little rest and relaxation, I also thrive off the routine and order that school gives us.  Today, all the staff have looked at the calendar for the year ahead – we have started to plan some events and concerts along with lots of activities for the staff to further develop our school, aiming to be the best we can be in providing your children with a quality education.  We may not always get things right, but we will always endeavour to and in working together we will try to make your child's time at school the best experience for them each day.
———————————————————————————————————————
Wednesday 27th January 2016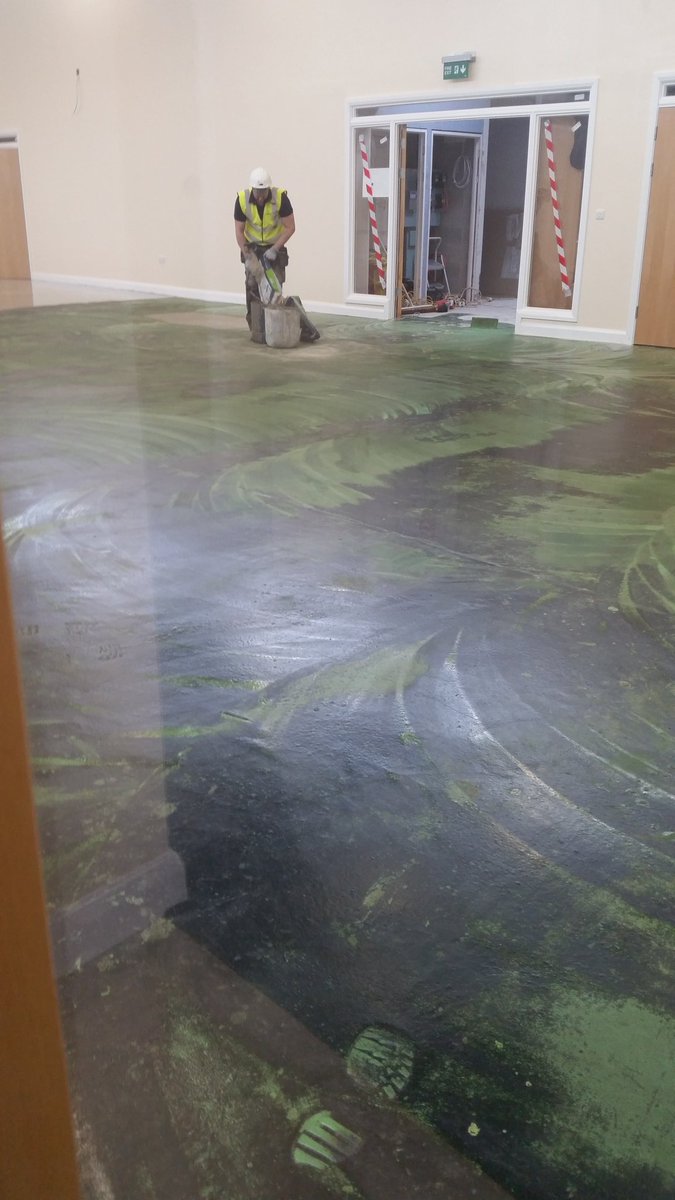 Another exciting step in our journey – the new hall floor is being screeded in preparation for the floor to be laid tomorrow and Friday.  It is a really important moment for our school as we have missed the opportunity for us all to be together again and so as of next week, we can be again.  Lunches will be served into the hall next week and all children eating a packed lunch will also eat in the hall.  New lunchtime procedures have been put in place by all the midday staff and we cannot wait to get the heart of our school back together again.
Tuesday 26th January 2016
Another busy day which saw Dave preparing the hall for the new flooring to go down.  He really has worked tirelessly to ensure we are ready but more importantly, that everything is safe.  At lunchtime, Year 5 pupils helped with the community spirit to relocate some of our PE equipment.  It is another example of how our pupils love to work together as a team to shape our school and surroundings.  It also gave me a chance to spend some time with pupils at lunchtime to oversee how our new arrangements are beginning to work.  Over the coming months, pupils will see some more changes at lunchtimes and Miss Parker, our Midday Supervisor has lots of ideas to make lunchtimes more fun and active.
Monday 25th January 2016
Some of our Year 6 pupils today have taken part in the 'Bikeability' course which Stockport Council run for pupils of Stockport schools.  It is a chance for them to become more aware of their surroundings as they are of an age where having road sense is of vital importance.  Well done to everyone who took part.
Our assembly theme this week is 'the little things' – a timely message as we have faced so many huge changes over recent times that we can sometimes miss the 'little things' like tidying up, taking care of property, being kind and taking the time to talk to each other.  We discussed that whilst this is an exciting time to look forward to, we need to remember the details that we sometimes take for granted as these are the things that can make a difference to someone's day.
Friday 22nd January 2016
Our lovely kitchen staff have spent nearly a whole year making lunches off site at All Saints Primary School in Marple.  The staff at All Saints kindly shared their facilities in order to help us through a truly tricky time whilst our kitchen was reroofed, rebuilt and refitted.  Over 41,000 meals have been prepared during their time at All Saints but finally they are able to join us once more.  Whilst there are finishing touches to the hall this week, the kitchen is fully fitted, deep cleaned and ready for action and we cannot wait to welcome back Silvia, Vicki and Marilyn to school at lunchtimes.  Thank you to you all for struggling through the bad weather, pushing trollies up and down the path, waiting for taxis that sometimes didn't turn up or sent two at once.  We truly appreciate everything you have done to make sure dinners were served, freshly prepared and hot each date.  Not to mention tasty too!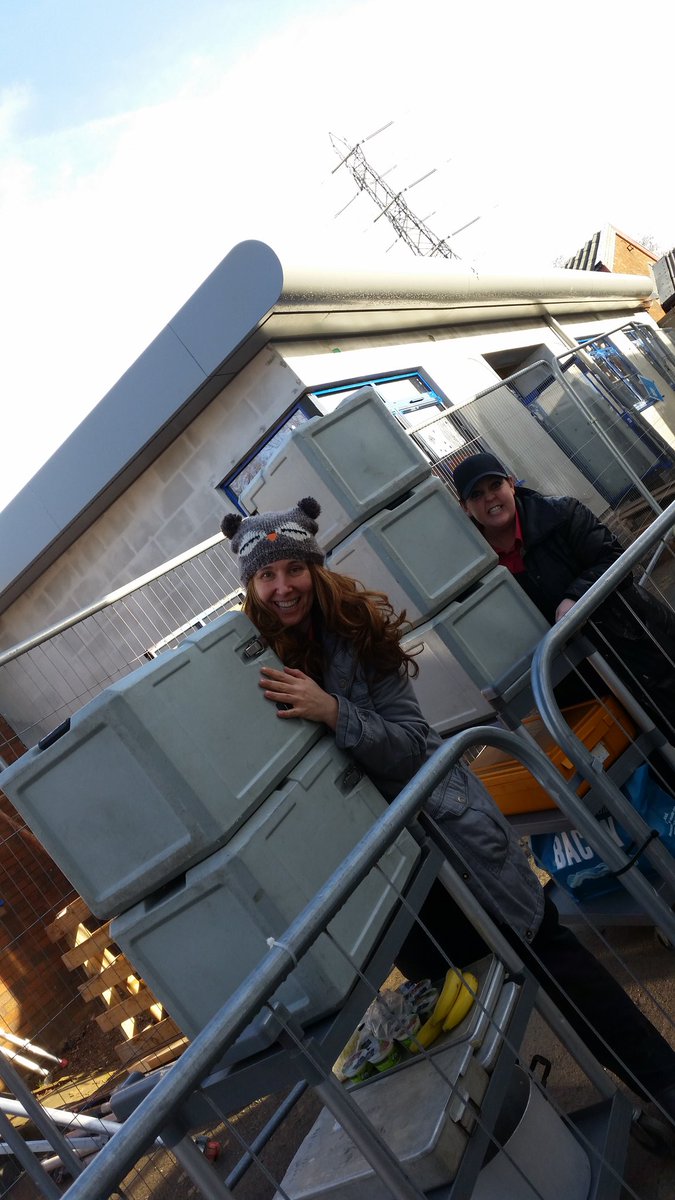 Thursday 21st January 2016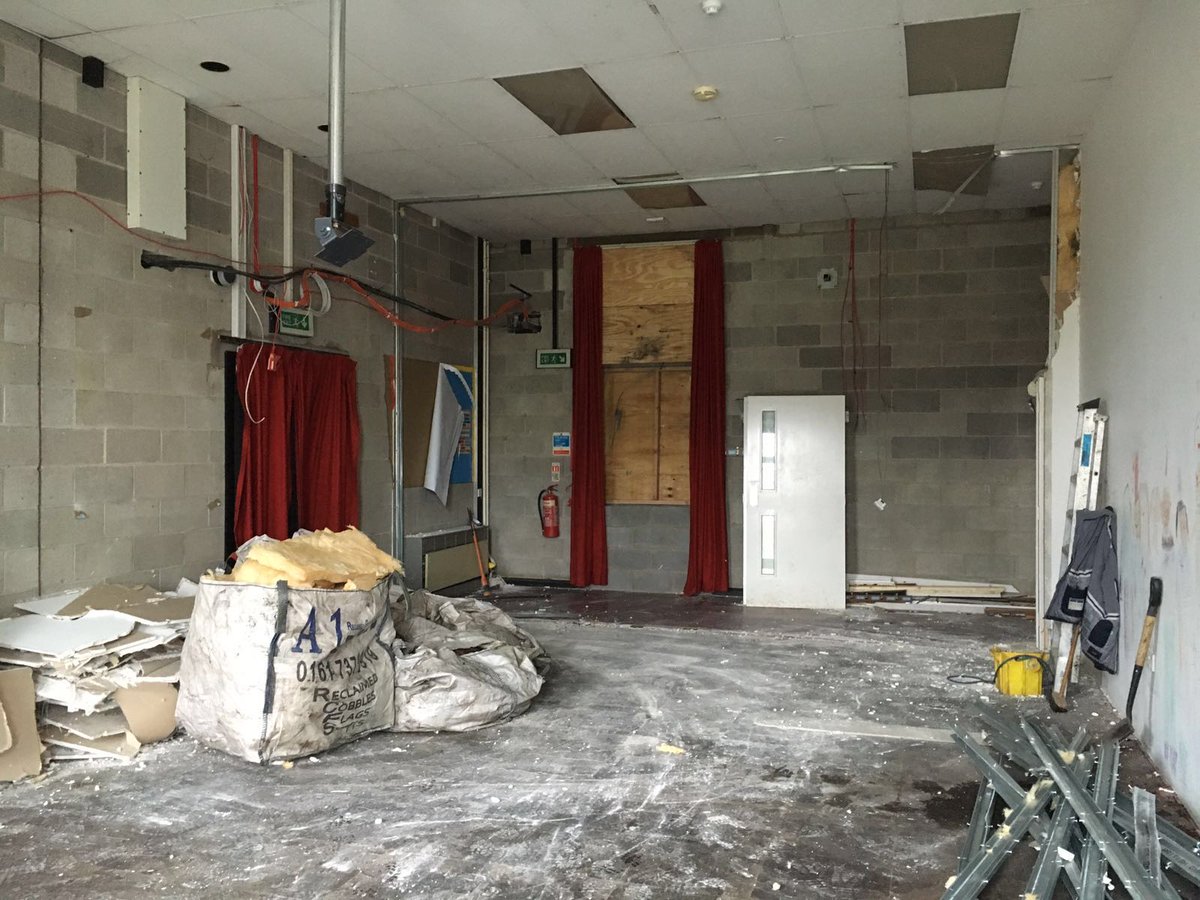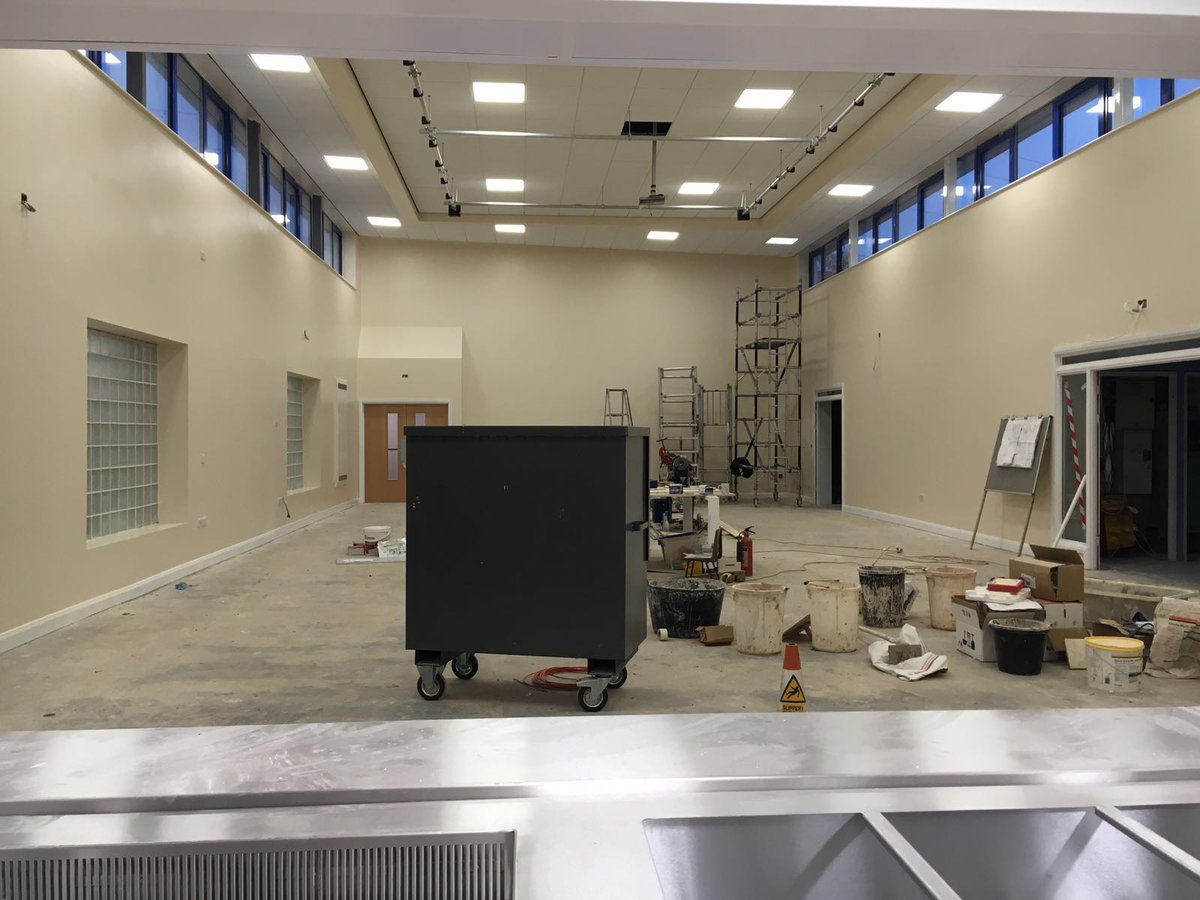 For those of you who have had children with us for years a Warren Wood, you will know better than most how tricky it has been to cope with the old hall as it was.  For a period of time, it had indeed been tricky to cope with no hall at all, but we have managed.  The above picture show the two rooms as they stand this week, and it's all very poetic really.  Our old hall, which was temporarily two classrooms for Y3 and Y6 has been stripped out ready for the new work to be done to create this into two permanent classrooms for Year 3 pupils.  This includes removing and replacing the roof,  lowering the internal ceilings and building the inner shell to create the two new rooms.  The new hall, which sits just beyond my office and the front office, is where Miss Howard and Mr Boardman's junior classrooms were two years ago.  The new hall is the size of a basket ball court and as you can see from the picture is tall, light and airy.  Added ventilation is also provided via the top windows, so that the concerts that we will perform in there will hopefully no longer be hot and stuffy.  We are having the floor fitted this week and then we will finally be able to be together again for assemblies and communal events such as coffee mornings.  Whilst it has been hard work being without it, it has also been totally amazing to watch it unfold before our eyes.
Wednesday 20th January 2016
Today was the first day that our sports coaches saw the new classrooms for the first time.  I think it was fair to say they were blown away with what they saw.  It has also been a testing time for them as, without a hall, and due to some fairly testing weather, they have also had to be creative to ensure that the children accessed a full curriculum when it comes to sport, but with the limited facilities and spaces.  Therefore, another thank you must be extended to Mr S and all the coaches from Cheshire Coaches who have lived this time with us, knowing that no matter how long the wait, it would all be worth it!
Tuesday 19th January 2016
Year 3 and Year 6 are also settled in their new classes in the mobile classrooms along the path.  We have many plans in place in school to ensure that pupils are kept safe, no matter which classroom they are in and this includes the access arrangements around school.  Over the next week or so, you will see changes to the front of school as building work continues to another new entrance and as work is completed to the new school office and main entrance.  Therefore, access points will change and in the morning, after school and at after school clubs, including homework club, pupils in these classes will be asked to use the path around the back of the juniors.  Whilst this may be a minor inconvenience, it is to ensure complete safety for you all, so please take care of the new fencing and signs that may appear.  It is to protect you all.  Also, should you arrive late at school, ALWAYS make sure you report to the office and we will take you to your classes.  Thank you.
Monday 18th January 2016
Finally!  The day has arrived!  Parents and children were excitedly waiting in anticipation of the new playground…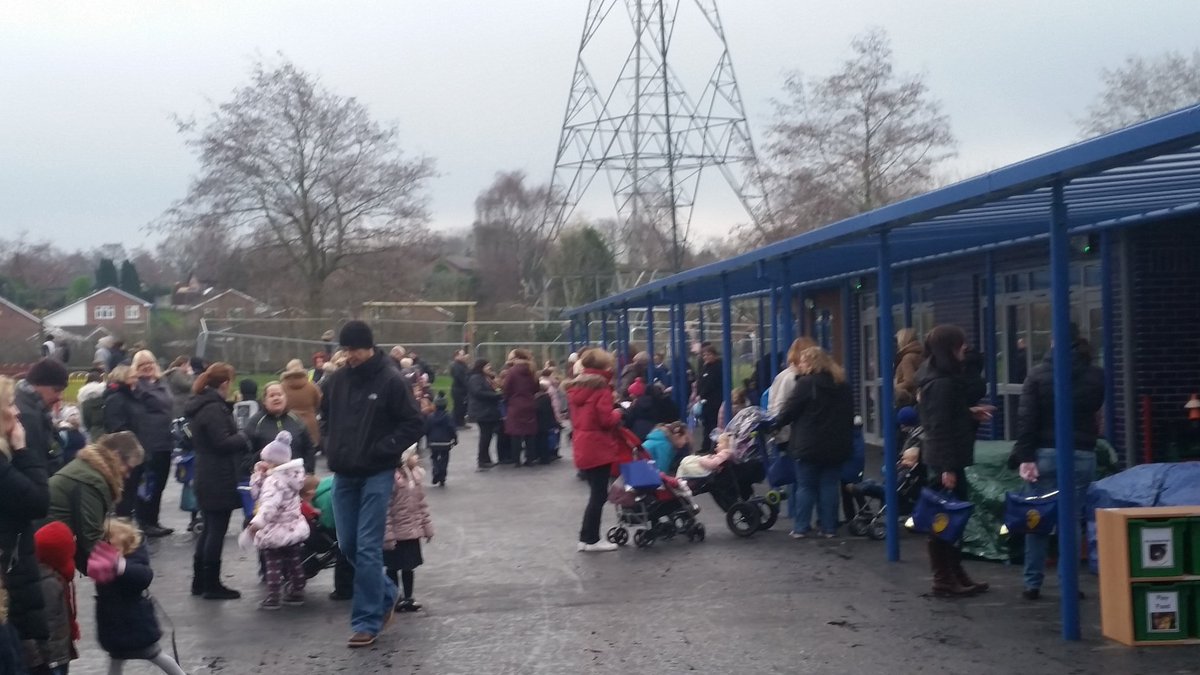 …and staff, who had spent most of their Saturday in school (not to mention the months leading up to this planning for this day), were busily making last minute preparations to lead up to the big launch…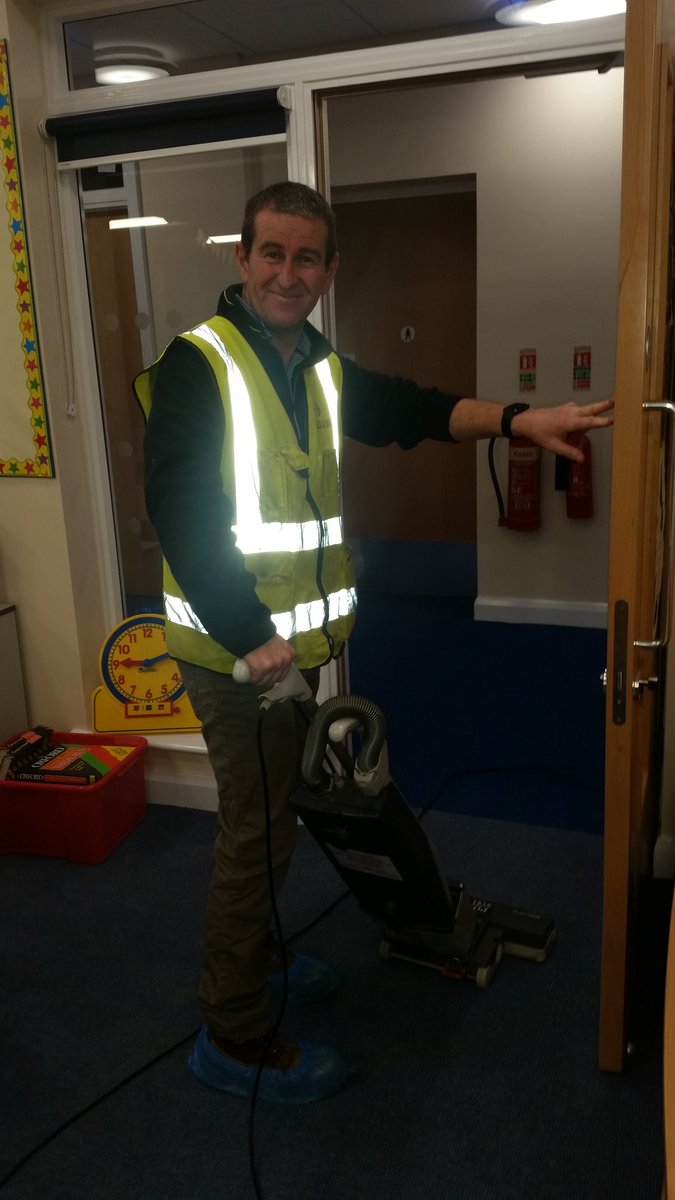 Not content with building the school, Dave wanted to hand it over to us in true dedicated fashion with his usual attention to detail, ensuring each room and the new corridor were hovered and spotless.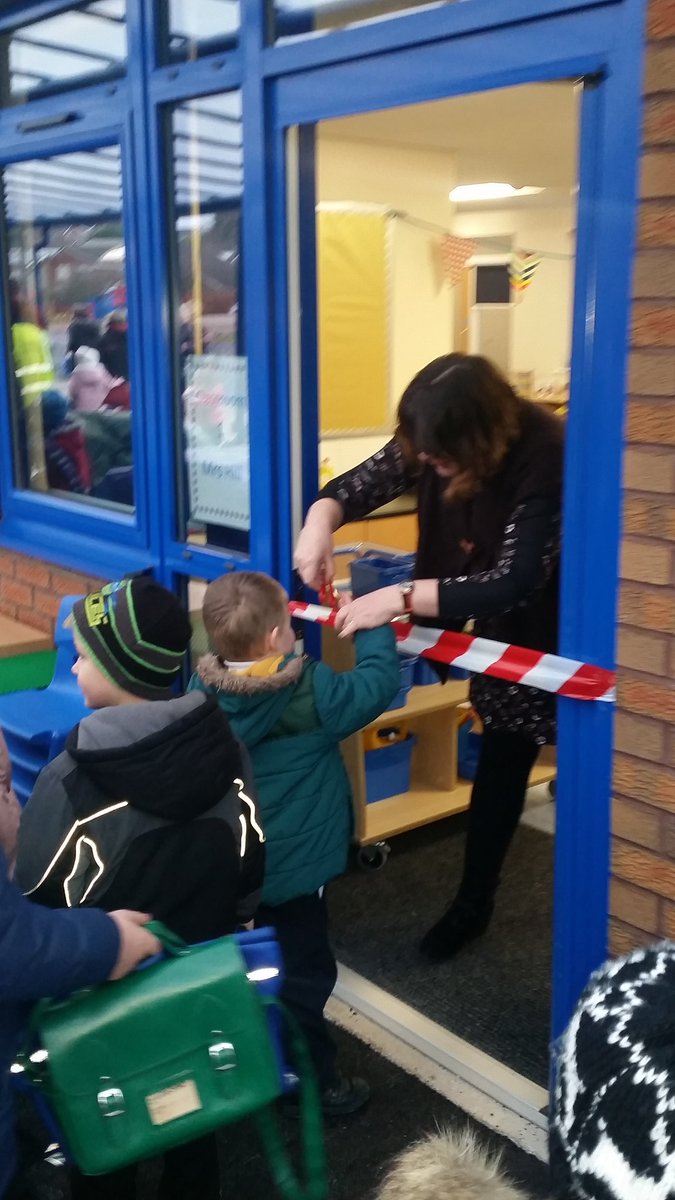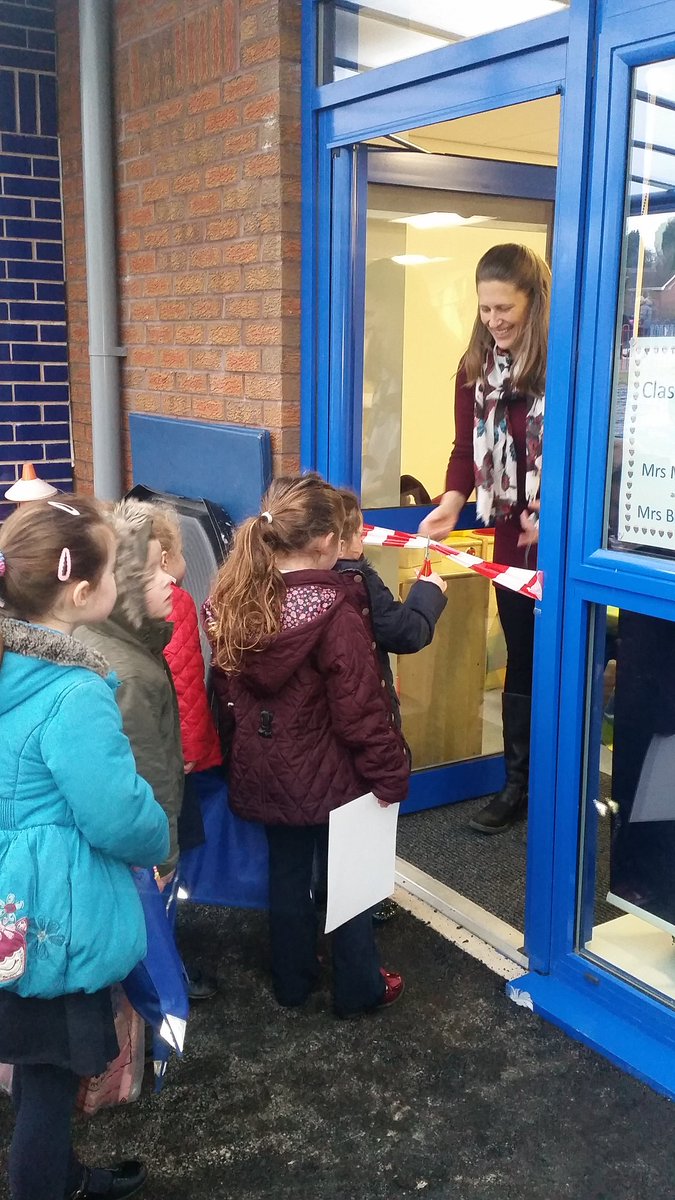 The ribbons were cut and in you all came.  I think it is fair to say that as I stood watching you all, my heart absolutely swelled with pride and I think my eyes may have leaked a bit too, although I am sure that was the cold!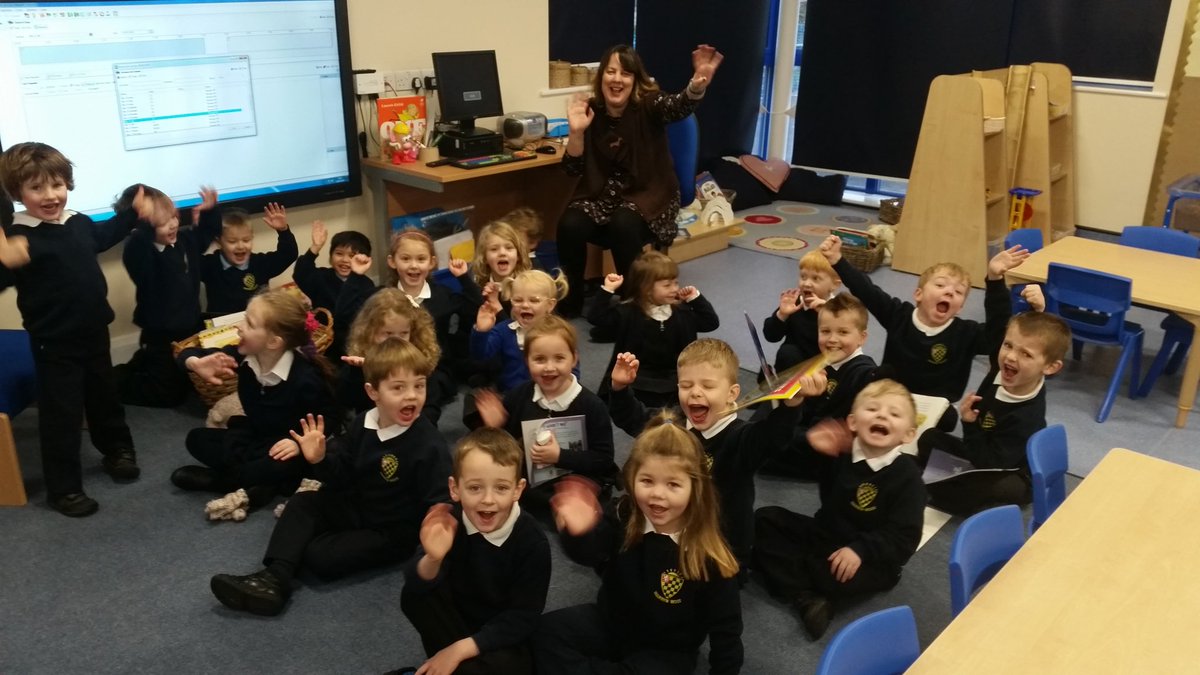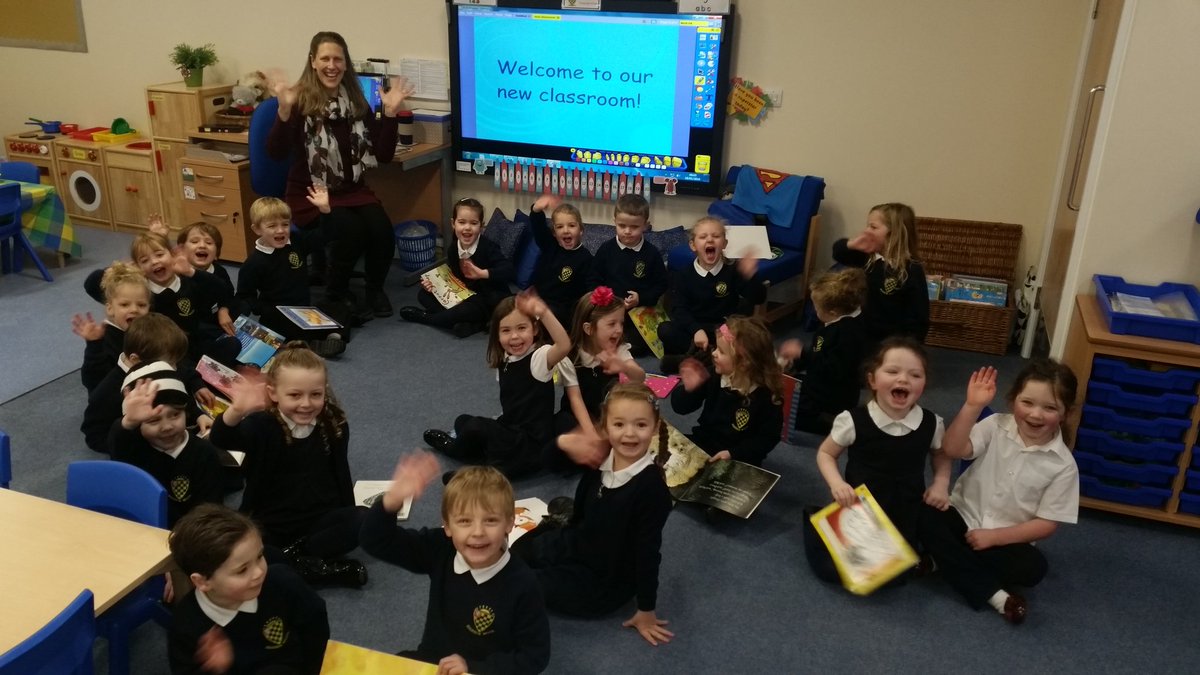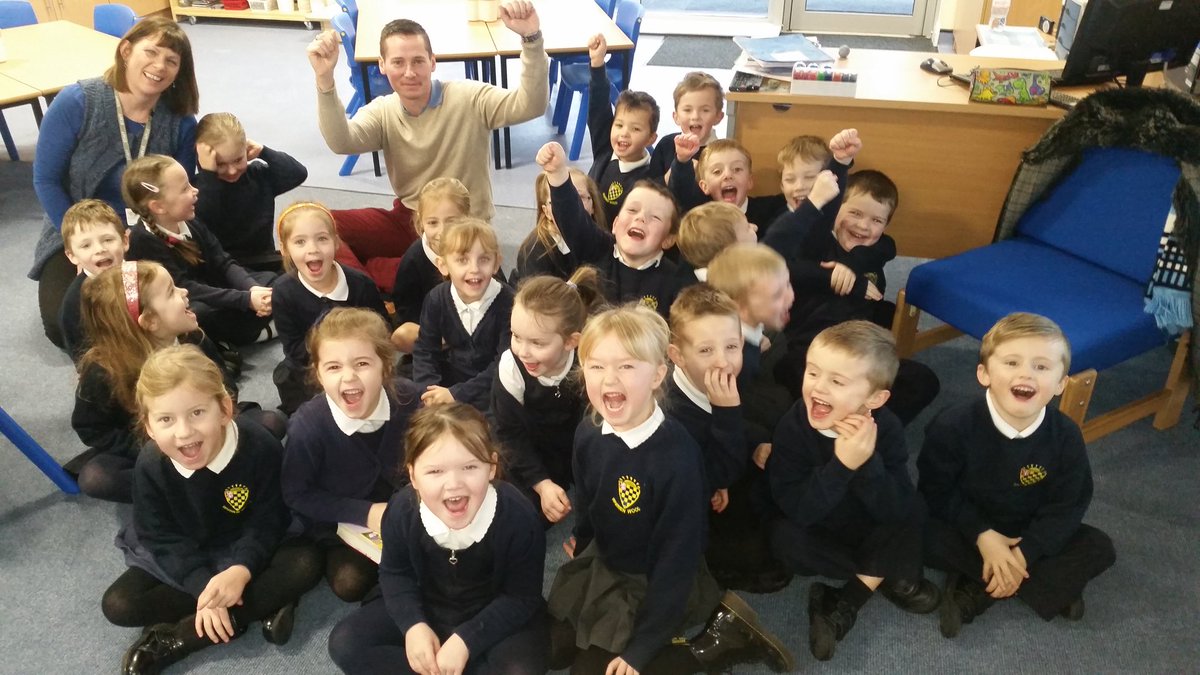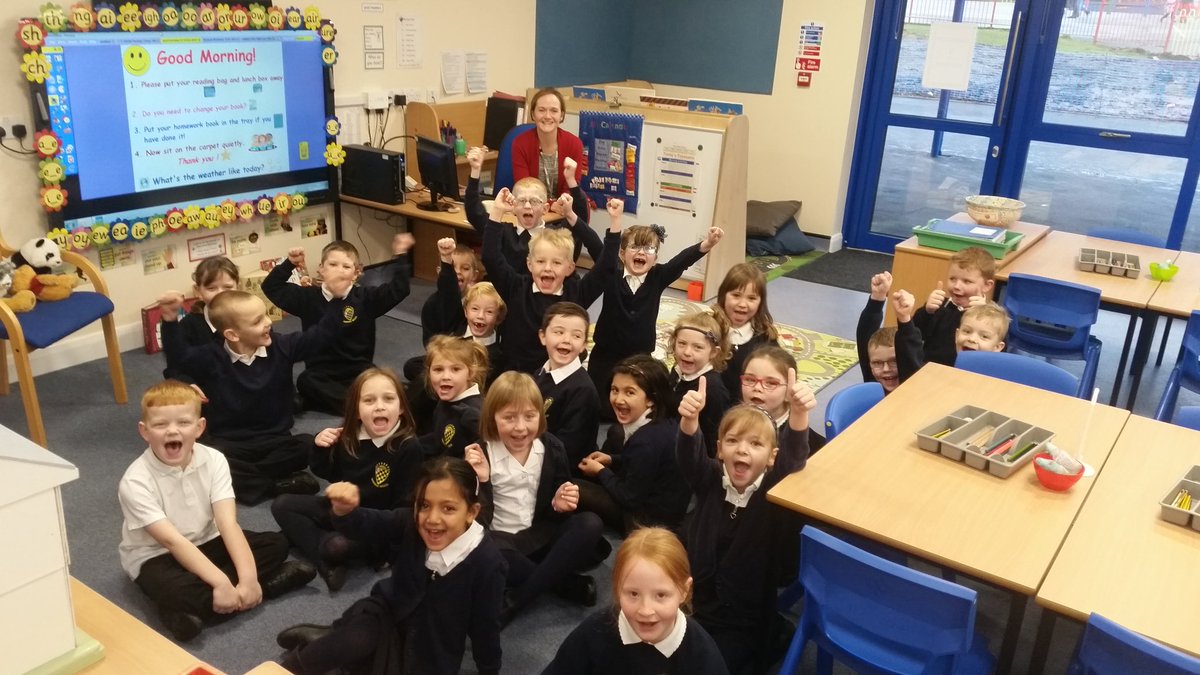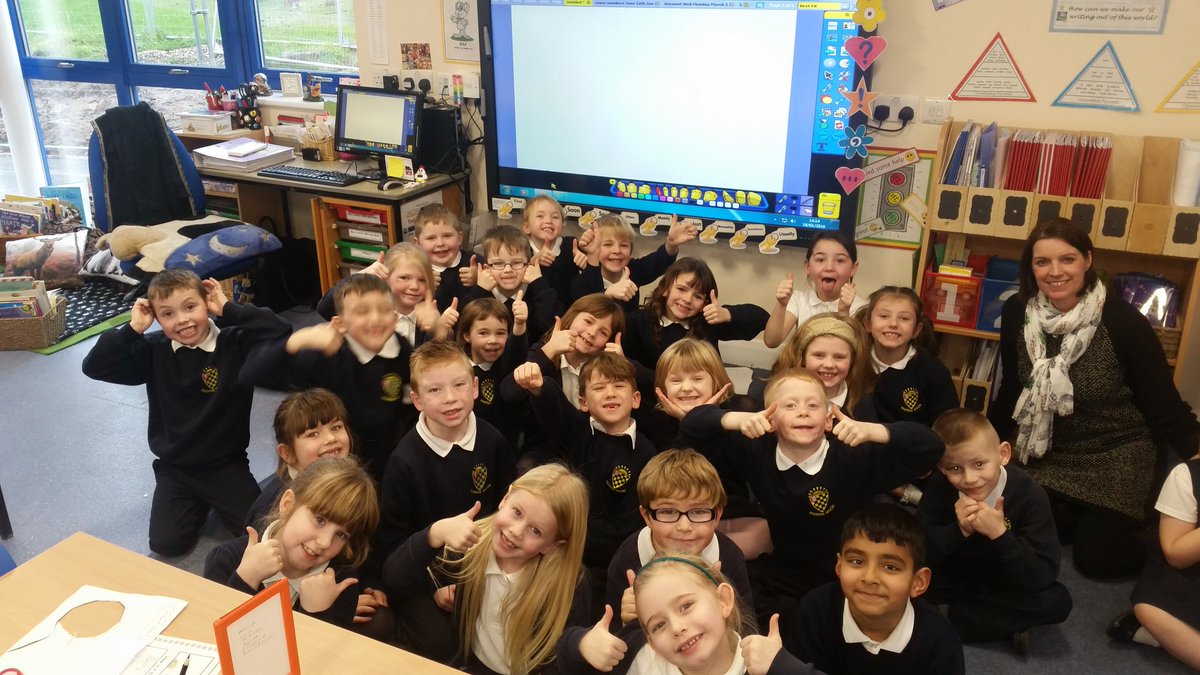 All the infant classes settled in their new rooms like it was always meant to be.  It may have felt like a long time coming, but wasn't it just worth the wait?
I couldn't help myself but make countless excuses all day to go for a visit too see everyone settling in and these were the sights that greeted me in Reception.  What an absolute treat of a day!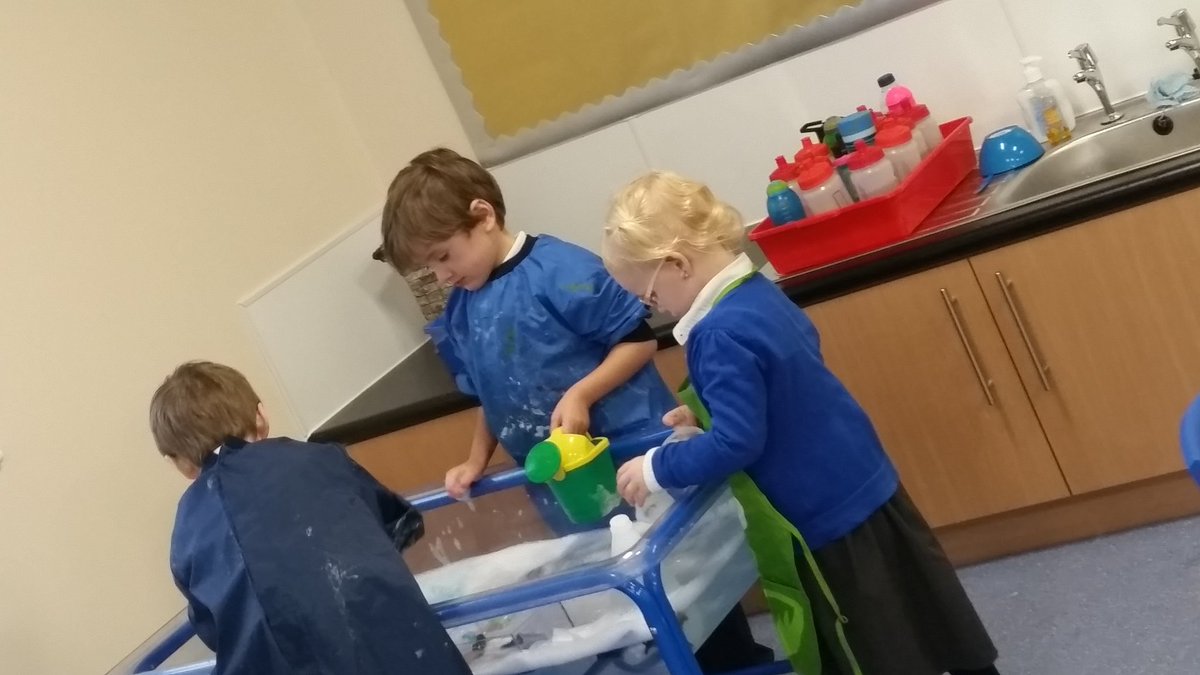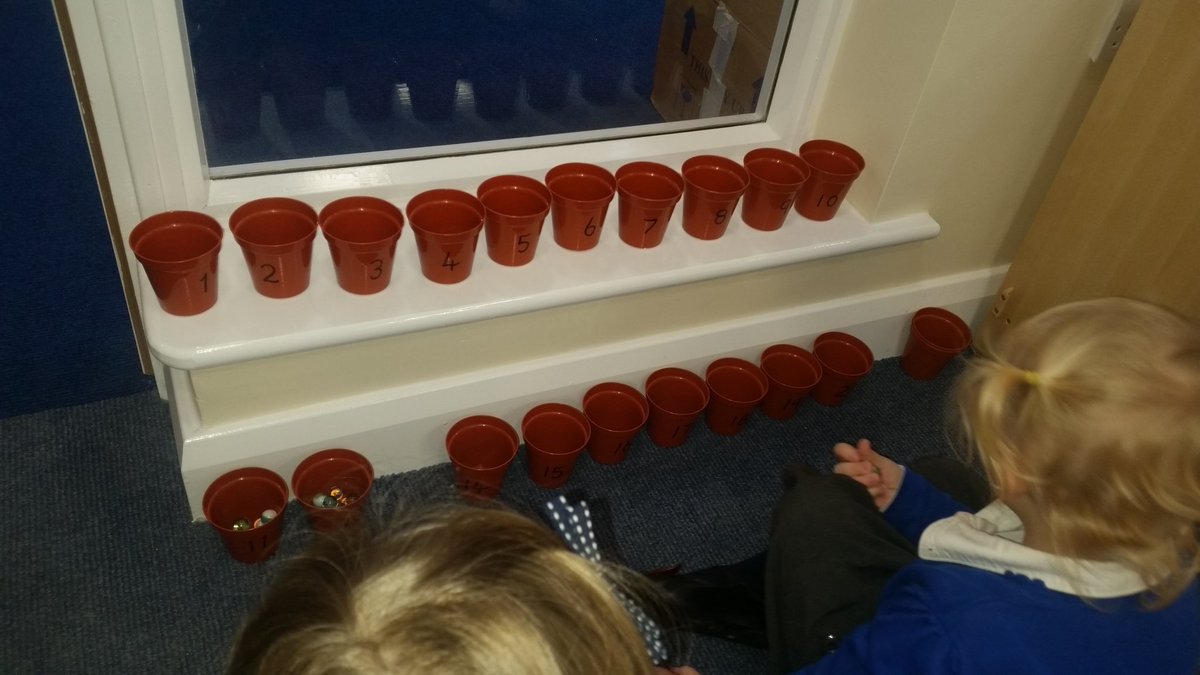 Friday 18th December 2015
Well what a day and what an end to an amazing 12 months in the history of our school.  It is frightening and exciting all rolled into one to see just how much has happened in a short space of time.  Whilst we aren't quite back in our new building, we aren't far off moving back in and it will absolutely be worth every second of the wait.
So signing off from 2015, and at the end of my third year as Headteacher of Warren Wood, on behalf of myself and the staff, I want to wish you all a happy holiday and a very happy new year.  I also want to thank you all for sharing in the excitement of what is to come. We look forward to sharing it all with you.
Thursday 17th December 2015
Well today was party day and look who paid us a visit!  I notice that Dave made sure he got his wish list in first, telling Santa what a good boy he has been this year!  Our wish is for us to be back in our new school as quickly as possible, and we know that Dave and some of the sub-contractors will be working over the holiday too to make sure that this happens.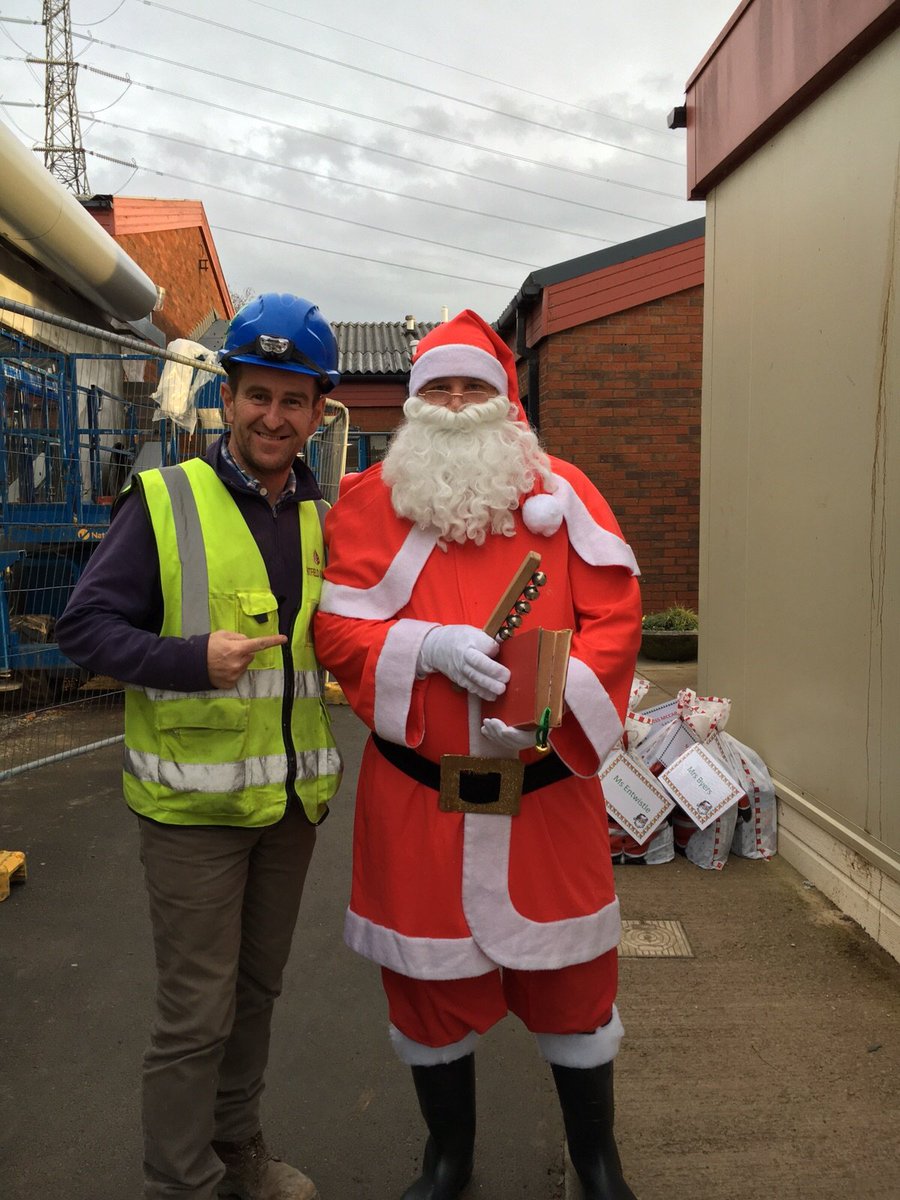 Wednesday 16th December 2015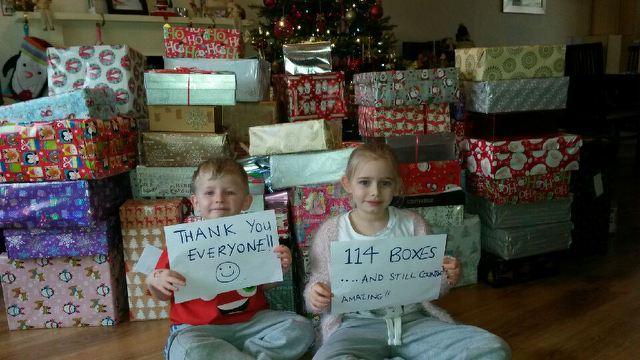 One of the things that makes the children at Warren Wood so special is the way in which they think of the feelings and plights of others.  Freya and Jack from our infants (with a little help from their mum) organised a collection of Christmas boxes for boys and girls who are less fortunate than we are.  This picture shows 114 boxes collected, although since the picture was taken, the collection exceeded 120 and was still rising.  Thank you ALL for being so generous and so giving at a time that is tricky for all of us in many ways.  It truly is what makes you all so special.
Tuesday 15th December 2015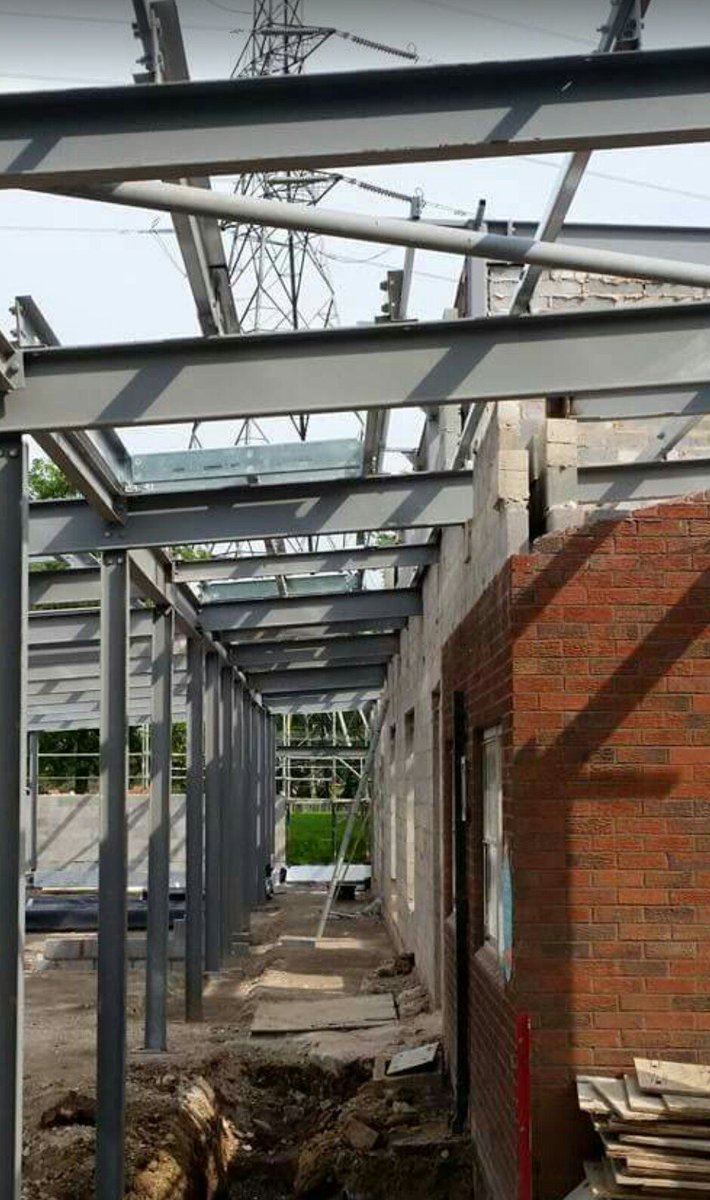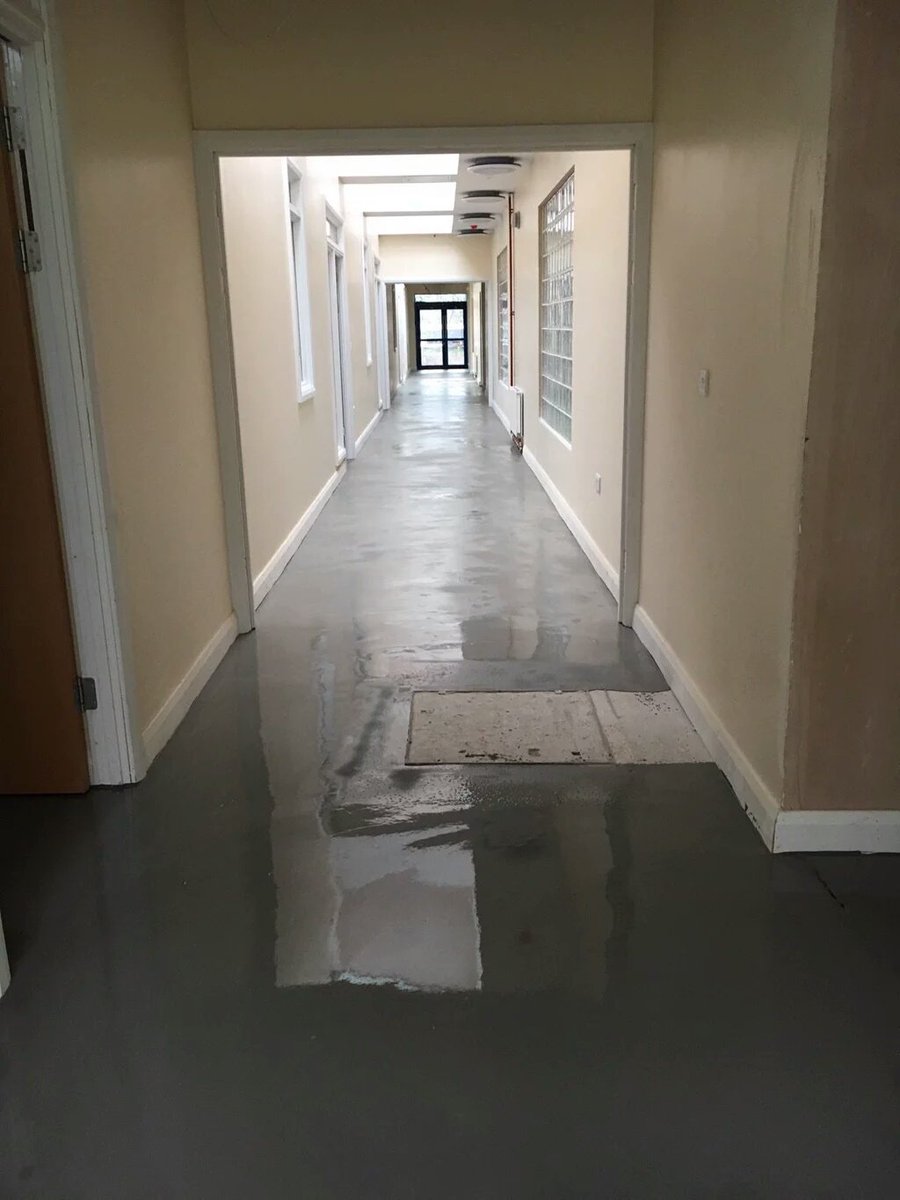 Taken 6 months apart, these pictures tell a story all of their own!  Demolishing the school and rebuilding it were never going to be straight forward in the general scheme of things because the old and new parts of the building have to be joined back together like a giant jigsaw too.  This has not been without its' own trials and tribulations but, as the pictures show, the light is most certainly at the end of the corridor!
Monday 14th December 2015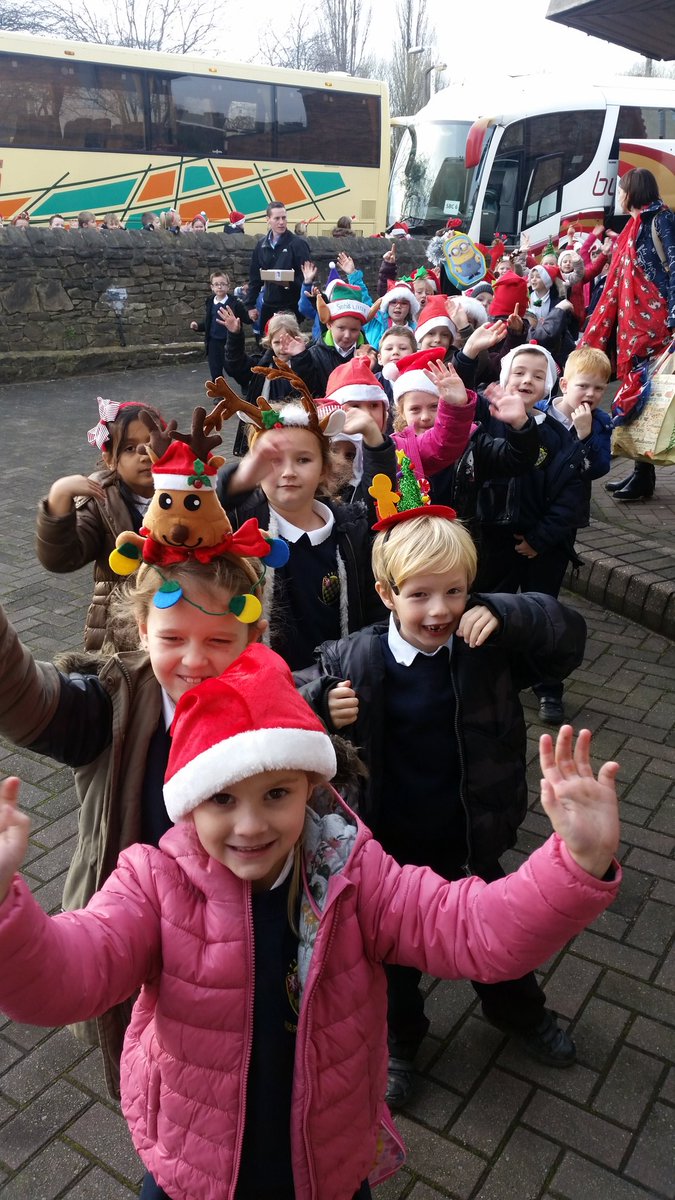 Today, our infant pupils performed their wonderful 'It was the night before Christmas' show for their families at Hazel Grove Baptist Church.  The children told the story of preparing for Christmas through a variety of songs, words and actions. It was a lovely time for us all to be together, a luxury that we often take for granted but have missed dearly in the absence of a school hall this year.  Well done to all of our performers, especially the Reception pupils who have never been in a whole school assembly this year, yet sat in the church brilliantly and performed beautifully for their first Christmas at Warren Wood.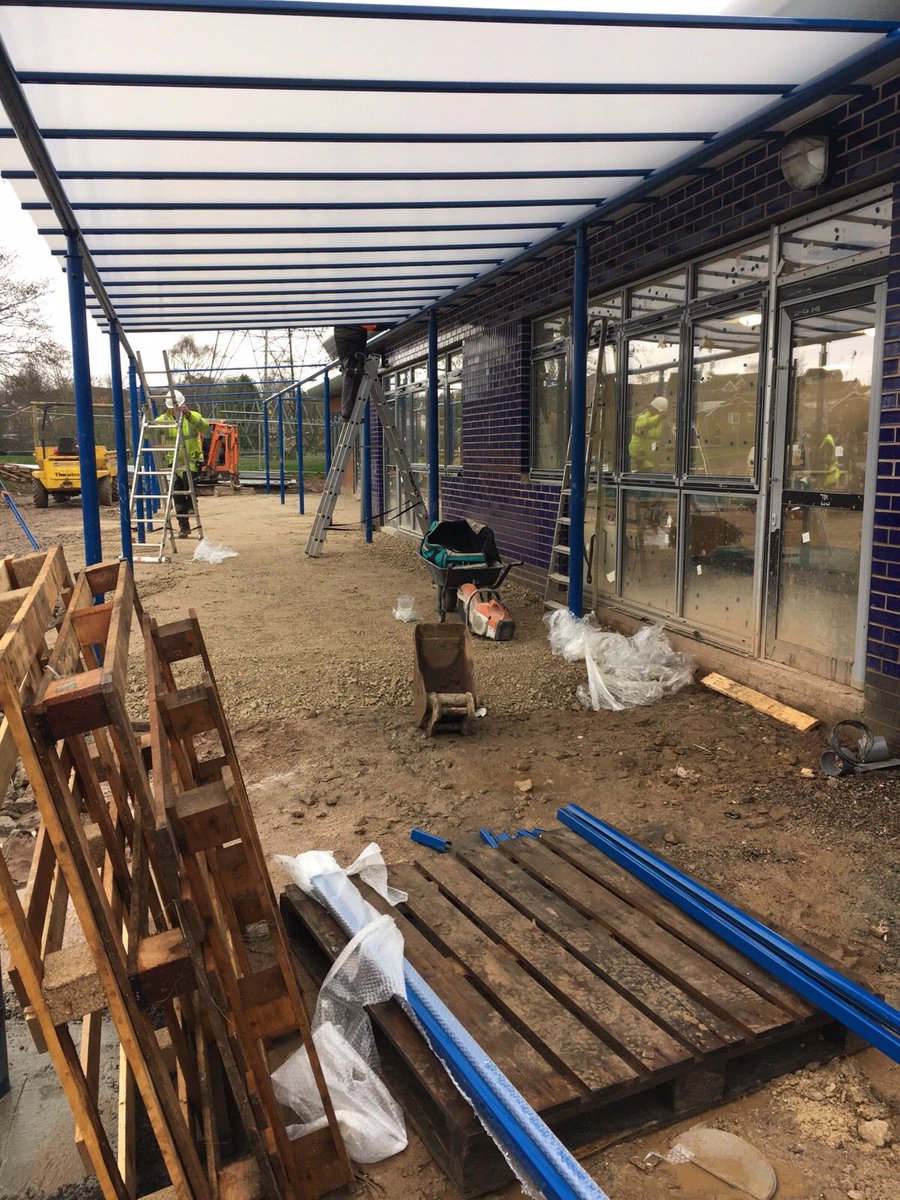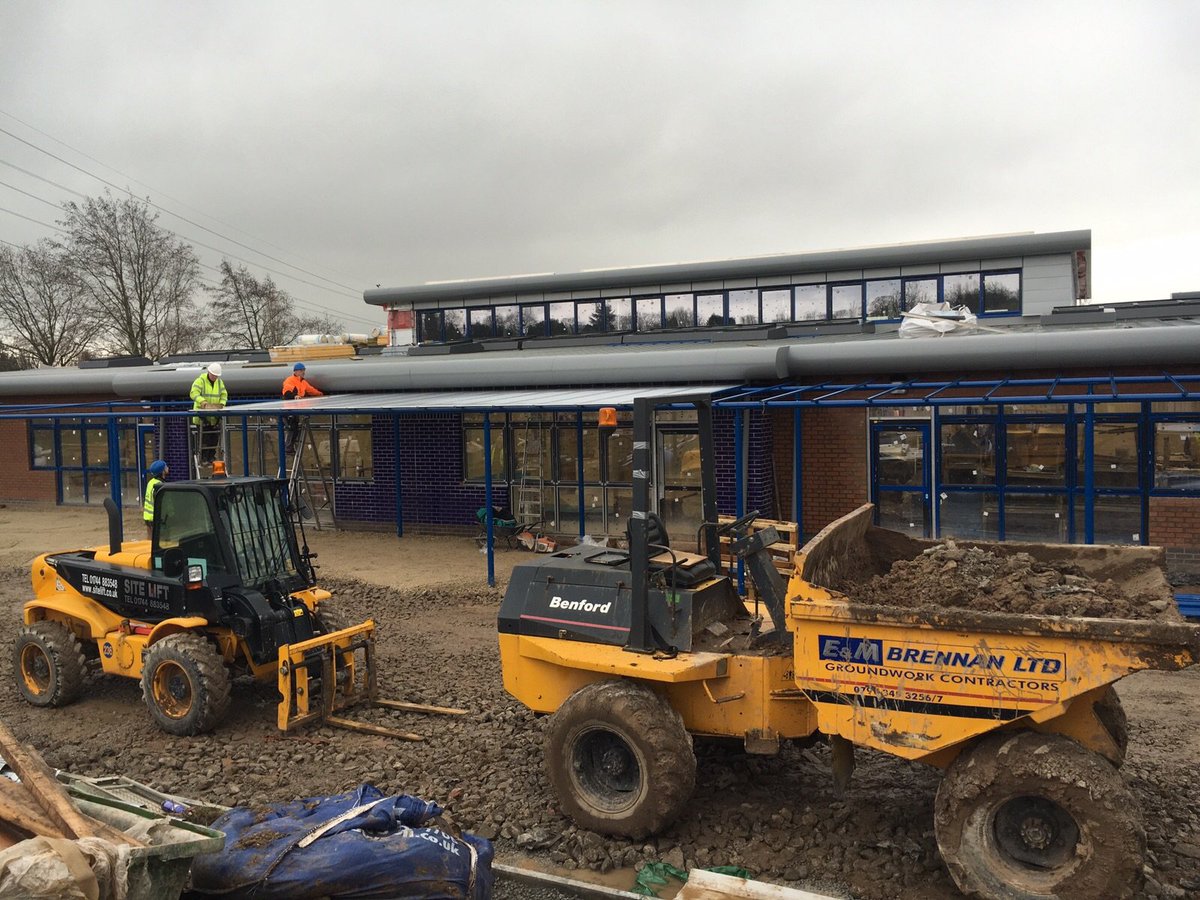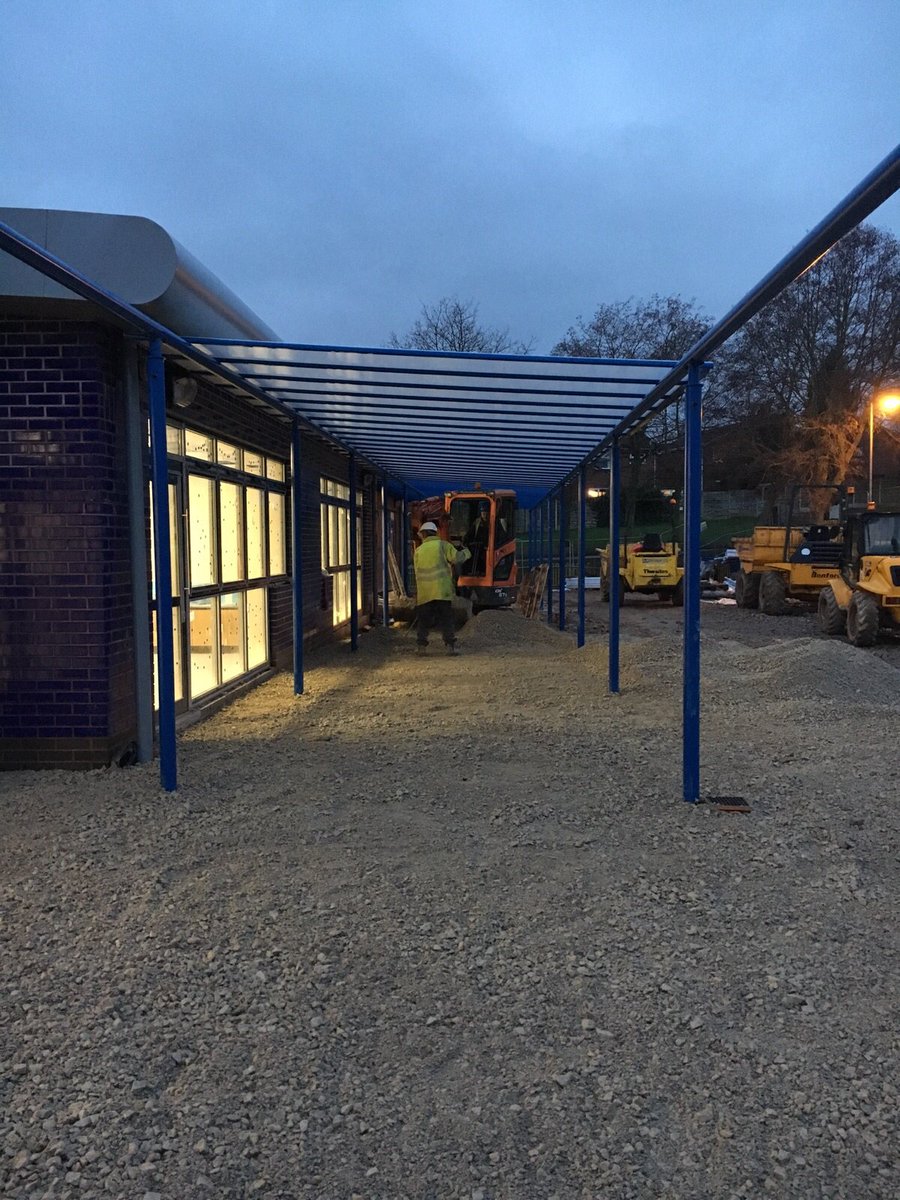 Working through the day and night to get the canopy completed and doesn't it look special?  This will make the world of difference to the infant classes in terms of outdoor provision, bringing their learning to life using the outdoor environment, whatever the weather!  Eventually, once classes move back into this area of school, pupils will leave the classrooms through the outside doors under the canopy and onto the new infant playground.  More information bout this will be shared as soon as we get the news we are all waiting for – the date we can move back in!
Friday 11th December 2015
Today, our Year 3 and 4 pupils sang Christmas carols at St Mary's in the Marketplace in Stockport for their Age Concern concert.  This is always a magical time for our lower juniors and is a time to embrace the seasonal ambience.  Thank you to all of you who also attended to share this special time with us.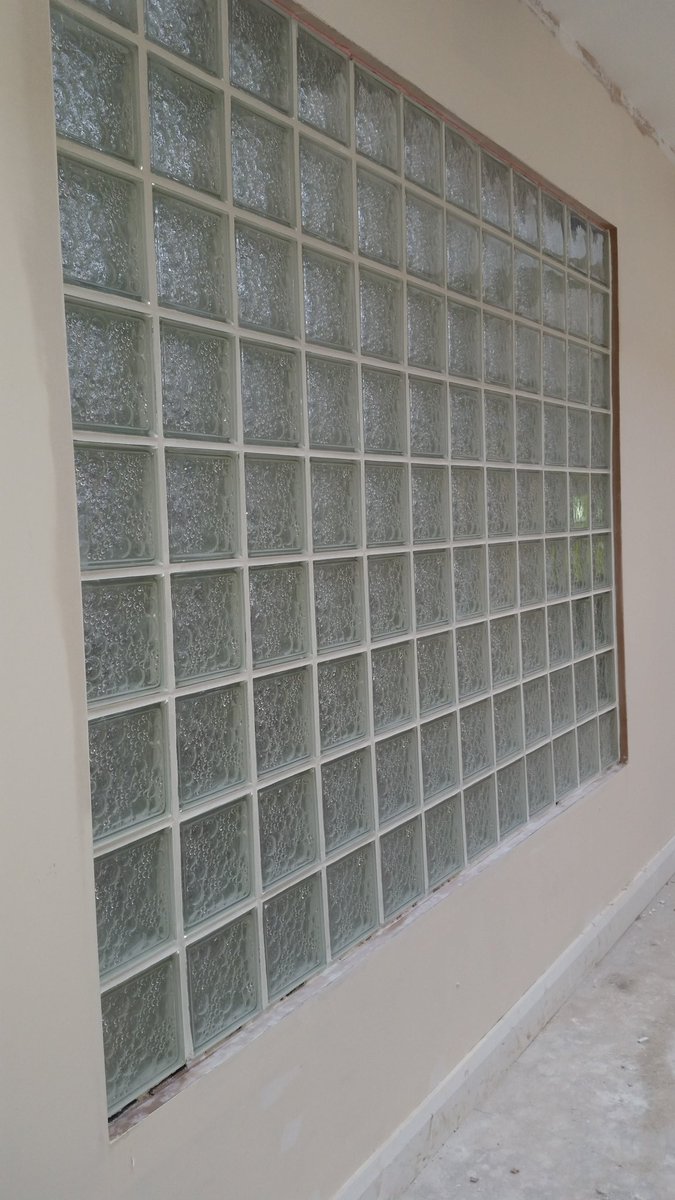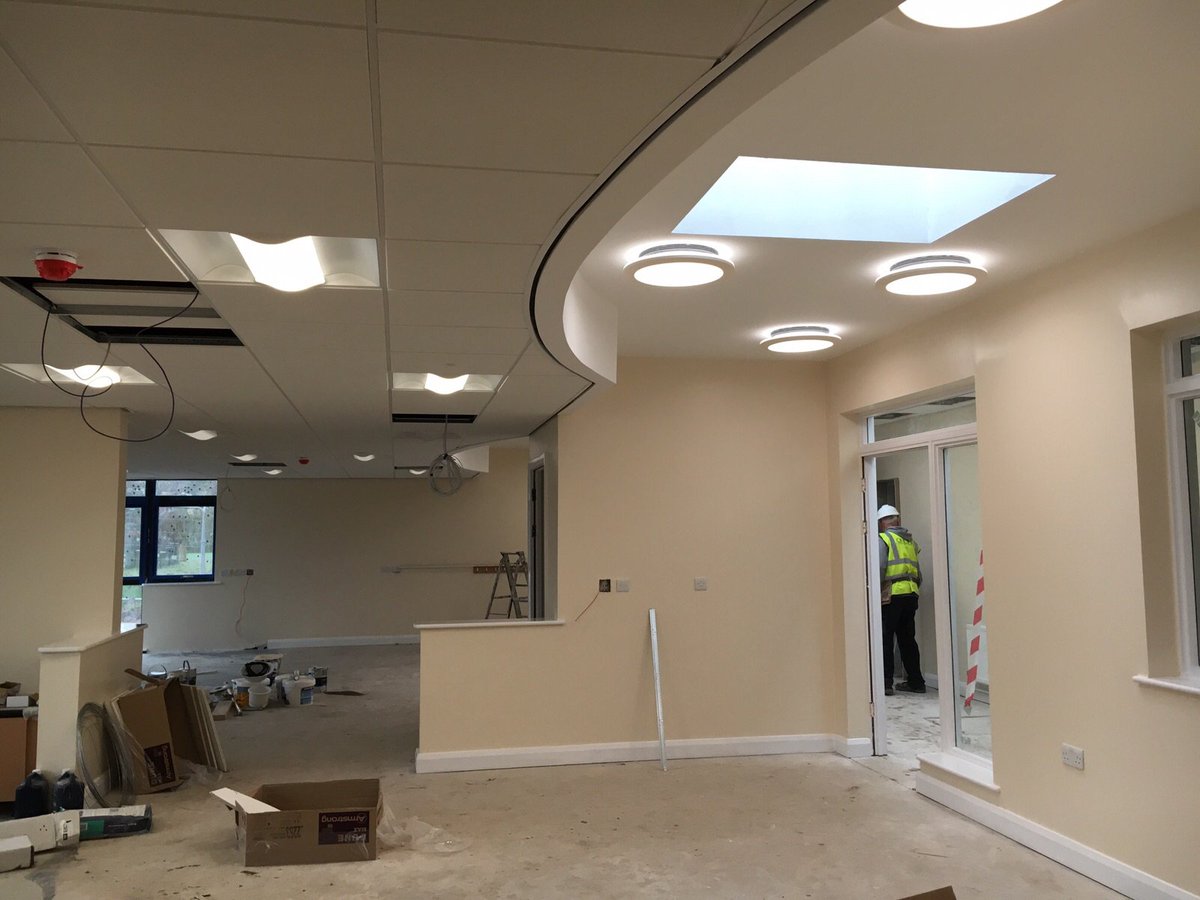 Two more tell tale signs that school is nearly there.  The picture on the left shows one of several feature walls around school with glass blocks.  The thought behind these is to flood the building with light, something that was sadly lacking in the old building.  These are along the new corridor and in the hall, where the old kitchen window was and will also appear by the new offices and group work rooms near the staff room.
The picture on the right shows the Year 2 classrooms, specifically where Mrs Taylor's class will be moving into.  Each room has the feature of curved edges as you enter the classroom from the corridor side.  The cloakrooms for each class will be within the classrooms too keeping the children and their belongings safe – not to mention hopefully reducing the amount of lost property too!
Thursday 10th December 2015
In time honoured tradition of the Christmas story, three wise men brought gifts from afar today…tables, cupboards and new units!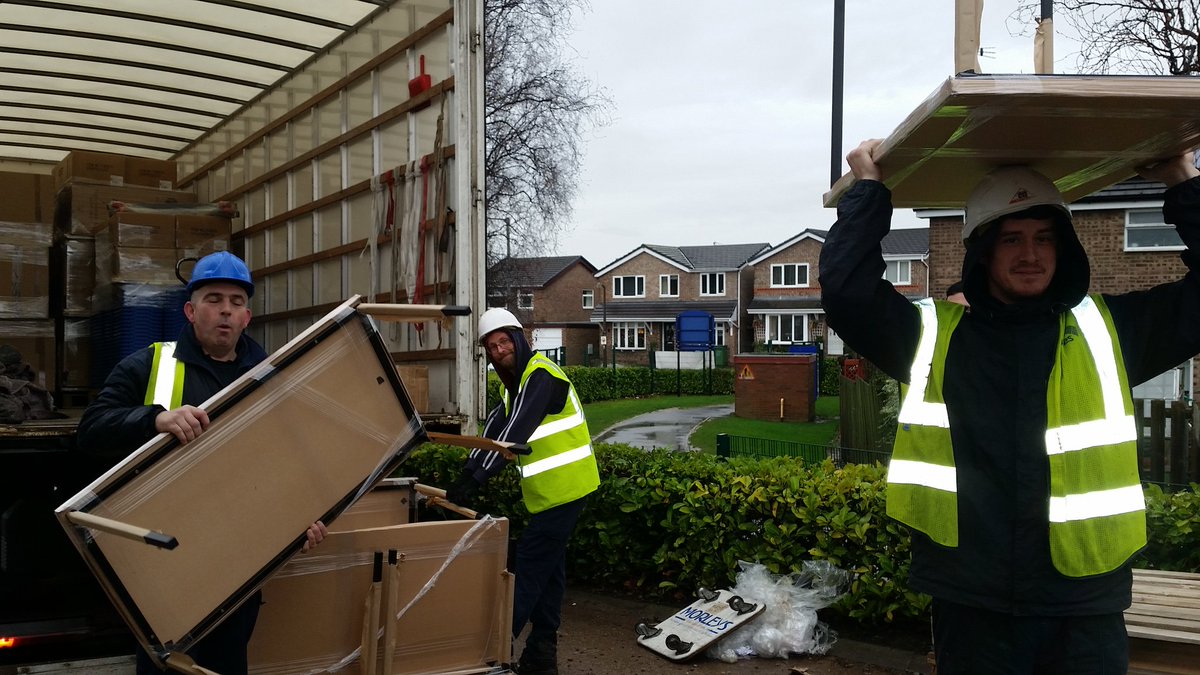 Elsewhere, Christmas Dinner was served…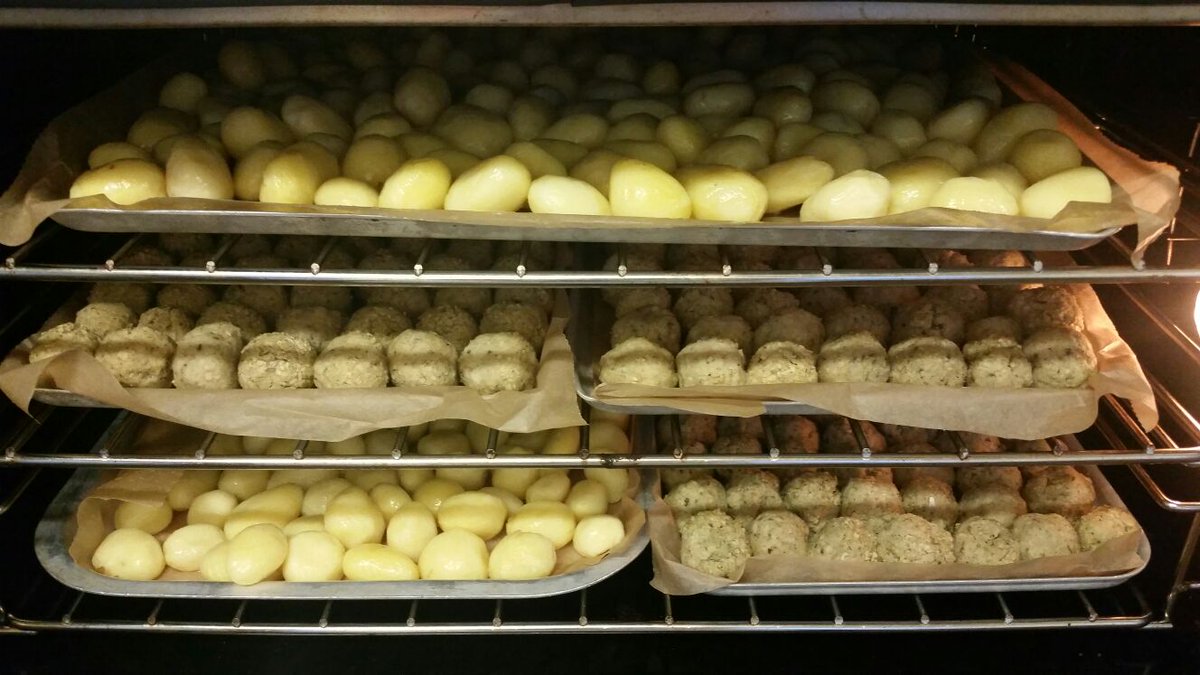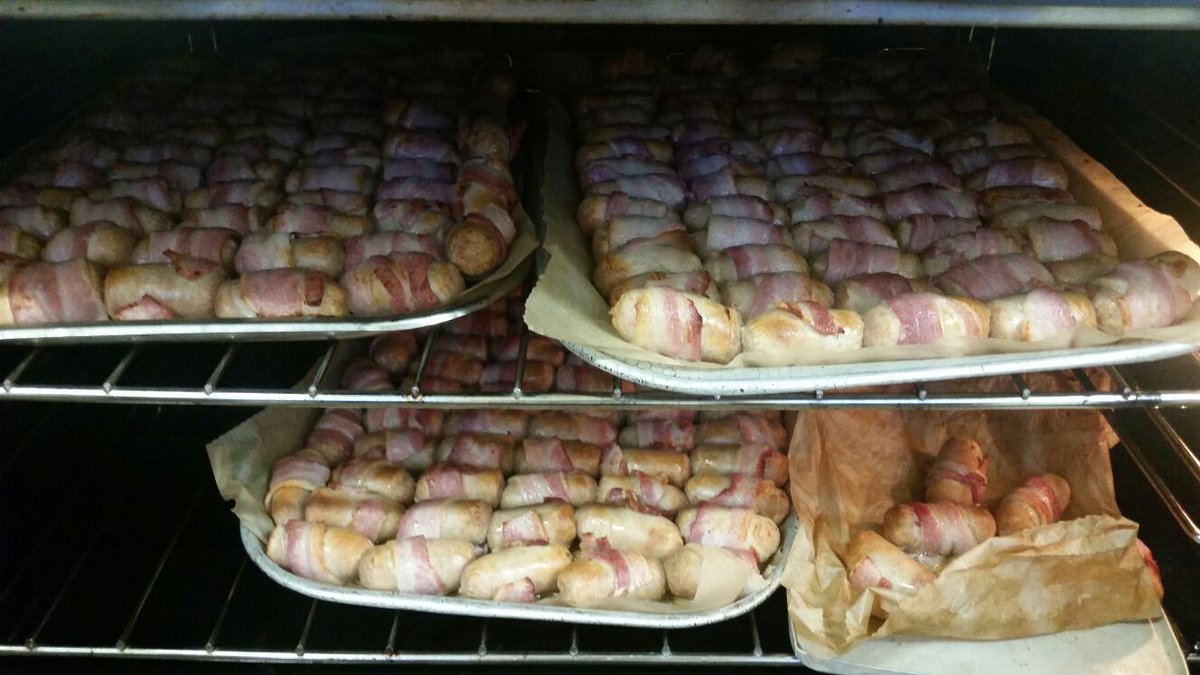 In previous years, we have been able to offer Christmas dinner to all pupils.  In our current circumstances, this unfortunately has not been possible, but is most certainly something that we will be able to offer next year when we have our own kitchen and beautiful hall to serve lunches in.  On that note, I would like to take this opportunity to say a massive thank you to our kitchen staff, Silvia, Vicki and Marilyn for preparing lunch today and every day this year under very tricky circumstances.  We appreciate how difficult this has been yet they have produced delicious dinners with a smile on their faces.  Soon enough, their reward will be clear to see, as their new kitchen is being fitted out next week and early in the new year, we are hoping that they will be back in it and serving dinners directly to all of us.
Wednesday 9th December 2015
Despite popular myth, lessons leading up to Christmas do continue as normal for all classes.  With a packed and busy curriculum to deliver, staff are still working hard to motivate and excite pupils with interesting lessons alongside the plans and practise time for Christmas concerts and carol services.  On top of this, staff are also boxing up their classrooms in preparation for the move back to their new classrooms in the new year.  A removal firm are coming at weekend to move some belongings back into the new school making this time of year even busier than usual.
Tuesday 8th December 2015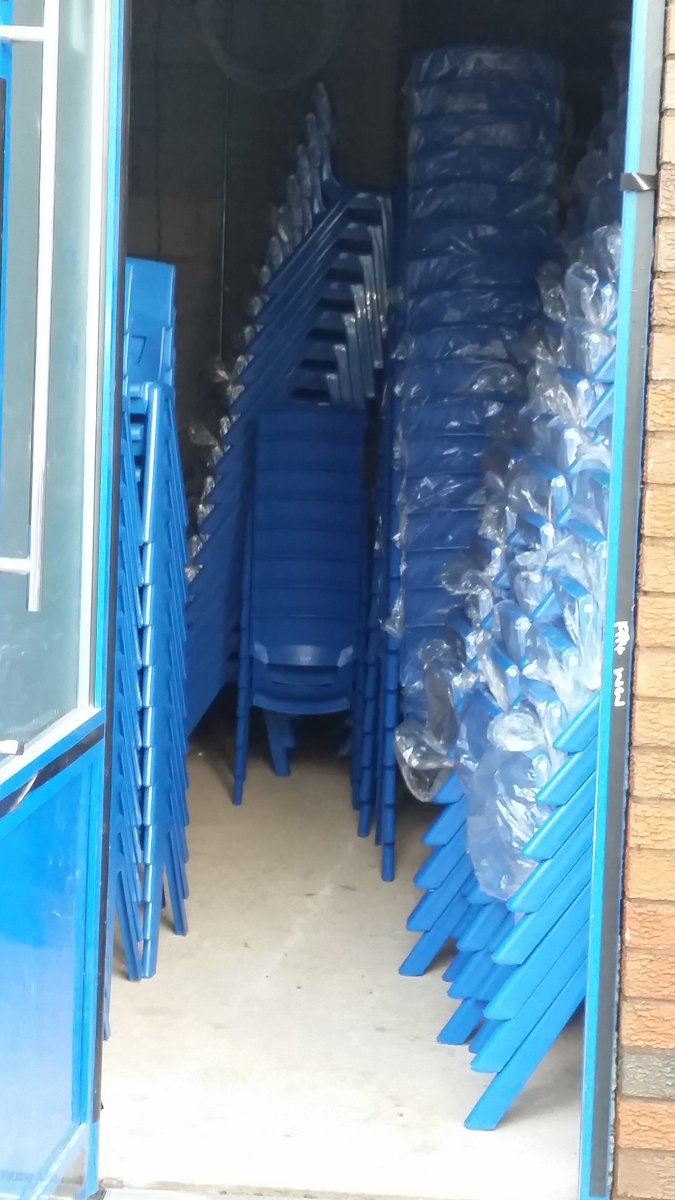 Another exciting part of the new year plans – 200 chairs have been delivered ready for the new classrooms.  We have gone for fairly standard and neutral shades to match and compliment one another, knowing that once pupils work is presented on walls and in the corridor, this will stand out and shine, showing the quality of work produced by our very special pupils.
Monday 7th December 2015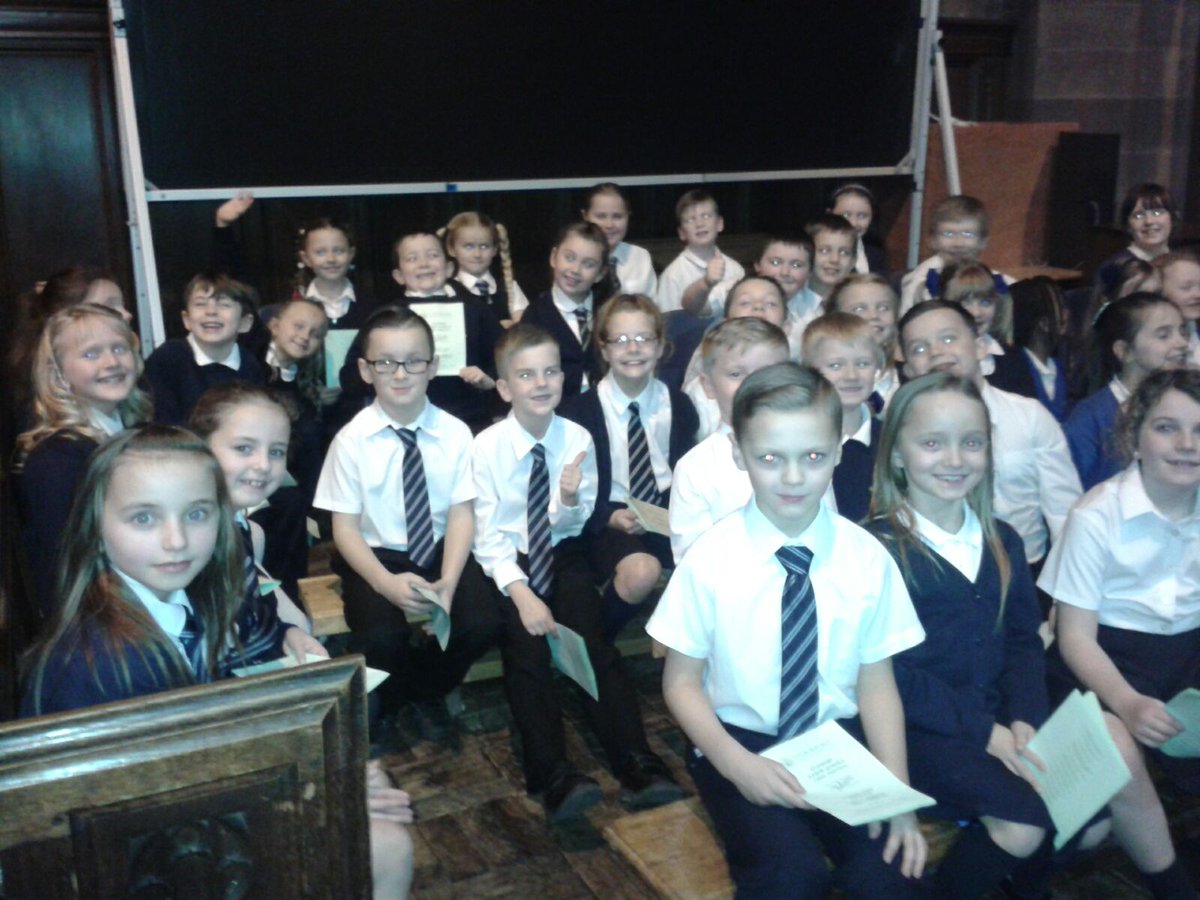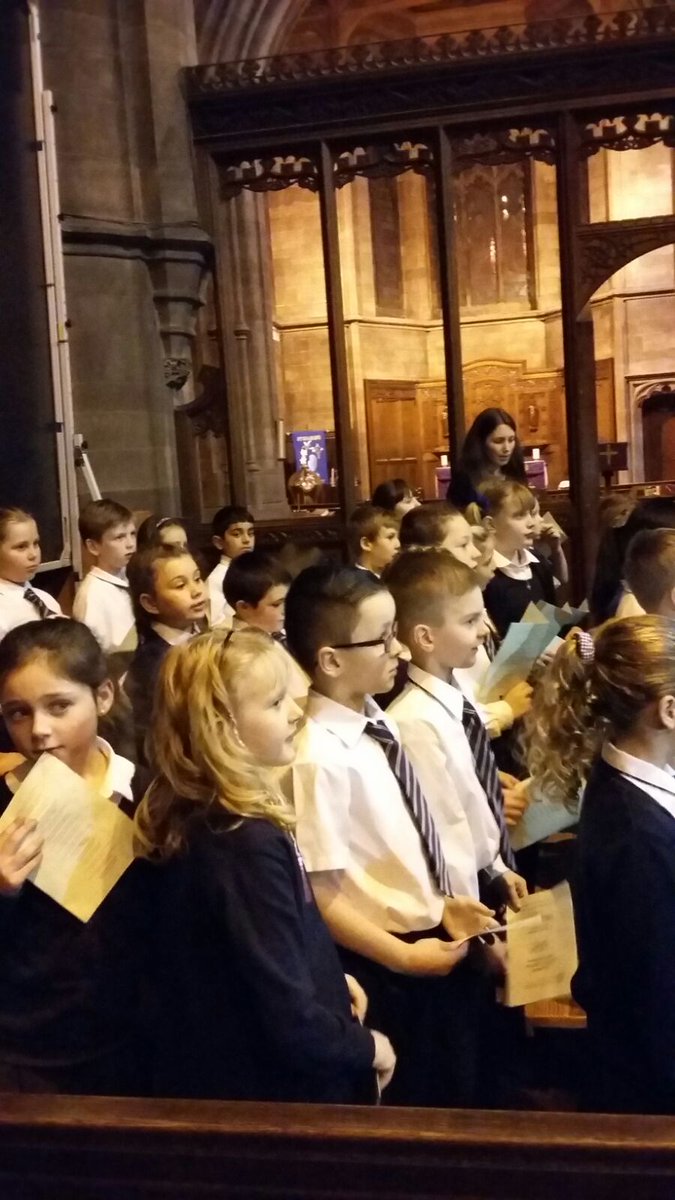 Tonight, our Lower Junior pupils performed the first of two concerts this Christmas at St George's church in Stockport.  Many schools in Stockport take part in this and the pupils rehearse for weeks prior to this with their class teachers in order to learnt the songs and then sing in a Stockport schools choir.  St George's is an atmospheric building and whatever your beliefs, you cannot fail to be moved by the experience as a whole.  Well done to all of the pupils who took part.  I am sure that this will serve as a memory for you for many years to come.
Friday 4th December 2015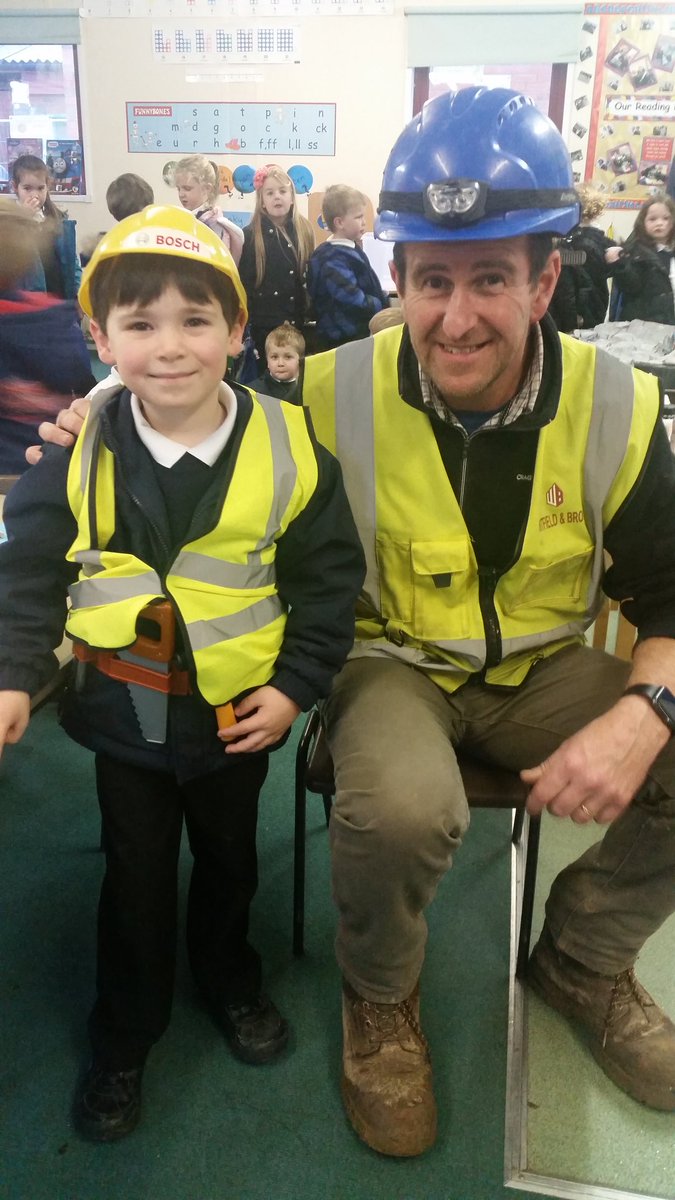 Harry in our Reception class missed Dave Day on Tuesday due to ill health.  He had been so looking forward to it and was desperate to show the man himself the outfit he wanted to wear on the day.  Harry's little face when he saw Dave and had a chat with him was a treat in itself and I'm so pleased that they both had that moment to share.
Thursday 3rd December 2015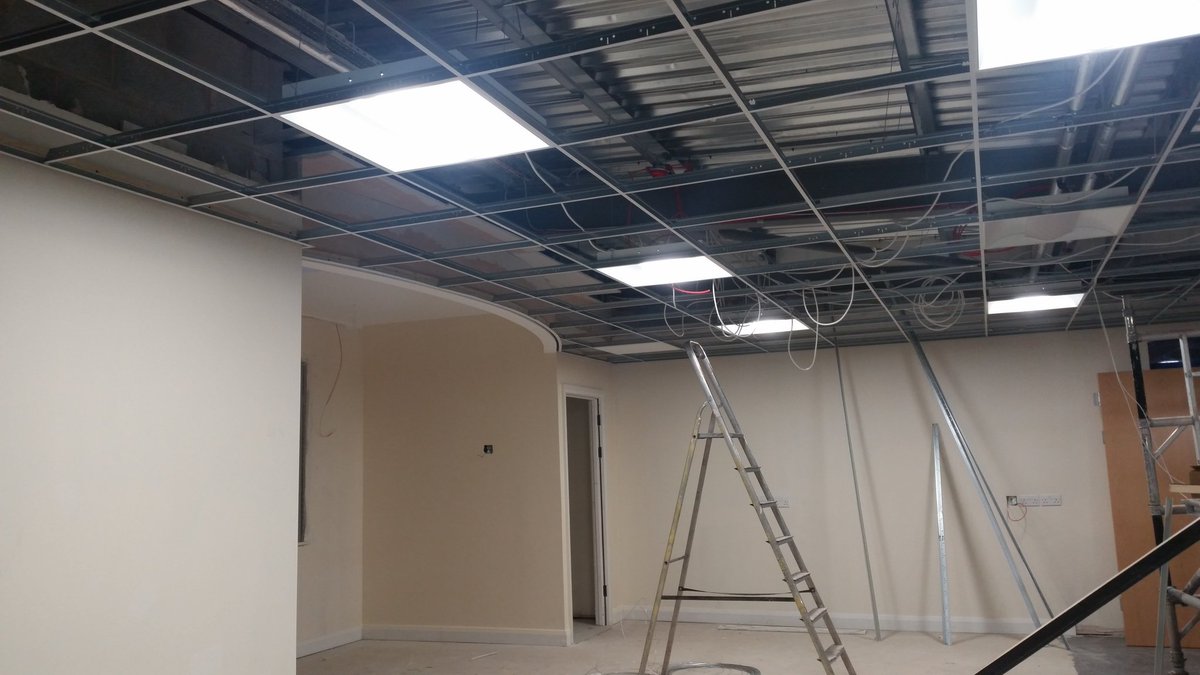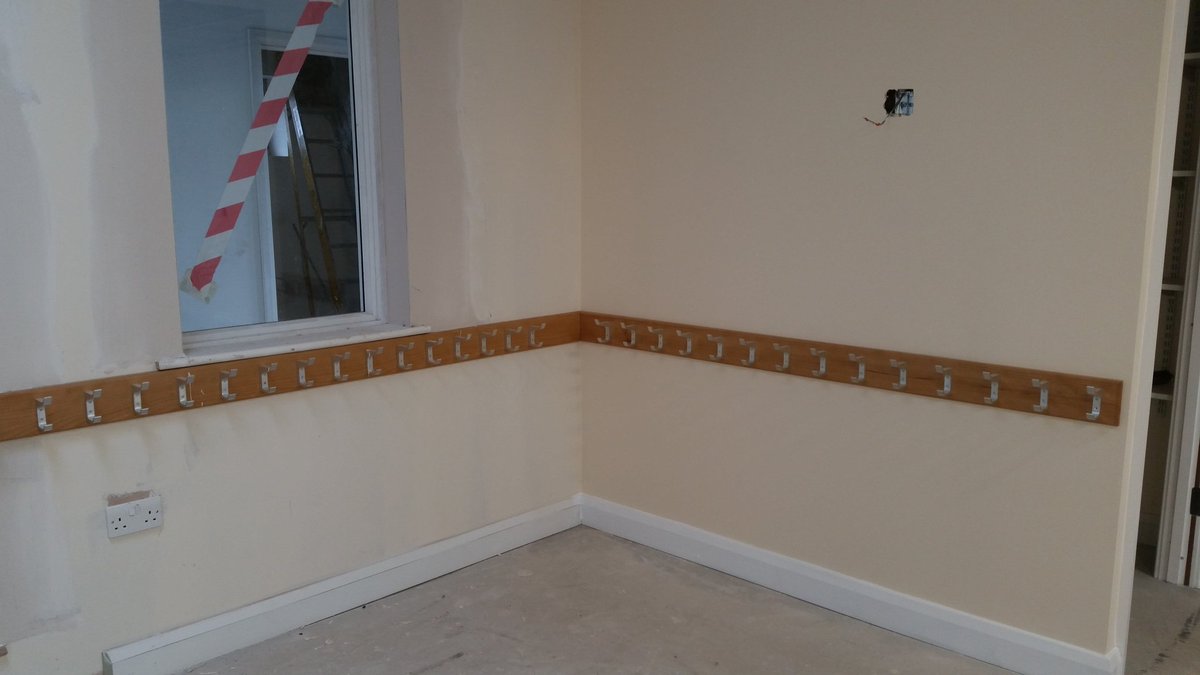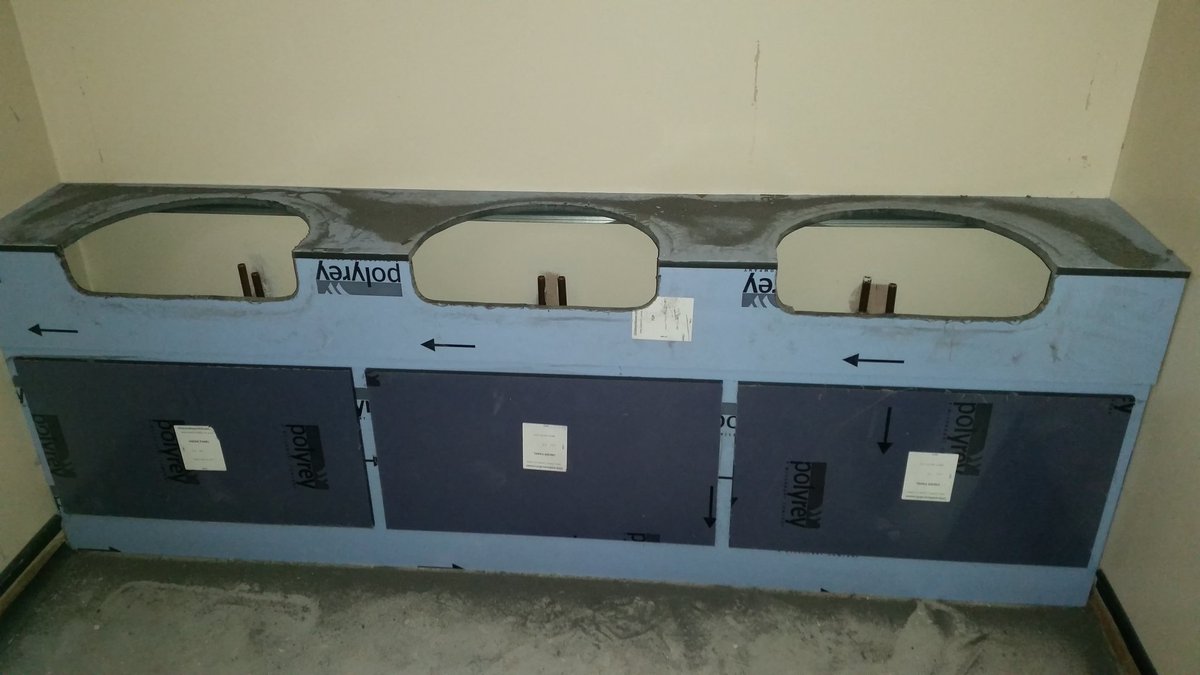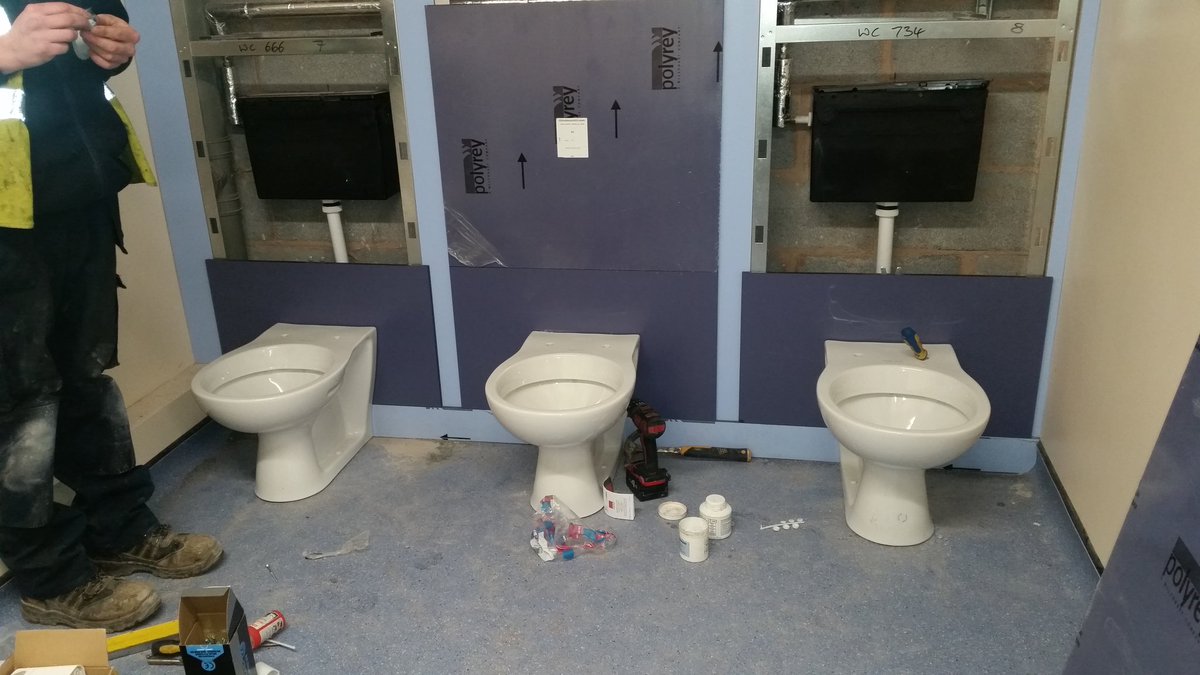 Lots of excitement happening in our new Reception classrooms now with the new lighting taking shape, ceilings and coat pegs being installed not to mention their very own self contained toilets!  I am beginning to imagine our smallest pupils in their new rooms which will look like a wonderland to us all.  Such an exciting time for all of us.
Wednesday 2nd December 2015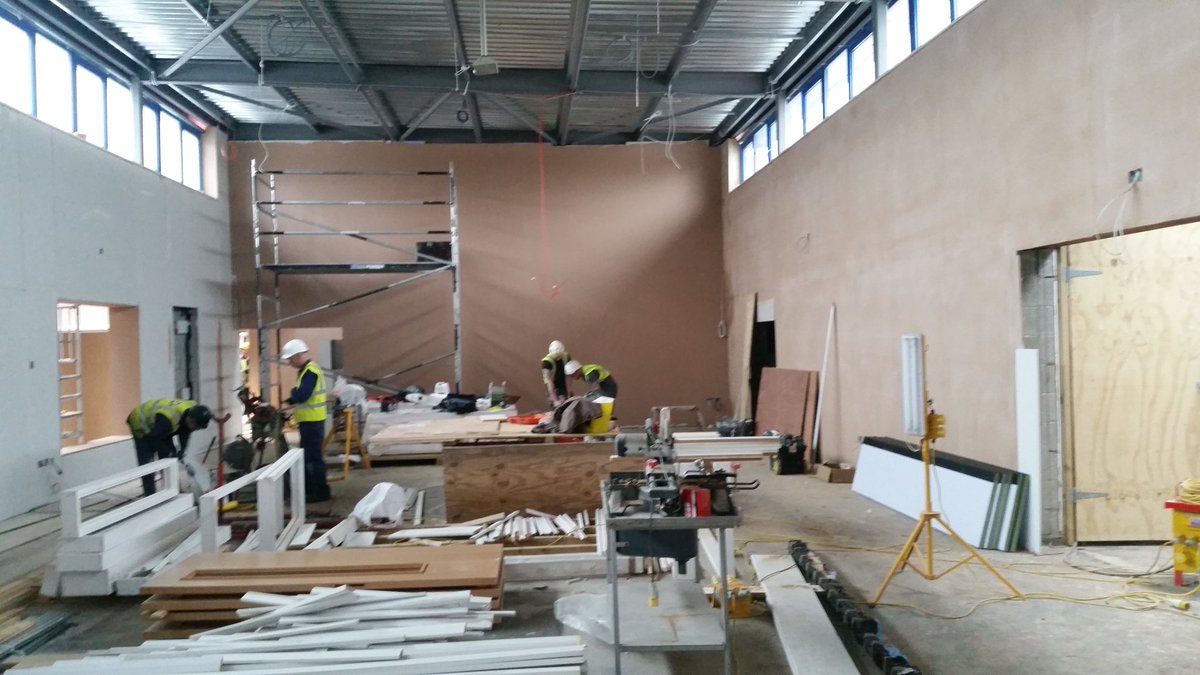 Just as in a far flung land elves are busy making Christmas treats for boys and girls everywhere, we have our very own workshop in our new school hall.  It is a hive of industry with window frames being stored and installed, skirting boards being cut to size and put into new classes, plastering of walls and ceilings taking place, electrical wiring taking place just to name a few things!  Things are moving so quickly now and although from the outside, things may seem to be the same, each day things are changing, hour by hour.
Tuesday 1st December 2015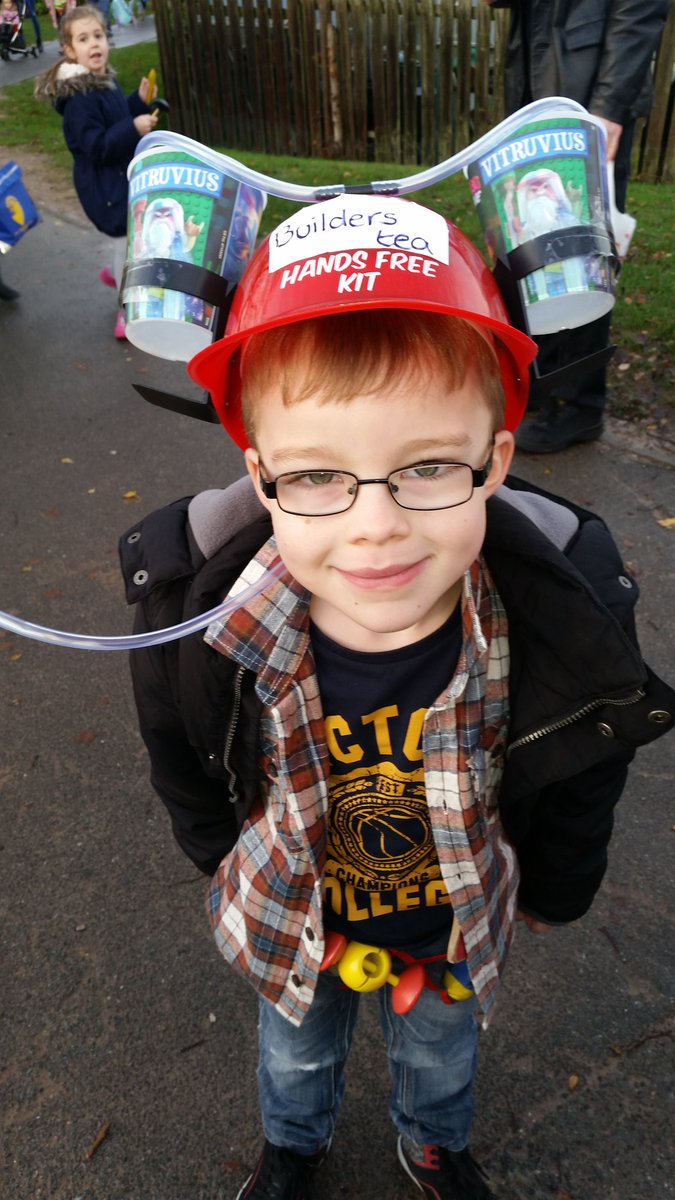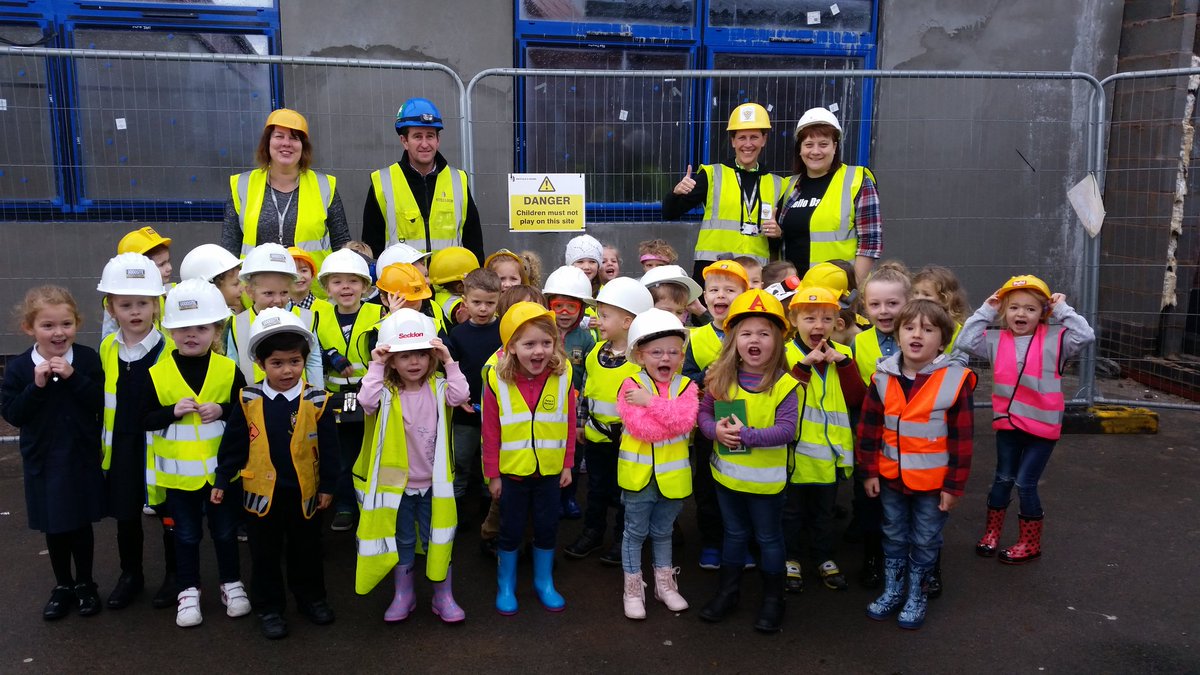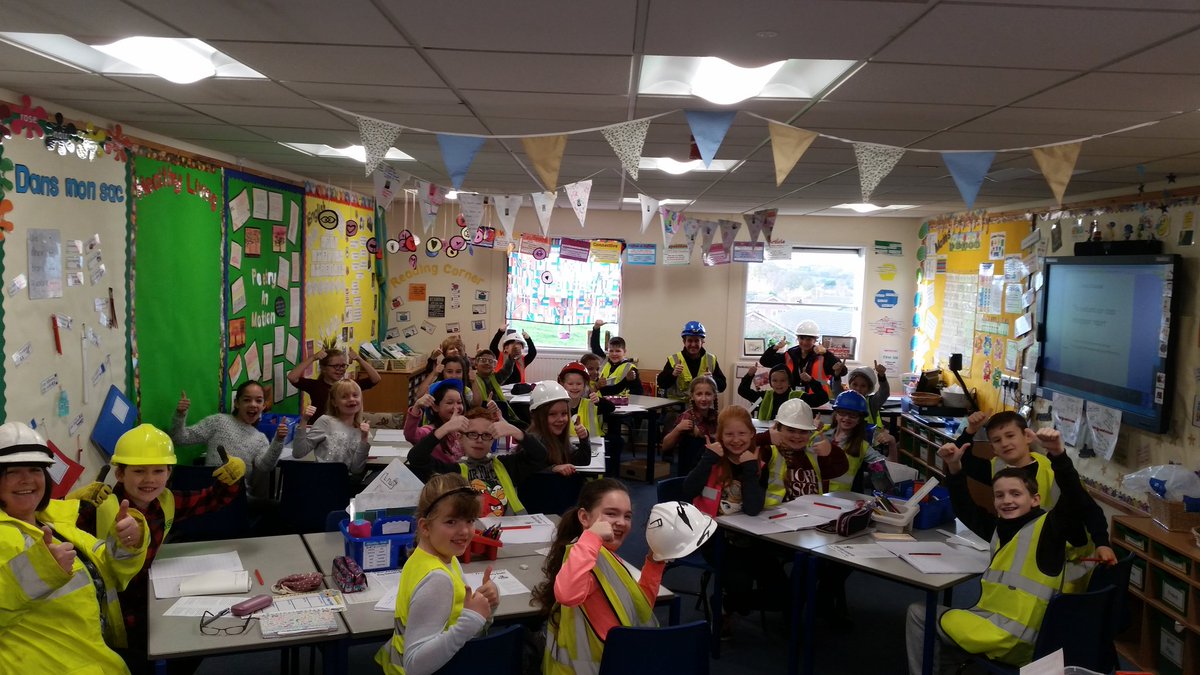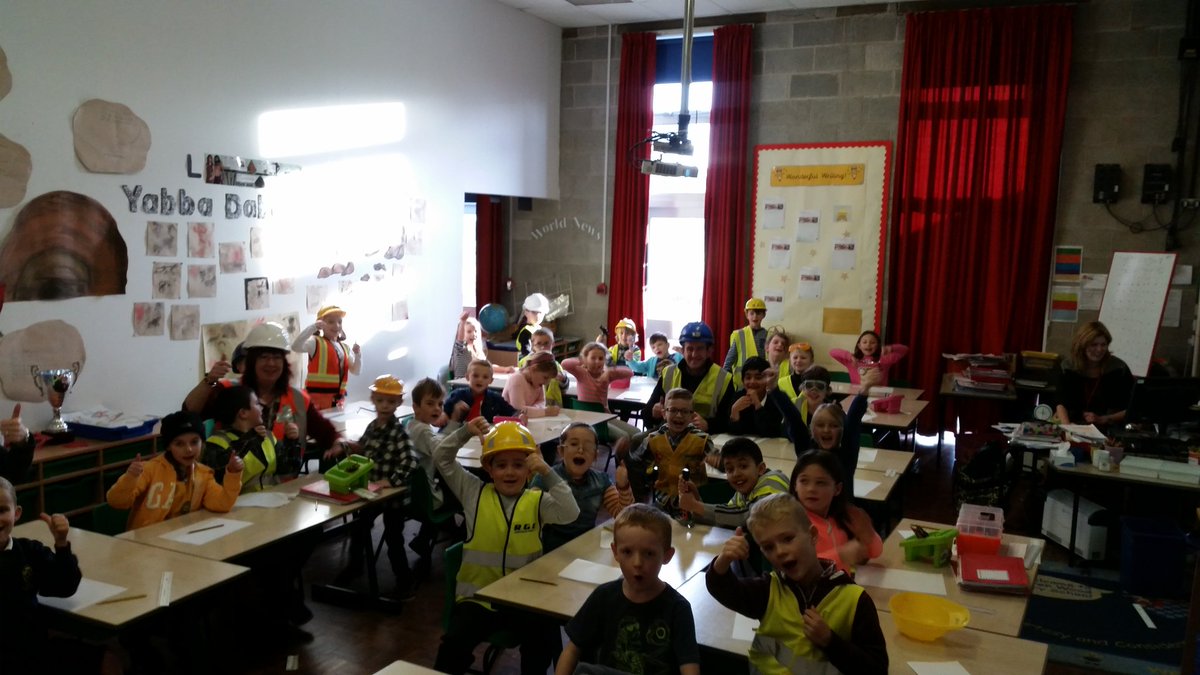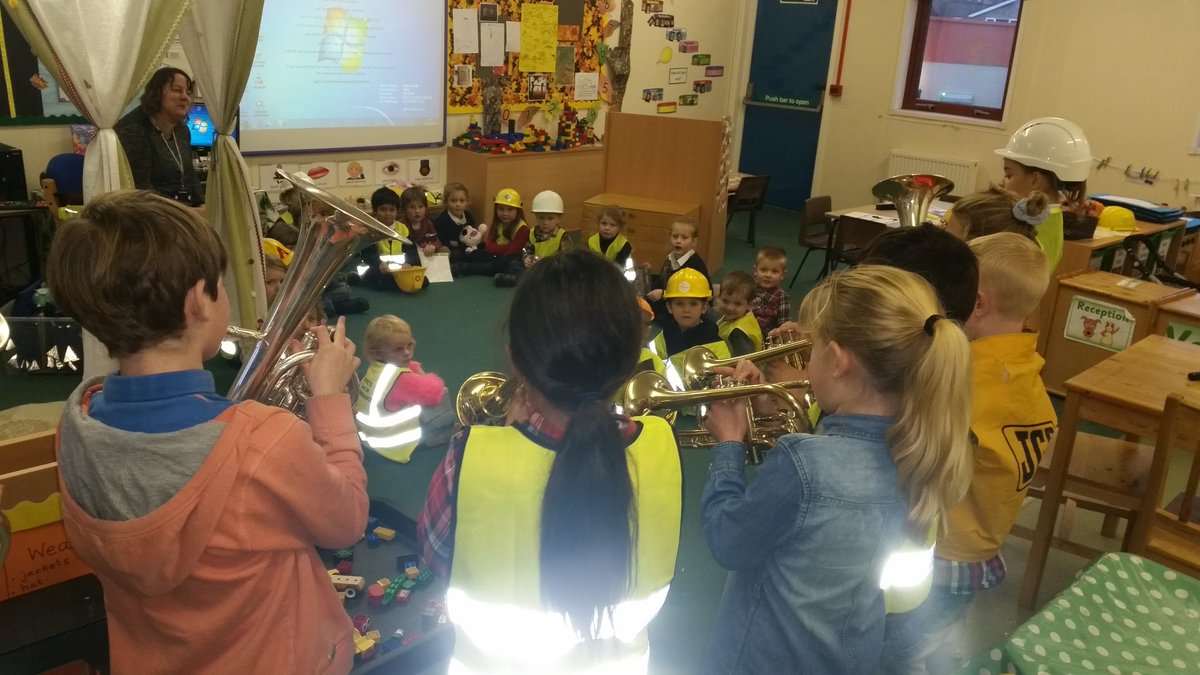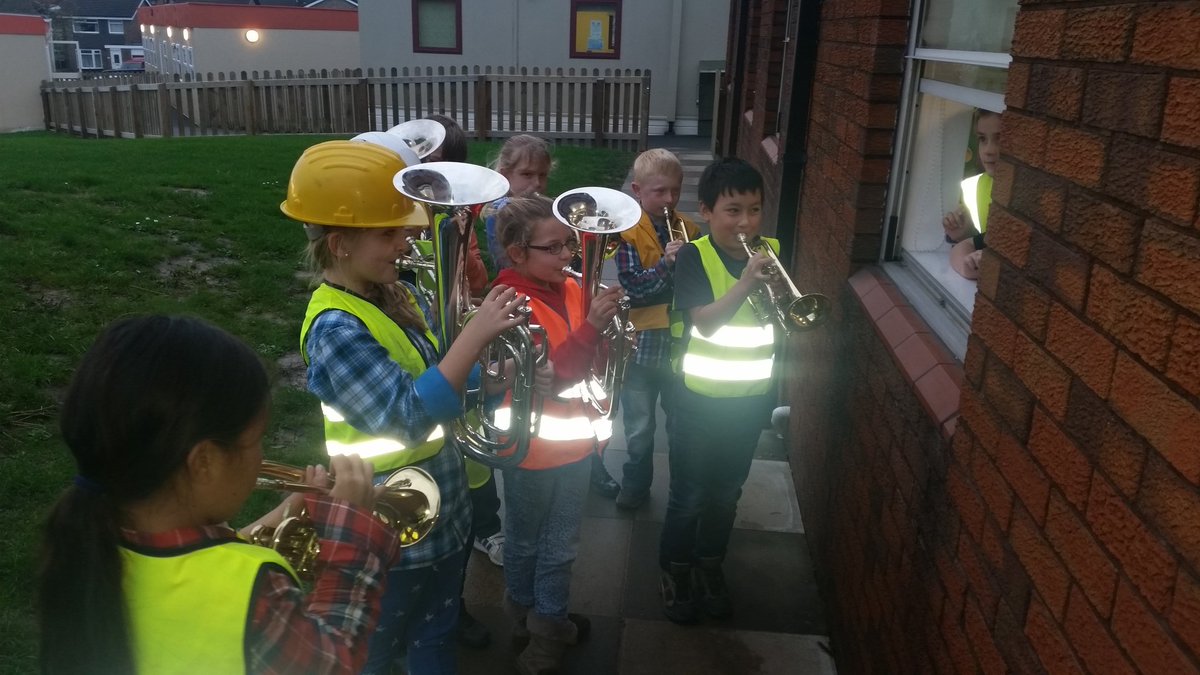 Today we declared a Dave Day in celebration of our fantastic building site manager, Dave Kelly.  Dave has been the heart and soul behind our rebuild program and has become part of our school family over the past year.  He has faced many tricky events during the course of the job and we wanted to take the opportunity to say thank you for everything he has done to keep us all safe.  Our brass band asked if they could perform a very special version of 'Dave the Builder' for him too.  For those of us who know Dave, we have seen how he has done this through great patience and with great humour and that's why we he has become a 'Woodie'.
Monday 30th November 2015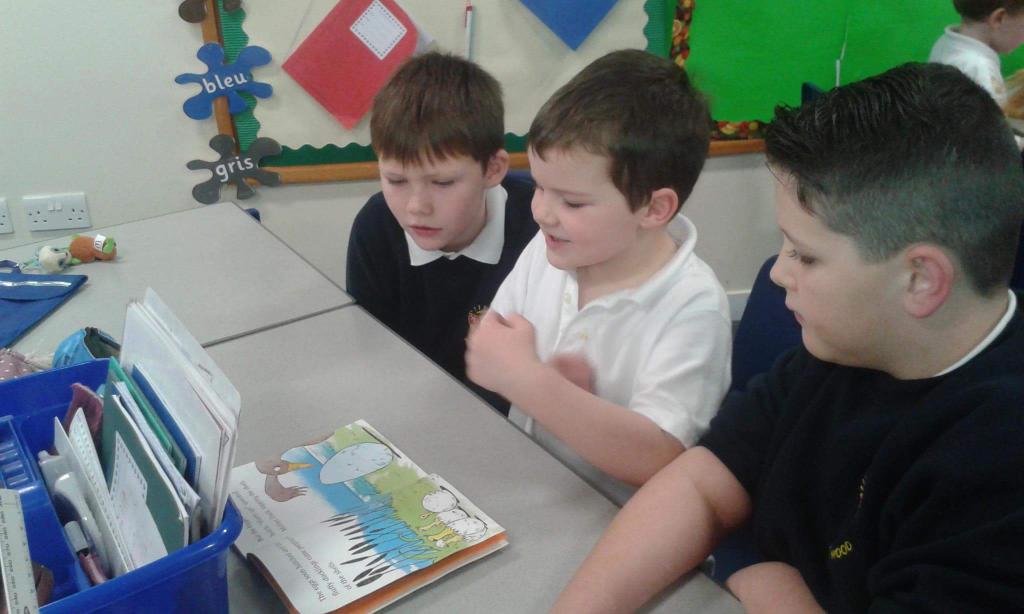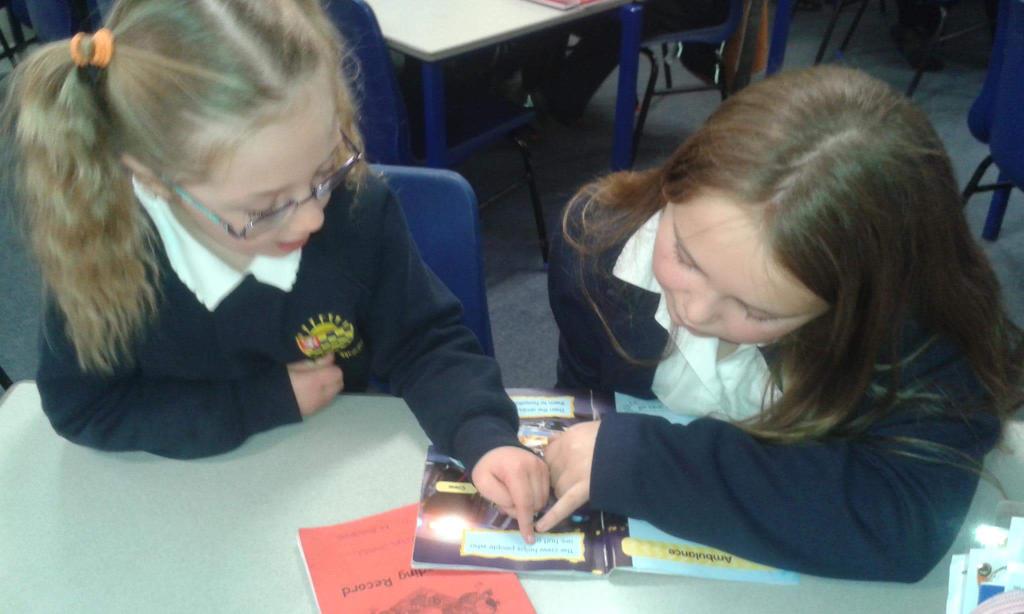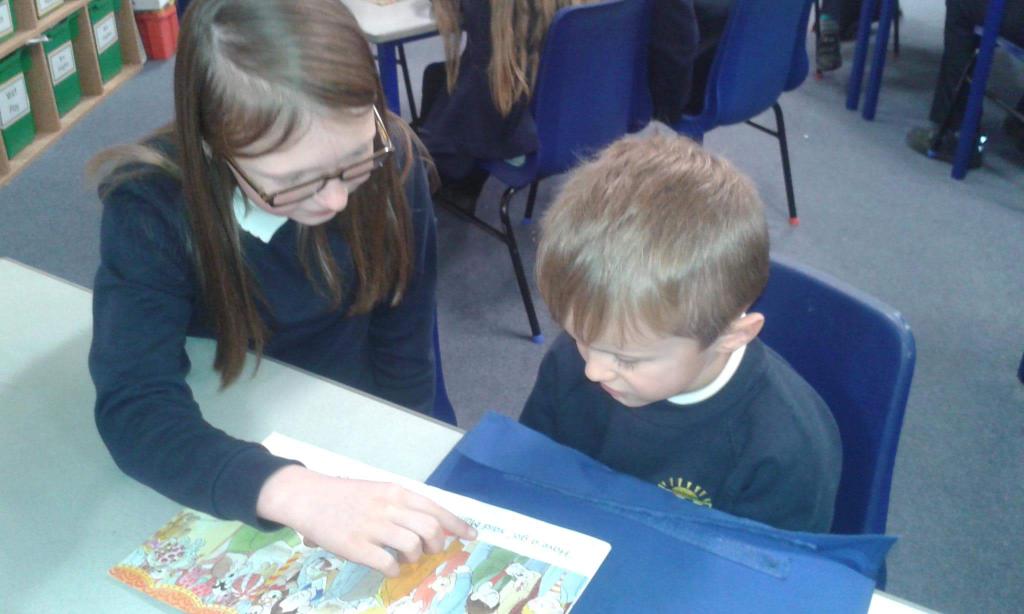 One of the most gorgeous times of the day in school is when our older children meet with their younger reading partners.  This time, Year 5 pupils met with Year 1 pupils to share reading for enjoyment and fun.  During this special time, they also encourage and support their partners in the pursuit of becoming a confident and independent reader.  When we move back into the new school and have a new library, we have many plans for shared reading times with peers in school as well as other feature reading activities for parents and grandparents to come into school and read with pupils and groups of children.
Friday 27th November 2015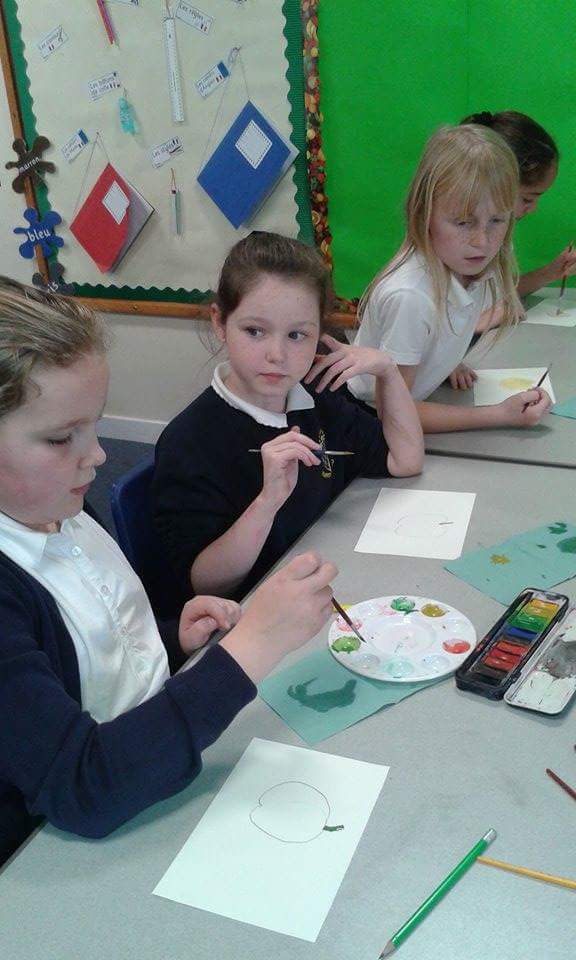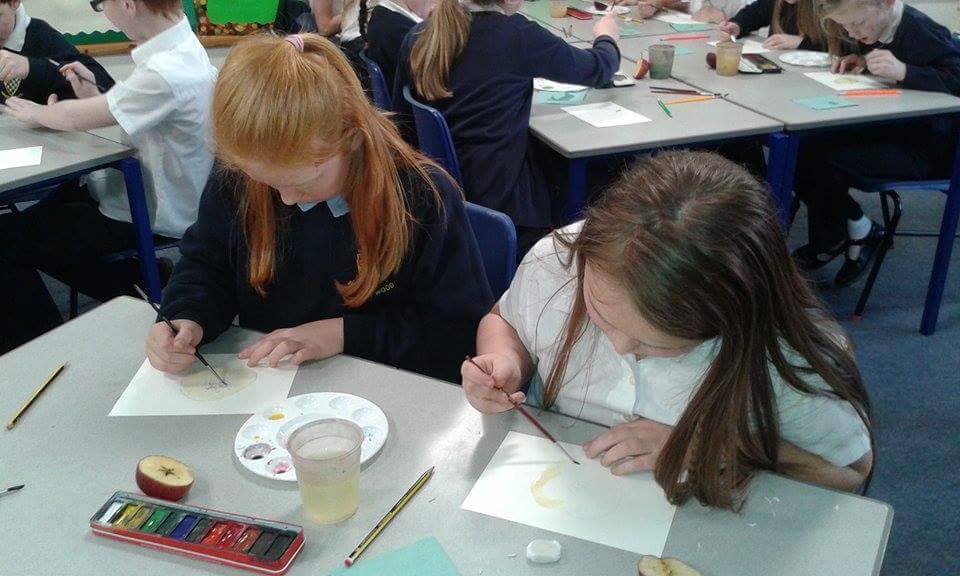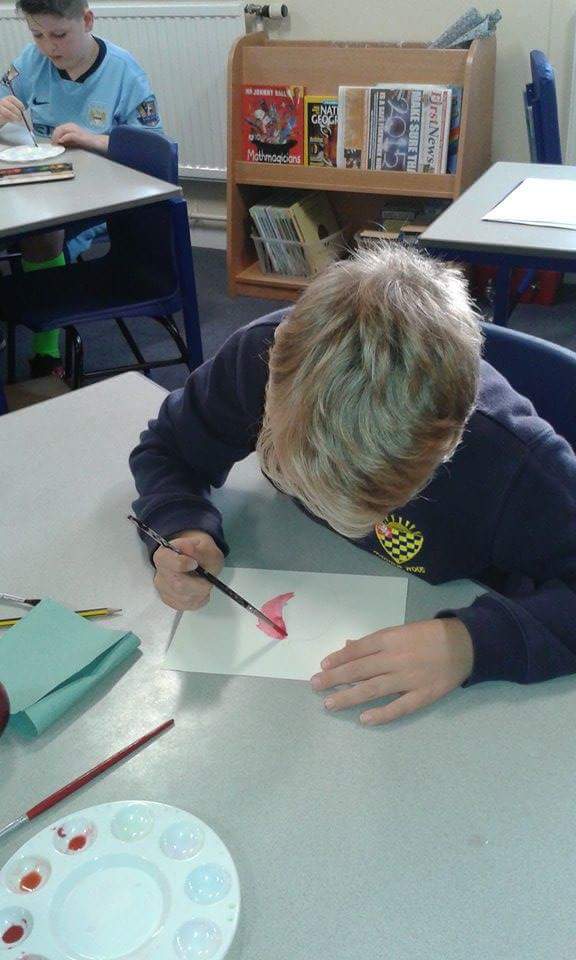 Today, it was the turn of Ms Entwistle's pupils to continue the still life work for the upper juniors.  It is always a joy to visit classes and see such concentration taking place and producing such top quality work.  Each classroom boasts some beautiful art work and really brings the learning that takes place in each room to life.
Thursday 26th November 2015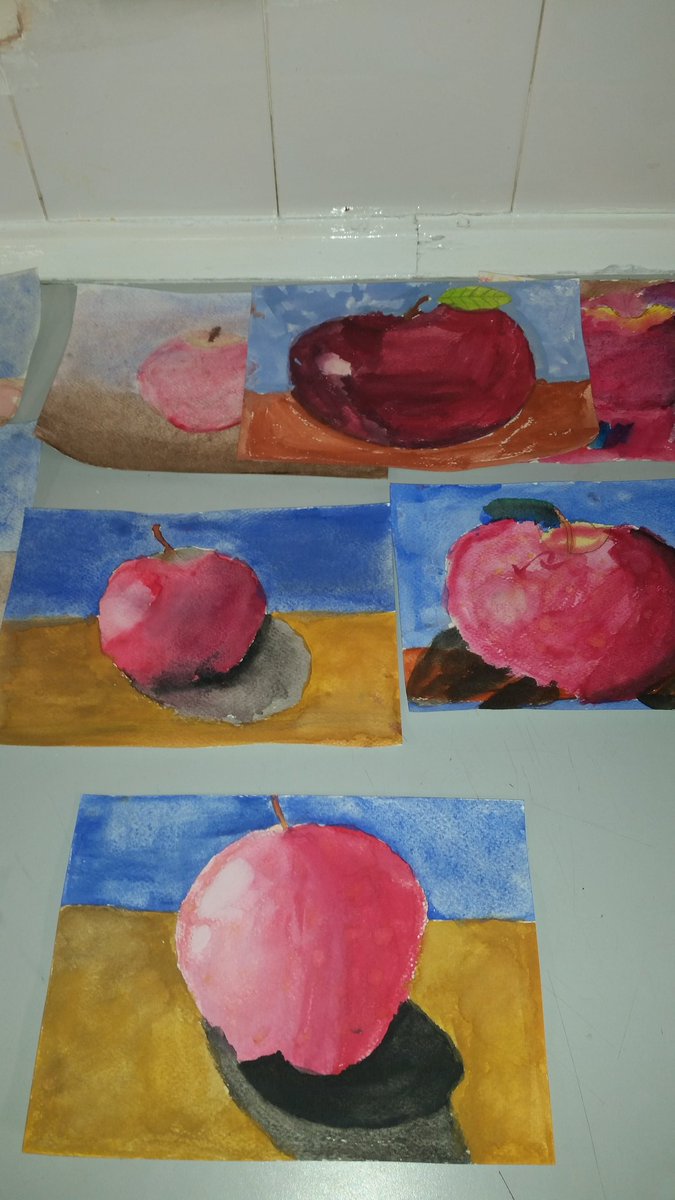 Miss McCabe's pupils have been brushing up on their painting skills to recreate still life paintings in the style of Cezanne.  Using an apple as the initial stimulus. They drew it whole and in half, then painted using water colours and looked also at collage. Such beautiful work produced. You should be so proud. Well done.
Wednesday 25th November 2015
Today is a day of finalising paperwork from all of the recent lesson observations.  I am particularly proud to have observed the things I have in all classes lately as we promised that the building work would not affect the quality of work offered to pupils in the classes and it most certainly has not.  Whilst it has been a joy to visit each class and spend time with teachers and pupils watching learning take place, the paperwork that comes with it is a necessary downside that sometimes keeps me away from the classes.  However, all staff and I use this as an opportunity to reflect on the many wonderful things that are taking place in school already and focus on driving forward standards even further to ensure we offer your children the best quality education we can.
Tuesday 24th November 2015
Less than 24 hours later, we have yet more wonderful news to share – Mrs Whittle and her husband have welcomed their first child, Stanley Francis into the world.  Mrs Whittle only finished work last Friday and we can only be grateful for her sense of timing as due to the severe lack of space at school, if she had worked any later, we could have been delivering baby in a builders cabin!  Another little 'Woodie' to add to our school family – congratulations to the Whittle family.
Monday 23rd November 2015
Well, some wonderful news to start our day with today.  Mrs Prior welcomed baby George William into the world today.  Mr Prior and little sister are making sure that George and his mummy are safe and well and looking forward to coming home, hopefully later today.  Monday mornings usually have a reputation of being miserable things to face, but as Monday's go, we'll be happy to take this as ours.  Congratulations to all the Prior family on their wonderful news.
Friday 16th October 2015
Another week has flown by and it is another week closer to being back in the main school building.  Whilst the developments outside of the building may seem to have slowed down slightly, this is because the main bulk of works have been taking place inside the new school.  There has been a constant trail during the day of electricians who are setting out the new wiring for school.  This includes new ceiling lighting, light switches and data points.  There have also been ground workers completing brick work joining the old parts of the building to the new.  The intricacies of such jobs take time but having been inside the new building, I can reassure you that it is really coming together and changing before our eyes weekly.
Thursday 15th October 2015
On behalf of the staff and myself, I would like to say a huge thank you to all of you who have been able to attend parents evenings this week, especially in your increasingly busy and hectic lives.  It is so important to us all that we get to meet with you and discuss the people who matter most – the children!  We are so proud of our pupils, the work that they do, the challenges that they face and the resilience that they show and it is rally important to share that with all of you.
Wednesday 14th October 2015
On our staff training days in September, one of the things that staff looked at in great detail was the school behaviour policy.  This has been redesigned by all staff so that it is more purposeful to the school today.  We have been mindful to make the jargon that policies can sometimes contain, more streamlined and reader friendly, making it clear what the responsibilities of school, pupils, parents and governors are.  For those of you who have seen me furiously typing away at my desk this week will now know what I have been looking so intently at!  This will be presented to governors over the next term and the updated version will appear on the school website in the new year, replacing the previous policy which we still use currently.  Please read it once it is there as it is crucial to the successful and safe running of our school that you and your child are aware of the high expectations that we have at Warren Wood.
Tuesday 13th October 2015
A busy old week for the upper juniors this week as Year 6 have 'Safer Cycling' training this week.   Year 6 will also be treated to the same visit from our visiting speaker for 'Black History Month' on Friday.
Many of you have already visited us for Parents Evening this week and we are only half way through.  Hopefully, by the time Thursday night at 8pm arrives, we will have seen all of you for an update of how your child has settled into their new class.  This will also give you the opportunity to discuss with your child's class teacher anything you may wish to know about the day to day needs of your child in school.  Reception will get their own parents evening after half term so that the children get a chance to settle into school life for the first half term.  This also gives staff the opportunity to complete essential 'baseline assessments' which measure the understanding of pupils on entry to school.
Monday 12th October 2015
In recognition of Black History Month, Year 5 have had a visiting speaker today.  He discussed with the pupils about inventions made for the modern world by prominent black men and women.  He also shared stories about black role models from the world of film, television, sport and music in order to raise awareness of the pupils of how life now in our multicultural world is very different from how it was many years ago for people of other cultures.  Our pupils had a wonderful time and could barely believe how much the world has changed.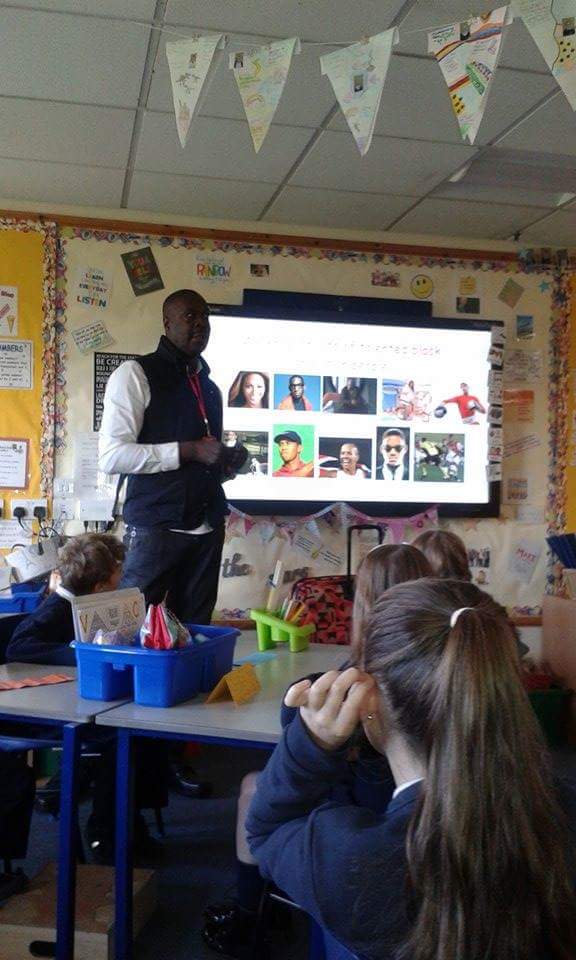 Friday 9th October 2015
I can hardly believe where this week has gone!  The theme for assembly this week has been 'Kindness'.  We used the example of Princess Diana, someone who had all the riches in the world, but not much happiness for a time in her life, and how over time, she used random acts of kindness to allow others to feel loved or be happy.  I have talked with each age group of pupils this week about the example she led by and how we can also do this in school.  The younger pupils were able to discuss about being a good friend to others , whilst the older pupils were able to draw on deeper emotions of loss, understanding, love and compassion.  It is at times like this that I feel most proud of the children as I can truly see their personalities shining through.  Well done on another great week everyone!
Thursday 8th October 2015
Year 1 children visited Staircase House again today for some more work on the Great Fire of London.  I am thrilled to report that from both days of this trip, all pupils came back with a glowing report on their behaviour, with guides from the centre remarking on what good manners the children had and how well they behaved.  A real credit to all of us!
Wednesday 7th October 2015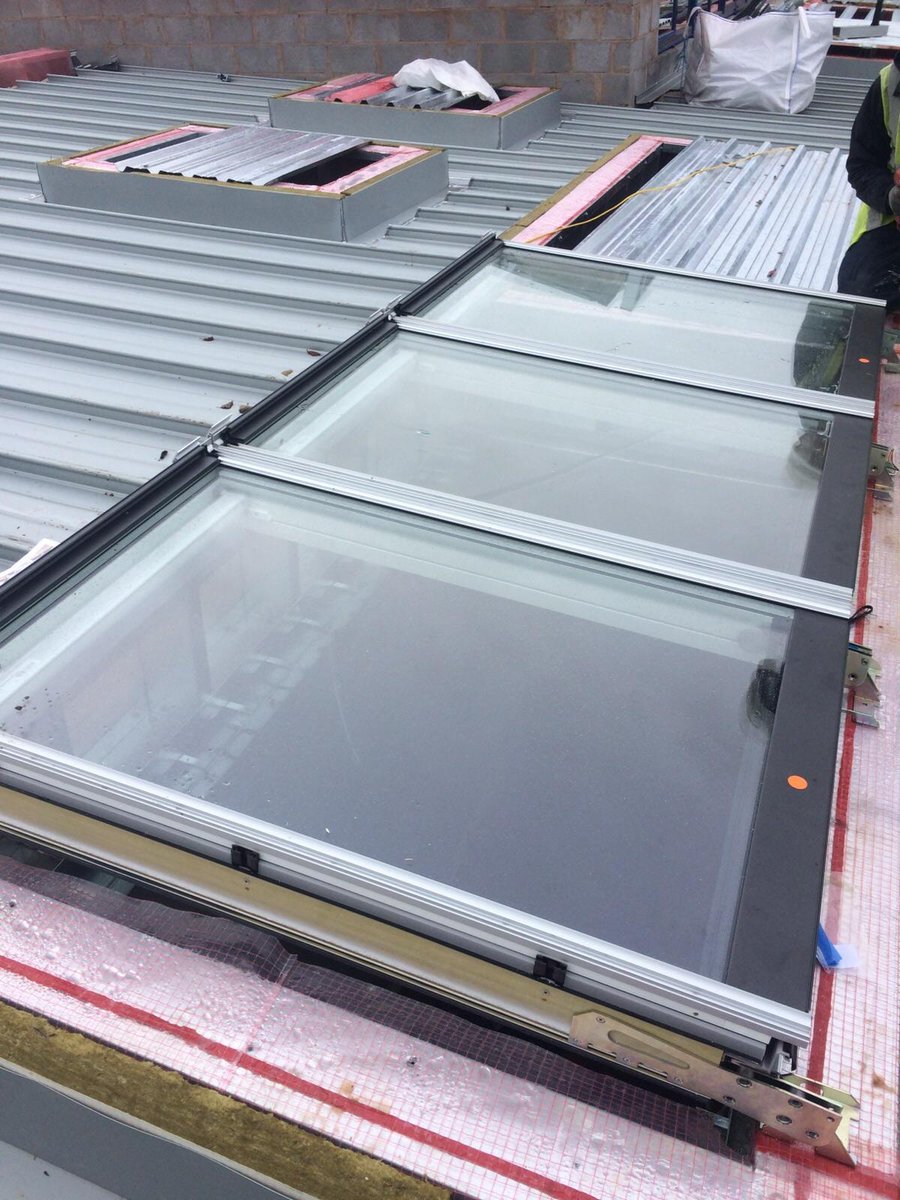 Another exciting development towards our building work.  We now have roof lights!  Once the roof lights are in position, each roof light is secured and made water tight and this obviously then seals the roof securely for work to begin inside.  A specialist welder ensures that this part of the job is done and then inside the school, the rest of the wiring can take place, along with the screeding of the floors before the plastering takes place, hopefully next week.
Tuesday 6th October 2015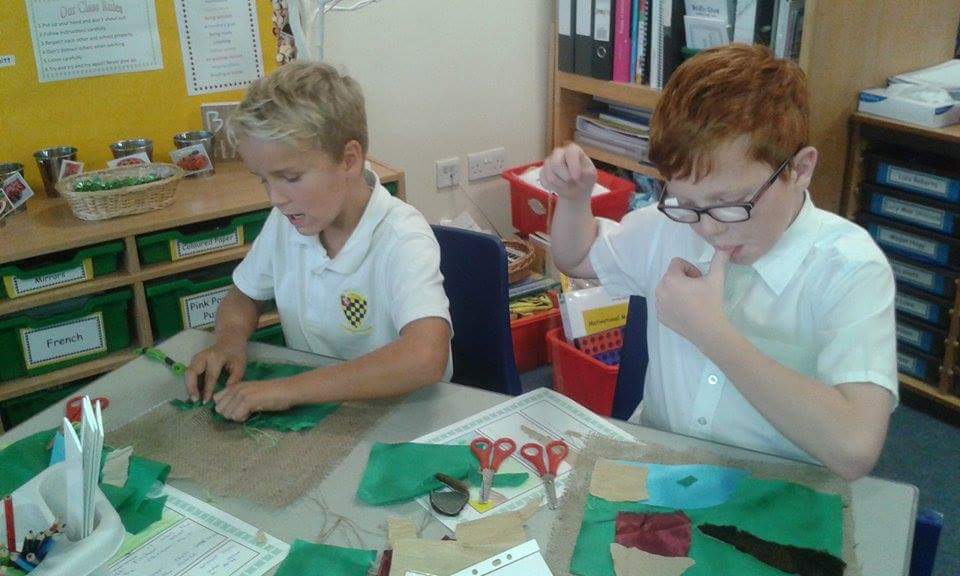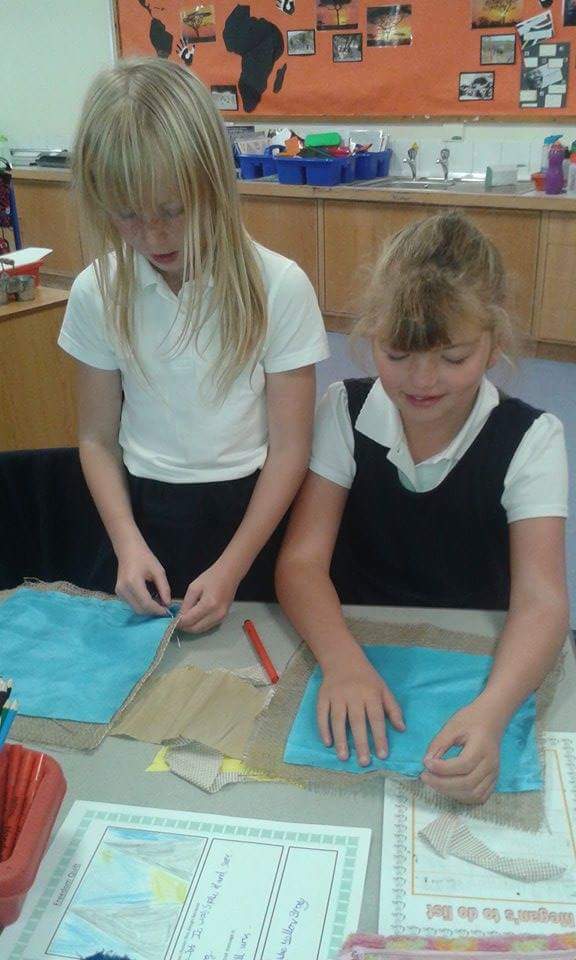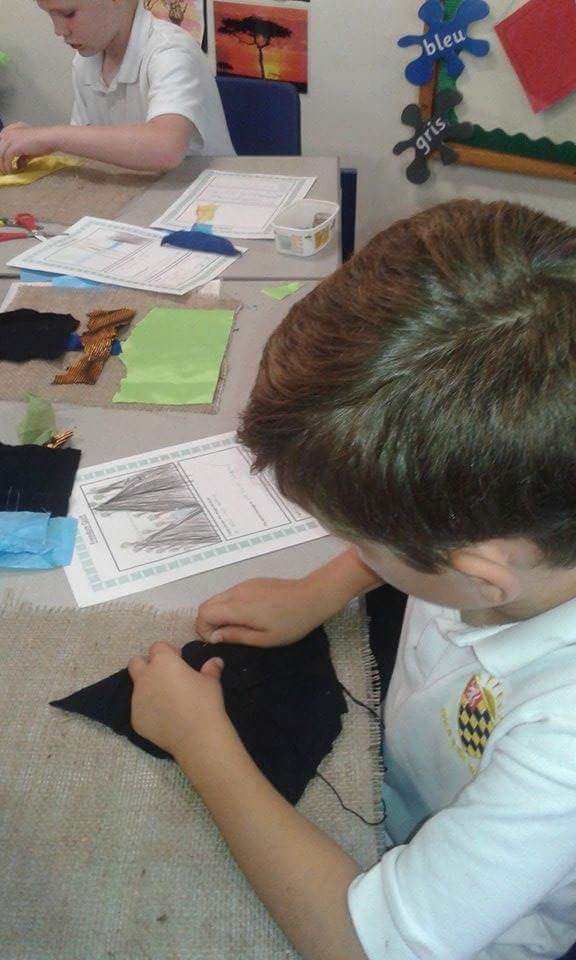 In Year 5, pupils have been designing a Freedom Quilt as part of their work on slavery, within the topic 'Out Of Africa'.   This has encouraged collaboration and teamwork, alongside determination – especially when the needle continues to 'unthread itself'!.  The pupils know that we have the aim of these huge collective works being displayed in the new school during the next few months and therefore their determination and motivation have been high in hoping to complete a high quality piece of art work.  I look forward to seeing the finished article!
Monday 5th October 2015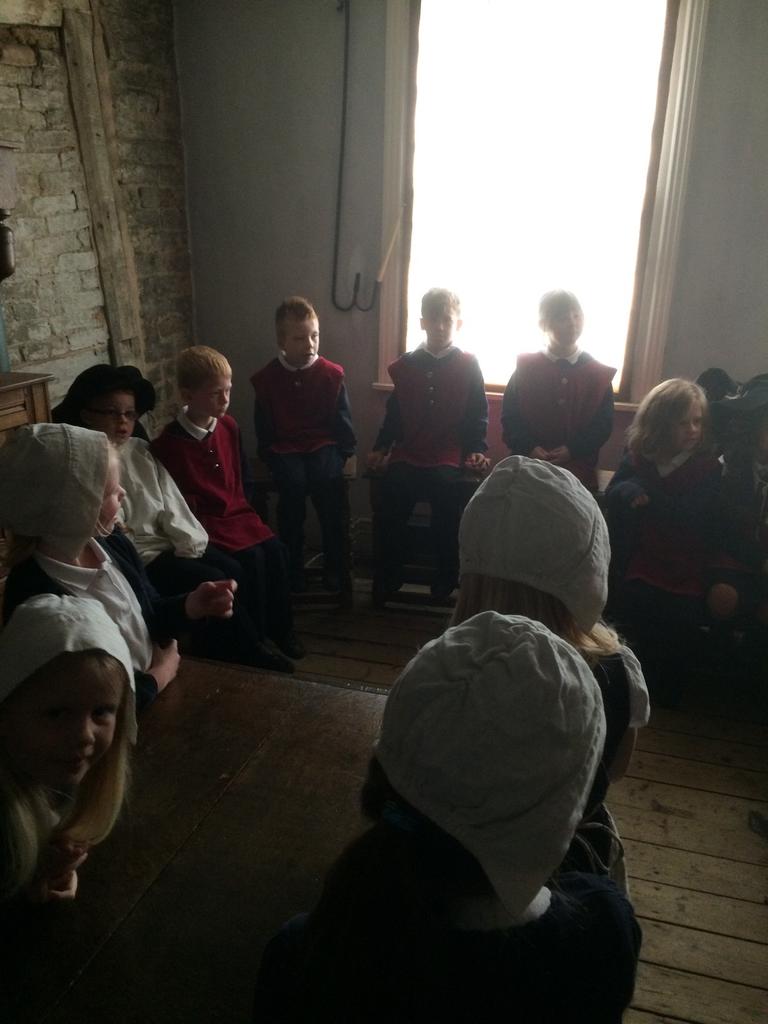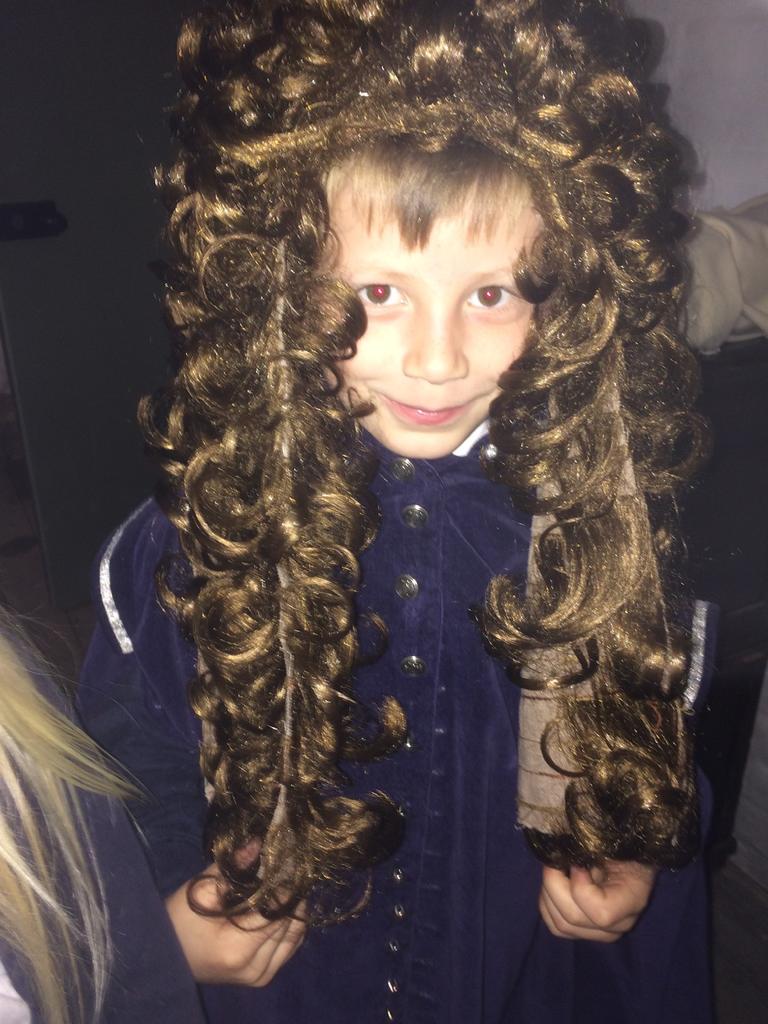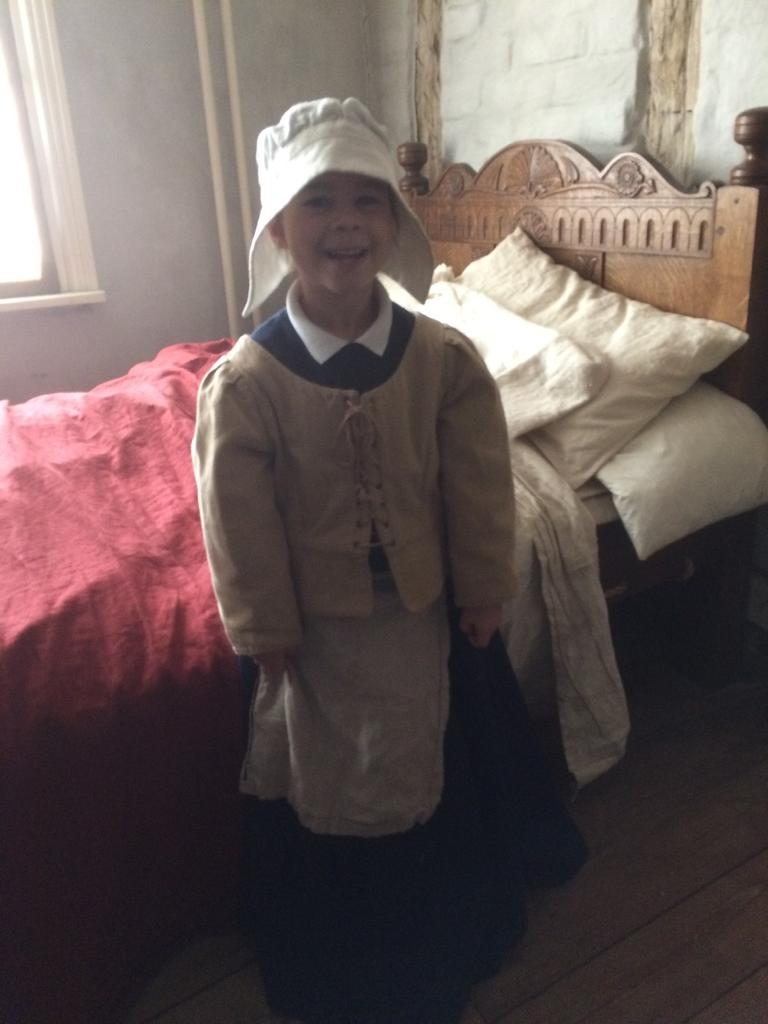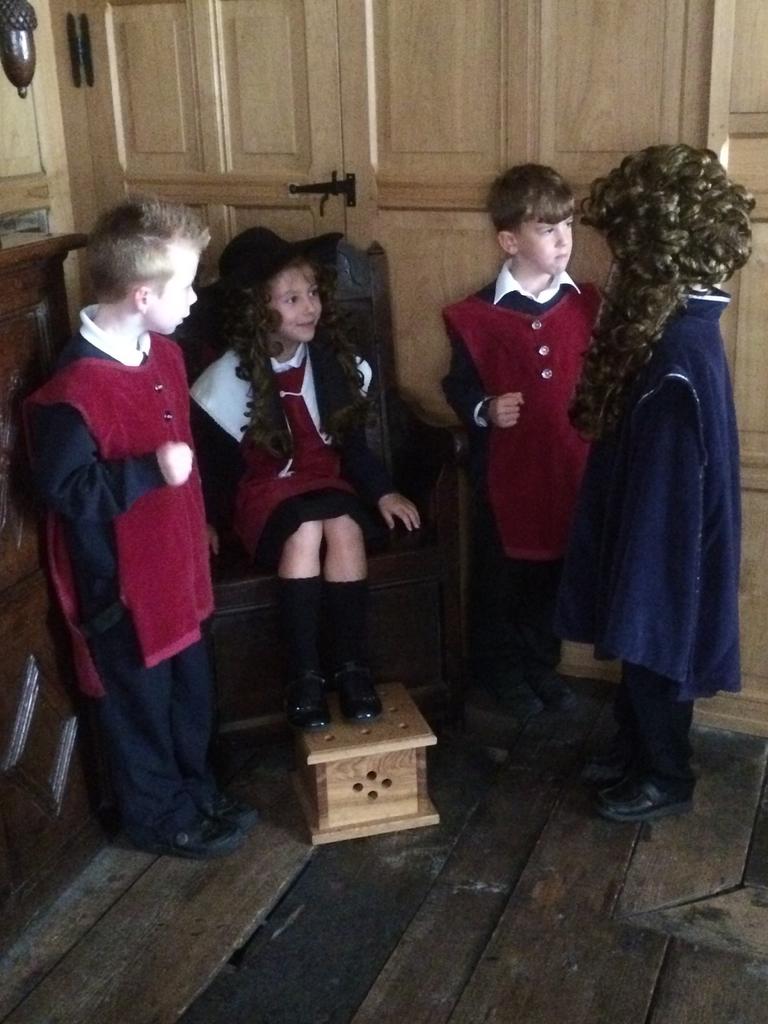 Today, Year 1 and 2 pupils visited Staircase House in Stockport to learn all about the Great Fire of London.   Pupils had the opportunity to dress up as key characters from 1666 such as Samuel Pepys and King Charles II and think about how life could have been for people caught up in the Great Fire of London.  This ties in brilliantly with the topic in KS1 at the moment of 'Through the Keyhole'.  If your child went on the trip, ask them key questions about the song 'London's Burning' and the name of the lane that the Great Fire of London started on.
Friday 2nd October 2015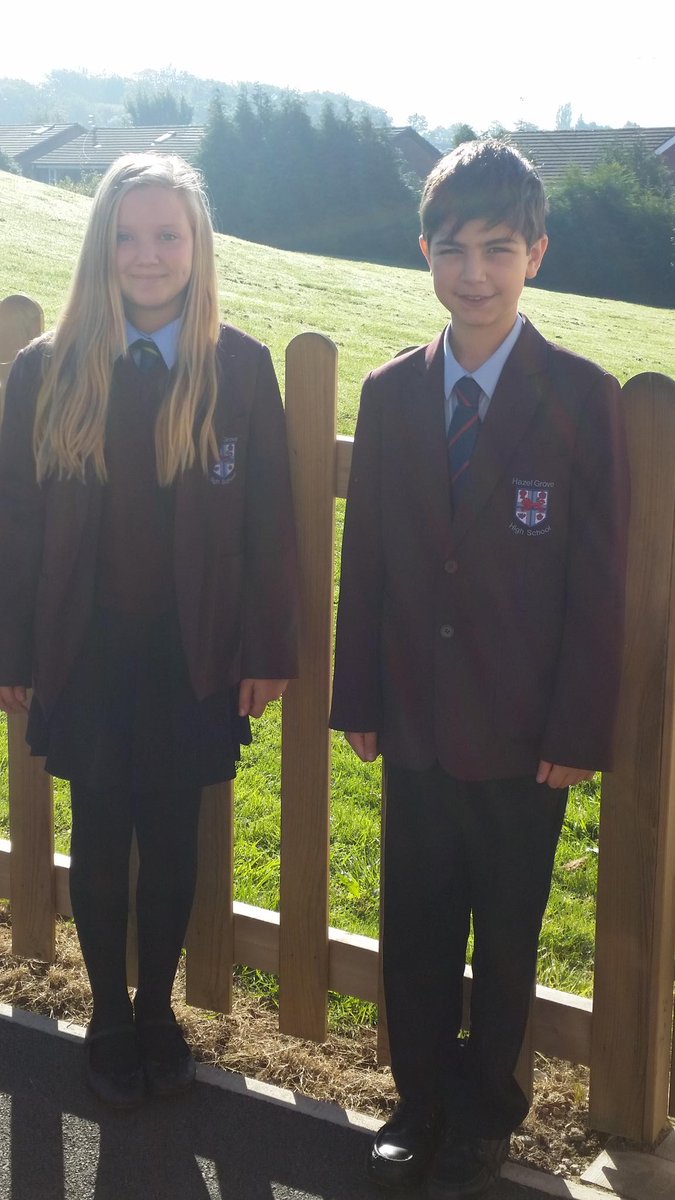 This is Eleanor and Howard, two of our pupils who left in July to go to Hazel Grove High School.  They proudly came back today to represent their new school, along with Headteacher Mr Sibson, to discuss just how life is at a high school and how they have settled in.  They delivered a 'Q&A' session to Year 5 and 6 pupils, allowing them to ask questions about the things they may well have worries about or interest in.  It is always really rewarding for us as teachers to see how well pupils have settled and how they are blossoming.  Lovely to see you both back at Warren Wood.
Thursday 1st October 2015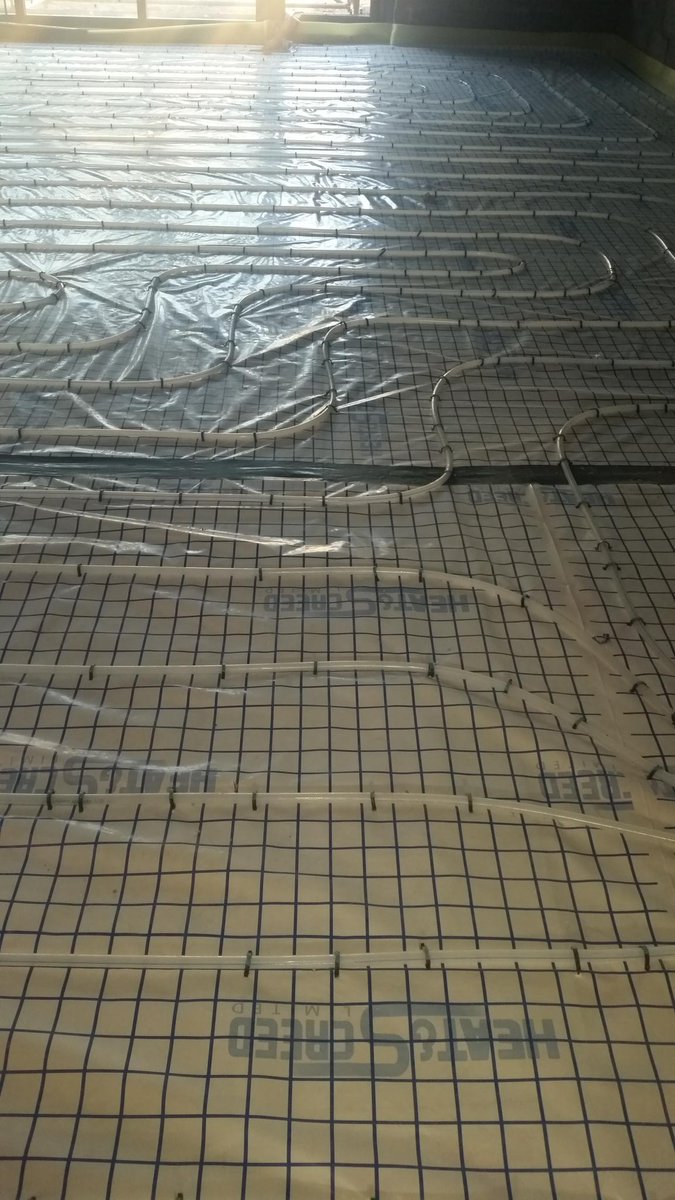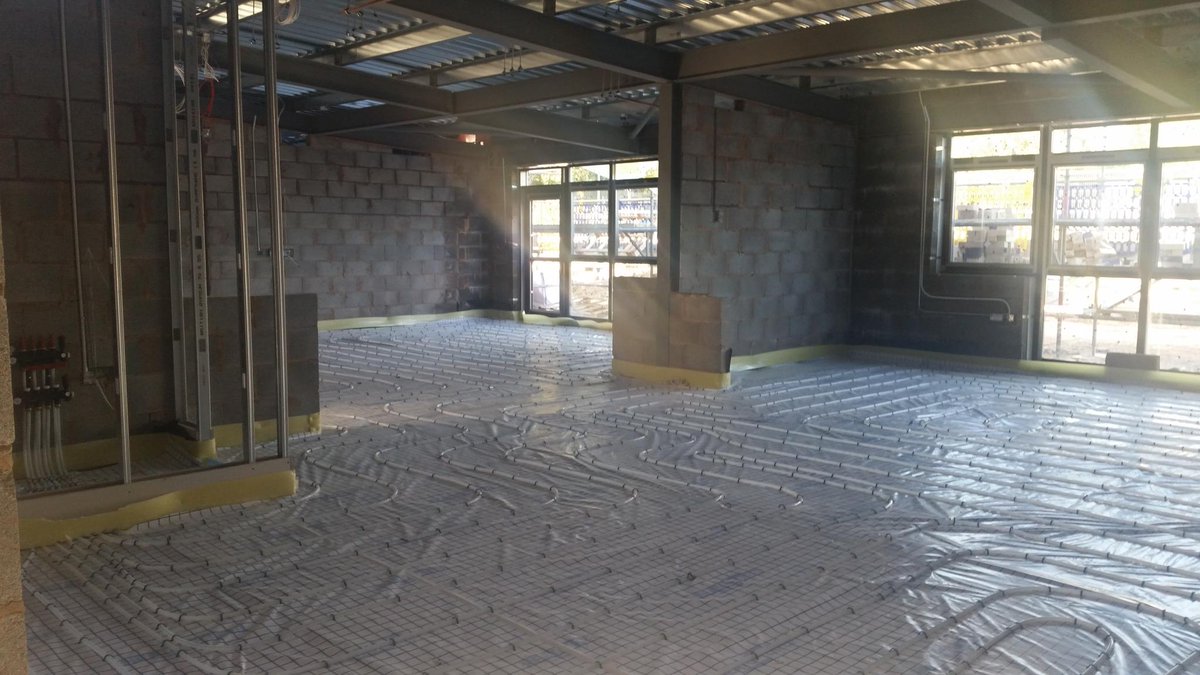 This intricate maze of pipes and tubes in our under floor heating which has been installed over the past few days.  It is in all new infant classrooms, across a section of corridor and in the new school library too.  This picture shows the inside of the Year 1 classrooms and soon enough we will see the rest of this come together.
It is a real sign of how things are now taking shape after the disappointment of the delay we faced due to the roof.  Now, with the roof in place, inside school is starting to take shape and we can start to believe that it won't be long now until we get the beautiful new school we have waited for.
Wednesday 30th September 2015
What a difference a week makes!  On the left if the picture of the roof whilst awaiting the top sheets of the roof to arrive, ready with insulation and seals for the roof lights.  Unfortunately, the delay in the roof arriving has meant an inevitable delay in the roof being made watertight which has had a knock on effect to the interior jobs commencing.  However, the picture on the right hand side shows clearly how much has taken place in just one week.  With the top sheet in place, the roof lights which are in each classroom and above the corridor can now be welded and secured meaning we have much needed ventilation and light around our school.  Obviously, we are disappointed that we couldn't be back in school by the end of September as we had first been told, but we are much happier in knowing that the job can now proceed and it will all be worth the wait.
Tuesday 29th September 2015
Children in the upper juniors have visited Liverpool Slavery Museum' today.  It is always such a well received trip to make because it allows our children to focus on some deep rooted issues in history and gives them a clear empathy and understanding on what life was like.  Pupils listened to speakers, were given the opportunity to handle artefacts and discuss the historical background to slavery.  Great reports came back to school of the children's behaviour too that he been remarked upon by other visitors.  Well done all on a great day out.
Monday 28th September 2015
One of the jobs that I do each term is connected to teacher appraisal.  As with most jobs, teachers have to demonstrate how the work they do makes an impact upon school improvement.  This week, I shall be meeting with all class teachers who will each have targets (just like the pupils!) that they have to try and reach by the end of the year.  In amongst these targets are new initiatives that the teachers would like to drive forward throughout the year.  They are based on pupil progress, leadership and management and matters of professional development.  Next time your teacher is on a course, make sure you ask them what they learned and if it had helped them towards their target!
Friday 25th September 2015
Today has begun with Upper Junior assembly, posing the topical question of 'Are you a builder or a bulldozer?' – Metaphorically speaking, the children were able to respond with some very astute answers to this question, recognising that we can all 'be bulldozers' when we get angry or speak unkindly to one another but equally we can 'be builders' by building up the feelings of others by sharing kind words, thoughts and deeds.  Well done Years 5 and 6 – a very mature discussion and response.
Thursday 24th September 2015
Today has shown me perfectly how diverse this job is proving to be.  One minute I am looking at some wonderful examples of collaboration in Reception, with pupils trying to create a shelter that is waterproof by asking questions, making observations and using their imaginations as they problem solve, and the next minute I am choosing dishwashers and equipment for the new school kitchen.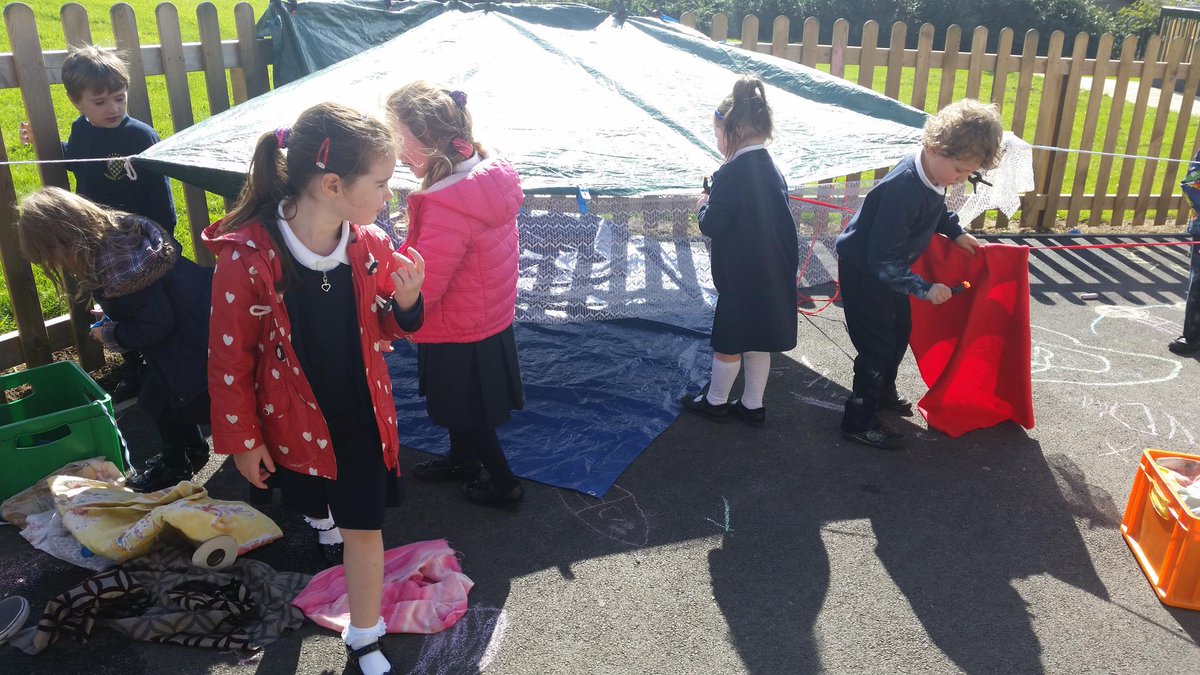 Throw in a little tour around the inside of the building as it stands, looking at new doors and fire safety system going in and before I knew it, it was home time!
Wednesday 23rd September 2015
Each half term, I meet with our school advisor, Mr Bousfield to discuss issues of school improvement.  He was thrilled to see how our building work is progressing but more importantly, he commented on how engaged and happy our pupils look in their learning.  This was our main aim when we began this building project, along with keeping everyone safe, and we are pleased to see this recognised by visitors to school.
Tuesday 22nd September 2015
Today has been a real mixed bag of excitement and serious meetings!  I attended a building meeting this morning where we talked about the delays we have faced over the last 4-6 weeks regarding the building work and how things are moving forward.  Our construction team have tried hard to switch parts of the job round to catch up on lost time where they can due to the weather and delays in manufacture and delivery of the roof.   This obviously has impacted on the fact that the infants have not been able to move in as soon as we had hoped, but we are hopeful to have a date for this sorted soon.  In the meantime, all the children and staff continue to provide the best quality teaching and learning experiences that they can, regardless of the four walls they are in!
On that note, I was thrilled to see a buzz of excitement as I saw Year 3 and 4 in the throws of their literacy work.  They had been 'visited' by a collection of characters from the book 'Stig of the Dump'.  He and his friend Barney had 'left' a collection of materials and objects from the dump and were hoping that pupils could invent things using them in order to help Stig survive in his surroundings.  There was a little suspended disbelief that one of the characters looked remarkably like Mrs Byers (coincidentally, of course) but once we saw beyond that minor fact, the children were engaged, excited, working collaboratively, using their imaginations and empathy to the needs of the character – all of the things that we love about our school and hold dear.  Ask your child what they invented and more importantly, how they felt during this lesson because to us, this is what learning is all about.
Monday 21st September 2015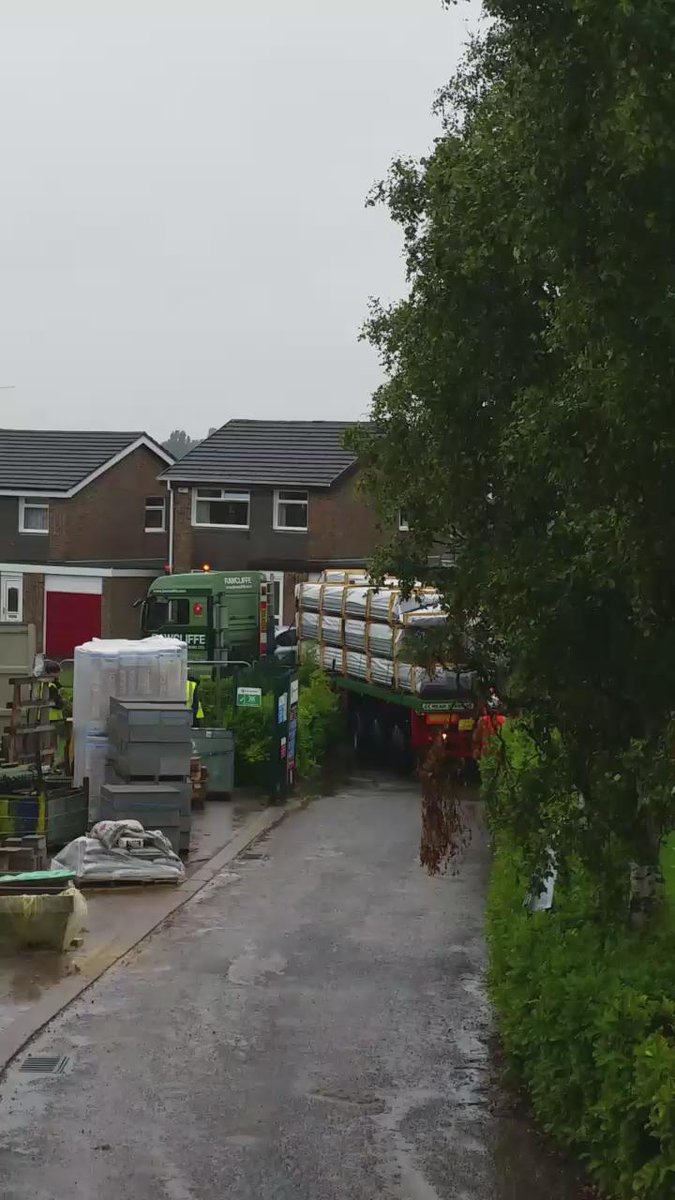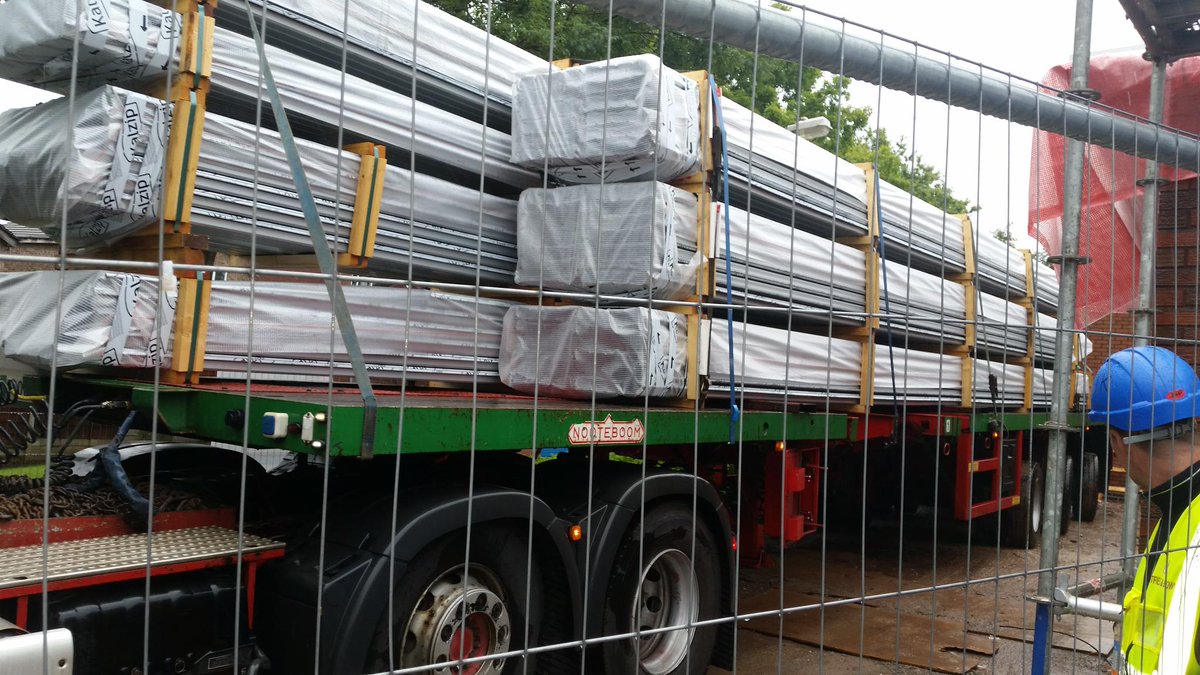 And here we are! After weeks of waiting and a failed attempt last week, the roof has landed!  It was skilfully brought into school having already travelled from Germany to get here (not to mention the brief unscheduled overnight stops it had in Haydock) and was then moved into position ready for the roofers to work their magic.  Once the roof is secured, the rest of the jobs can then proceed such as glass in all windows and guttering in order to make school water tight.  Once it is fully dry inside, we can then look at preparing the floors inside for the under floor heating which is to be installed.  Still a way to go, but this will serve your children for years to come and is going to be well worth the wait.
Friday 18th September 2015
The end of another week which has flown by!  It has also signified the end of the last day for our new Reception pupils where they are in for part time hours.  As of Monday, they will all attend school full time and we cannot wait to have them all together.  I have been busy trying to memorise their names and I think I am doing quite well!  I may have confused a few children and for that I will apologise now but promise that I will do as they will do, an try my best to get it right!  Well done Reception – your families will be very proud of how well you have settled in!
On Monday we also have another big event occurring – our new roof will finally arrive.  It has been frustrating that there have been some delays in the arrival of this which have had a knock on effect to other jobs taking place, but we are still as excited as ever to embrace this next step happening.  We ask that you continue to read the letters we send home that will keep you fully up to date with progress on the build and if your child doesn't bring home at least one newsletter a month, please pop into the school office or check on the school website for the most up to date information.
Have a lovely weekend.
Thursday 17th September 2015
Today, our Building Site Manager, Dave Kelly, brought the new building to life in the classrooms for the pupils in Years 1 and 2.  He went in for a Q and A session, showing the children how bricks and breeze blocks are made and how they are built together to form what is our ever expanding school.  The children listened brilliantly and obviously thought closely about what Dave had said, because at home time, they all flew down the path shouting his name to ask him more questions!  Maybe tomorrow, the children will be able to spot some of the things that Dave talked about in the buildings around them on the way to school.
After Dave's visit, the pupils completed some writing about their experiences and what they had learned from Dave.
Wednesday 16th September 2015
WHAT A DAY!!! It has certainly been challenging and stressful to try to coordinate and negotiate everything that has (and hasn't!) taken place today.  The key to it all is communication and so thank you to all of you for reading the letters and following the instructions on the texts.  It makes our job a whole lot easier to know you are supporting us and working with us.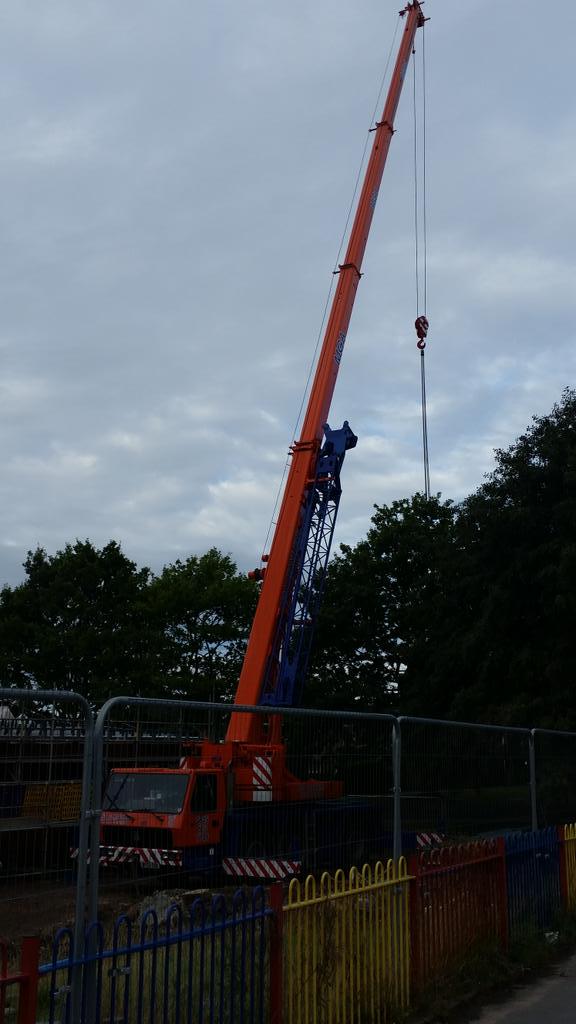 The day began with a large crane arriving at school.  The intention was for this to manoeuvre the roof sections on top of the insulation which is already in place and secure the final external piece of our infant jigsaw.  However, the best laid plans of mice and men (and in this case, roofers) never quite came to pass.  The roof sections and the articulated lorry, which had travelled from Germany, were too long to swing into school via the gate and in spite of several attempts, this just was not possible.
Therefore, Plan B is now in action.  On Friday, a different vehicle is coming to test if it is able to gain entry to school and if it is, we shall try it all over again with the roof sections on Monday of next week.  I will, as ever, keep you updated.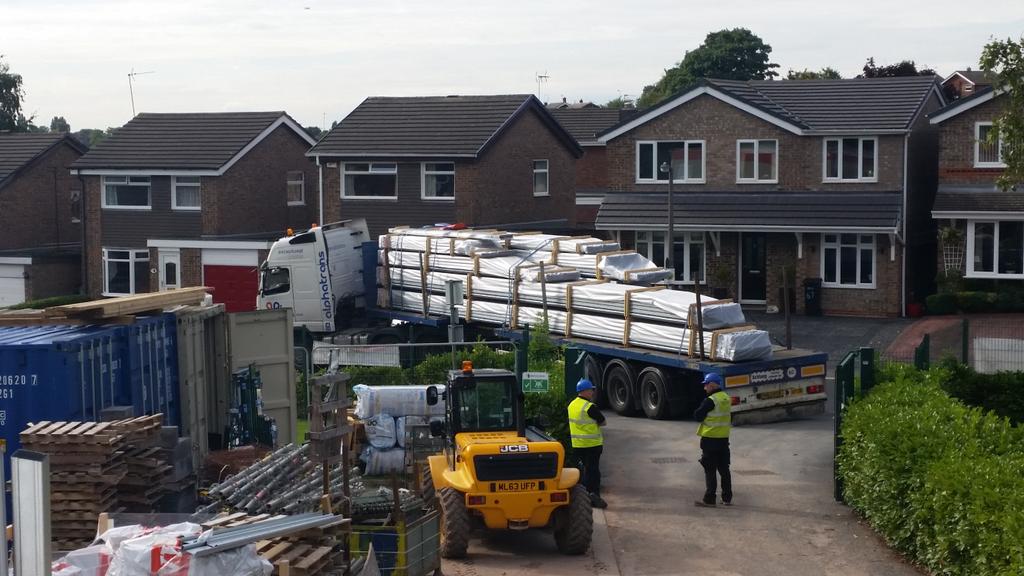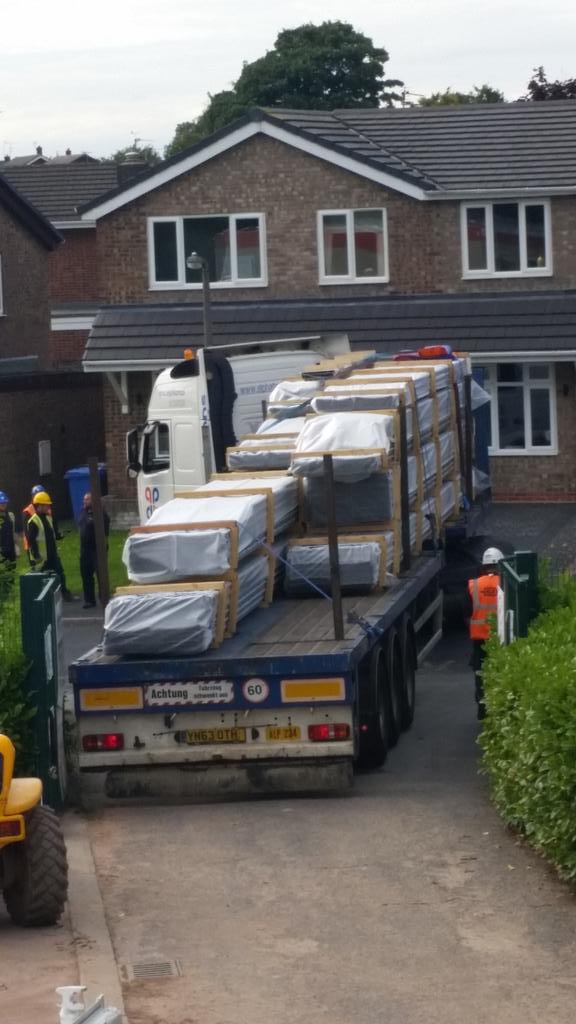 Tomorrow, plans revert back to usual to allow access to classes through the usual doors, paths and playground routes.
Tuesday 15th September 2015
Today, we have been busy making preparations for tomorrow and the last section of our infant roof arriving.  It is coming from Germany all the way to sunny Stockport and will be put into position using a crane.  All the children are very excited to see it arrive, as are the staff!  It will also help to give the Key Stage One pupils a clear understanding of constructions issues, especially as they are learning about this through their topic of 'Through the Keyhole'.
Please remember to escort your children to the top playground in the morning where they will line up with their teachers and be taken into school safely.
Monday 14th September 2015
This week in assembly, we are talking about changes that take place at the start of the new school year and changes that are happening as we move through the next phase of our school rebuild and remodel.  The children even saw some pictures of a very young Mrs Reyes – when I was a very little Miss Royle – and were able to talk about how much I have changed and think about how they might change as they get older too!
In class the new topics are beginning to take shape nicely too – Ask your child about their topic – In Reception it is Superheroes, In Years 1 and 2 it is 'Through the Keyhole', In Years 3 and 4 it is 'Yabba Dabba Do' and in Years 5 and 6 it is 'Out of Africa'.  Hopefully, your child will be able to tell you lots over the coming weeks about the things they are learning, investigating and discovering around each of these topics.
Friday 11th September 2015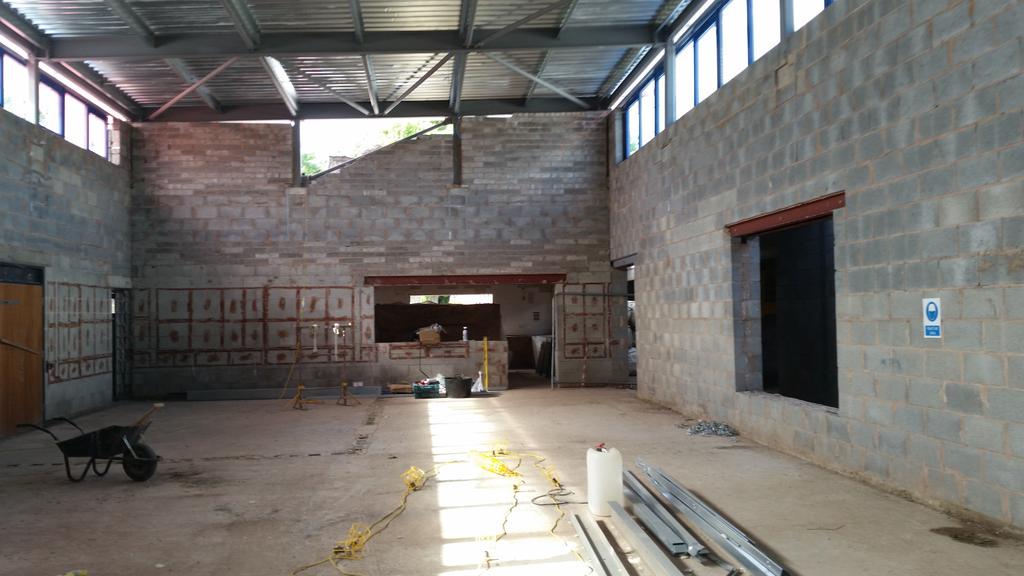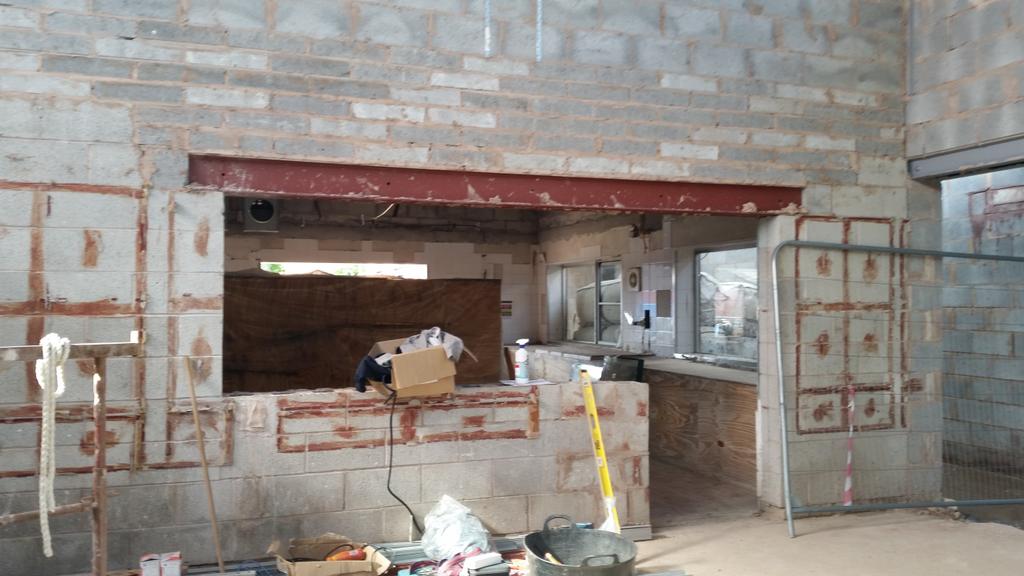 These pictures are taken from inside our new school hall.  As with most of this job, it has been intricate in places due to building round an existing school building rather than building from scratch.  This has proven tricky at times and has caused some delays along the way.  However, you can now see the hatch appearing at the end of the room where a new servery is to be created.  On the other picture, you can also see the perspective and full length of the hall where we will soon be able to have school dinners served, assemblies and concerts along with other social events such as discos, fairs and coffee mornings.  It seems like it has been so long since we had some 'together time' as a community and we now know that over the next few months, the heart of our building will be returned to us once more.
Thursday 10th September 2015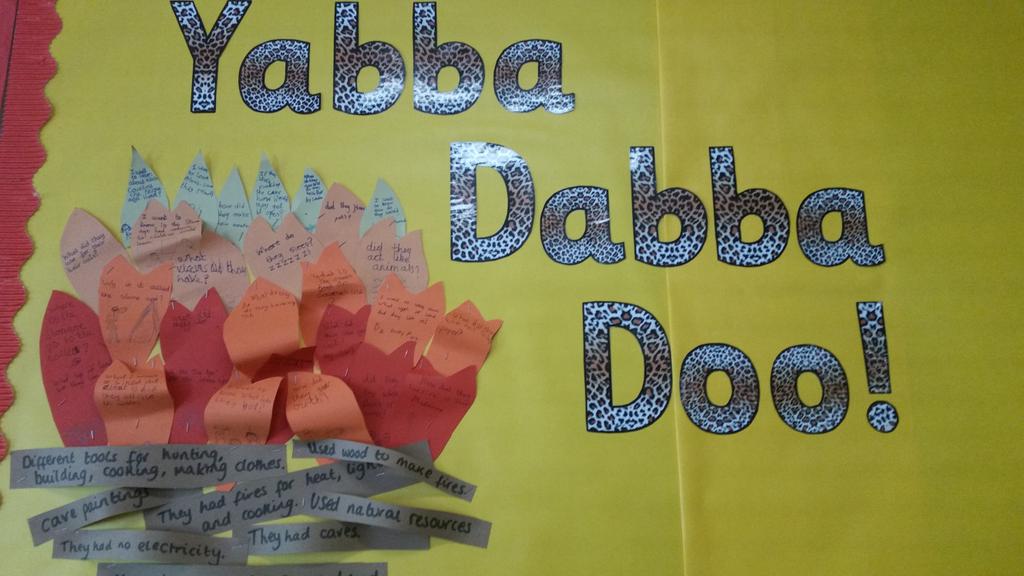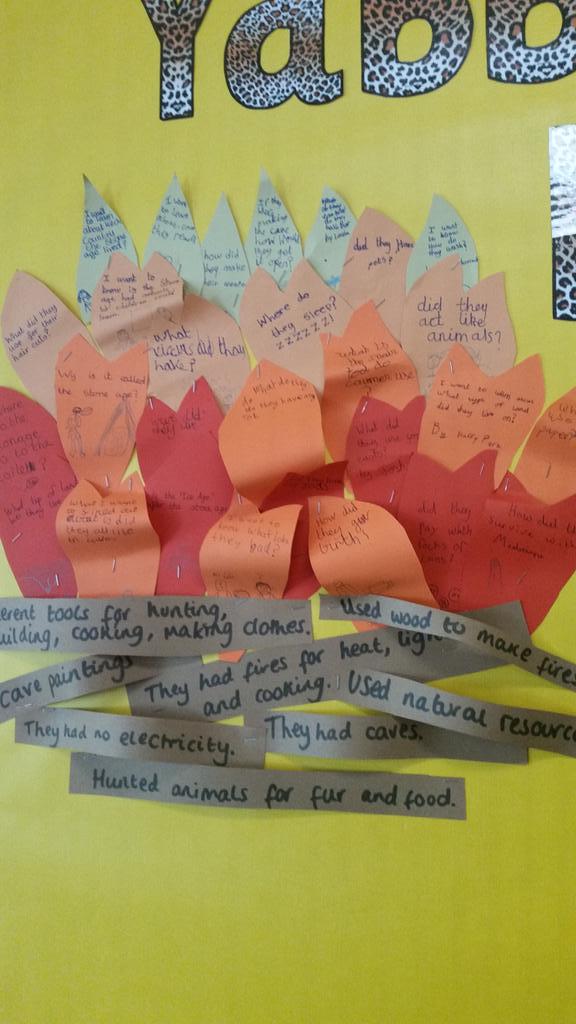 One feature you may spot around school is our 'working walls'.  These grow over a term as a point of reference for pupils to see how their knowledge and skills have increased and improved because of their learning.  This example belongs to Miss Cope and her Y4 class, who are currently learning about The Stone Age.  The 'sticks' at the bottom show what the pupils know already and the flames show what they would like to know by the end of the topic.  I look forward to watching this unfurl as the term moves on.
Wednesday 9th September 2015
This is one of my favourite things from this part of the school year – our Y6 pupils are paired with a new Reception child and become their Reading Partner.  Both parties love this role either for the responsibility or for having an older friend to rely on and help them out.  It is an absolute joy to see this relationship develop between the pupils as the year progresses and they all become the firmest of friends.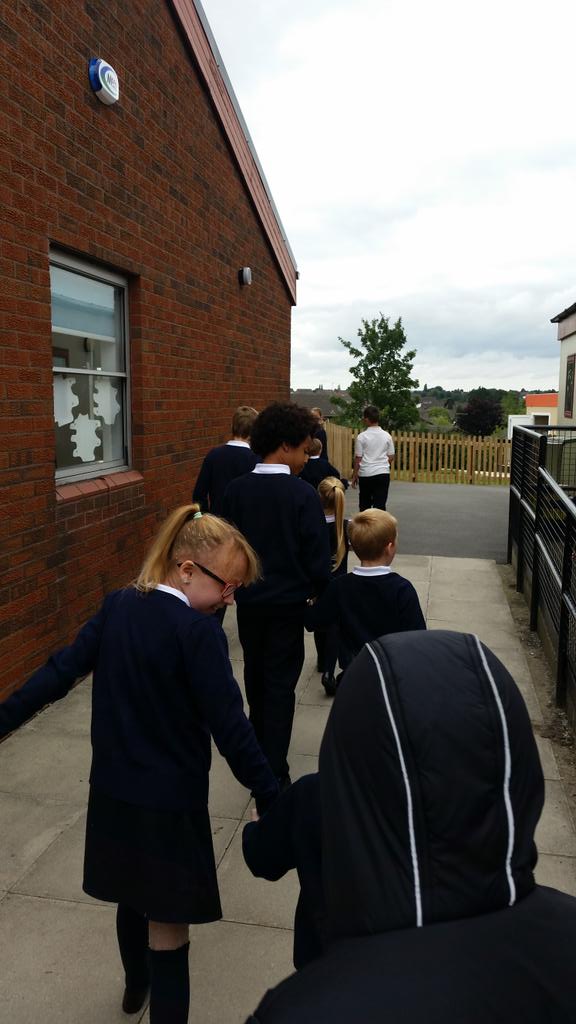 Tuesday 8th September 2015
Our new hall has got a roof!  The first layer of the roof has gone into position and is now ready to be insulated before the second sheet appears next week to be lowered on top and secured.  It has now given our hall some acoustic qualities, particularly as the glass has also been put into place around the top of the hall.  This will give some much needed natural light and ventilation that the old hall did not have. This is indeed another exciting development!
Monday 7th September 2015
Welcome Back!  This summer has been very quick for us as we have been busy making sure that everything is back in place and ready for you to start the year.  Not only do we have our new Reception pupils starting school today, but we also have a brand new member of staff starting.  This is Miss Cope, who will be teaching Y4 this year.  I am sure that you will join me in welcoming her to Warren Wood.  Now, as part of the exclusive club of 'Woodies', Miss Cope and our new Reception pupils will be able to share in the three things that make our school special – Care, Courtesy and Consideration.  In showing these to each other every day, we aim to make our school community a happier and safe place for us all.  Have a great day!
Friday 24th July 2015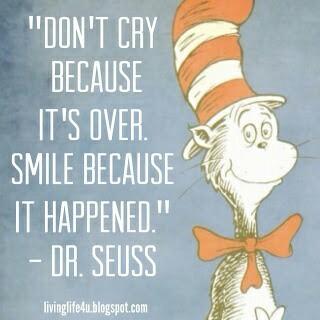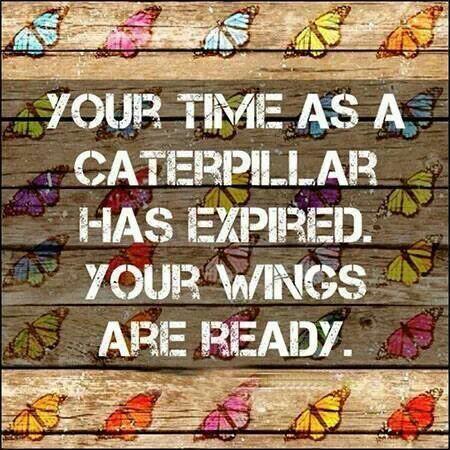 Thursday 23rd July 2015
So in amongst the madness of our building work, we managed to pull off a major surprise for our retiree, Mrs Vernon-Asimeng, led by our Year 6 leavers.  Sometimes, actions speak louder than words, and this is one of those moments.  Find a box of tissues, take a deep breath, sit down and enjoy xx
https://www.youtube.com/watch?v=j8nfXbdjcdU
Wednesday 15th July 2015
A momentous day for me as I have finally finished my work on the 300 school reports for each child in school.  Each member of staff spends hours carefully writing the main report which concentrates primarily on the child's work in reading, writing and maths, and in the case of Reception children, their social, emotional and physical engagement with the curriculum.  Then, each teacher writes their own personal comments about the pupils before they hand the reports over to me.  I proof read each one (yes, I really do each word on each report!) and finally I write my own comment too.  I can personally guarantee that there are no two reports the same in school and that each report is a fair and honest representation of the year.  Whilst we endeavour to get 'everything right', we are human, so if I have missed the odd typo, I apologise – five and a half weeks, 300 reports and tens of thousands of words written and read though can sometimes take their toll – but to us they are worth it.  We take very seriously the words that we write because we know how important they are to the children and to you.  They go out on Friday, along with the SAT's results for Year 6 and Year 2, along with the phonic test scores for Year 1.  Well done everyone on another year of hard work.  Enjoy!
Tuesday 14th July 2015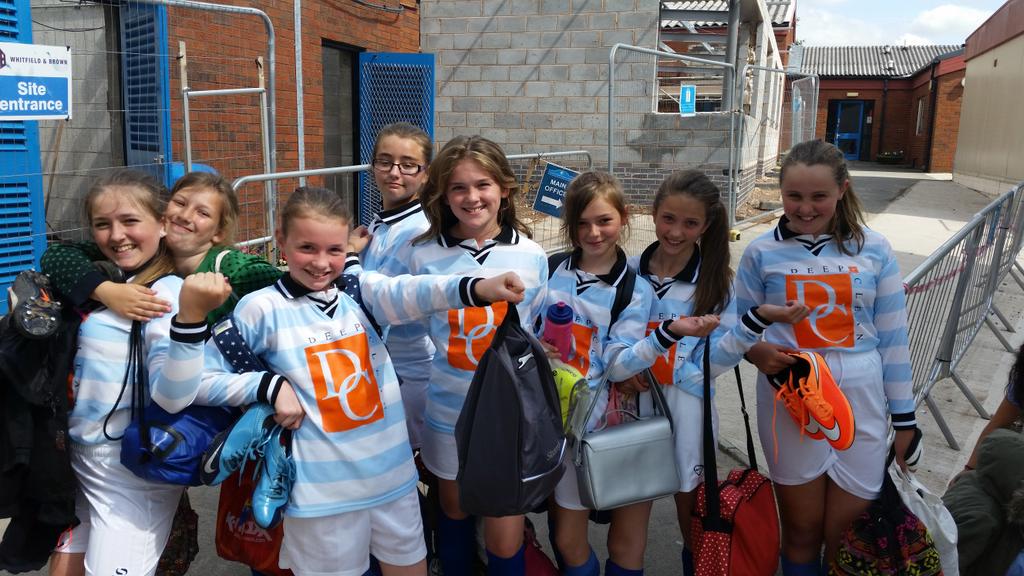 Today, it was the turn of the girls football team who played All Saints, winning 10-1!  We are so proud that the girls have also been able to enjoy some glory in their final match representing the school.  Well done, girls.
Elsewhere, Year 2 went to visit the local community hospital 'The Meadows' this afternoon to entertain some local people.  All the infants have been learning songs this year as part of the 'Stockport Singing Schools' initiative, with Jill Henderson-Wild.  She has visited school, taught the children songs and singing techniques which have been skilfully followed up in class by our wonderful infant teachers.  Without the use of a hall this year, we have had to be creative in our use of spaces for performances and shared experiences and so we are glad that we could 'give something back' to the community.
Monday 13th July 2015
After several failed attempts at arranging football matches versus local schools (which have fallen victim to our glorious weather), we have had a really resounding victory, winning 11-0 versus All Saints.  This follows their win last week versus Mellor Primary, beating them 10-0 – making a tally of 21 goals and two clean sheets in a week!   Whilst we are the first people to tell the children that it's 'not the winning, it's the taking part' we can't help but be very proud of the boys team for ending their primary years on such a high.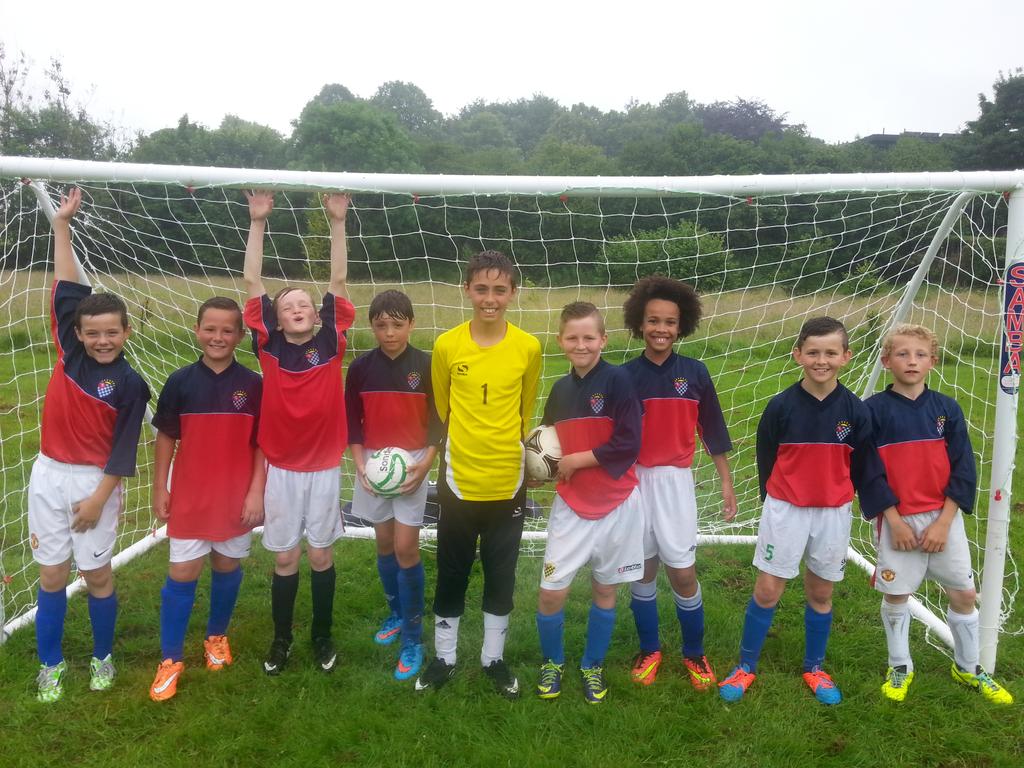 Friday 10th July 2015
Staff are working very hard over the coming weeks to not only deliver a full timetable to the children, but also to pack up their classrooms ready for moving out of over the summer holidays in order to be refurbished.  This is no mean feat and whilst school looks a little dishevelled at the moment, it will all be worth it in the long run.  Junior classes in Years 3, 4 and 5 will return in September with freshly painted walls, full rewire, new flooring and some new furniture, not to mention new interactive smart boards!
Thursday 9th July 2015
Today, we were visited by our new Reception pupils who start school in September.  It is such an exciting time for us to see our new children arriving, full of anticipation.  It is also exciting to see our current Reception children being so grown up and ready to move onto Year 1.  One of the most exciting things for our Year 4 and 5 pupils is knowing that they will soon have the responsibility of being a Reading Partner to our Year 1 and Reception pupils inn September.  This sees our older children being paired up with a younger pupil in order to read with them for pleasure, giving them confidence to 'have a go'.  This extends so much further than the simple act of reading though.  They look out for one another on the playground, they are supported in ventures around school and encouraged in all aspects of school life by someone who has been here longer.  The bond between these pairs of children is a delight to see and epitomises just how our pupils embrace the school motto of 'care, courtesy and consideration'.
Wednesday 8th July 2015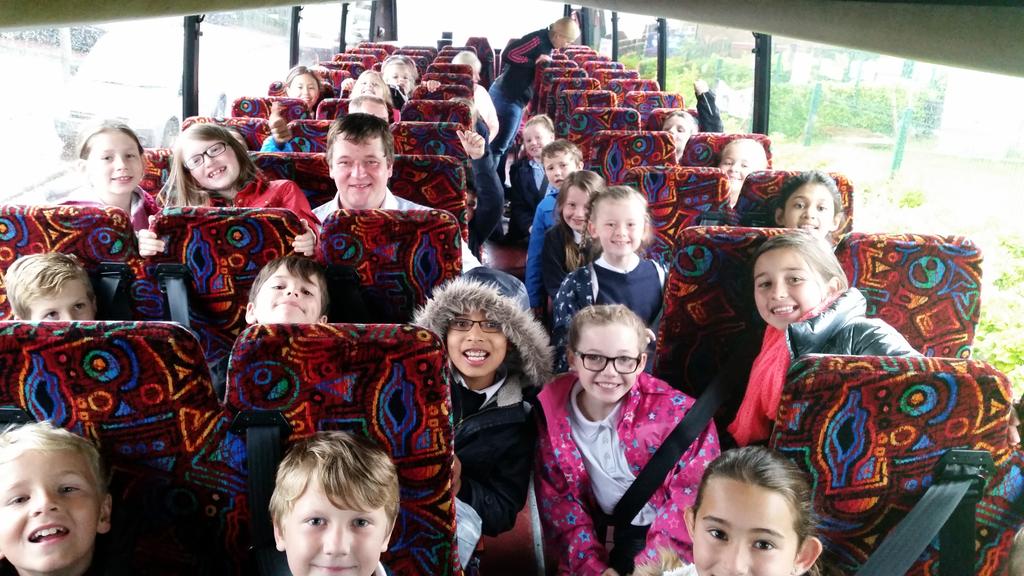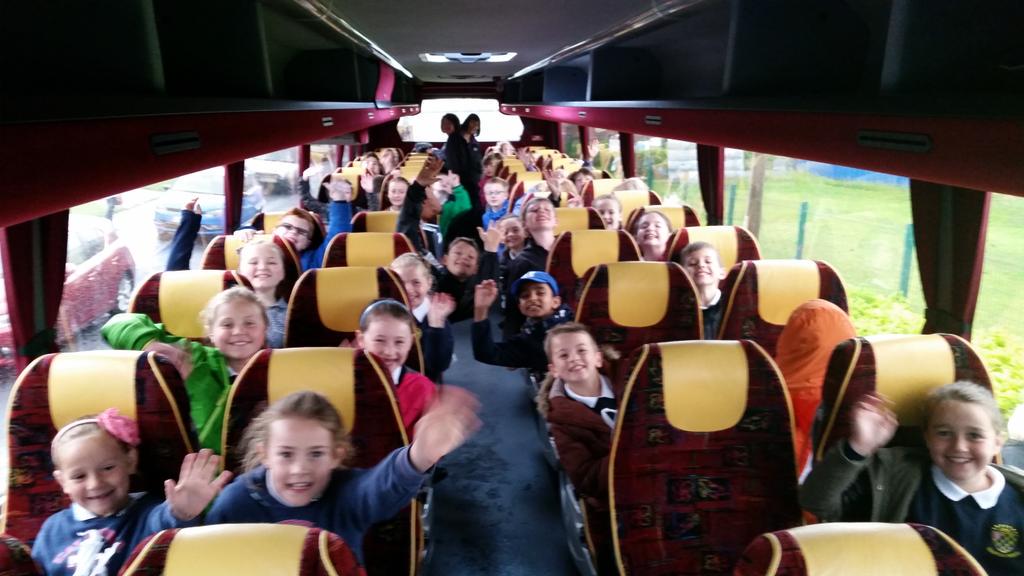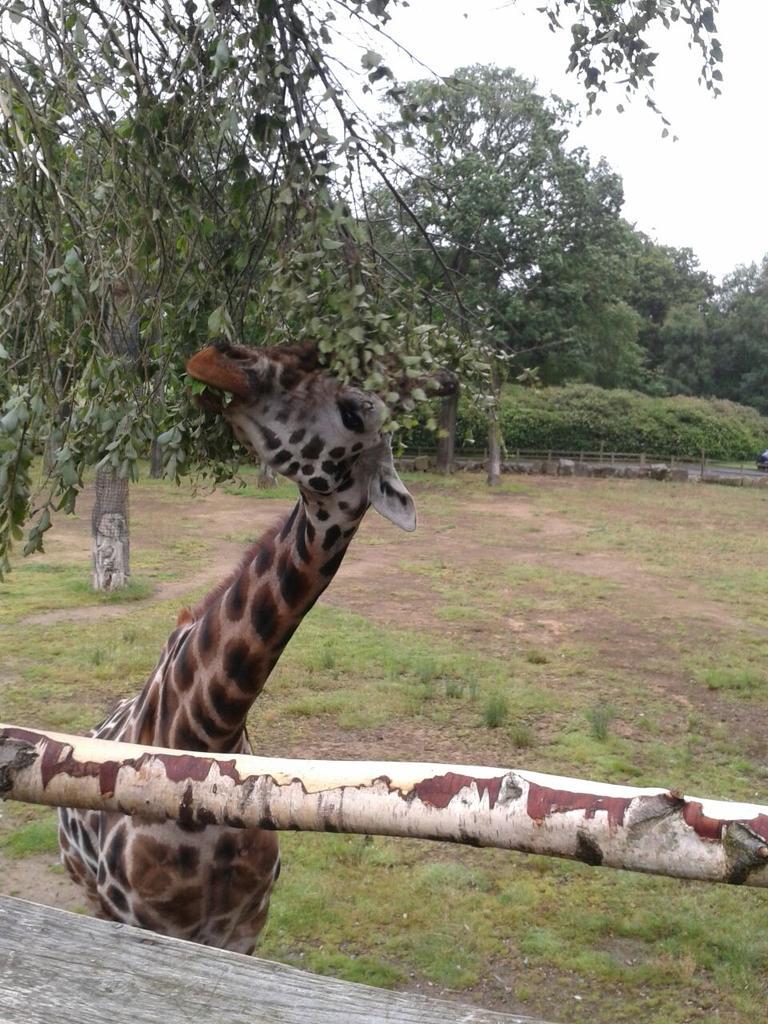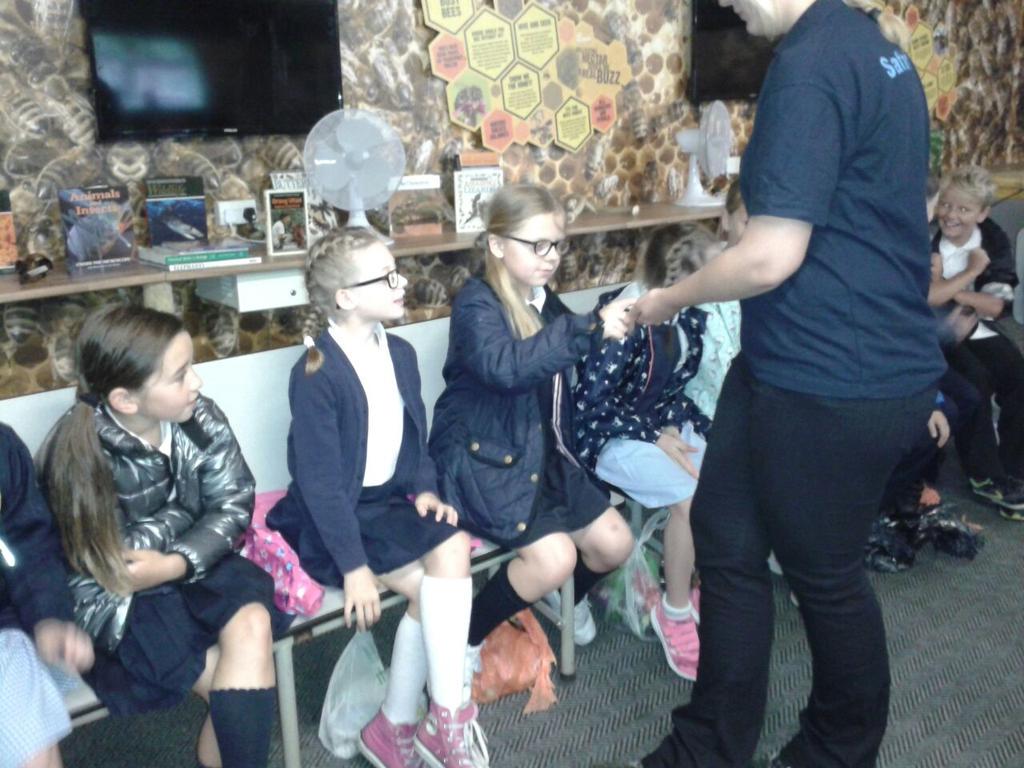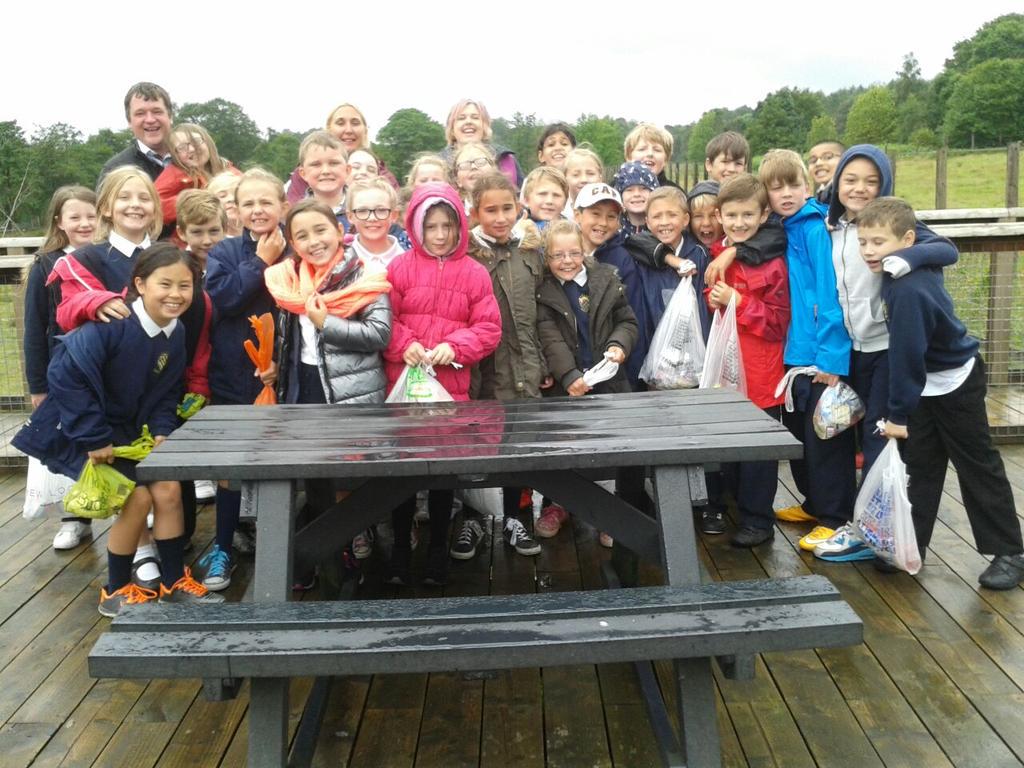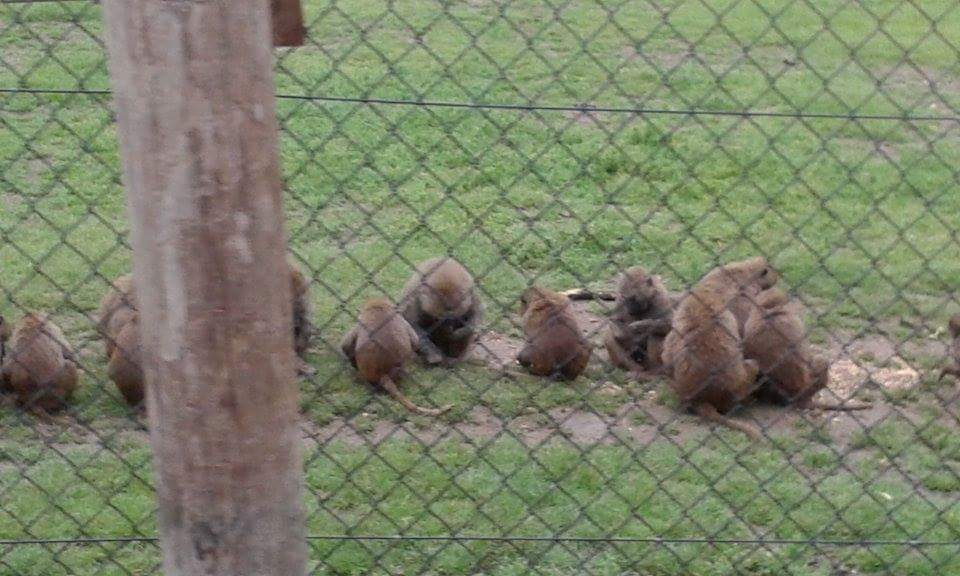 Above are just a few of the pictures that tell the tale of the day for the lower juniors who visited Knowsley Safari Park.  Whilst the weather wasn't too kind, their experience was.  All the children came back excited yet exhausted an buzzing with excitement about the range of animals they had seen, not to mention the interesting facts that they had found out too.  Thank you so much to all the teachers for organising such a worthwhile trip and to our parent helpers and volunteers who helped to make the day run so smoothly.
Tuesday 7th July 2015
Today, work began to erect scaffolding inside the new classrooms.  This is in preparation for the roof going on and the windows being put in over the next two weeks.  If you look at the back of school, you can most definitely see the new classrooms taking shape and the reality of our new school is quickly unfolding before our eyes.
Today also saw the Year 6 SAT's results be released.  We are thrilled with the children and how well they have done.  Well done for all of your efforts everyone.  However, we now face a frantic time of checking these scores against copies of the children's written papers to see if we are happy with the published results. If there are any discrepancies, we do have the right to reply and therefore we ask a little more patience in order to allow this process to take place.
Monday 6th July 2015
I woke up to be greeted by this picture on our Twitter feed today!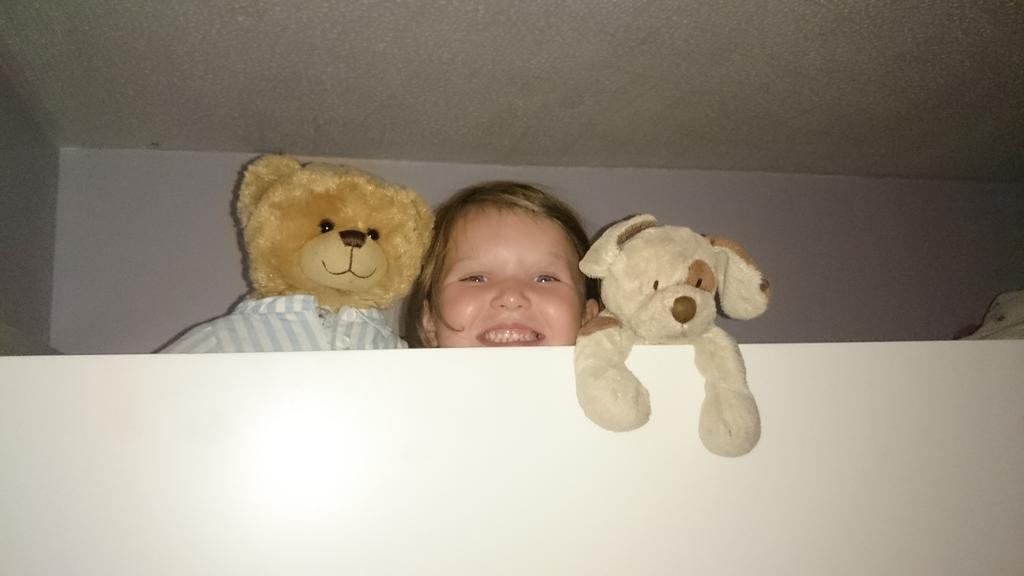 It is Abi, one of Reception children, accompanied on the left of the picture by 'Book Bear'.  He is a friend that one lucky Reception child will take home each week to read with at home.  In return, the staff ask that you take some pictures of where he has read, who too and which book.  The idea behind this is to promote reading in all guises so that children see it as fun, enjoyable and something you can do almost anywhere.  Well done Abi and all the other children this year who have looked after and read to and with Book Bear.
Friday 3rd July 2015
Today is an exciting day as it is the deadline for applications for new teachers for our school for next year.  For the eagle eyed of you, we have two teachers taking a break from teaching next year to bring a little person into the world – Congratulations Mrs Prior and Mrs Whittle.  We also have our dear friend and colleague, Mrs Vernon-Asimeng retiring too.  This has brought about the obvious need for some temporary replacements until their return next year.  This has provided us with the opportunity for a shuffle round of some of our existing staff too.  We have had lots of applicants for both jobs and so next week we can set about shortlisting some quality teachers to teach your children next year.
Thursday 2nd July 2015
The school office is terribly busy at this time of year.  We have new pupils starting in Reception who have uniform to order and lots of questions to ask.  We also have pupils moving to high school so we have to tie together all of their final paperwork and ensure that their transition to their new school is a smooth one.  Then there is the small task of making sure that 300 reports and all the extra paperwork that goes with them is prepared correctly too, and that's before we organise sports days, leavers events and concerts! Please bear with us if at times you do not get an instant reply to an e mail or you need a chat and we are not available – this is our busiest time of year and it is never our intention to be unavailable.  It is just sometimes the way school is.
Wednesday 1st July 2015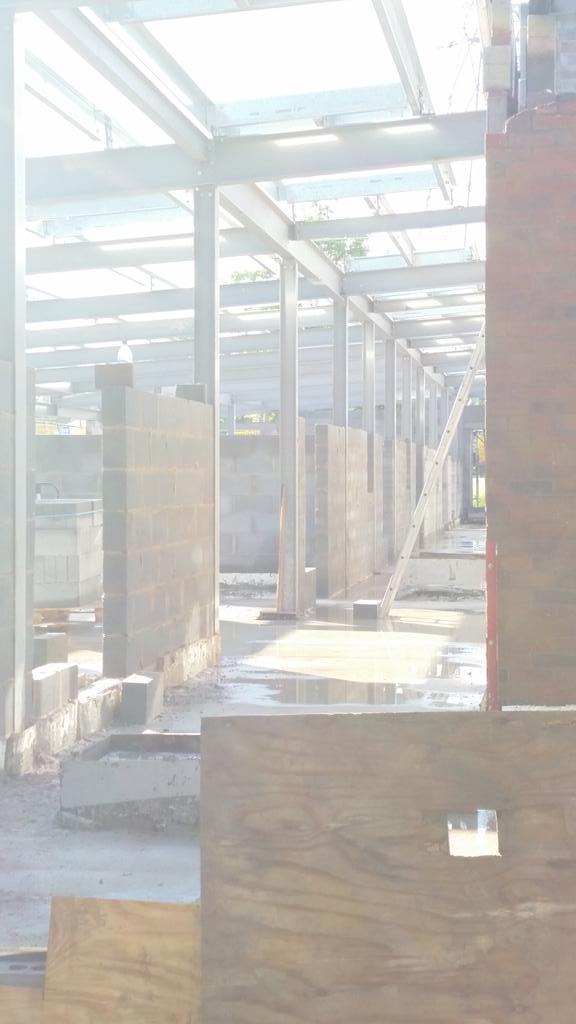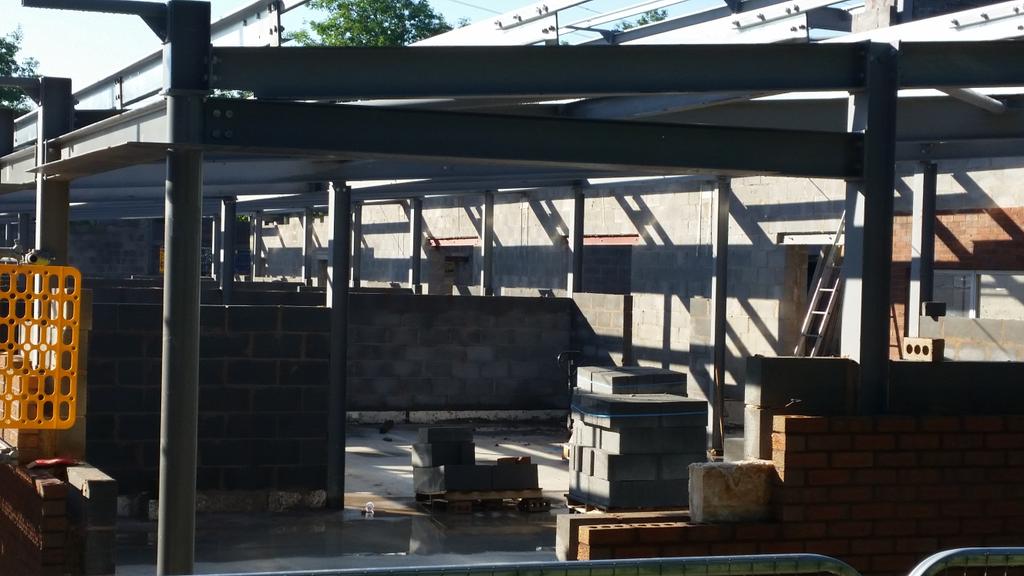 Our new internal corridor walls have now appeared as have internal classroom walls inside the new building.  Lots of wagons have been visiting today too in order to clear the excess rubble from the site.  The remaining brick work will be completed over the next few weeks and the windows are due to arrive in the finial week of term.  Once the windows go in, the roof will too and then internal works will begin.  It's all coming along a treat and is still on track to be completed by the end of September in terms of the infant classes.  Internal decoration of the junior part of school will take place over the summer holidays to minimise the possibility of any disruption.
Tuesday 30th June 2015
Behind the scenes, lots of plans are furiously taking place to try to provide a relatively 'normal' end to our year in spite of the building work.  Information will hopefully be with you very soon regarding the potential Sports Day that we hope to hold as well as our upper junior concert and leavers assembly for pupils.  We appreciate that you have to make plans to take time off work to attend such events, but equally we hope that you are mindful of the ever changing landscape to our school in terms of deliveries, wagons and building materials and how tricky this can be to coordinate.  It is our wish to hold some memorable events for the children, particularly for those who are leaving, which will be different from tradition, but lovely nonetheless.  Please check your child's bag for letters late this week and early next week.
Monday 29th June 2015
Today was 'Stop the Clock' day where the pupils designed the timetable around what they want to learn!  Whilst this may sound a little unnerving, it is monitored and guided by the teachers ensuring that pupils cover the correct amount of English and Maths but themed in a way that pupils have chosen according to their interest levels.  In Reception, there was a beach day where pupils made jellyfish, dug for treasure, explored water systems and much more.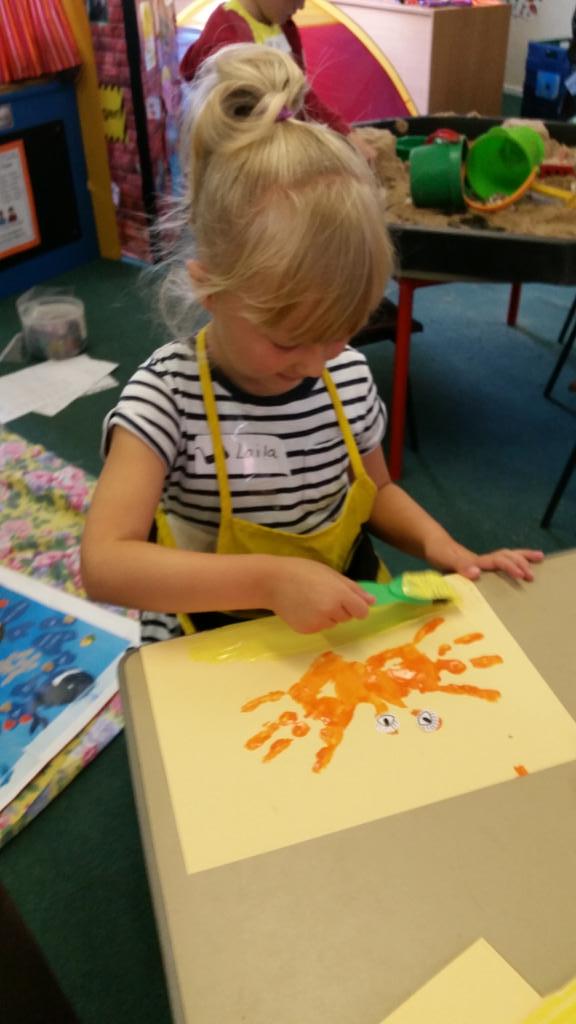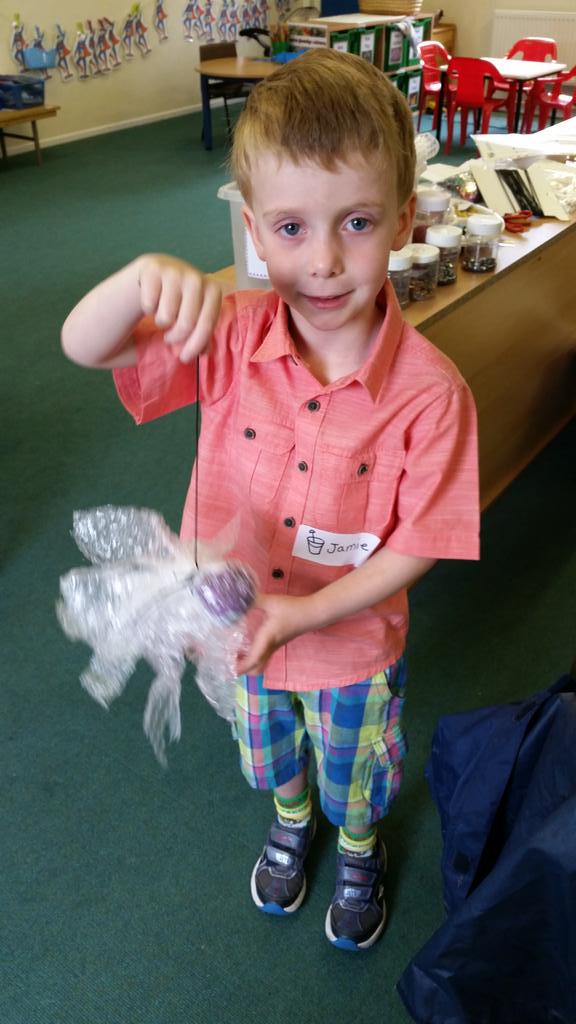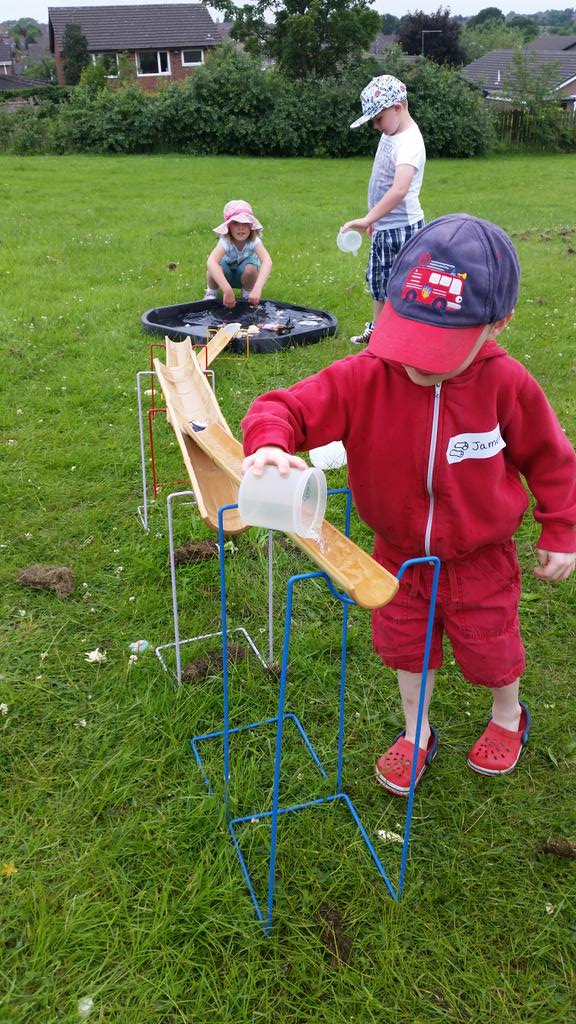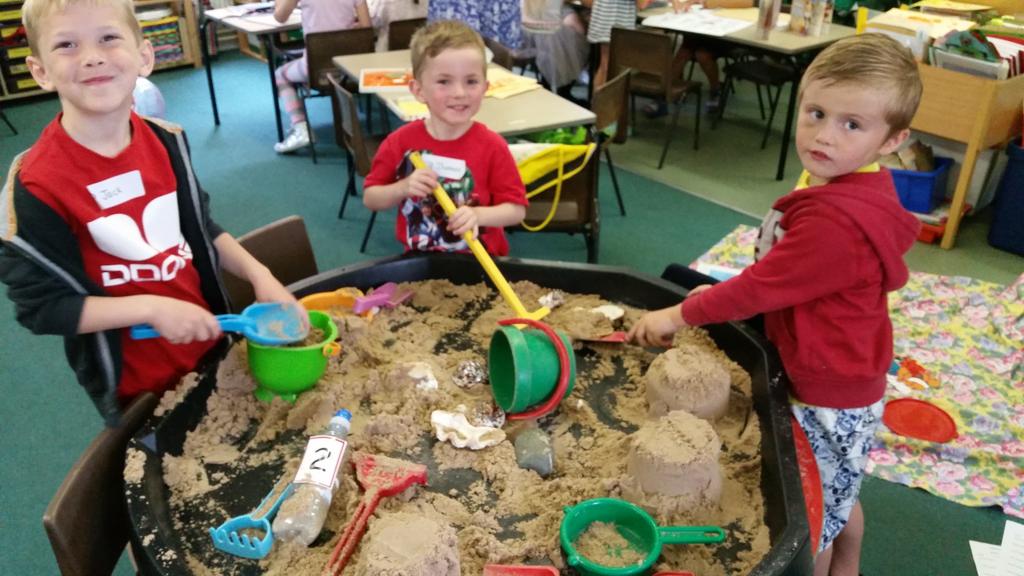 In Years 1 and 2, pupils went on a dinosaur hunt after finding some mysterious footprints in their classrooms…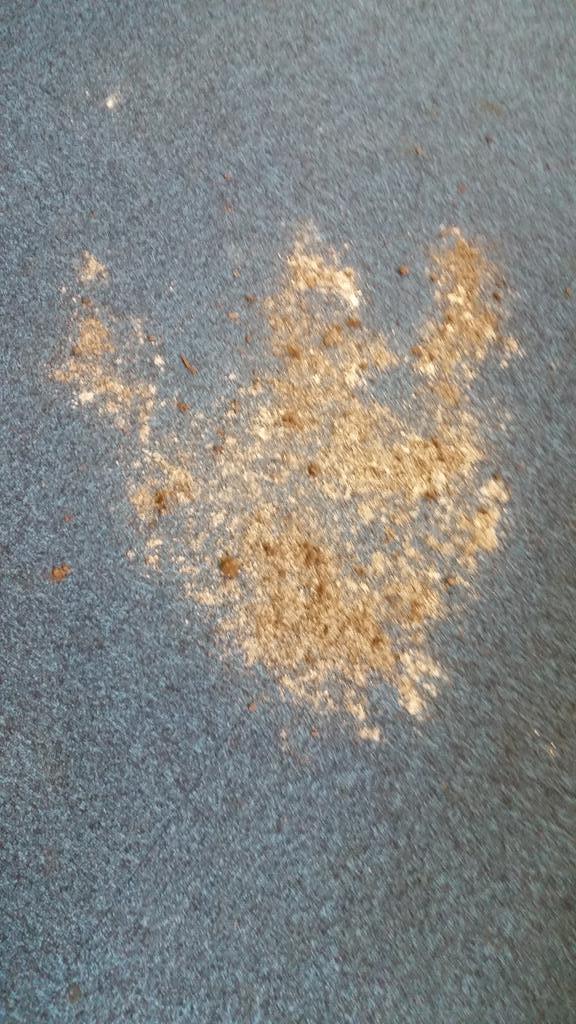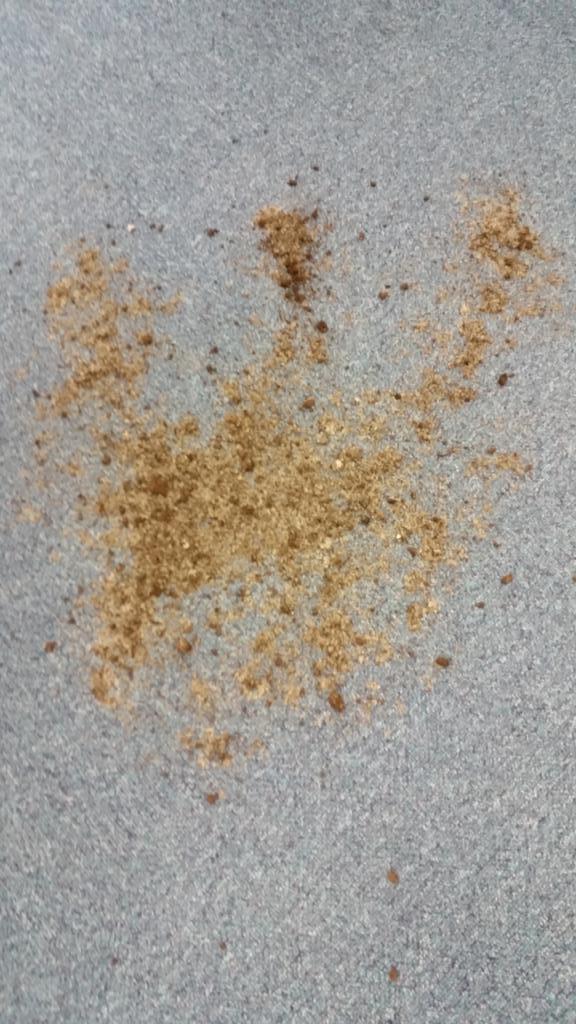 …and in Key Stage 2, some pupils investigated space, made and designed space helmets and researched facts about the solar system whilst others made cassava bread from the amazon and designed Inca patterns!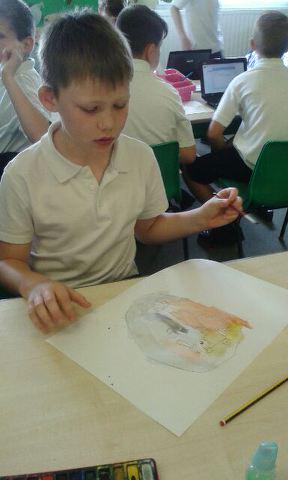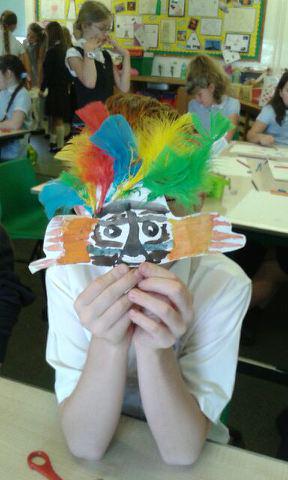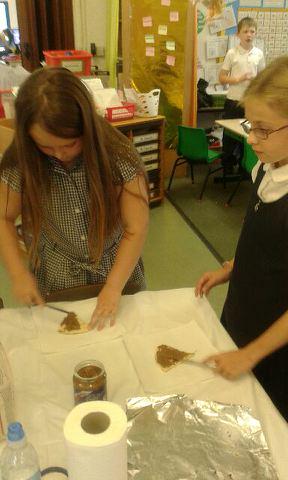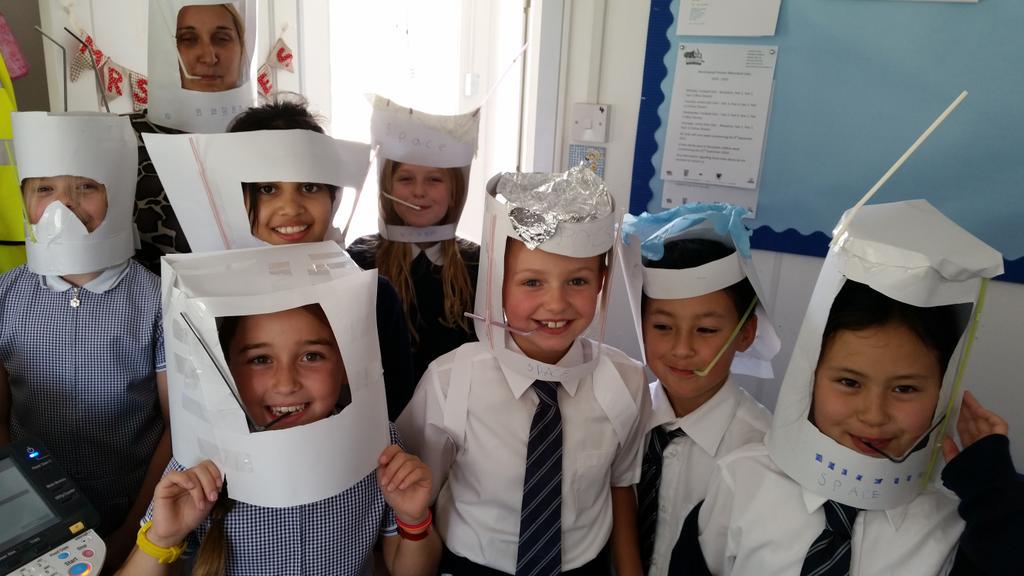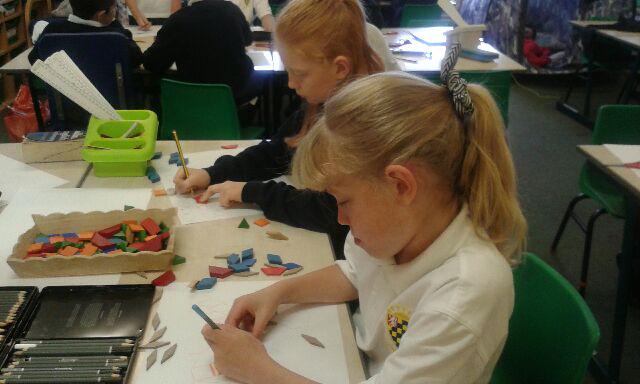 All in all, a highly exciting (yet slightly exhausting) day was had by all!  Watch out next year for another of these days in the new school year!
Friday 26th June 2015
One of the things that we pride ourselves on at school is celebrating the successes of pupils and all of their skills and talents.   Olivia in Y6 is Romania bound today to represent England in the World Dance Cup.  For those of you who have seen Olivia dance, you will know just how talented she is and whilst we can't claim the credit, we are happy as her 'extended family' to wish her good luck and say how thoroughly proud we are of you.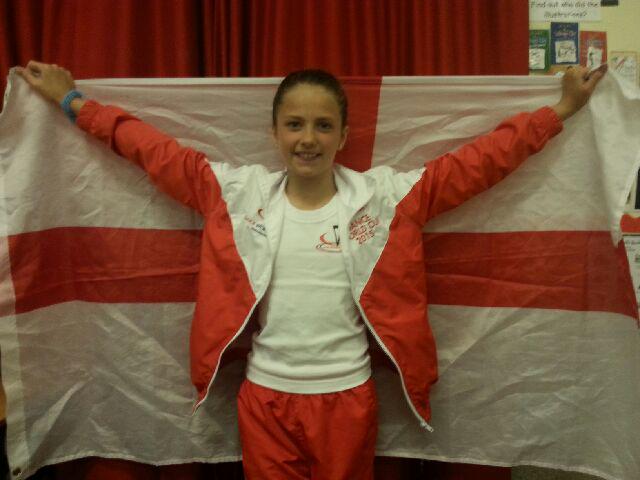 Thursday 25th June 2015
Today, our new Reception Team met the parents of children who will be starting with us in September.  It is always an exciting time as we get to see some familiar faces and new ones too, all of whom share the same excited but mildly nervous feelings for their little person joining us.  We understand completely your anxieties, but we want to reassure you that we will look after your child as if they were our own.
Soon enough, other pupils in school will be finding out who their class teachers are too and we are busily sorting out these lists too ready for everyone to meet their new teachers in the next few weeks.
Wednesday 24th June 2015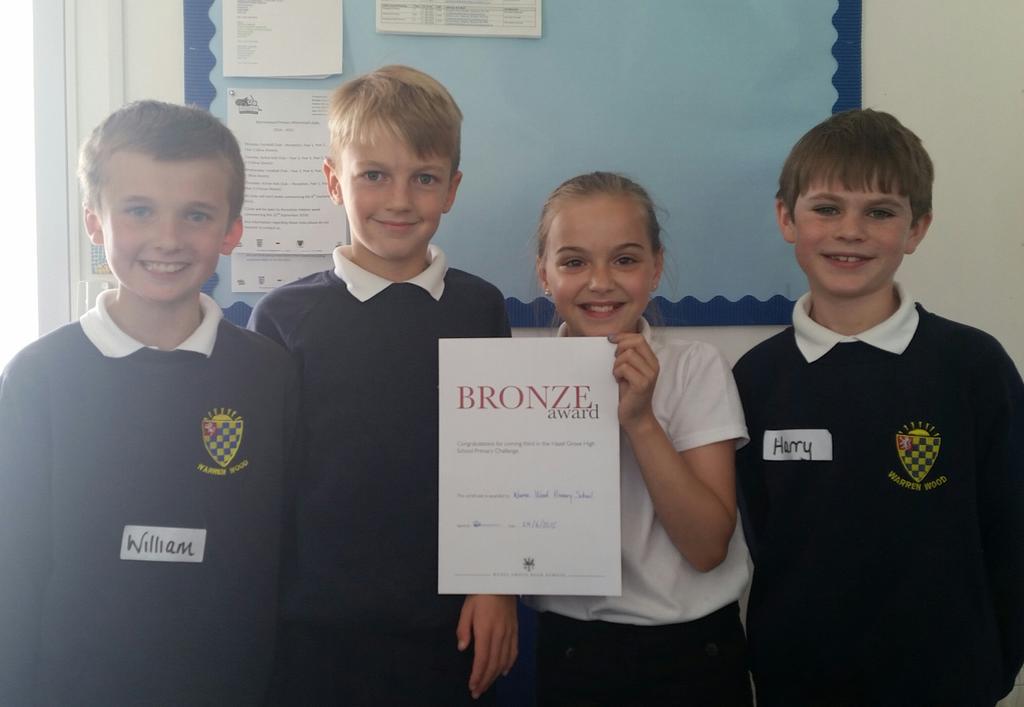 What an exciting day today was.  Some of our Year 5 pupils attended Hazel Grove High School as part of an inter schools maths challenge.  William, Jack, Sarah and Harry, picture proudly above, came third in the challenge that saw lots of fast paced maths challenges presented to them for them to solve.  It is also an opportunity for local schools to get together and for the children to experience a little of what it could be like at high school.  The first thing the children said when they came back was 'Can we have our picture taken for the school website?'  so here it is!  Well done to you all for representing our school so fantastically and doing us and yourselves proud.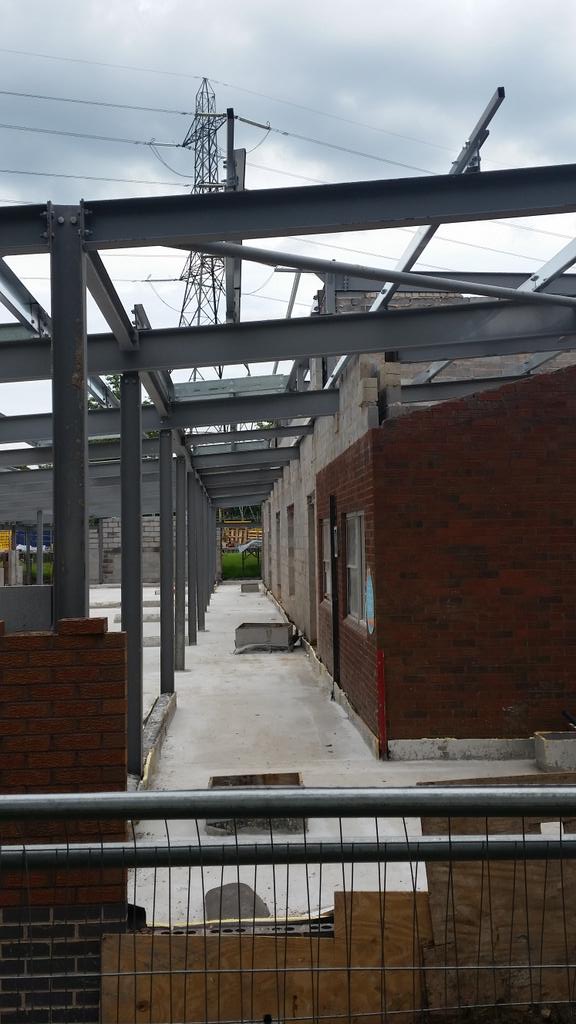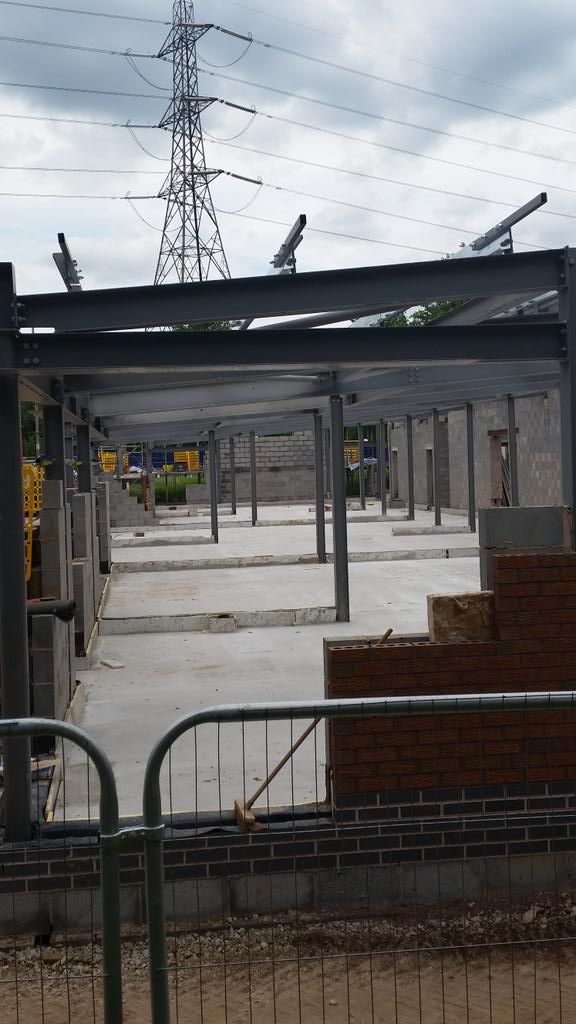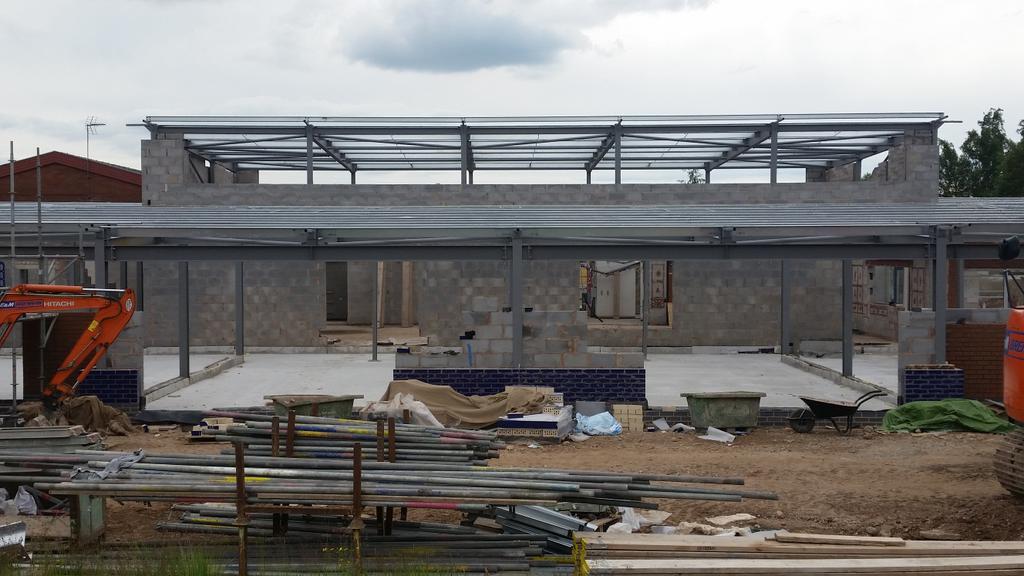 Meanwhile, the concrete floors are now in, really giving a great shape and vision to our new classrooms.  To this point, I know some of you and the staff may have found it difficult to visualise what the spaces are like, but they are really beginning to come together now…not to mention our 'feature wall' of glazed blue tiles!
My own personal highlight of the day was these colour charts arriving !  These are samples of our new carpets, classroom floors, entrance and hall floors and toilet colour schemes!  It really is time to choose the designs for our new school and I cannot wait!
Tuesday 23rd June 2015
Occasionally, as part of my role, I have to attend meetings for updates upon changes to education nationally and locally.  Today was one of those days where I am unavoidably away from school.  Whilst I don't like being away too much, it is really important that I am kept up to date with new initiatives so that school are able to move forward for the good of the children and the opportunities that we offer.
No rest for the wicked though, as once I returned home, it was report writing for me, with the small task of preparing 300 comments on the reports that the teachers have been so busy writing over the past few weeks.  I have loved reading these as it reminds me of how hard you all work each day and how much you have learned throughout the year.  I am sure lots of mums and dads will be very proud as they read these in a few weeks.
Monday 22nd June 2015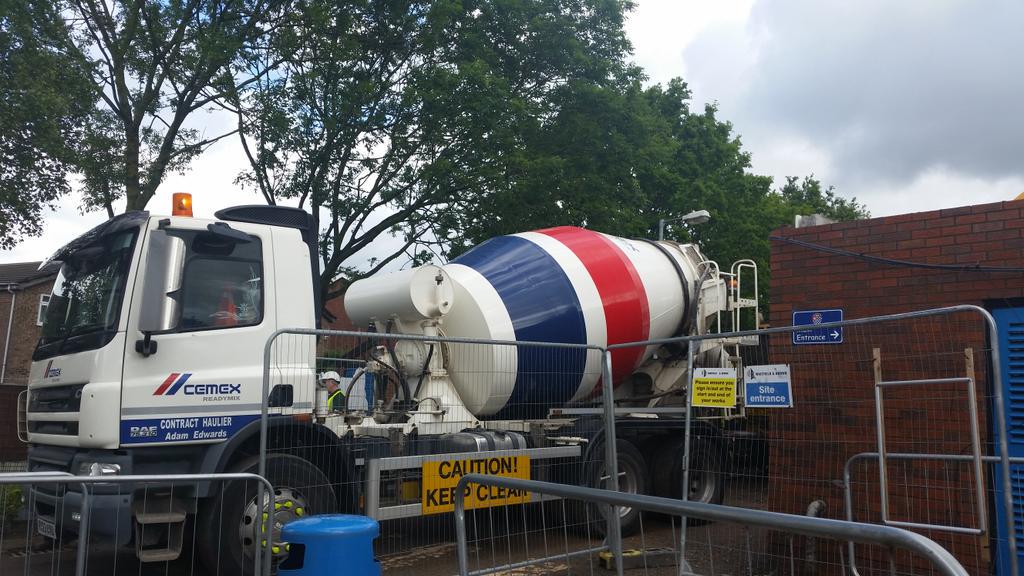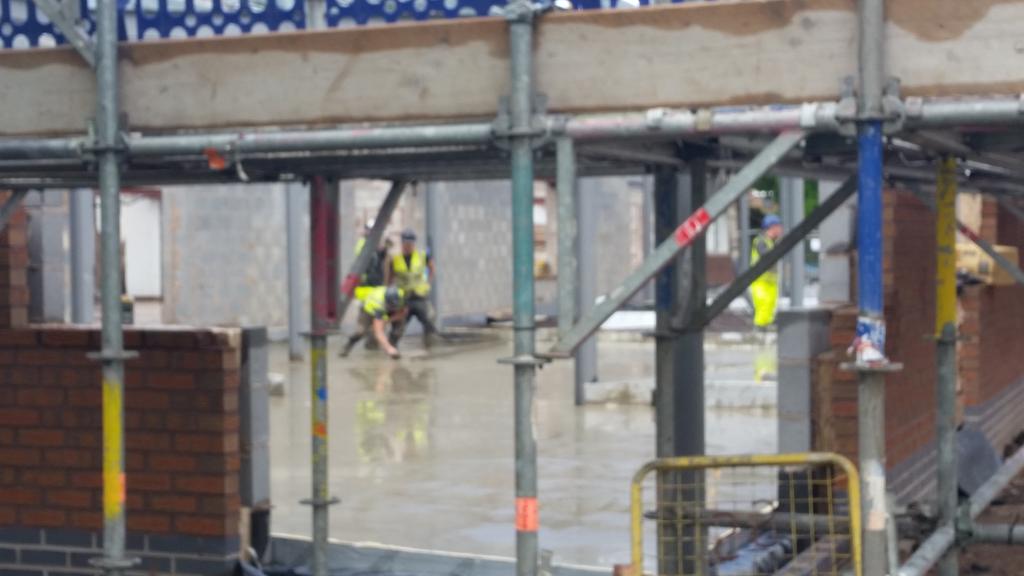 This has been the view outside my office for most of today- at a rough estimate, I would say 20 or so of these have driven up and down filling our new school full of concrete for the floors – the new classrooms, corridor, hall, staff room and front office have all been filled and levelled and once set, are now ready for the next layers of bricks to be built up.  For those of you who have seen scaffolding and wondered if we are having two stories – this is purely to give height to the brickies as they build upwards.  We are definitely staying on one level only!
Friday 19th June 2015
This is how Year 6 started their Friday…raft building!  It helps the children to share, work together, encourage one another, support and be part of a team.  I am so very proud of how well this week has gone and cannot praise the children enough for their spirit, belief and support of one another.
And then, after what must have seemed like a lifetime to the parents who have missed their little people all week, quite an emotional scene outside school at about 5pm  the homecoming.  I am sure after the excitement will come the stories, then sleep and finally the washing!  Enjoy every bit of having your babies home. I know how much you have missed them
Also, the hugest of thanks go to Mrs Eastham, Mr Boardman, Miss McCabe and Mrs Danby for giving up a week of their time to support the children one their week away.  Yes, they enjoy their time too, but it is a 24-7 commitment to looking after the pupils and in your absence, making sure they stay happy and safe.  This also means that they are away from their own families and loved ones which is a big undertaking and one I appreciate hugely.  Wishing everyone a truly happy weekend with those they love.
Thursday 18th June 2015
These are the expectant looks on the faces of some Y6 pupils who are about to abseil!  They are far braver than I am …and if you want to find out how they did, please check out the rest of the pictures on Twitter. Our Twitter feed can be found on the front page of our school website or if you have a Twitter account yourself, please do follow us on W_W_P_S for regular updates on all manner of things to do with school.
Sadly, not as much fun has been taking place outside school due to on-going parking issues.  Local residents are really becoming distressed by inconsiderate parking from parents and visitors to school.  Without repeating myself once again, this is now in the hands of the local council, parking enforcement and police in order to resolve the issues.  I can only ask that in order to work closely with our local community, that you please show respect to their feelings and property.  Thank you.
Wednesday 17th June 2015
Overnight in Year 3/4, our eco systems have been quite active, so much so that the children excitedly noticed some additions to them…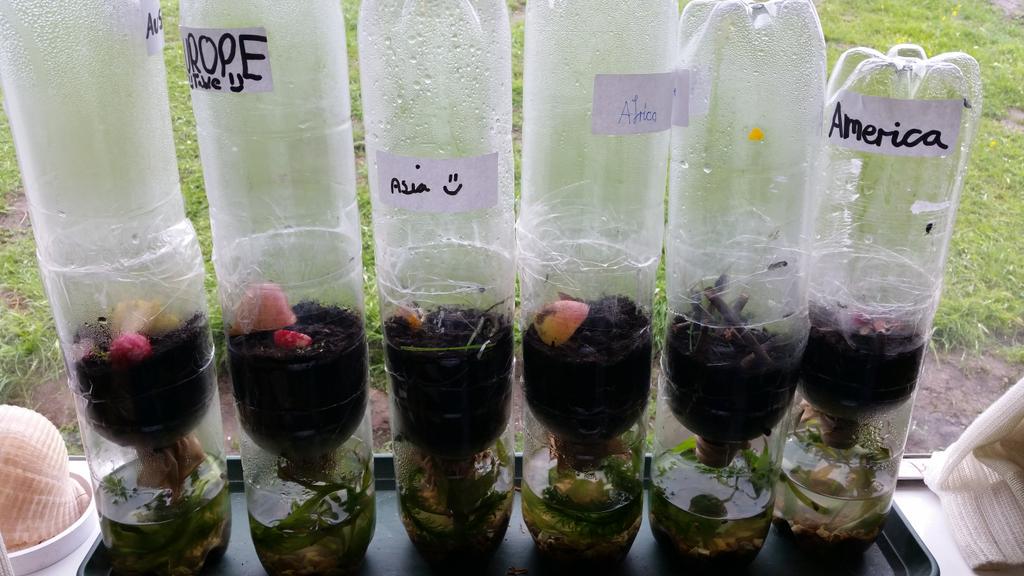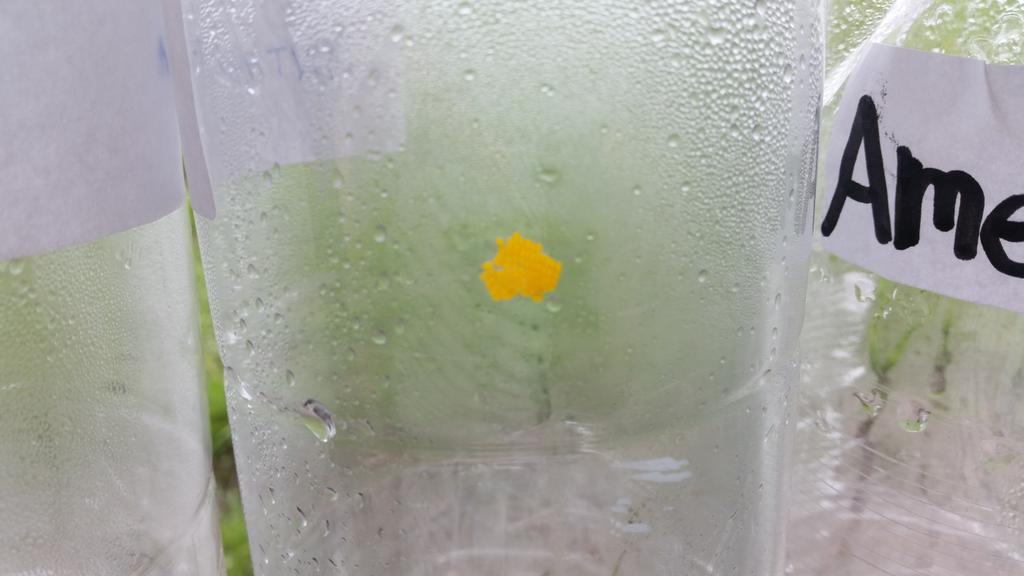 Apparently, the little yellow eggs that have appeared belong to the beetles in the eco system.  Ask your child what the next stages are likely to be as the eggs develop further.
At PGL, the staff are swelling with pride at the behaviour of the pupils and the way in which they are showing varied sides to their personalities.  All of them have tried something different, be it food or activities that challenge their personal fears.  Some of the words I have received this evening are from Mrs Danby and Miss McCabe.  Mrs Danby, having sent her own two sons to PGL with Warren Wood a few years ago said "This place is awesome & so well run that I definitely want to come back again & look after more little woodies'.  Miss McCabe said "It's a pleasure to come on this trip. I've loved every second of it and watching children overcome their fears.  They've even cheered me on today when I was scared on the zip wire and made me do it.  We couldn't ask for a more fun loving, caring and considerate bunch!' Says it all really. They are your children and they are amazing.  Thank you for sharing them with us!
Tuesday 16th June 2015
A busy day all round today.  This morning, I met with Mr S who looks after our sporting activities, to discuss plans for next year, including some exciting plans for new groups to work with his coaches.  This was followed by a site meeting regarding the building work  We are still on track to move back into the building with our infant classes by the end of September.  This will also include the new hall and new offices too, which means that mostly normal service will be resumed soon after summer and definitely before October half term.  Exciting times!
Just before lunch, I was able to share with Lower Key Stage 2 what they have been learning about.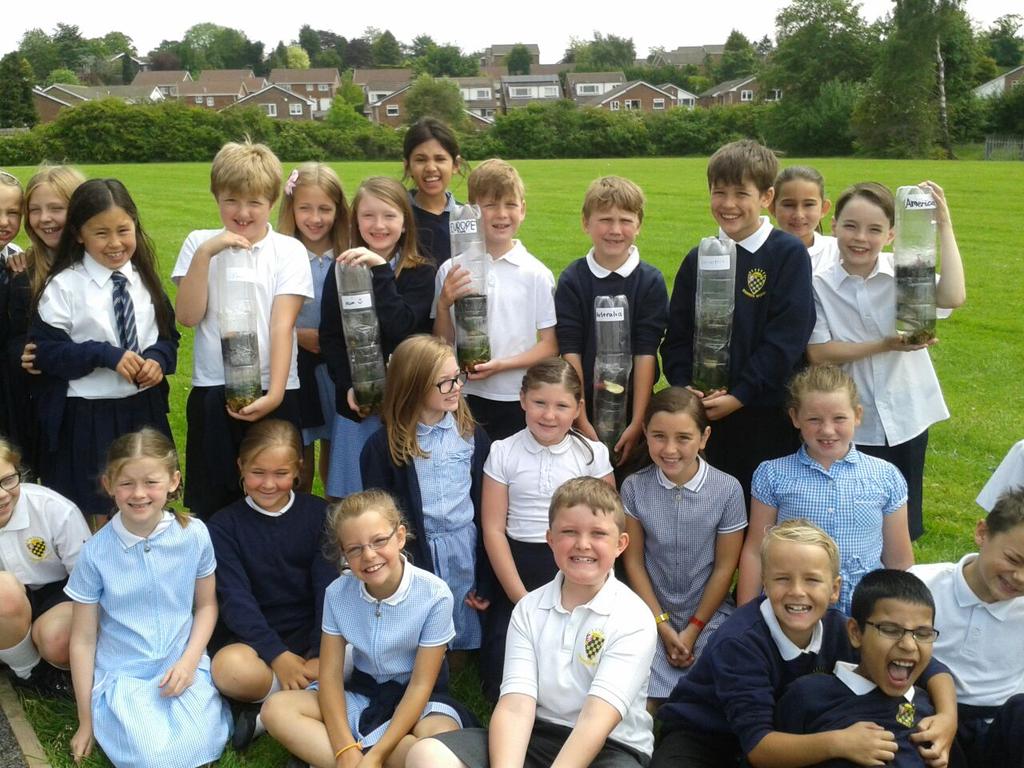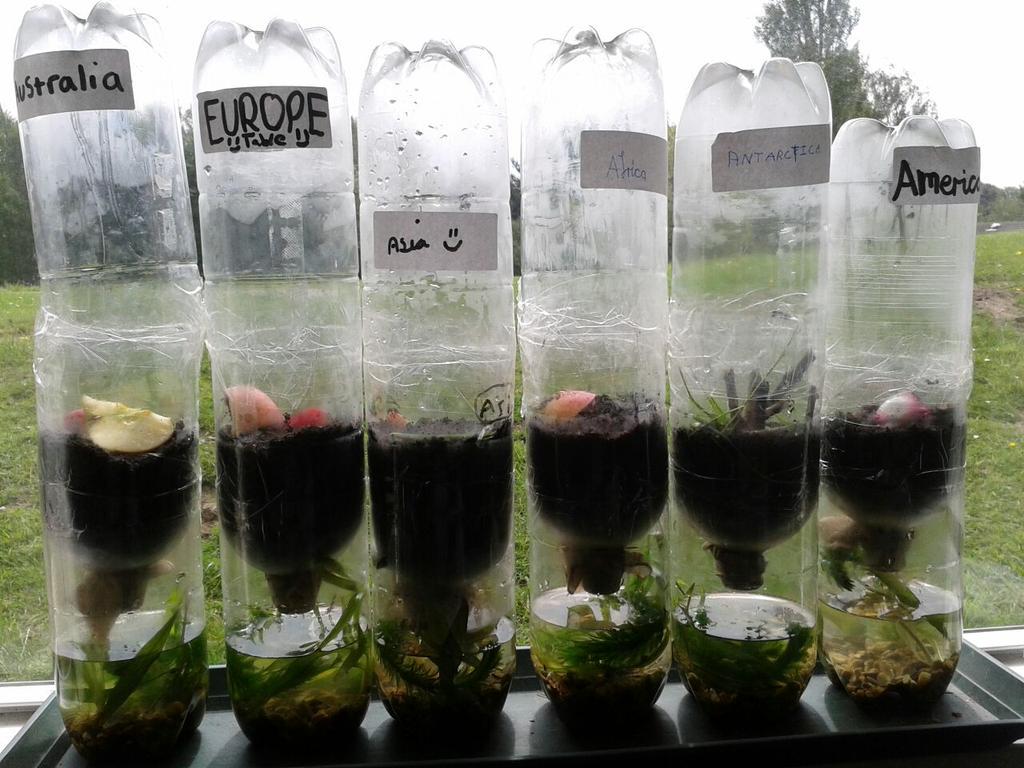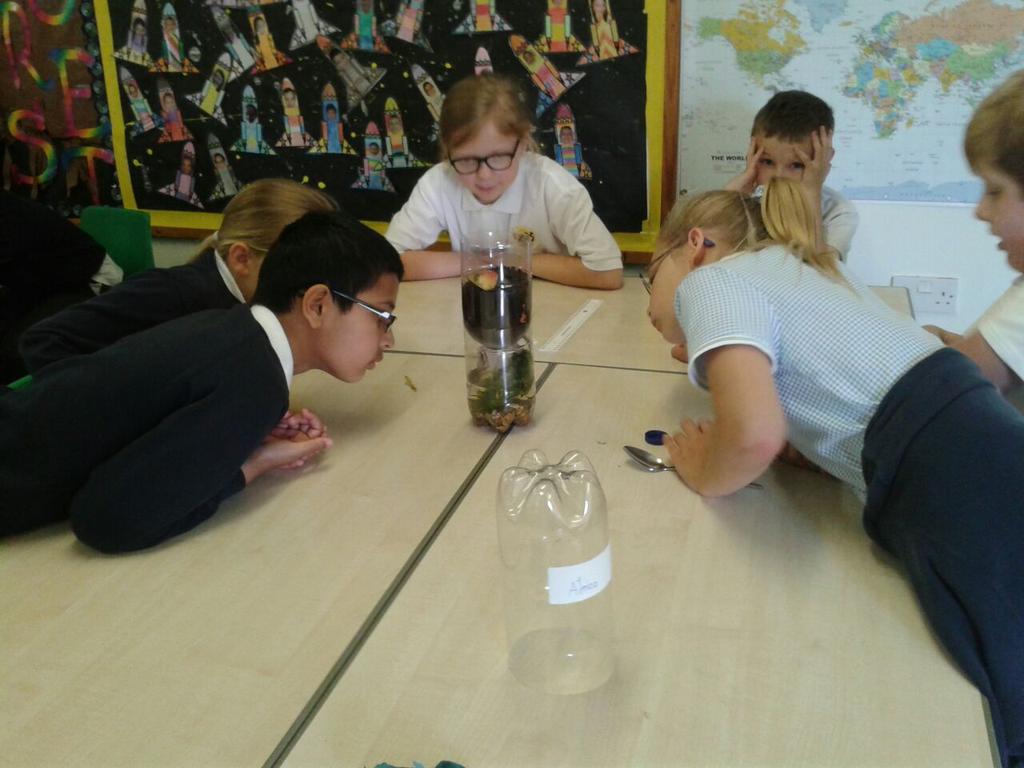 I discovered that pupils have been making eco-systems.  It was clear from my discussions with Mrs Byers class that their vocabularies are growing wider by the day.  They were able to describe what eco-systems are, where you may find them and how they work. If your child is in the lower juniors, as them all about it.
Meanwhile at PGL…the small matter of a giant swing, abseiling and kayaking were the order of the day.  I am unable to post every single picture on here, but for those of you following us on Twitter, you will have seen the live tweets as the days have unfolded.  For those of you who don't follow us on Twitter, please do (W_W_P_S) or if you can't, please check the Twitter feed which appears on the front page of our website and click on the link to see more.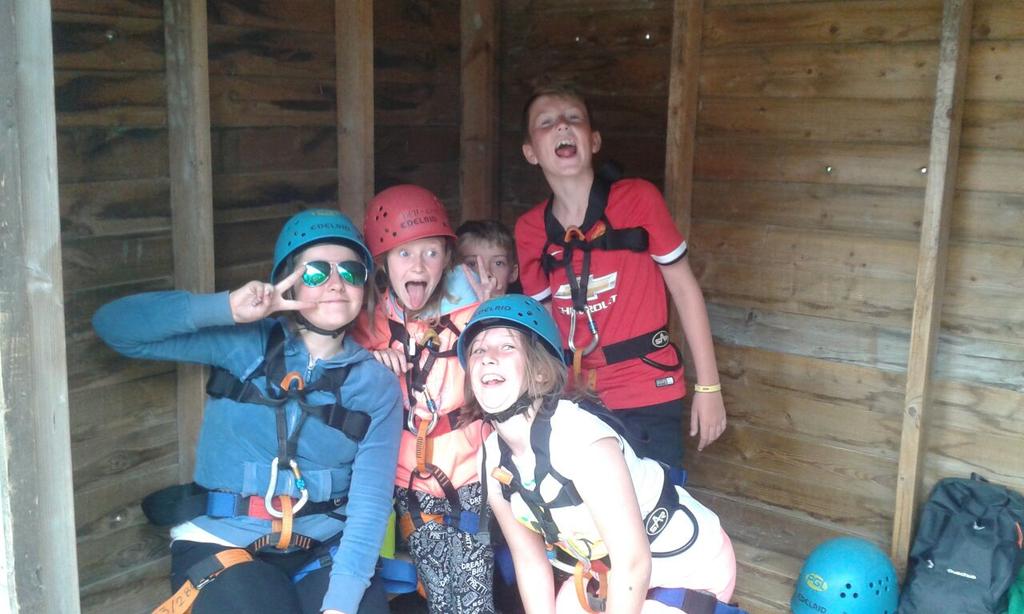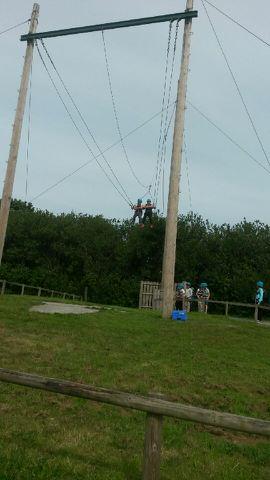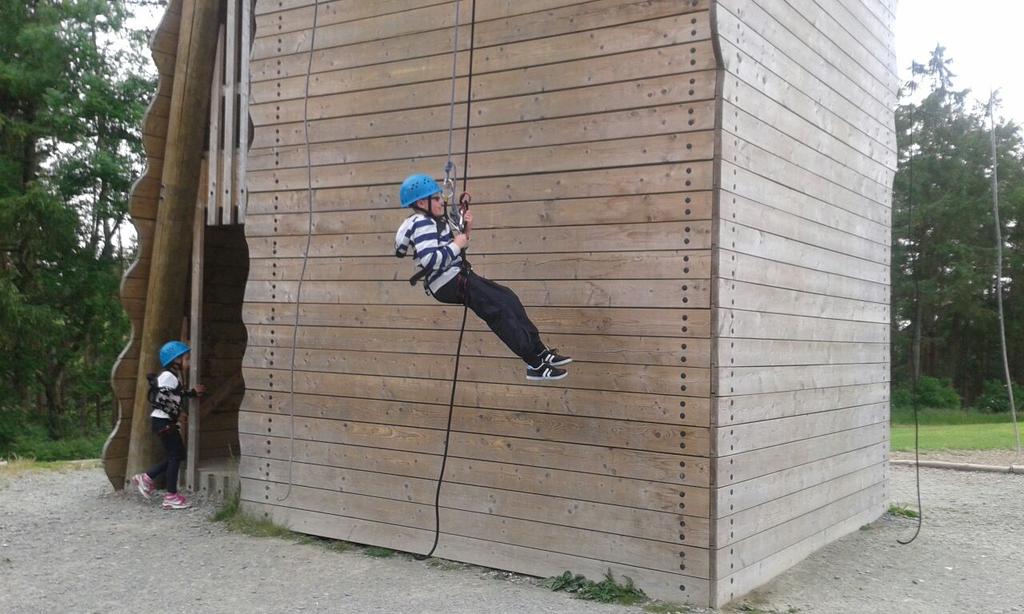 Monday 15th June 2015
So, today is the day where the majority of our Y6 pupils go off into the big wide world – maybe for some of them, this is the first time away from home without parents too, but what a fantastic experience they are going to have.  It is my aim to keep you all updated on this blog as and when I can and for those of you who have a Twitter account, during the day I will be sending 'live tweets' with updates from the staff at PGL.  We have 12 new followers today already so thank you for joining us and hopefully our tweets and updates will keep you from missing your little angels too much.
These pictures are the story of the day so far…The bags before and during transfer to the coach (not to mention the concentration and smiling faces all rolled into one)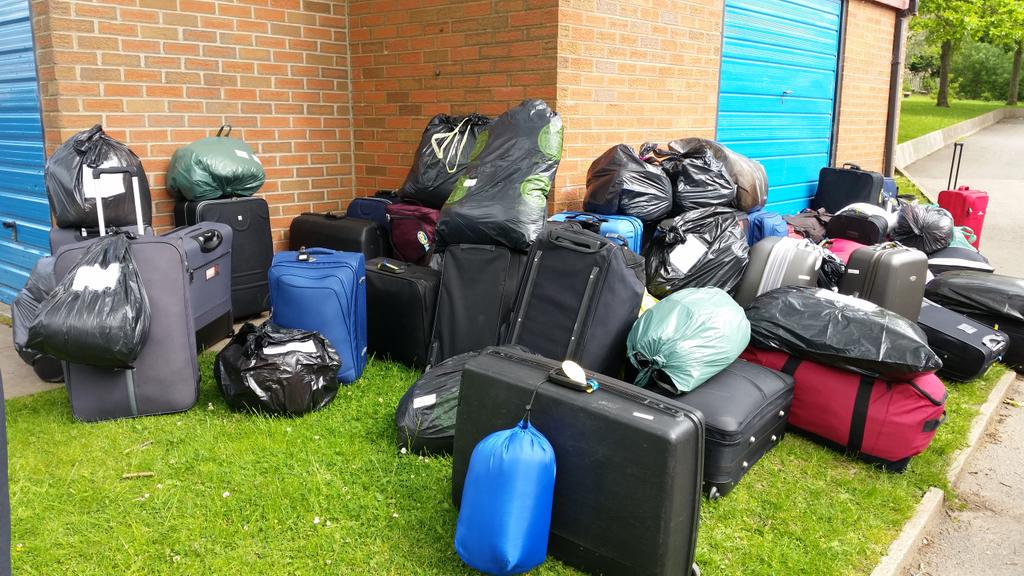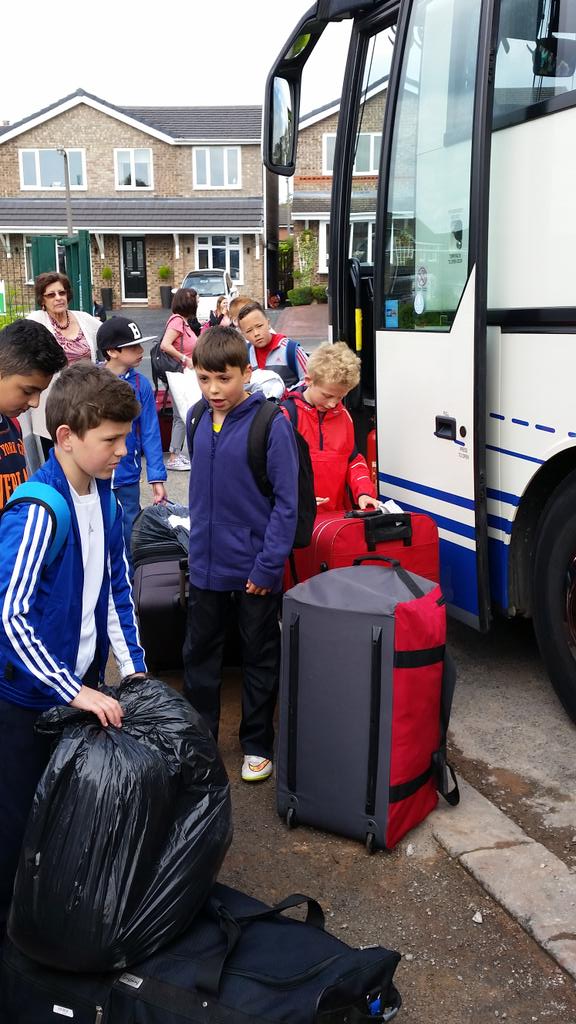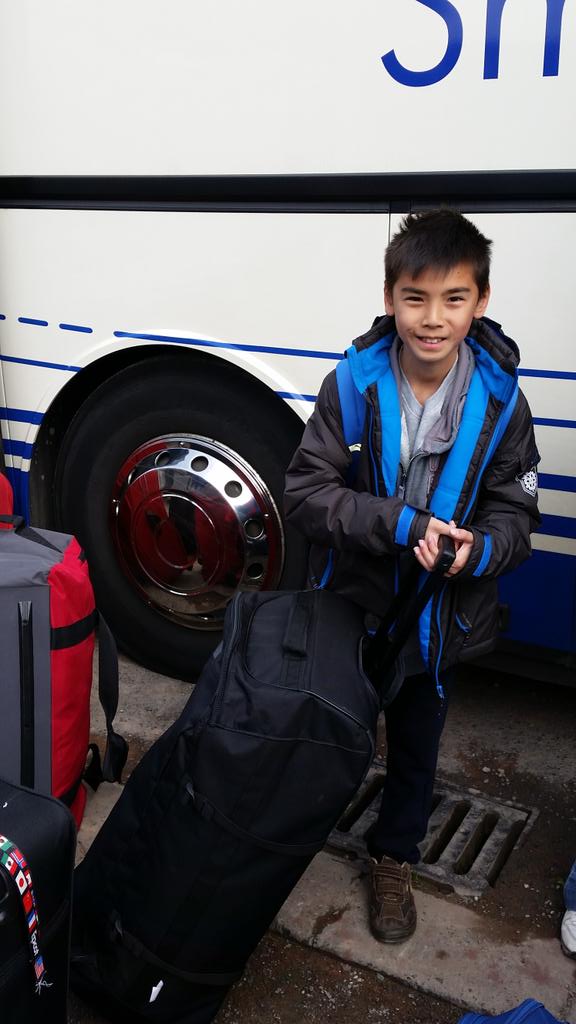 Shhhhh, don't tell Mr. Boardman but I think he also is going to miss home just a little bit too, looking at the contents of his back pack!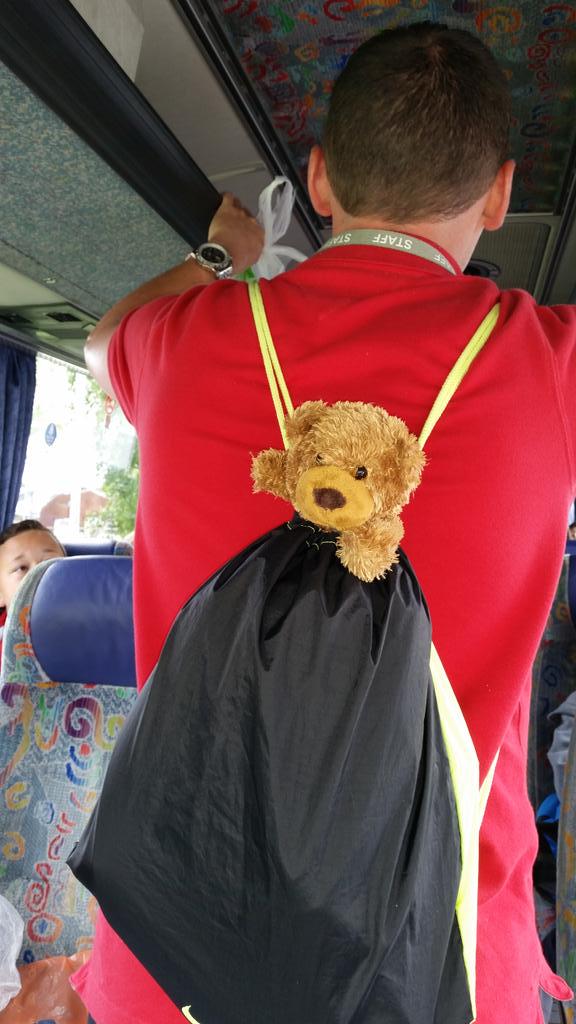 Then it was 'all aboard' the coach and we were ready to go…with lots of anxious/smiling/happy/teary faces to wave them off!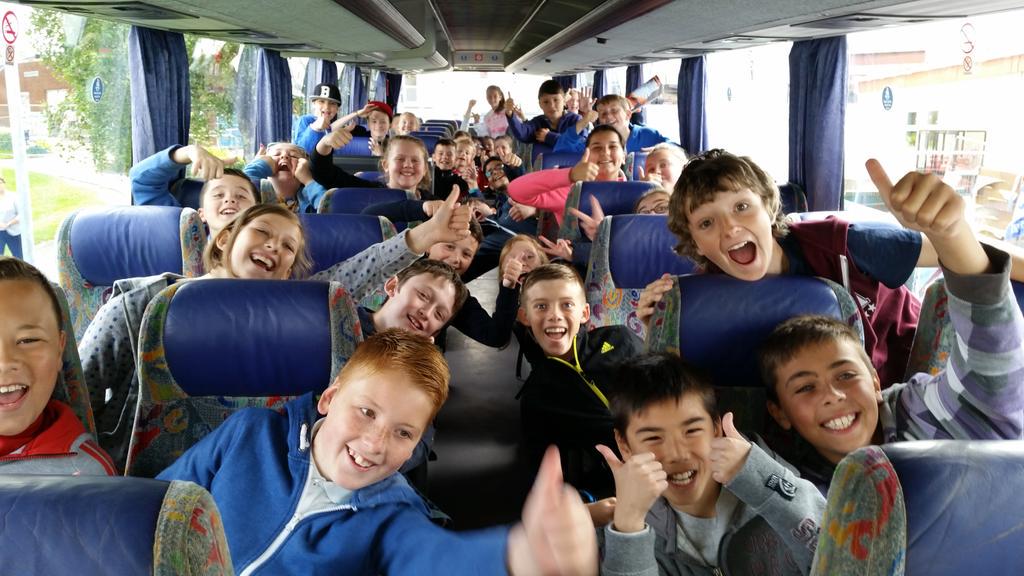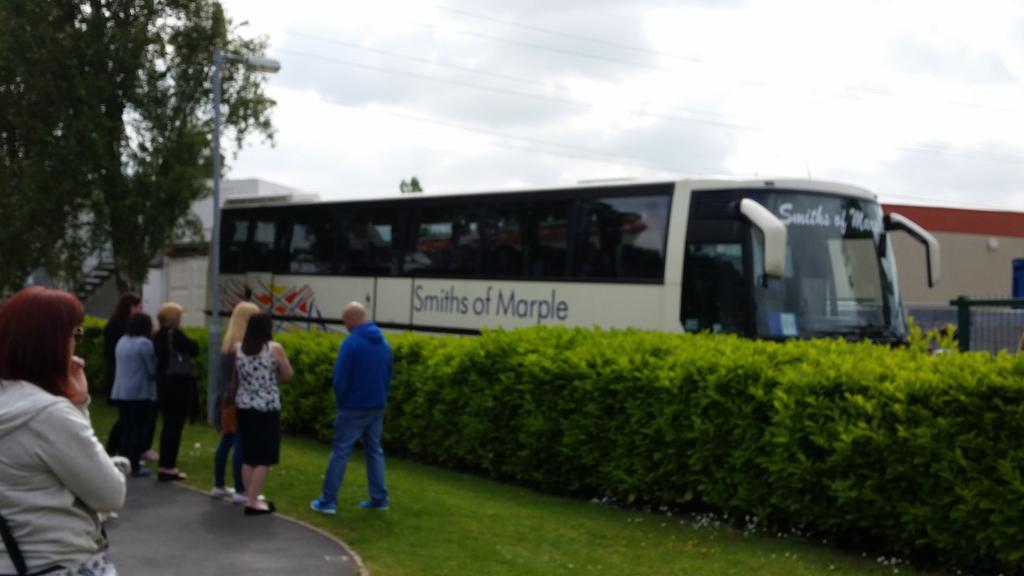 At the midway point, the children stopped for a swim and some lunch…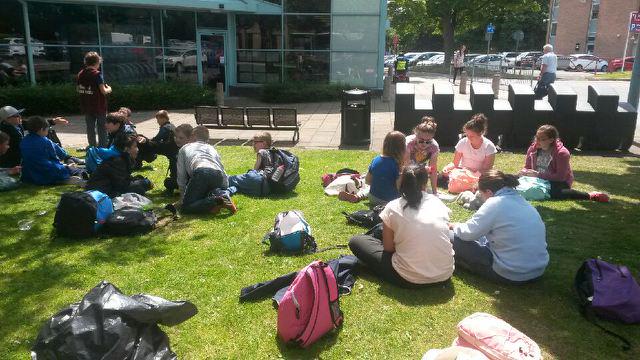 And after tea, we are all set for some games before bedtime…And everyone is still smiling!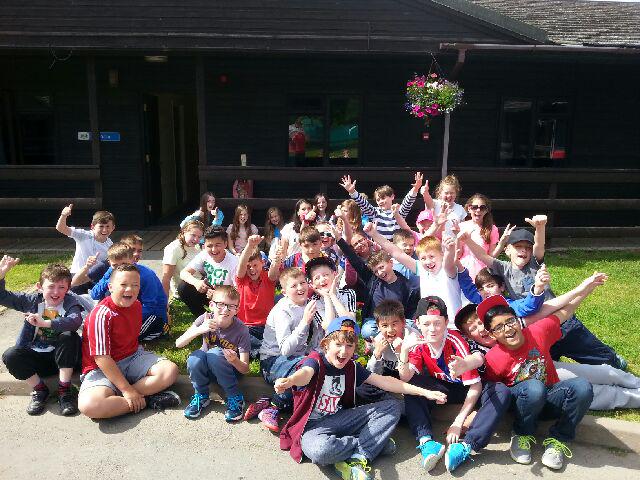 10:00pm Update!
After games, it was a little down time and chatting with friends before lights out.  It has been a long but happy day and the children are ready and raring for tomorrow.  Mrs Eastham reports that the leader that the children have is fantastic and the children's behaviour has been 'amazing'.  We expect nothing less from such super children !  Tomorrow morning, they are kayaking so maybe not as many picture updates at first – phones and water do not tend to mix.  Remember to check your phones for texts and tweets!  Night night from all at Boreatton Park!
Friday 12th June 2015
Today has been spent writing reports – the small matter of 300 to be precise!  The teachers have been busy preparing your child's report for you over the Whit holidays and so now I read the reports a class at a time and then write my own comment too.  It can be really tricky when you have read a lot in a day, and so I apologise if we make any typos at all – we are only human!  Having read some Year 6 reports today, I know there will be some very proud parents and some very sad teachers to see you go.  The reports will go out in July.
The other job I have spent the main part of today doing is dealing with numerous complaints from the neighbours about parking around school.  I appreciate that we all pay road tax and have a right to park our cars, however, the situations that I have been alerted to over the past few weeks have grown in numbers significantly and are beginning to cause school and the residents a real problem.  Residents are fully aware that they live near the school and are to expect an increase in traffic at certain times of the day.  What they should not have to face is people parking across their driveways, nor should drivers park on corners, at junctions or on the zig zag or yellow lines around school as these are illegal as stated in the highway code.  As I have stated numerous times, we are all busy, have places to go and are on tight time schedules BUT this is simply just not a good enough excuse when it comes to breaking laws or disregarding what is fair and right.  I usually operate the rule of thumb in most things that I do of 'do unto others as you would have done to you'.  Therefore, if I would not want someone blocking my driveway, causing a hazard by parking across a junction or reversing onto a pavement where children could be, then I wouldn't do it either!  This may sound completely obvious, but as a result of the constant disregard of these laws, not to mention the time it has taken to deal with some understandable anger from the very people who are being so tolerant of our building work, I have had little option but to pass on any details of cars and their registrations to the council parking team.  You can report such issues by following the link below http://www.stockport.gov.uk/doitonline/az/parkingenforcementrequest and maybe in working together, we can try to resolve these issues.  All of the above is outlined in the school newsletter, sent home today.    If you are able to use the 'Park and Stride' facility then please do so by parking at the Harvester and walking down to school with your child.  Thank you.
Thursday 11th June 2015
Behind the scenes in school, lots of plans are being made for the end of year in terms of getting information ready for our new parents with children starting school in September along with plans for the Y5 and 6 pupils and their end of year production.  We are now just ironing out the finer details for our venue and arrangements so that we can let you all know.  Obviously, the lack of a school hall is making arrangements different this year, but we are getting more used to challenges each day and  are always looking at solutions to make sure that we give the upper juniors the same experiences as previous years, but this just maybe in a different room that it happens Watch this space!
Wednesday 10th June 2015
Today we have all said 'cheese' at least three times each (or in my case 11 x 3 = 33 times!) for our class photos.  In some cases, there were plenty of giggles as they were called the traditionally 'funny names' by the photographer to raise an extra smile…not to mention the appearance of Mrs Carrott!  Ask your child who that is!
Today has been packed to bursting with meetings for me, one of which was with the Year 6 staff to discuss the written work of their classes from the whole year with a member of the advisory team for Stockport.   This meeting and the review of pupils work, quality assures the work that has taken place for the Year 6 SAT's.  It is also an opportunity to discuss the efforts of all staff and how we work so closely as a team throughout school, forming the building blocks from the pupil's first days in school and throughout all year groups.  This  ensures that we consistently deliver the same high standards of achievement for all pupils.  Now this meeting has passed, the Year 6 pupils and staff can look forward to a well deserved week away at PGL for fun, laughter and all round well deserved fun.
Tuesday 9th June 2015
Welcome back everyone!  It was clear from my visit to all classes that everyone had enjoyed a lovely relaxing break, but were ready and focused for school upon their return.  I have also been really proud to learn of the charity fundraising efforts of some of our pupils over the Whit break.  Alex in Year 5 took part in a Race for Life at Woodbank Park, raising well over £200 for cancer charities.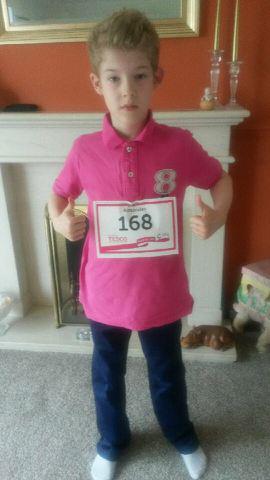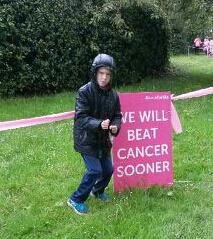 Rosie in Year 4 sadly lost her grandad recently.  Whilst playing with her friends Megan , Jacob, Hannah and Charlotte, and talking about her grandad they, quite spontaneously,  donated some of their own pocket money towards cancer charities to show support to Rosie.
It is these kind of selfless acts that show just how special the children at Warren Wood are.  Whilst these are not isolated incidents, they show beautifully the example of how our pupils show genuine care, courtesy and consideration to wards others and I am exceptionally proud of each and every one of them.  Well done !
Friday 23rd May 2015
Another exciting development today towards our new school – today we ordered our new furniture!  It may seem a little strange to be ordering furniture when we have no walls or roof but this signifies the pace at which our new school is being built and how quickly September will come around.   At the moment, we are unsure as to our exact date to move back into the building.  This can be mildly frustrating – imagine having the promise of a gift being bought for you but not being allowed to unwrap it – yet!  However, whenever this may be, we know it will be at some point in September and therefore gives us lots to look forward to.  In spite of the fact we are only just breaking up for our Whit holidays, I personally cannot wait to come back to school to see what developments have taken place and how the school is taking shape.  Watch this space…and have a great holiday!
Thursday 22nd May 2015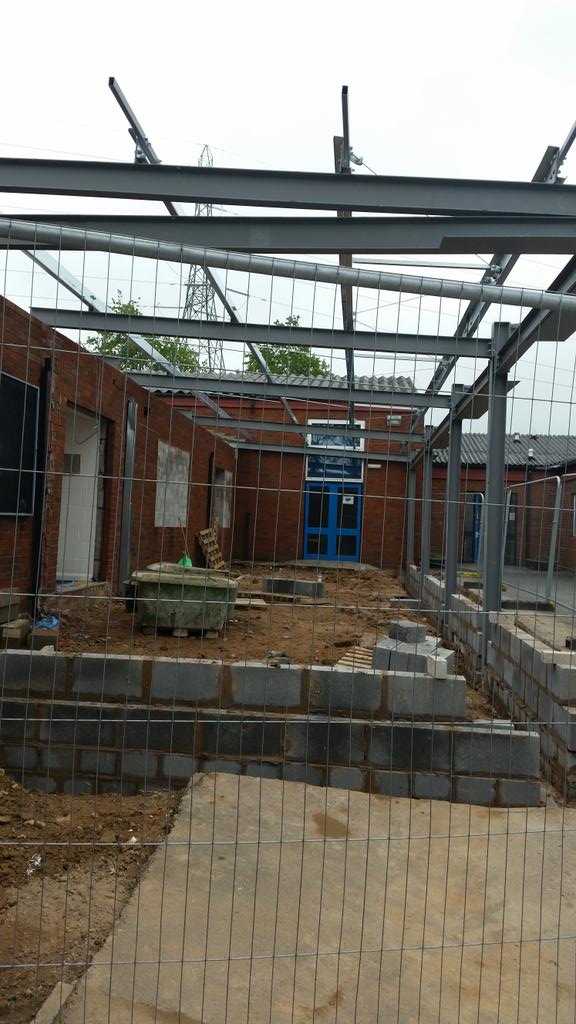 This is the view taken from the edge of the new office, looking down towards the new staffroom which will end just outside the old hall door.  The small steps this week in terms of brick work have been hampered by the inclement weather – bricks, mortar and rain are not friends apparently!  I have been rather impatiently chasing the rainclouds away as we just love seeing the developments take place and we get rather frustrated when rain stops play  Fingers crossed everyone for a warm and dry holiday!
Wednesday 21st May 2015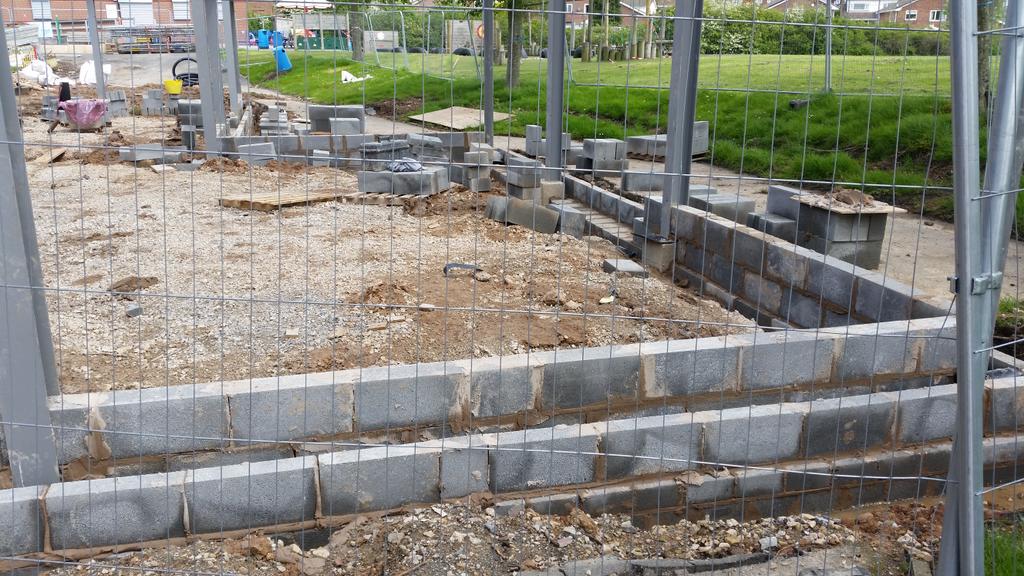 Here are the beginnings of our new library walls!  A way to go before it is filled with books, but we already have such exciting plans for it.  Not only do we intend on it being a centre for research and learning, but we also hope to have community sessions where parents and children read together, be it for story sessions or after school.  We also have plans for reading clubs – a few suggestions being 'dads and lads' and grandparents days.  That's not to forget mums of course!  The world is our oyster and so however frustrating this year may have been at the lack of space or community events available, they are just around the corner once more.
Tuesday 20th May 2015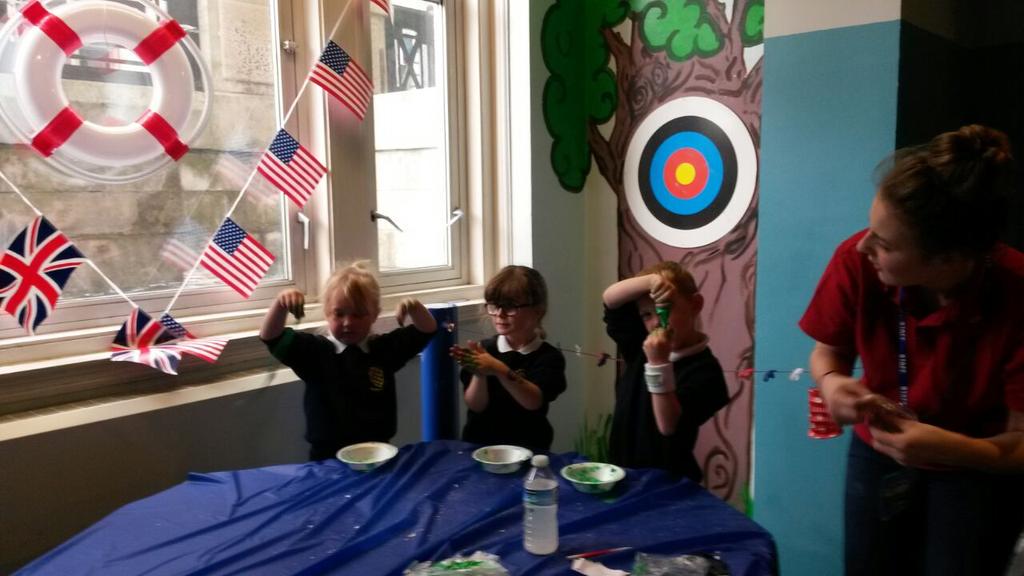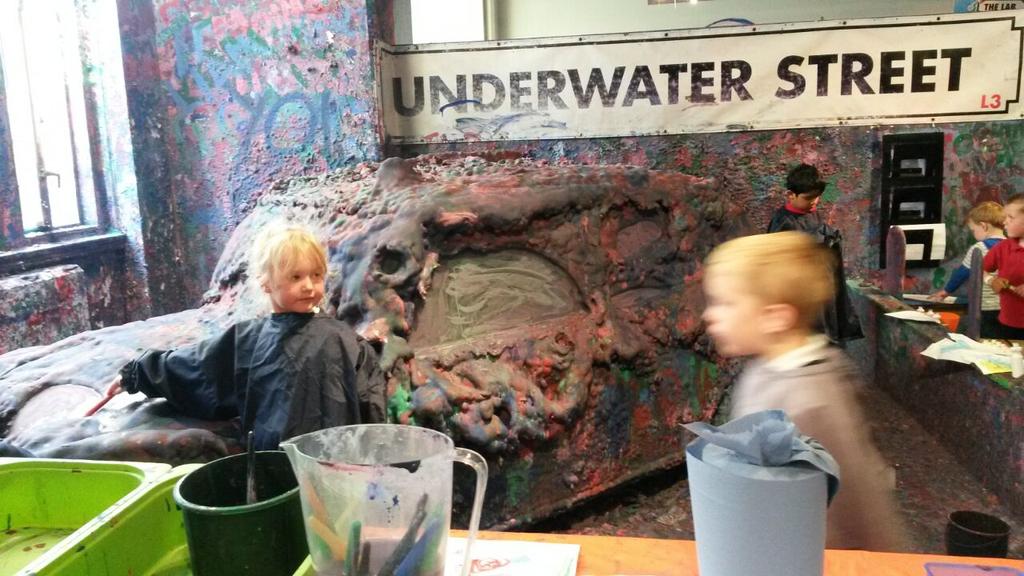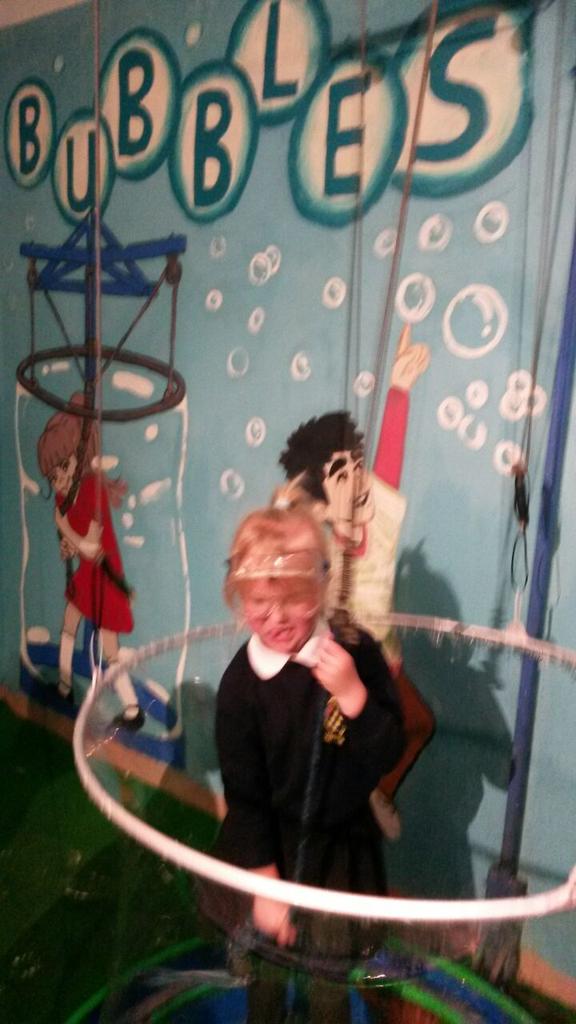 Today was the day that our Reception children went on their first school trip.  Whilst they have had many fantastic opportunities throughout the year to experience new things, there is nothing like climbing onto a coach and the expectation of what lies at the other end.  They were certainly not disappointed!
The children visited Underwater Street in Liverpool which gave them the opportunity to use different skills of creativity, exploration, enquiry, physical and imaginative play.  Upon their return, I was told that pupils had asked if they could live their they enjoyed it so much!  Not only that, but the staff at the centre had commended our pupils on their beautiful behaviour.  Well done everyone, staff included who put so much effort into organising such events and making sure that everyone has fun but stays safe.  I am sure that everyone concerned will sleep well tonight.
Monday 19th May 2015
Our final week of term begins to day with weather that belongs in February, not a week away from it being June!  Torrential downpours and hail storms have unfortunately slowed down progress with any bricklaying today, so anyone who wants to send positive vibes towards the sunshine to encourage it back, would be doing us all a favour!
With the end of any half term comes the finishing off of one exciting topic before the next begins  and this term in particular has been shorter than most but still packed to bursting and full of fun!
Friday 15th May 2015
A picture speaks a thousand words.  This one primarily says 'relief', although I am sure lots of you will be able to think of others that are just as appropriate.  Well done Year 6 at the end of your SAT's.  Wishing you all a very happy weekend.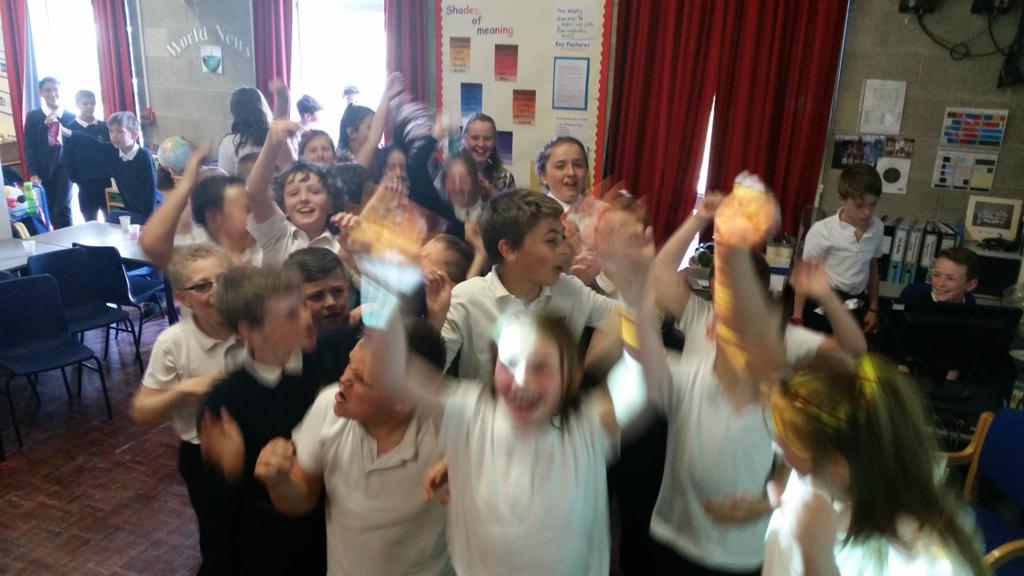 Today, Year 1 and 2 were treated to a visit from their class governor, Mr.Garforth.  He has two children in school – one in Year 2 and one in Reception.   Mr Garforth very kindly took time out of his very busy 'day job' to come in and visit, spending time with the class in an Art lesson, as they painted their own superheroes.  He also did a 'Q & A' session and taught the children lots about the job of a school governor.  Mr.Garforth was beaming on the way out and said he had enjoyed his visit thoroughly.  We enjoyed seeing you too!
Thursday 14th May 2015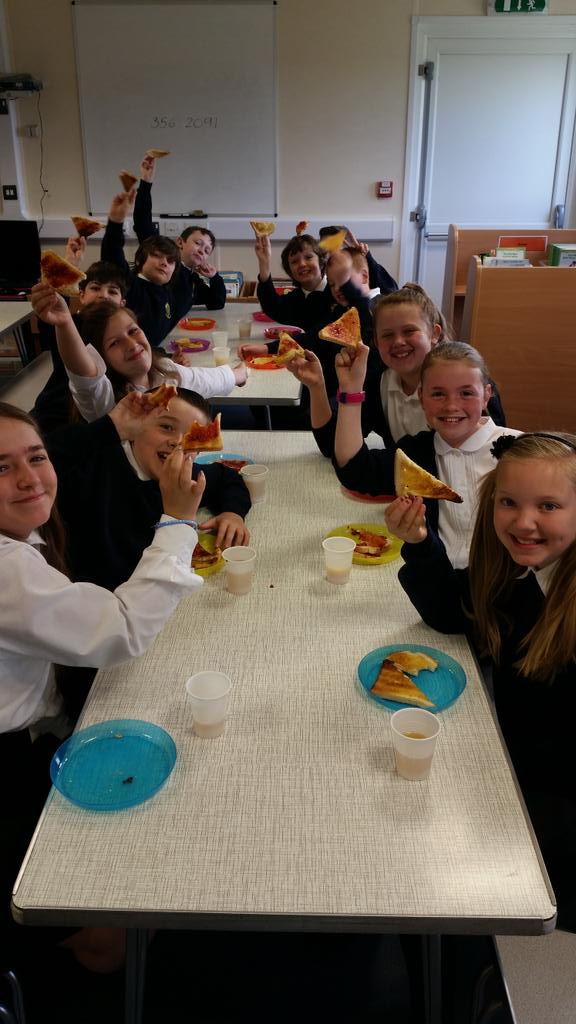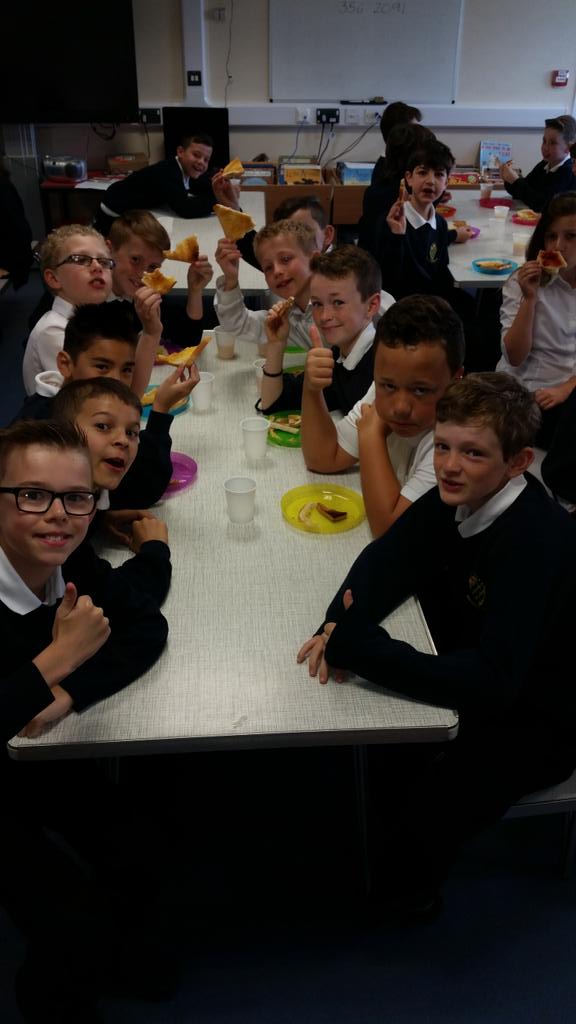 Every day this week has begun like this – relaxed faces, enjoying each others company and some toast!  Today signified the last day of Year 6 SAT's.  All week has been tough going for our eldest pupils in terms of the demands that sitting these tests can take.  However, on behalf of school, we hope that the only pressure you felt from us was which topping you wanted to put upon your toast!  In all seriousness, of course we want our pupils to do well, but more importantly, we want them to do their best.  We can never ask anymore.  Now the tests are over, they have the small fact of an end of SAT's party to look forward to!
A big thank you too to all of the rest of school during this time – not only have Year 6 been busy sitting more formal tests, but pupils in Year 2 have also been undertaking their Key Stage 1 SAT's.  Everyone else has been very thoughtful to this and has taken extra care to remain quiet so that they were not disturbed, gone for later playtimes and been as respectful as we expect our pupils to be towards one another.  I even extend our thanks to our contractors and builders, who have managed their jobs around when we needed quiet and so have stopped and started on cue to keep the noise to an absolute minimum at key times.  Yet again, the community spirit at school has shown us all what is special about the children and staff at Warren Wood.
Wednesday 13th May 2015
Well, Year 6 are nearly there and today there were a few weary faces as I looked around the room.  In spite of this, everyone remained focused and tried their absolute best to stay 'in the zone' .  This time tomorrow it will all be over and we couldn't be happier or more proud of each and every one of you.
Tonight and over the next few weeks, our staff training after school focuses on Enquiry Based Learning.  This is an area in which we seek to further develop our curriculum in exciting and inventive ways, concentrating on the ways in which children learn.  It will also seek to develop the way children think, developing an understanding of the questions they ask, how they learn using skills of collaboration, how reflective they can be of their own learning and that of others and what risks they are prepared to take.  All in all, pupils and staff are in for a real treat!  Watch this space!
Tuesday 12th May 2015
Year 6 are halfway through their SAT's already and are STILL smiling!  Keep up the good work everyone.
I would also like to mention the weary bones and aching muscles belonging to some staff today.  This is because at weekend, Mrs Byers, Miss Parker and Dave, our site manager, completed the Great Manchester 10k Run.  I went down to Old Trafford to support them on Sunday and felt like a proud parent as they ran past.  I also felt a little inadequate as I could only ever dream of running like that – I am so unfit!  It has been lovely to share the build up to this event with them all and the actual event itself too as it is not only a great personal achievement for them all, but also shows the pupils that even when you are grown up, you can still strive to achieve more.  Well done to all of you.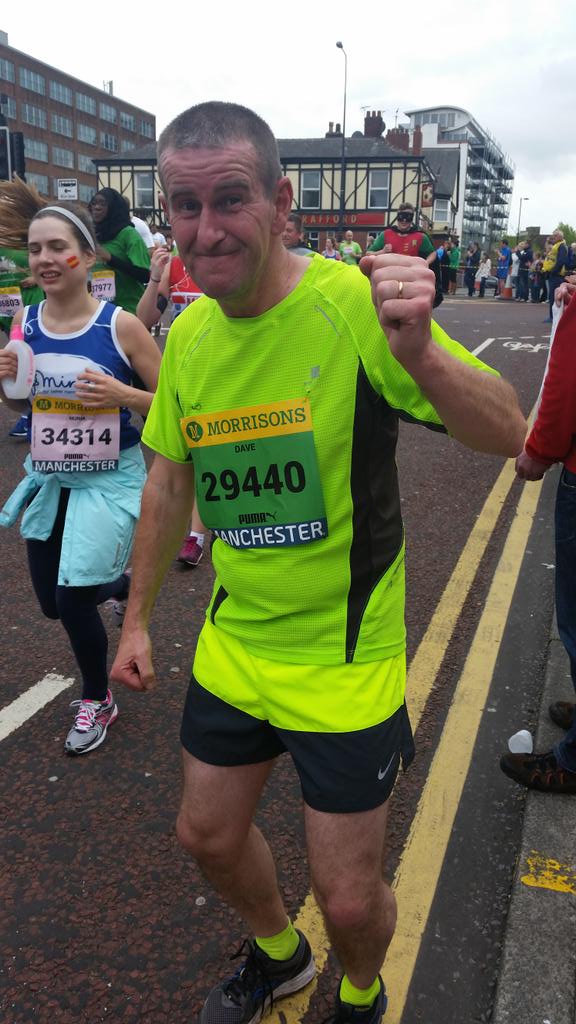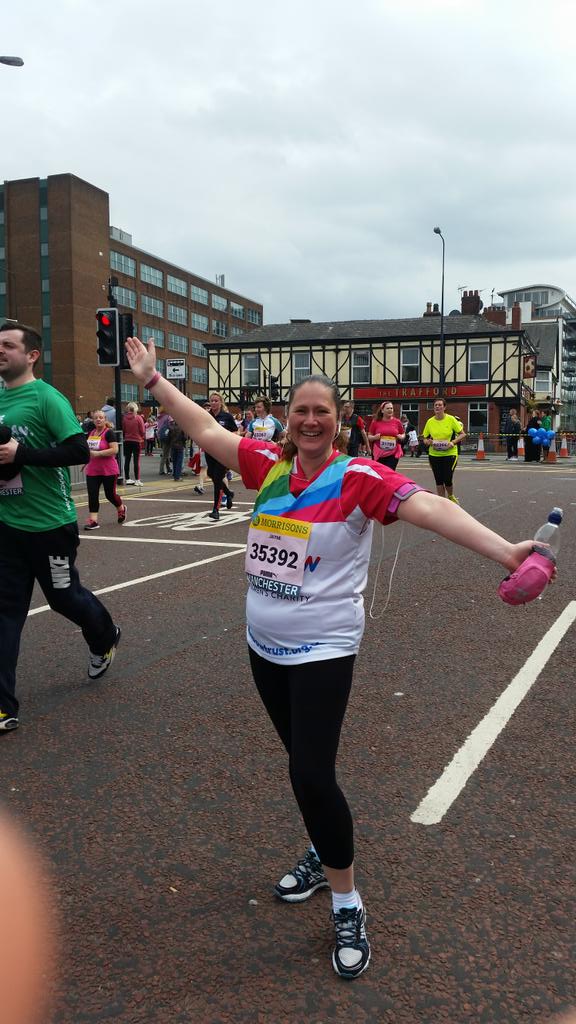 Monday 11th May 2015
'I was worried about it at first, but it wasn't as bad as I thought after all' – How many times can we say that we have said something similar ourselves about something new, intimidating or frightening?  Yet quite often, the thought of something can be more stressful than the reality.  Well the above quote was from one of our Year 6 pupils who today sat their first SAT test (Statutory Assessment Tests).  From the moment the children set foot in school today, they have demonstrated to all of us what is so magical about Warren Wood – they have been focused and determined on the job in hand, have shown care and support to one another and have been able to smile and be reflective about how they feel they did today.  Well I can tell you all now that with the same level of commitment, consideration and positivity as you have shown today, you will show the world the magnificent and wonderful people that you are.  We are so proud of you all.
Meanwhile, the rest of school also 'felt the love' today.  The sunshine always helps of course, but at lunchtime I couldn't help but notice just how settled the children were when playing their games at lunchtime.  We have beautiful grounds at school which will only get developed further once the building is completed but the children still make use of them brilliantly.  Below are some pictures of daisy chains being made, hand-clapping rhymes being sung and a mini-beast hunt! Absolutely gorgeous today – every single bit of it!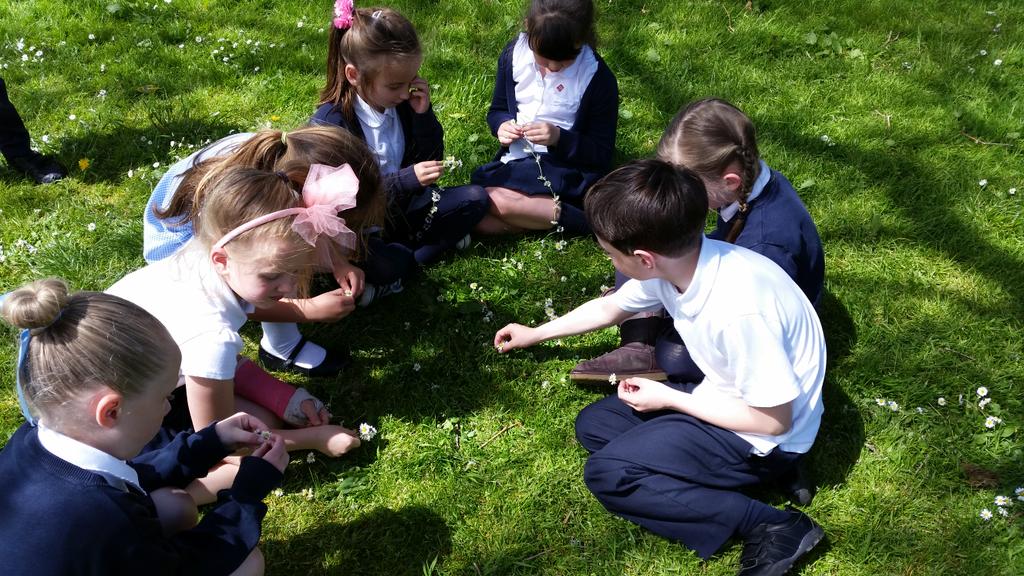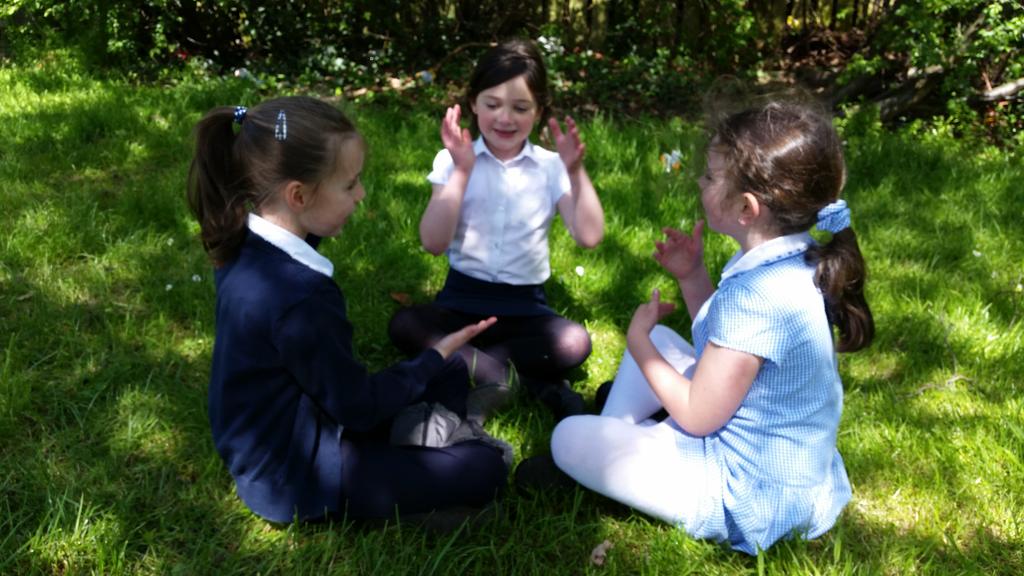 Friday 8th May 2015
Today is the last day that our Year 6 pupils have had to prepare before their SAT's test next week.  They have all had such good preparation in the lead up to their tests and have approached them with such maturity and dedication that we just know that they will do themselves proud next week.  At school, all the staff are so proud of the pupils, and having shared the journey with them all this far, this is just the next step of that exciting journey.  If you are in Year 6, make sure you have a fabulous weekend.  Get plenty of rest, do some lovely things with your family, have fun and laugh lots and then we can all face Monday with a smile together.
Thursday 7th May 2015
SCHOOL IS CLOSED FOR POLLING DAY TO PUPILS…
…however, all the staff had a most productive day today.  Teachers in the infants visited an educational training centre in Huddersfield in order to plan, discuss and shape the vision for our new infant classrooms that are being built rapidly before our very eyes.  The junior staff used their time to moderate pupils written work against national standards.  This is something that we do each term across different areas of the curriculum and gives staff the chance to ensure consistency throughout school in terms of expectation.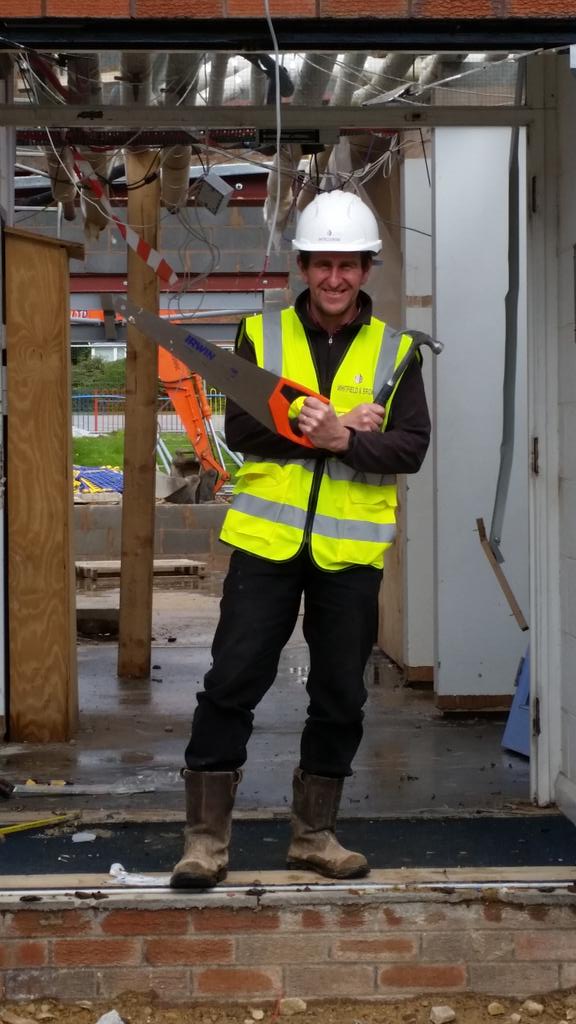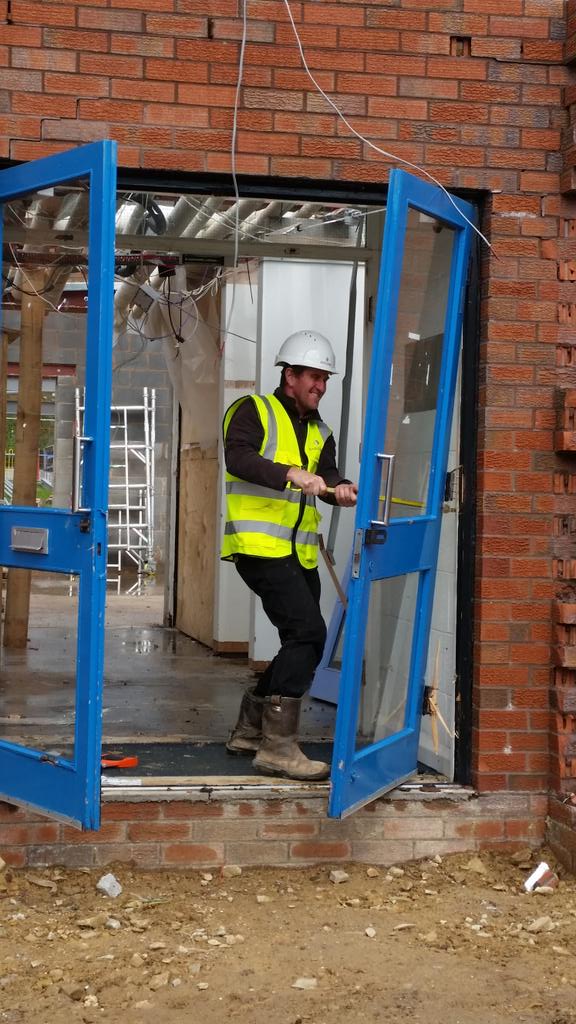 Building wise, Dave was able to get the front doors removed, the new staffroom entrance created and the old office window bricked up.  Around the back of school, the purlins which form part of the new roof have been put into place.  We also have our newly widened path finished around the back of the junior building complete with new drains underneath.  Make sure you take a look when you come to school tomorrow. A truly productive day!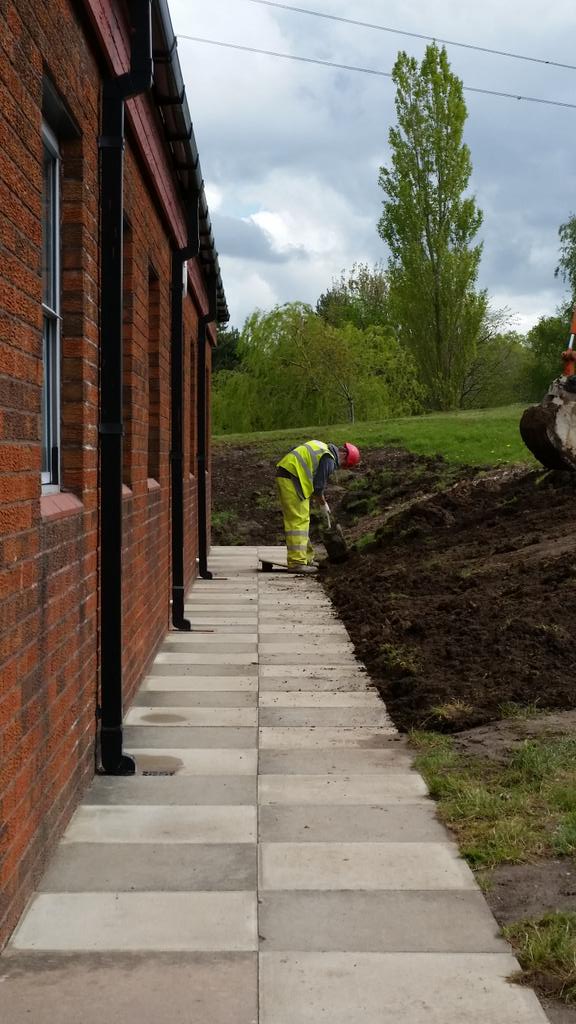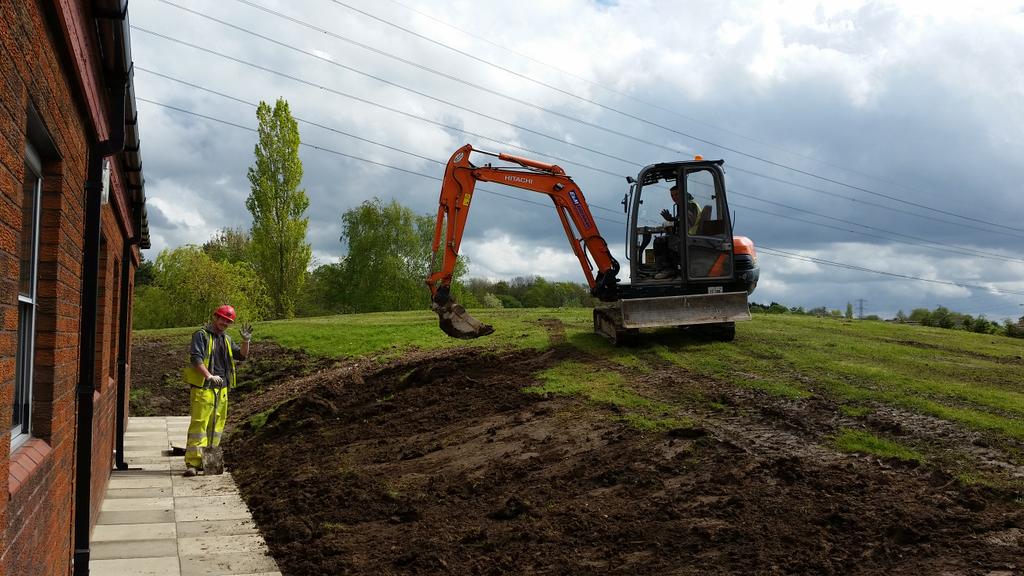 Wednesday 6th May 2015
A truly eventful day!  It began with me receiving an unusual gift – one which I never thought I would want or need!  In fact, these are the essential fashion accessories for a Headteacher!  My very own high visibility jacket, a hard hat and a pair of hob nailed boots!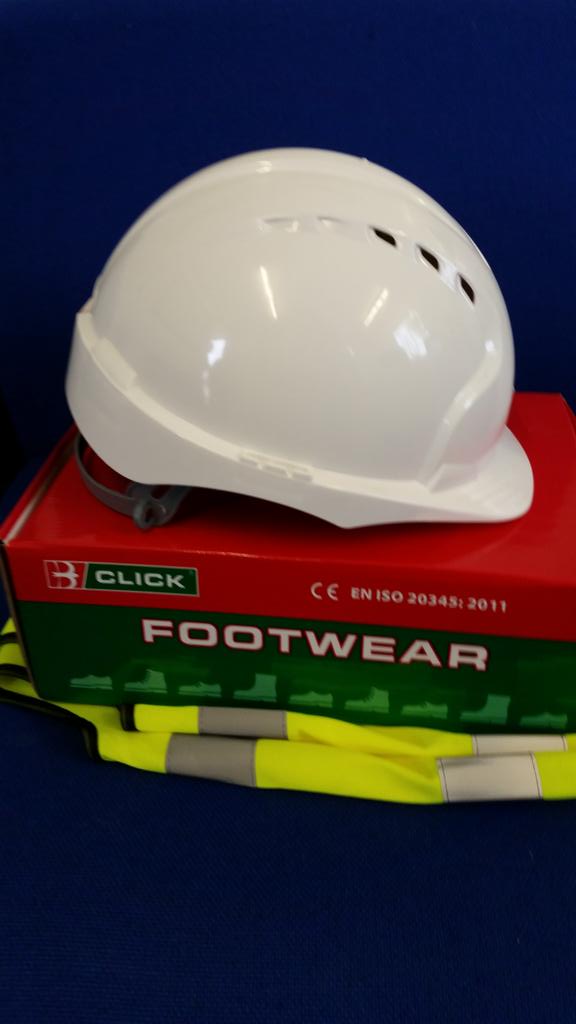 Then, through some fairly swirling and high winds and storm clouds not to mention heavy rain, the contractors carried on through to put the final pieces of steel into position for our new classrooms and front office.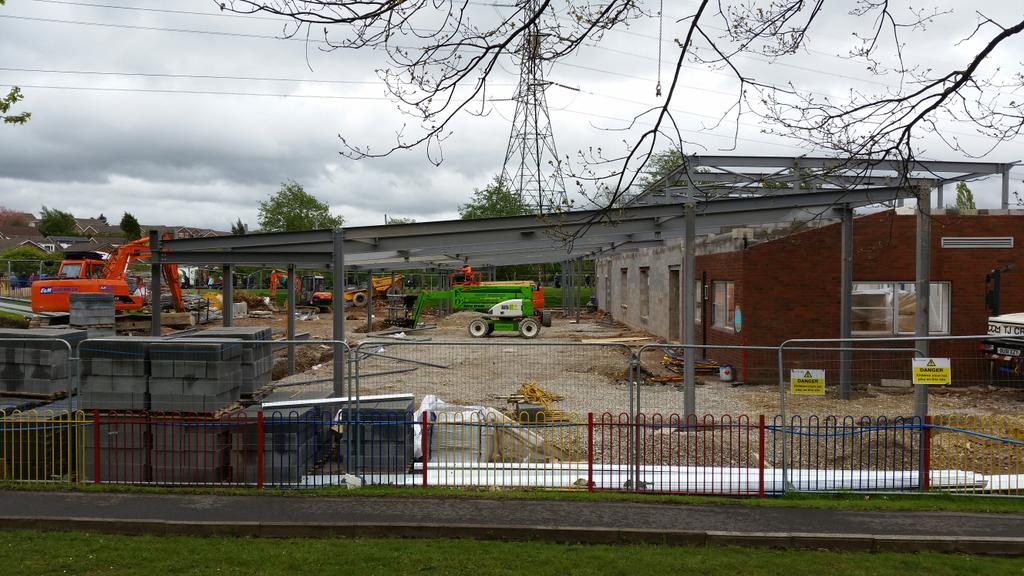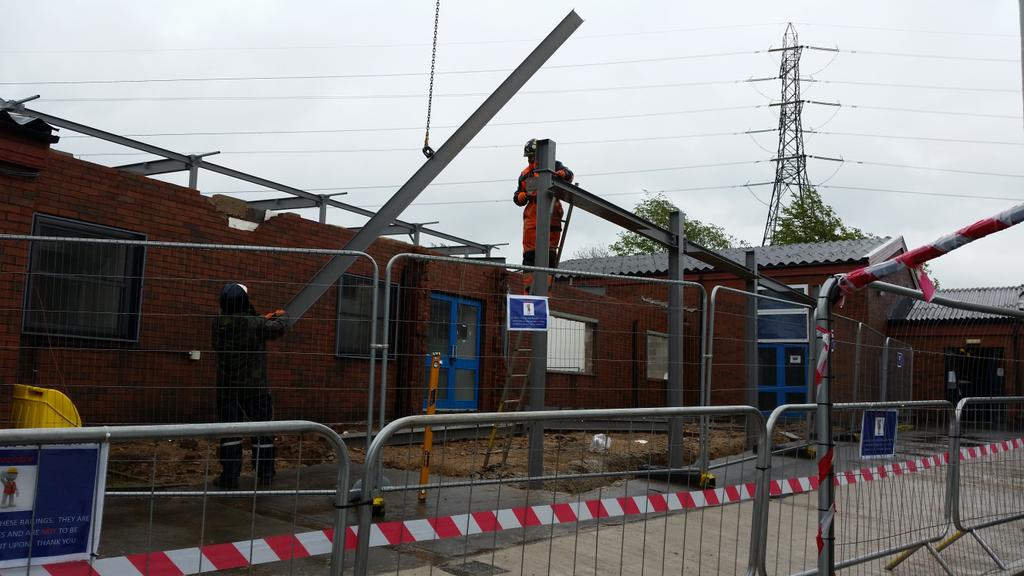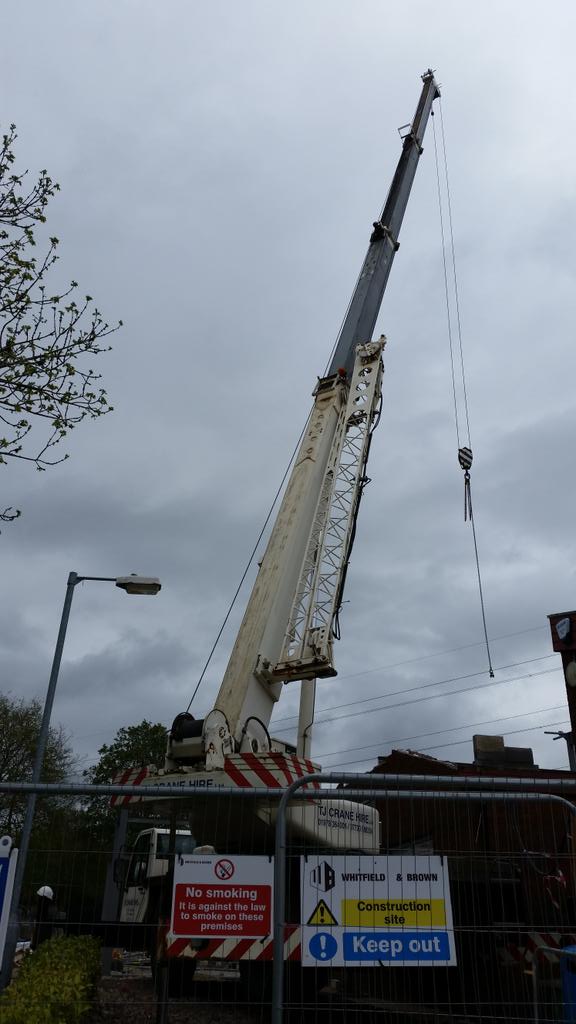 We also said goodbye to one of the briefest visitors we have had – our crane !  It has gracefully delivered the jigsaw pieces of our school into their final positions and ready for the bricks next week!
Tuesday 5th May 2015
A strange three day week for pupils this week – but four day week for staff.  Still, we continue with business as usual and wholeheartedly trying to cram five days work into three days!    I have continued to observe reading sessions throughout school, spending time with Reception and Year 3 today.  Our Reception pupils continue to amaze me each day with how much they soak up knowledge and share it with each other.  Our Year 3 pupils, who were only in Year 1 when I joined the school, are equally amazing when I see how they have developed their knowledge and skills over time.  It truly is a privilege to be a part of seeing the children blossom and grow and something that the staff ad I ever take for granted.
Friday 1st May 2015
It is May already and we can barely believe where the time has gone already.  It seems with every day that passes, we see an new addition to the building or an exciting new development takes place.  With the impending Bank Holiday, we are heading towards the final pieces of our jigsaw before the building goes up again.  We have a lovely new path around the back of the junior building which has been widened for easier access.  It also has new drains laid underneath it and therefore the long term drainage problems we have faced in that area of school will hopefully be resolved.  The steel work will be finished being lowered and bolted into position too so by the week after we shall most certainly have some walls being built too!  Have a lovely long weekend everyone!
Thursday 30th April 2015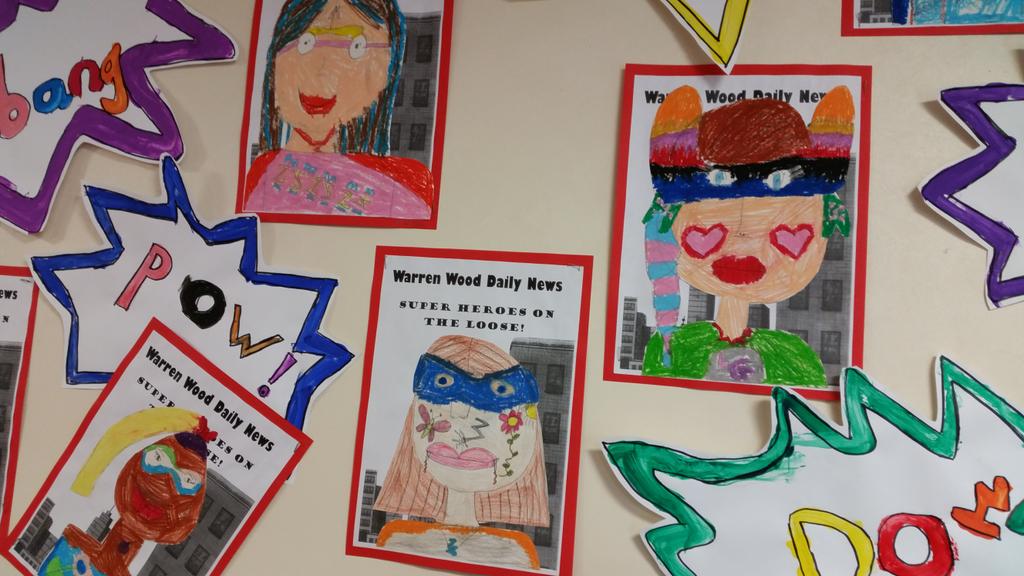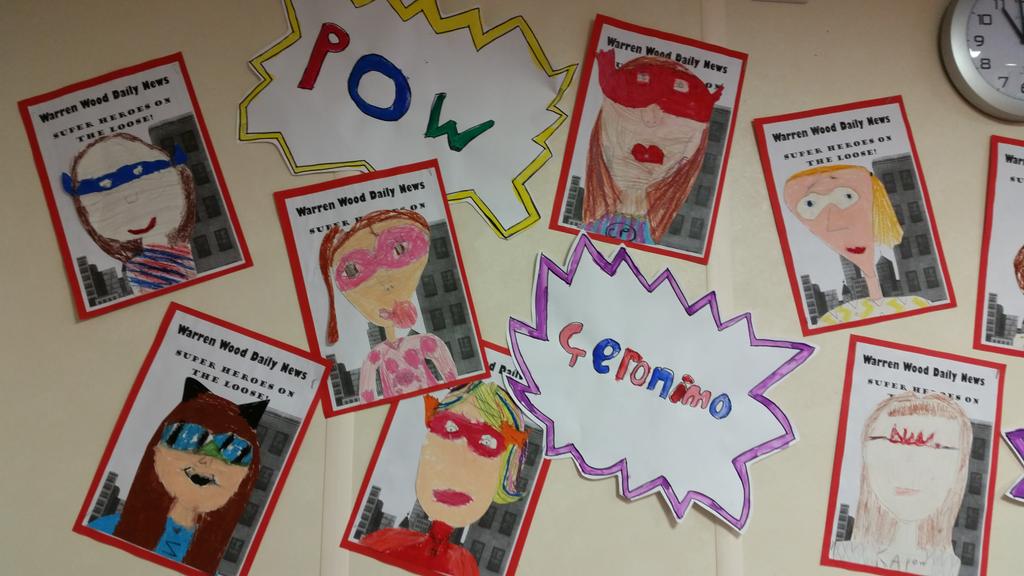 In the Infants, the children are thinking of all things heroic!  Superheroes are primarily the order of the day but also real life heroes are the people the children have been talking and writing about for their new topic.  Above are some super pictures of the superheroes that the children have personally designed.  Please beware though as these superheroes also have super powers and going off the imagination shown by the children, if these superheroes were real, we would have nowhere left to hide…especially when it comes to making orders of sweets and chocolate appear as if by magic!
Wednesday 29th April 2015
This week and next week, I have been observing all classes in school in their reading sessions.  So far, I have seen some specific guided reading sessions and I have seen some whole class reading sessions too.  What is wonderful to see is how much enjoyment the children get from sharing books and their contents with each other.  Throughout school, we have been trying to encourage the children that the use of an array of skills is more important than racing through a selection of texts.  Sometimes, reading books at home that are shared with a grown up or a brother or sister can generate lovely conversations about books which are every bit as important as trying to reach the next stage of our reading scheme.
Tuesday 28th April 2015
This morning it may have rained and been bitterly cold (reminding us that the sunshine of last week was only the spring saying hello and NOT the summer come early) BUT it has not stopped the next stage of our school beginning to unfold.  The steel was laid out like a giant Meccano set and the pieces have been gradually pieced together to show the shape to our new library and Year 2 classrooms.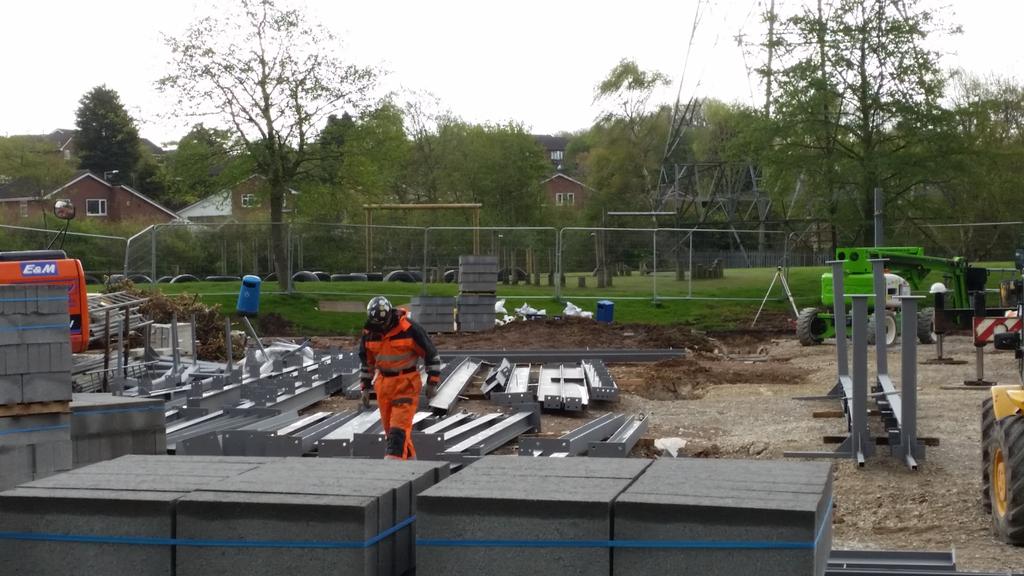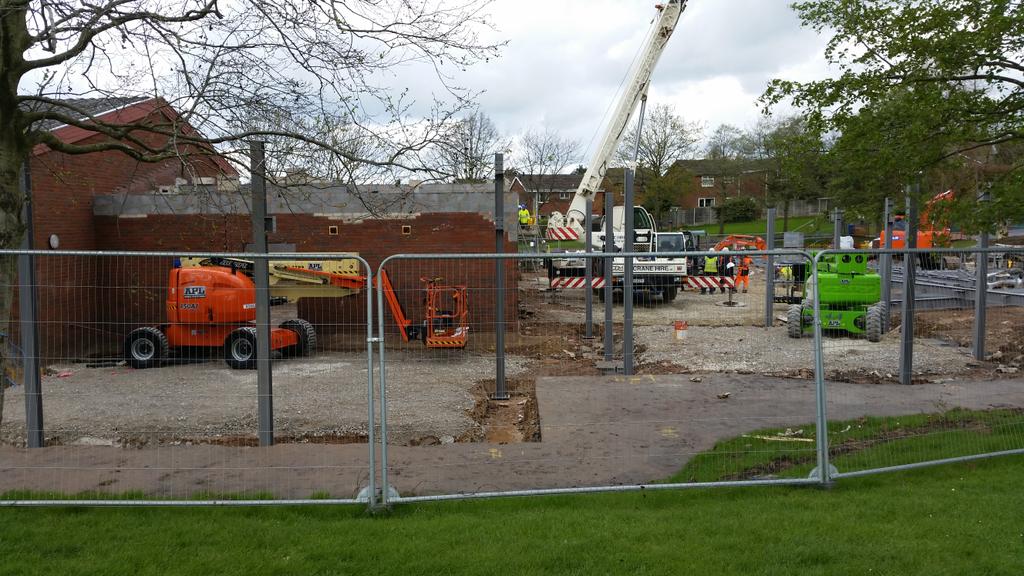 Monday 27th April 2015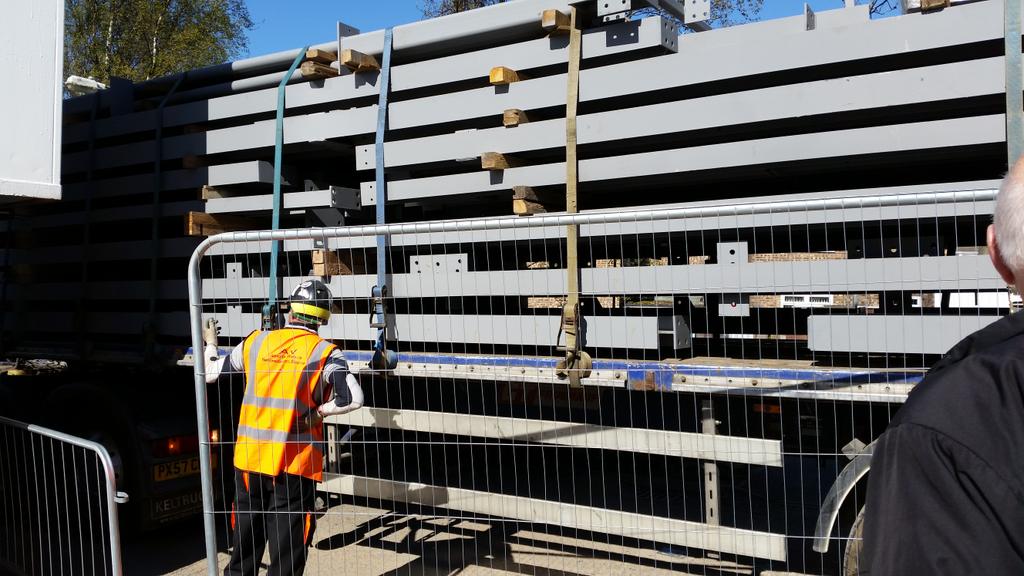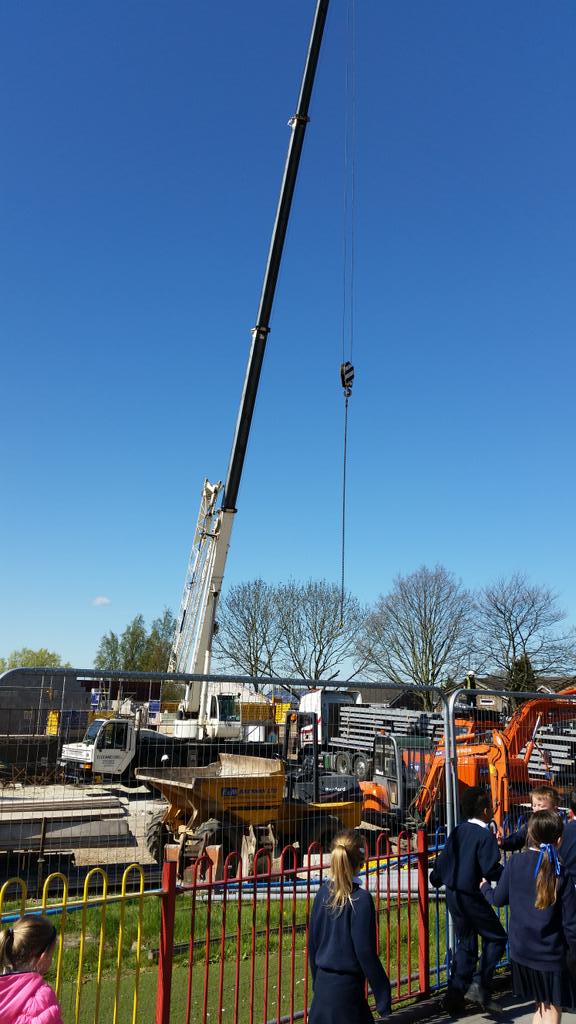 The steel which will form the frame for our new school has arrived today.  It was a real accomplishment just getting the articulated lorry full of it through the small gap on the car park and past my office!  The crane has spent most of the day doing the hard work and moving the steel into piles on the building site in preparation for the pieces to go up starting tomorrow all being well.
In assembly this week, we welcome back our visitors from Hazel Grove Baptist Church.  Mr Clarke (pictured here with the accordion) is one of our school governors and loves to come into school to share stories and songs with the children.  He has also spent some time in visiting his designated class as all of our governors take an active role in supporting the school.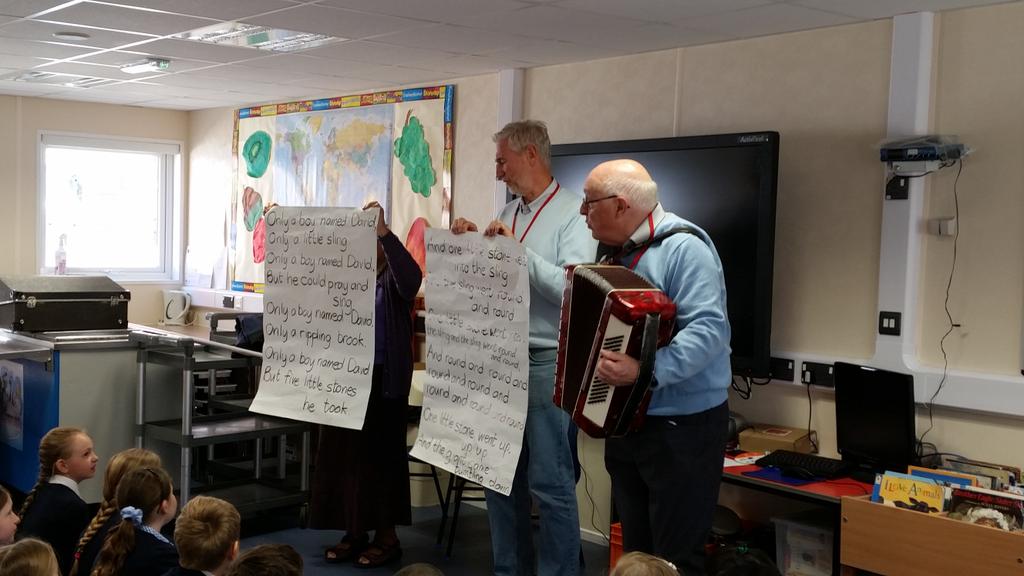 Friday 24th April 2015
I cannot believe that the first week of term has passed already.  It has been highly productive in terms of the building work and in spite of a slight delay in the steel work being delivered, other aspects of the job have continued seamlessly.
Pupils have settled back into class like they have never been away and their work has been of a high quality as has their attitude to learning.  Well done everyone.  Have a great weekend!
Thursday 23rd April 2015
The beautiful weather continues and so the children have been making full use of our school field.  It is wonderful to see groups of children mixing so well between the age groups, sitting and making daisy chains, laughing and giggling when playing and working well together.  Well done everyone.  It is a lovely sight to see!
Wednesday 22nd April 2015
As we develop our new curriculum throughout school, we are working hard to ensure that pupils approach Maths with excitement and enthusiasm and a sense of risk-taking.   In Years 1 and 2, this is shown through experimenting with numbers and trial and error or finding out the 'rules of number'.  The application of these number skills to other 'real life' situations is of paramount importance top us as we are not just hopeful that children will perform well in maths but that they will also be able to use the skills they learn in maths in all aspects of their lives too.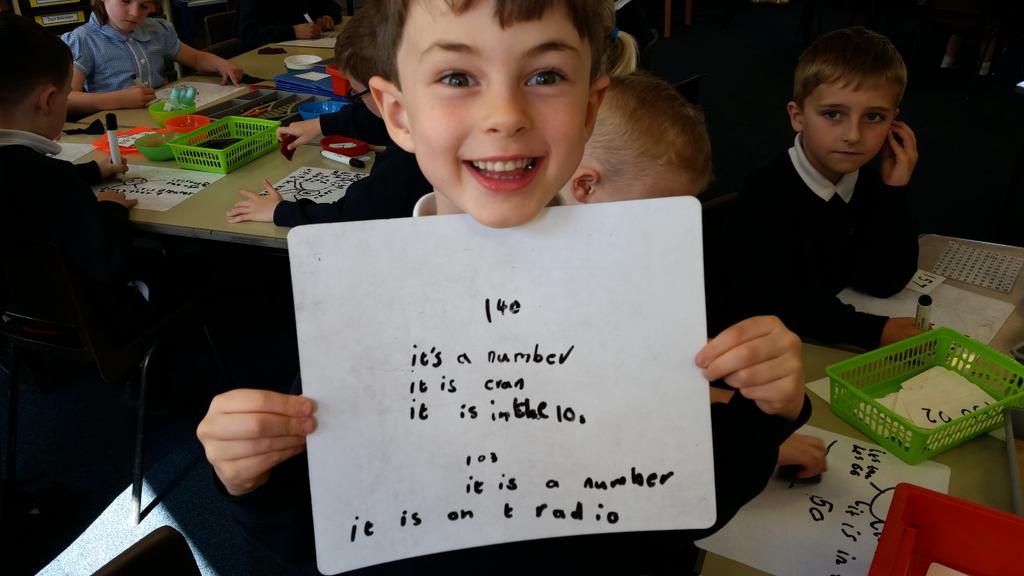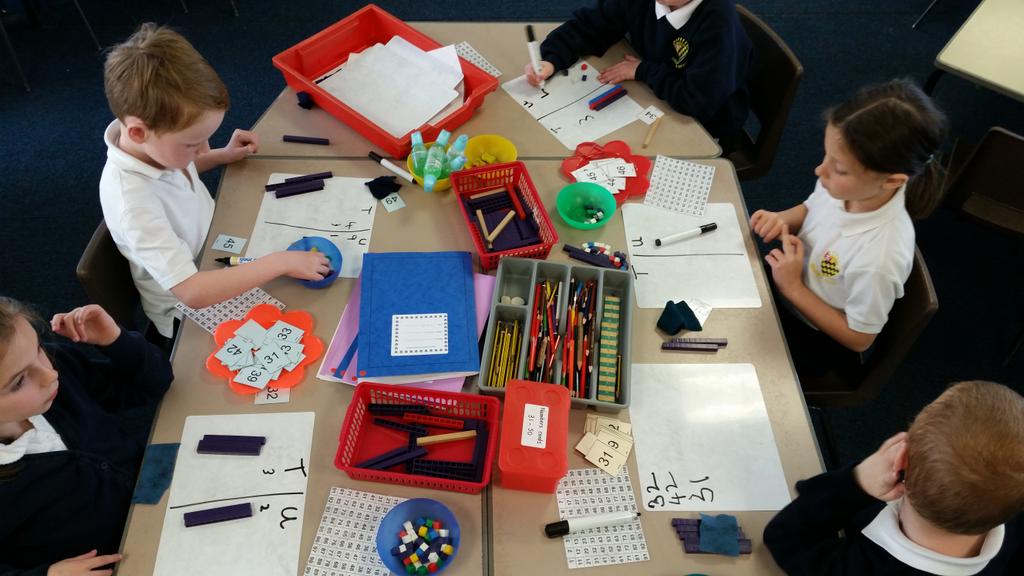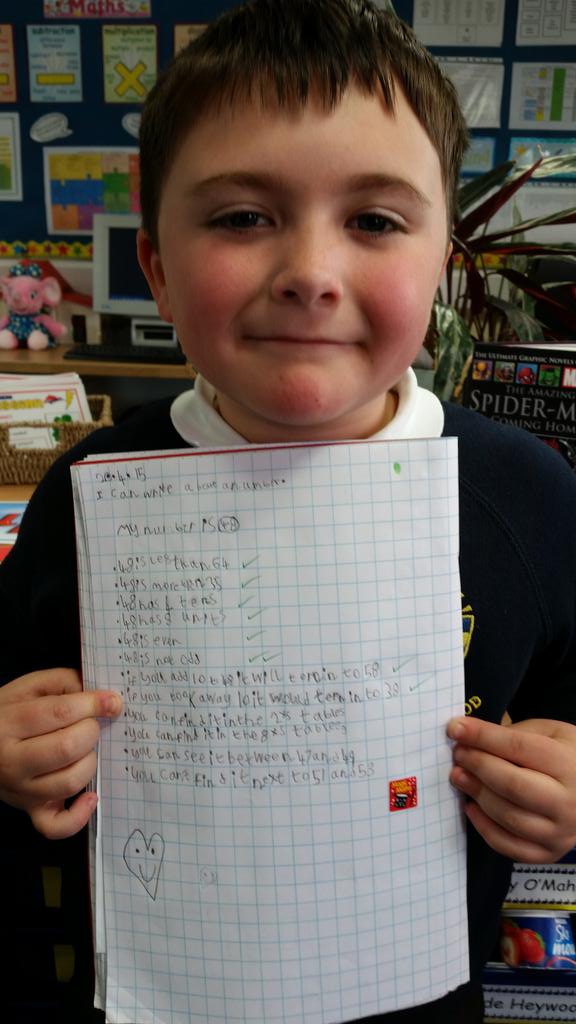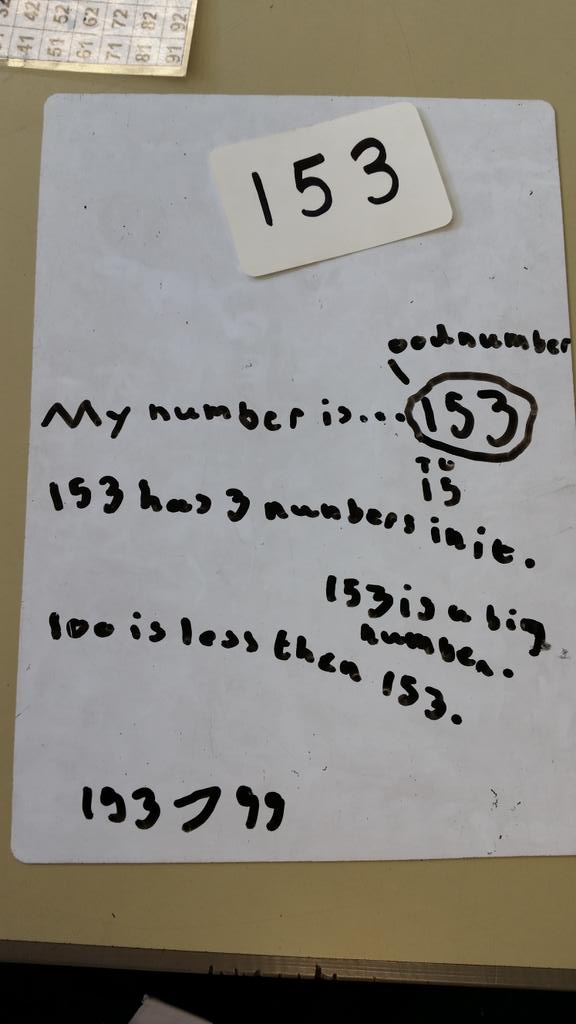 Tuesday 21st April 2015
Excitingly, here are the first inside pictures of our new hall and classrooms.  The hall is much longer than previously but feels quite narrow in comparison.  Of course, with no walls, roof or floor, it is a way off the finished article, but it is so very exciting to see it in its' infancy.  The outline shapes of the new infant classrooms can be seen now and it is becoming easier to visualise the plans that we know so very well on paper actually coming to fruition.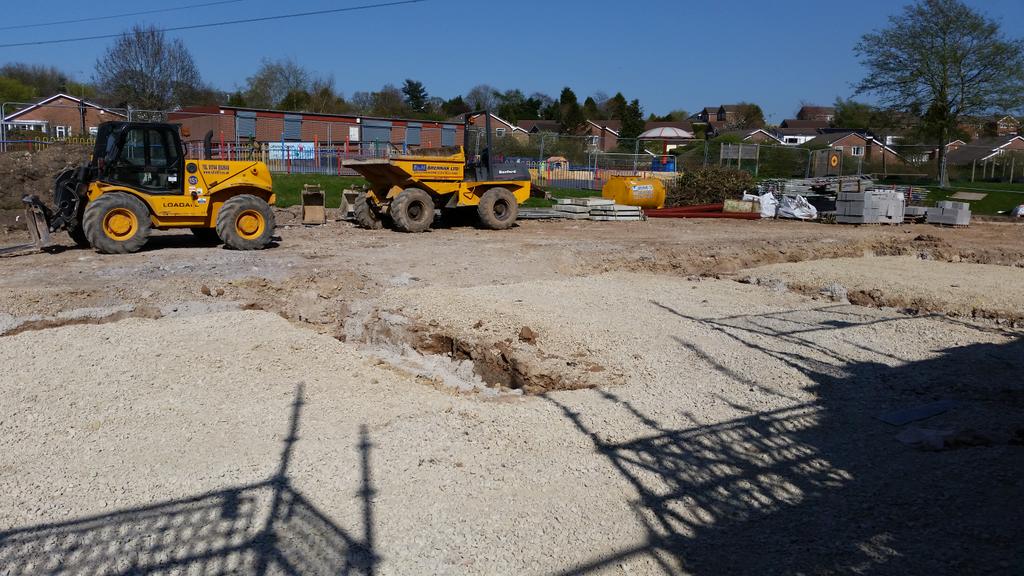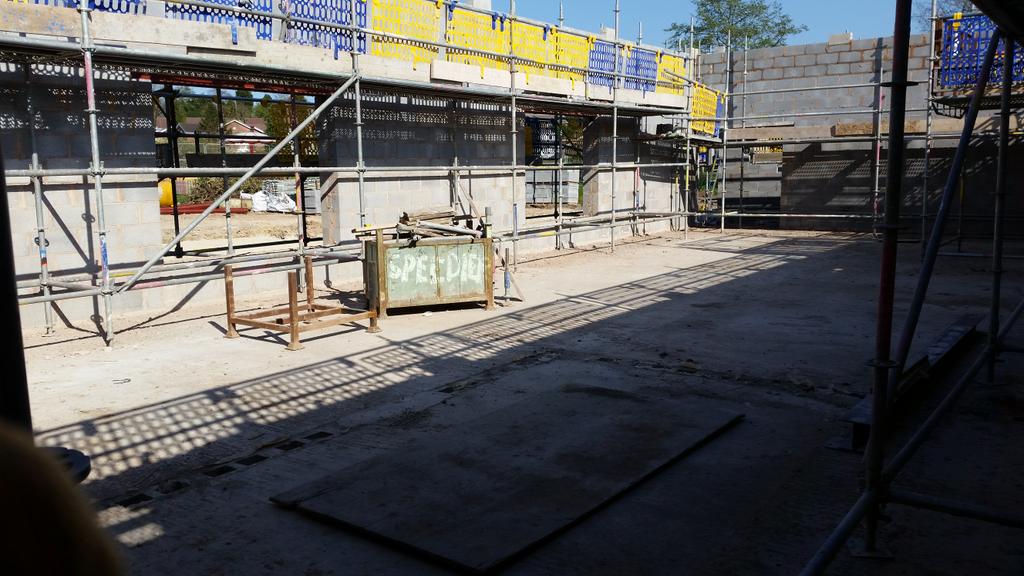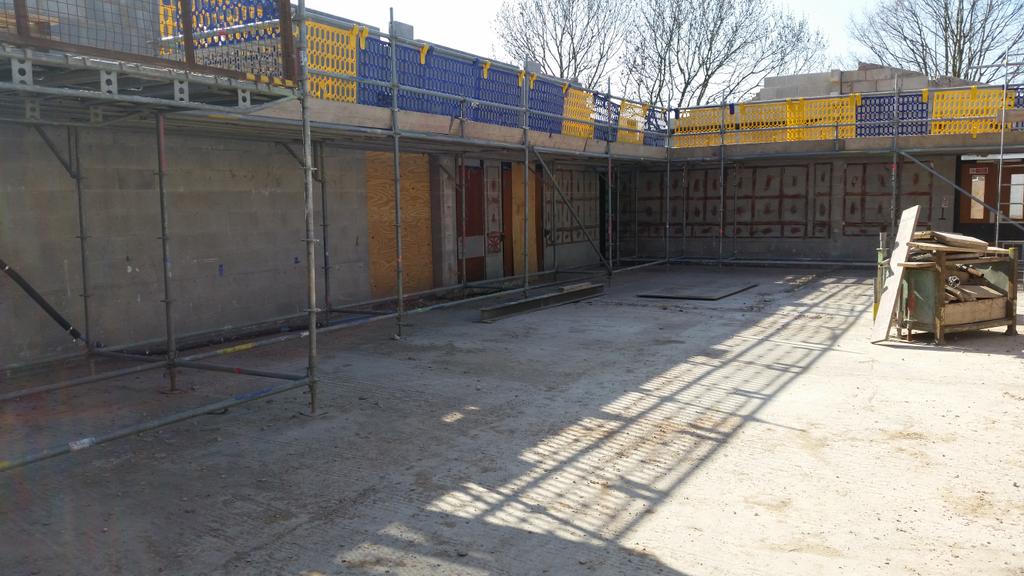 Monday 20th April 2015
What a wonderful first day back!  From the moment I drove to school today, the anticipation and excitement of where our school rebuild would be up to was the first thing on my mind.  I was NOT to be disappointed.  As I undertook my first health and safety walk of the half term, the sight that greeted me was this…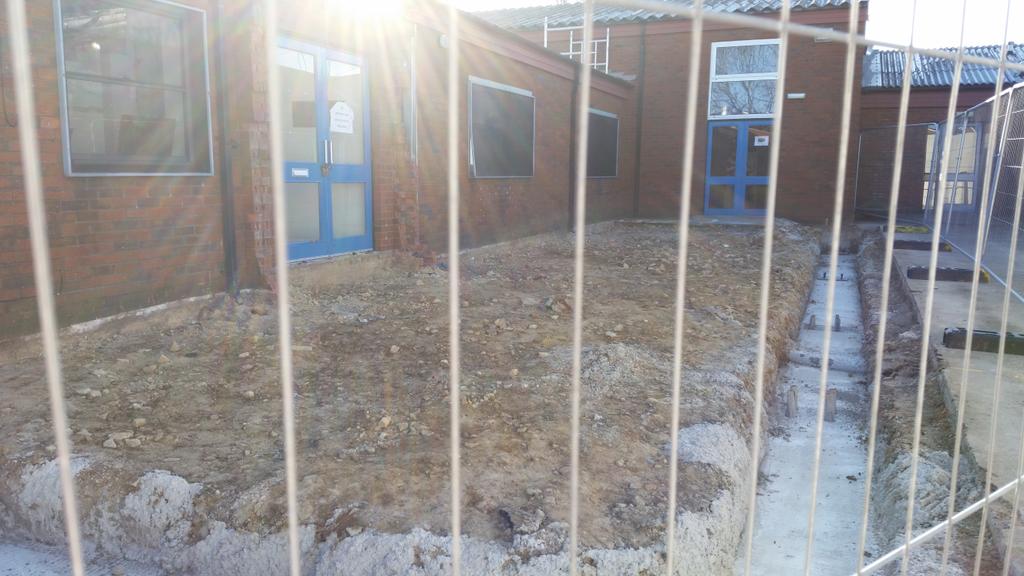 A set of foundations dug and ready for the new school office and staff room at the front of school.  Then, as I walked around the back of school I was greeted by this…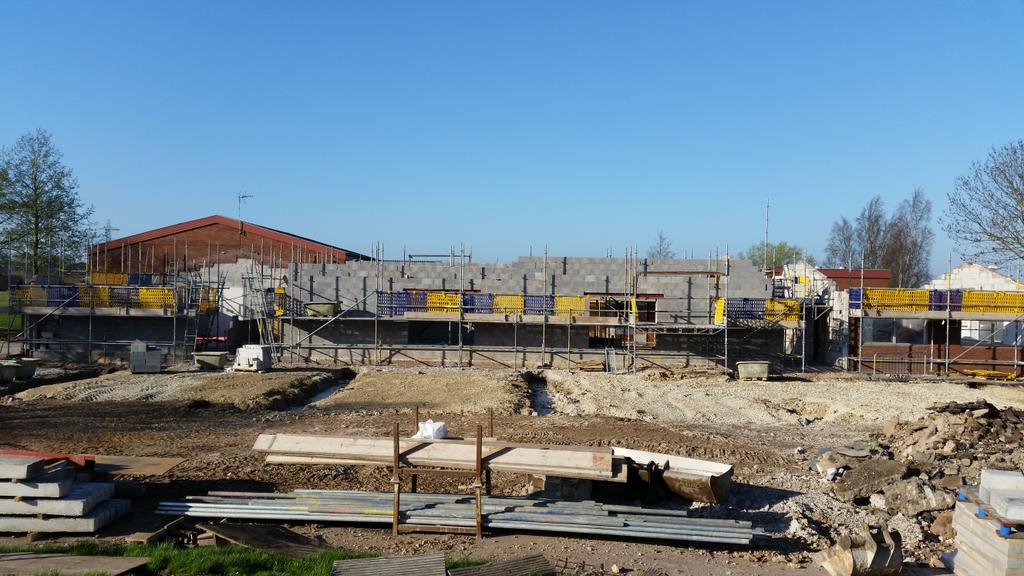 The first part of our new school hall!  As pictured above, you can now see the outline of the new building.  The kitchen to the right of the picture is part of the original building.  A doorway is to the left of this which will lead into the hall.  This is also where dinners will be served once the building is completed.  Across the middle of the picture, is one of the walls for the new school hall.  For those of you who have inspected this more closely, there are also two large windows to be put into this which will have glass block tiles in to allow light into the hall but still allow privacy for lessons, assemblies and events taking place.  To the left again beyond where the hall ends will be a new infant toilet block.  Slightly cut off this picture, but to the left again on the old path, is the area where our new library will be.  The eagle eyed amongst you may also see the six classrooms marked out across the back of the hall and roughly speaking, where the scaffolding separates the two is to be a corridor.  Still a work in progress but a most exciting one for all of us to see before our eyes.
Friday 17th April 2015
Notice to all Parents of our new Reception Intake for September 2015
Further to yesterday's news regarding the Reception places for September 2015, it has come to my attention from a variety of sources that there is some confusion surrounding some individual cases of children wanting our school but not being allocated places and some children now requesting our school as a result of not being allocated correctly.  In any eventuality, this needs to be resolved by contacting Admissions at Stockport MBC.  If you are struggling to resolve this issue or require further advice or support, we return to school on Monday morning and would be glad to help if you need us to.  In this instance, please telephone or visit the school office after 9am and we will help or advise as best as we can.  Also, please be reassured that we are increasing our intake as of September 2015 and therefore have extra places available this year.
Thursday 16th April 2015
Notice to all Parents of our new Reception Intake for September 2015
Today is the day that thousands of people up and down the country will find out the news they have been waiting for – the place that their child will go to primary school.  We are hoping that all of you who have been allocated places with us are as excited as we are to be sharing in this journey with your child and your family.  If you have never visited us before, please know that you are always welcome to visit or send an e mail asking any questions you may have to put your mind at rest.  Once our numbers are finalised, we shall be sending out information about a new parents information evening and some visit days for your child to meet their new teacher and classmates.  Whilst we are currently working in mobile classrooms this school year, your children are in the blissfully lucky position to be the first new children to be taught in our brand new school building in September.  We are all so excited about this time of change and cannot wait to share it with you all.  See you soon.
Thursday 2nd April 2015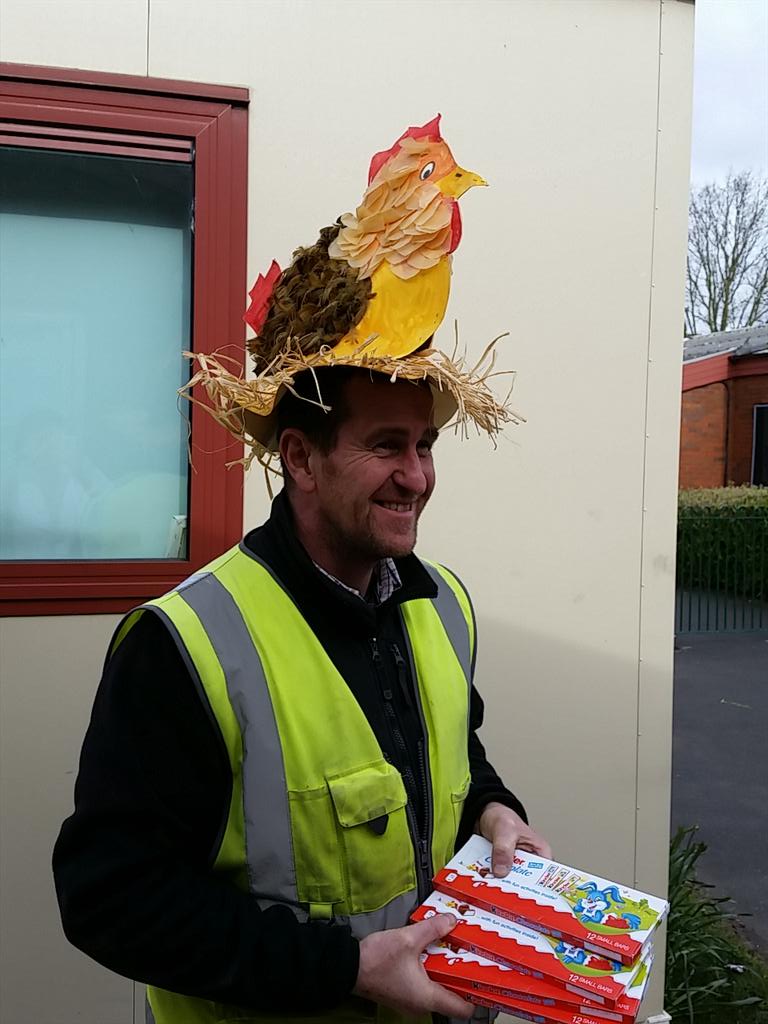 This is the man we are trusting to build our school!  And what a truly fabulous sport he is too!  Our site manager, Dave Kelly, entered into the spirit of things as he judged our Easter bonnet competition, kindly organised by our PTA.  He was looking for individuality, something unique or that made him smile as he judged the entrants.  He was not disappointed and found it a truly tricky task.  The winners are pictured below:
Emily – Reception                   Bo – Year 1                   Jordan – Year 2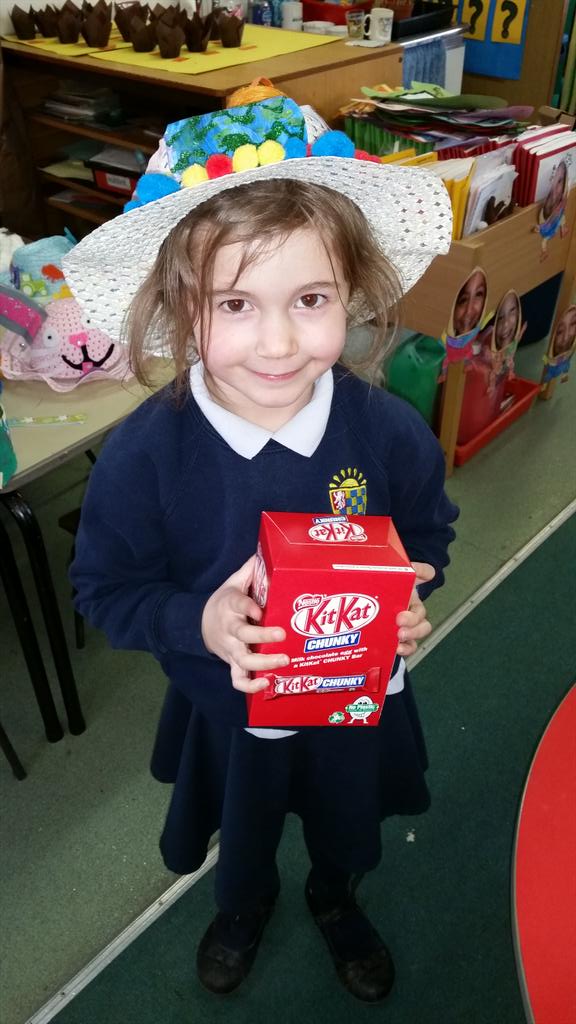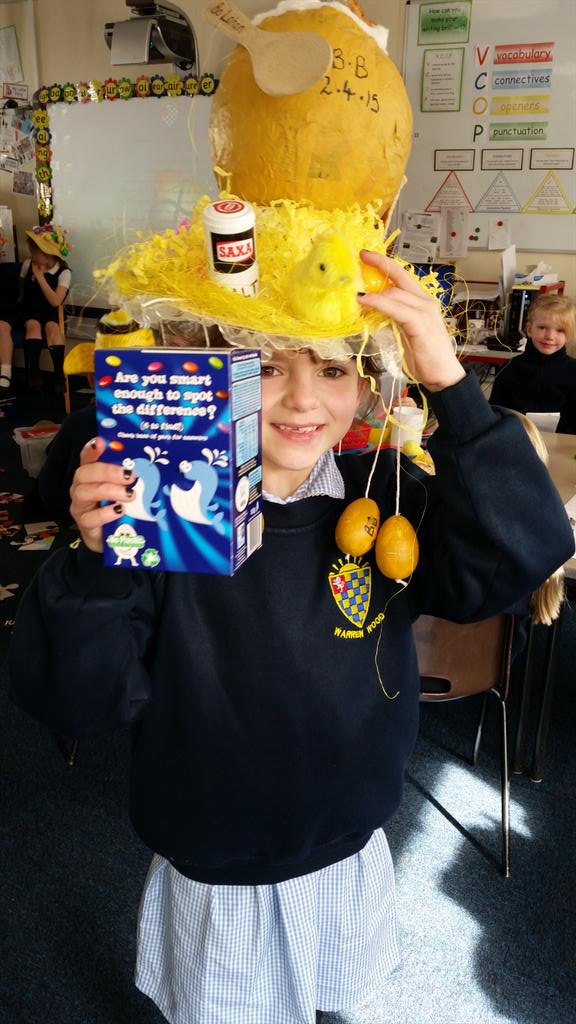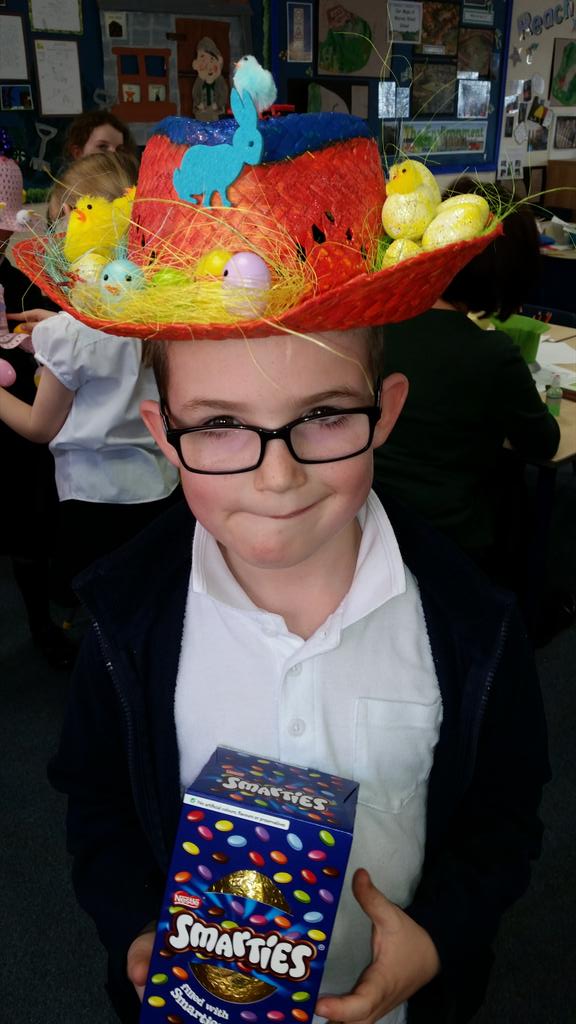 Harry – Year 3          Grace – Year 4        Amelia – Year 5         Lauren – Year 6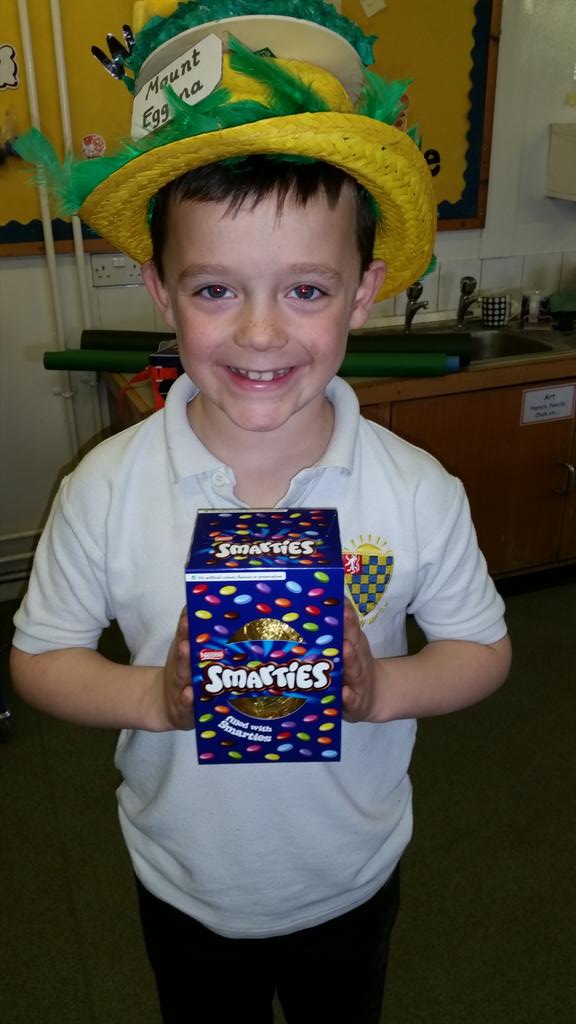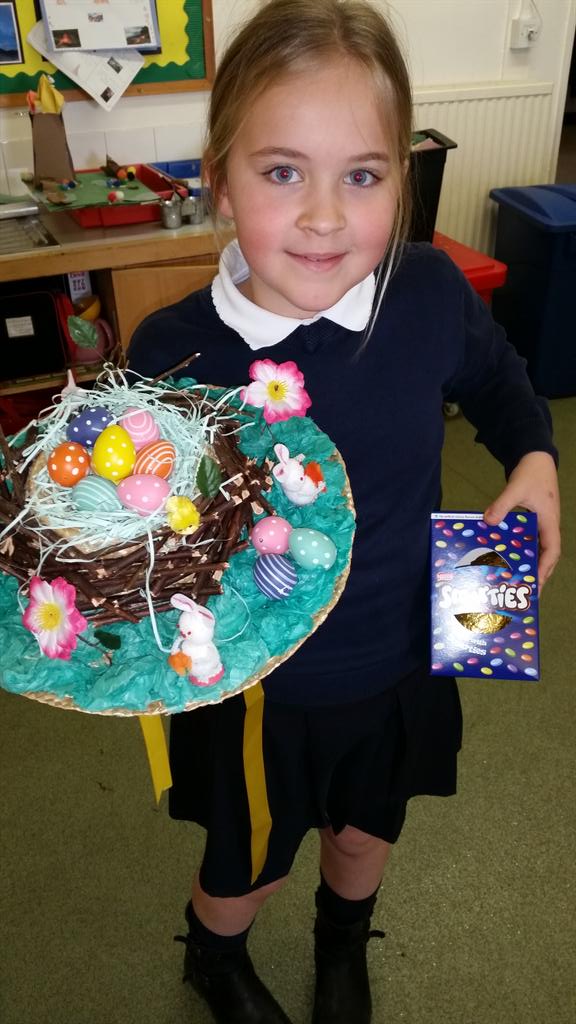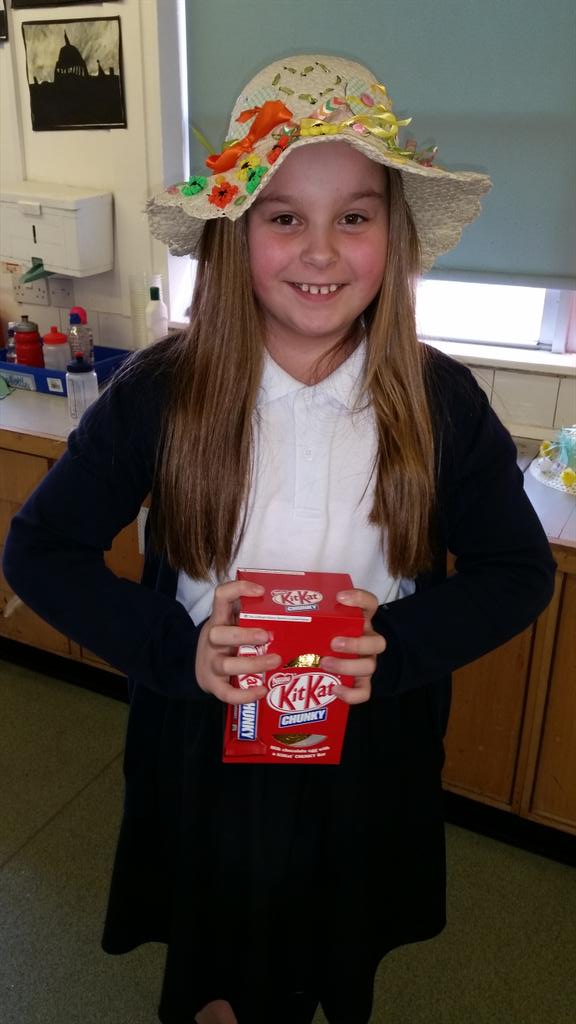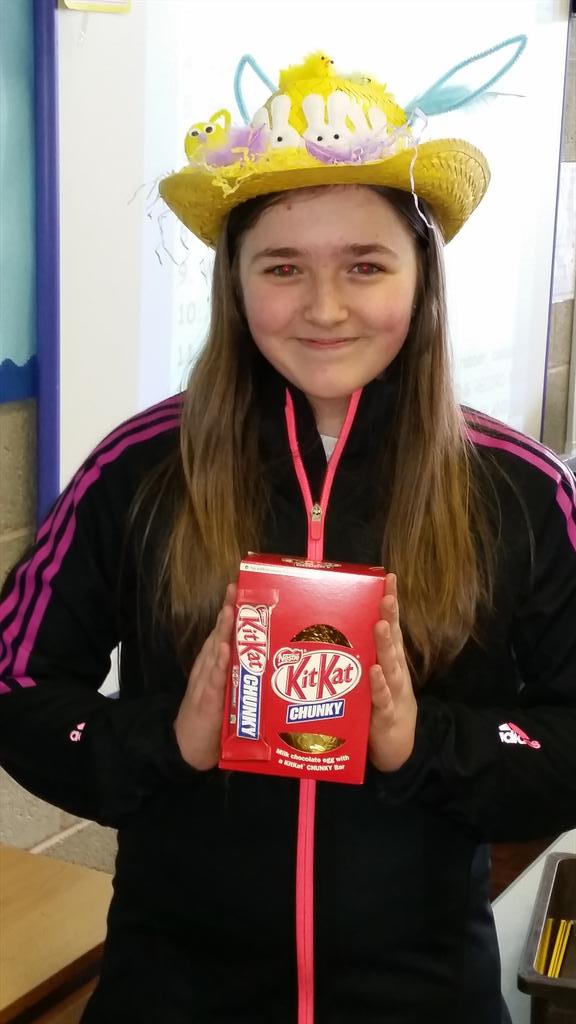 Our overall winner for school was Lottie in Reception.  Well done!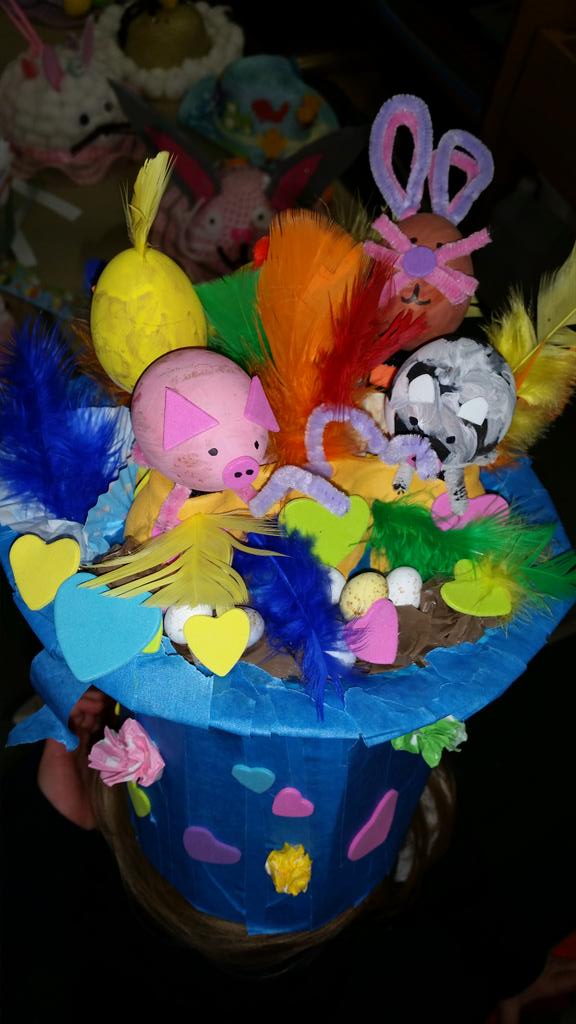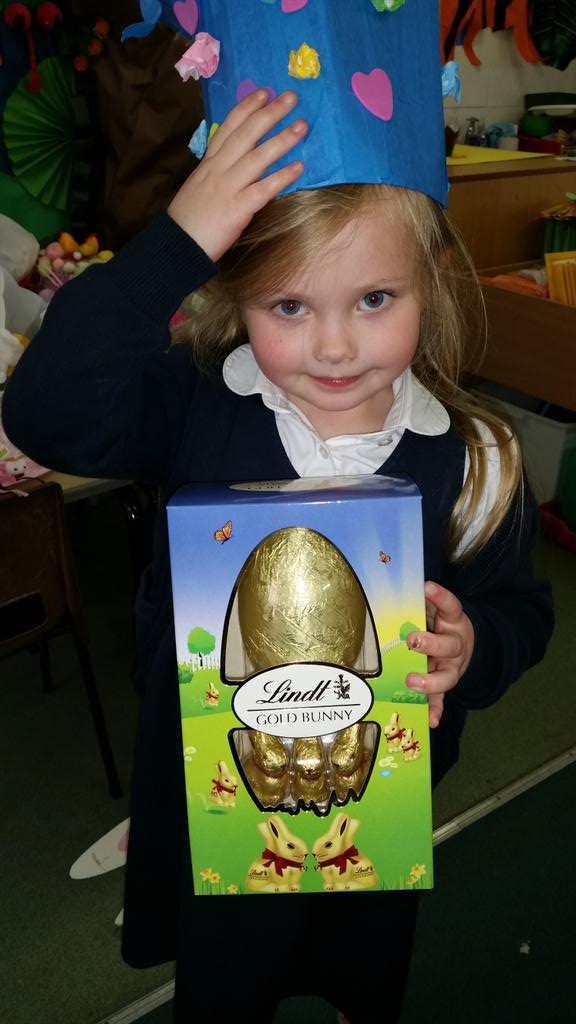 All monies raised will go towards our fundraising efforts for our new library, which the PTA have very kindly offered to furnish as we open our new school.  This will be a beautiful resource for the whole school community and a place where children and adults can share books and reading time for pleasure.
Thank you all for another lovely term full of hard work, dedication, fun and laughter.  More importantly, thank you everyone for truly embracing the building work and all the temporary changes.  These will all fade into insignificance as we approach our beautiful new building over the coming term.  Have a great Easter everyone!
Wednesday 1st April 2015
Today, all year groups are busily finishing off their work from the end of this term.  I am thrilled with the topics covered this term and the create and inspiring way that our teachers and children are embracing the new curriculum.  It has been a breath of fresh air to know that our exciting new topics have motivated everyone around school, and the only one frustration is that we have precious little space to display the work or share it with all of you as we would normally like to.  However, with the building work still on target and flying fast (*touch wood and keep crossing fingers!) it will soon come around for us to move back into our lovely new building.
Tuesday 31st March 2015
Today has been absolutely brilliant for the children in Key Stage One.  For me and most of the other staff, it has been like stepping back into our childhood or youth and we have LOVED it.  From the neon ra-ra skirts, to the moonwalking Michael Jackson wannabes, not to mention the cheese and pineapple on sticks this afternoon, it has been a real blast from the past for all concerned.  Most interesting was at Infant assembly this afternoon as Years 1 and 2 walked in dressed in their full regalia and the Reception children just did not know what to make of it!  A truly gorgeous moment!  Here are just some of the memories that were made today whilst reliving those so precious to all of us.  A brilliant day!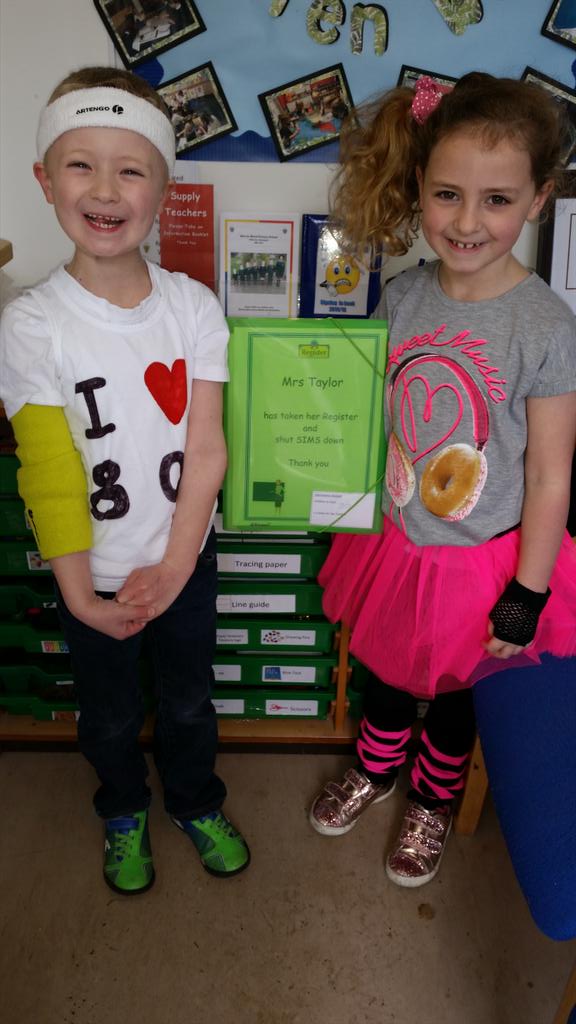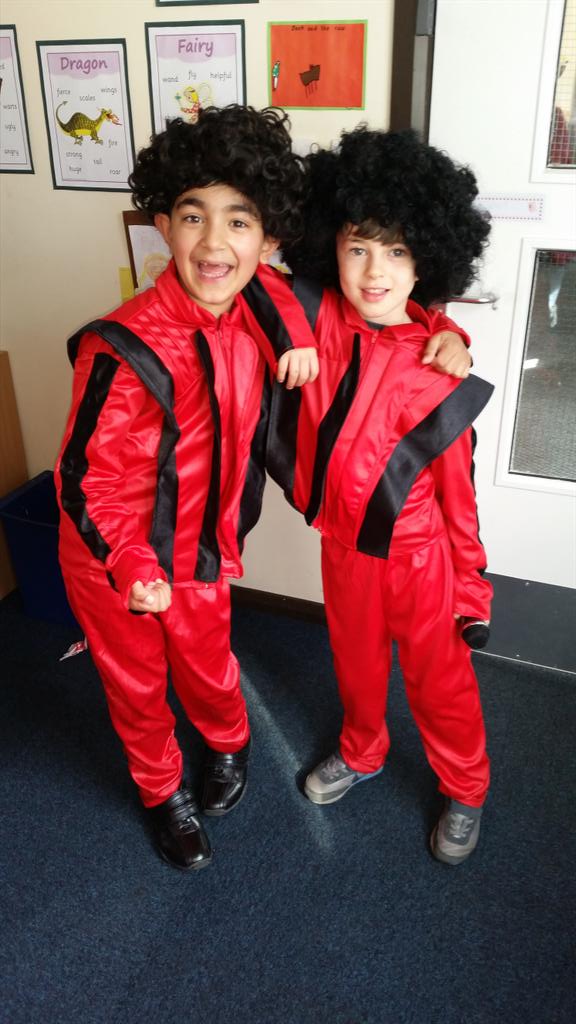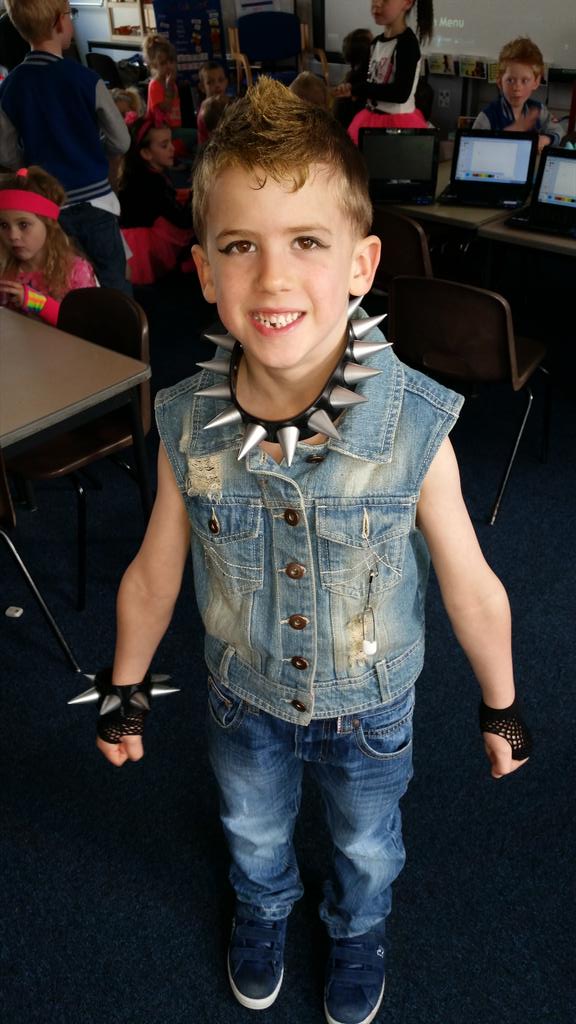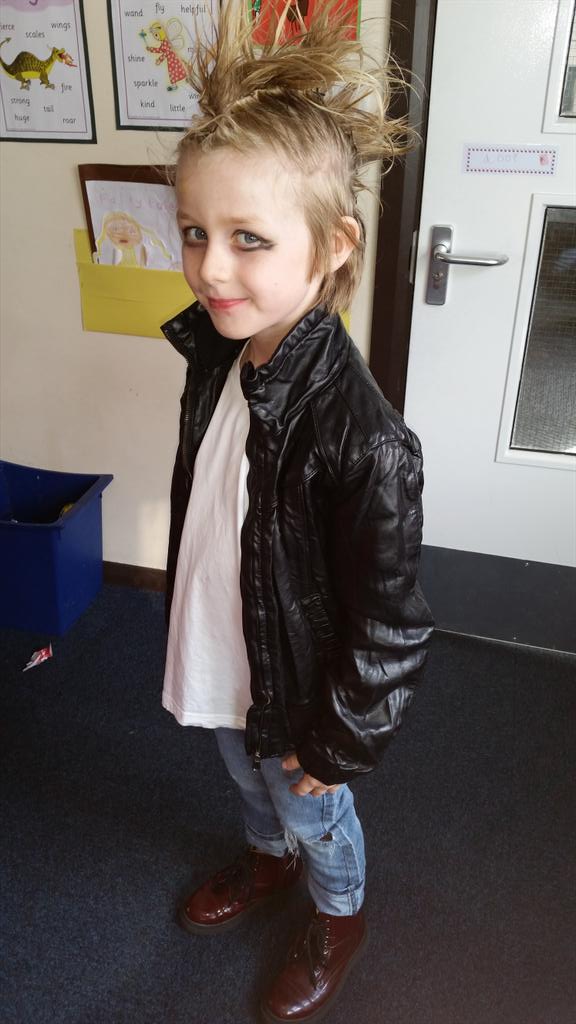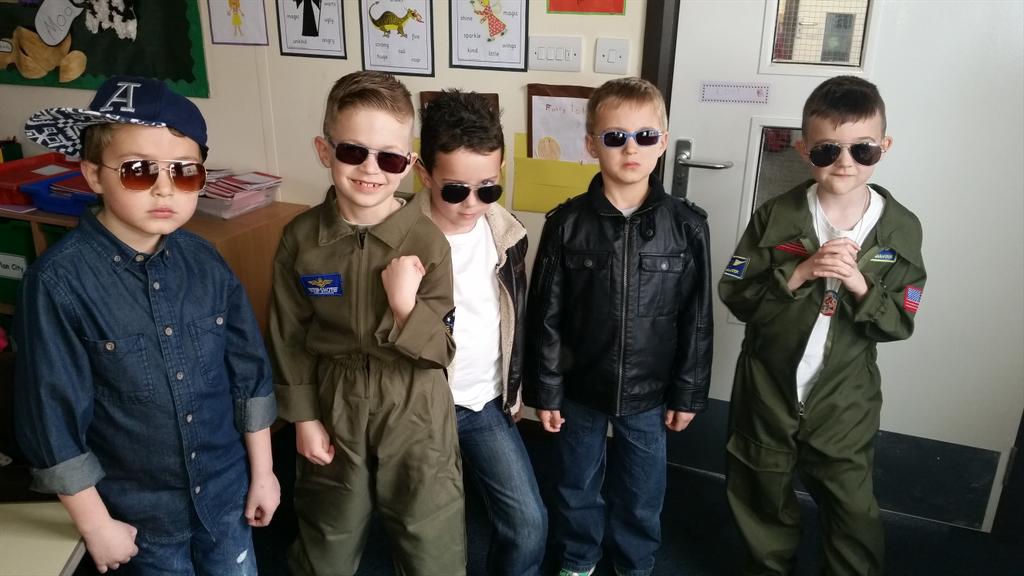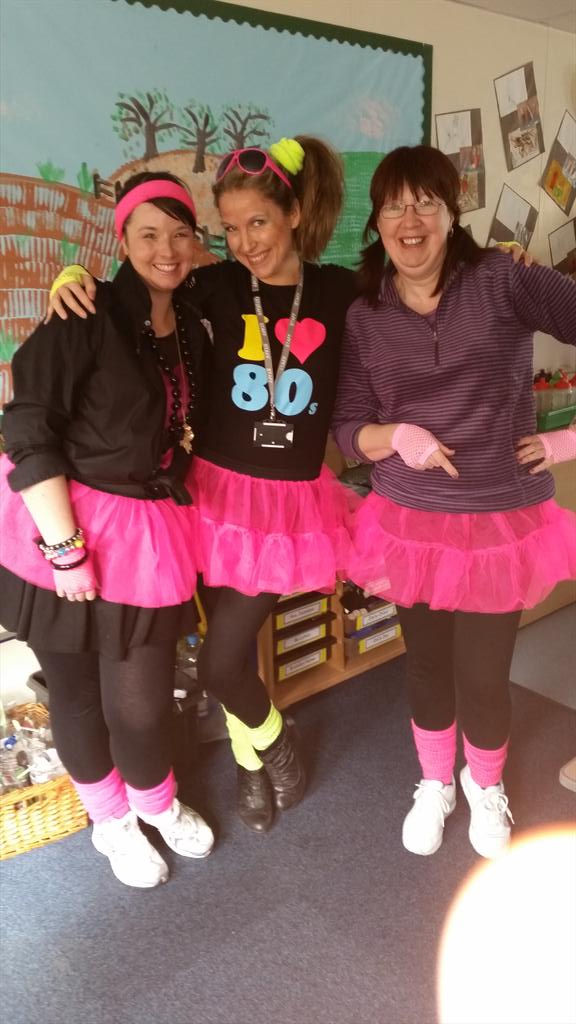 Monday 30th March 2015
Our first delivery of bricks and breeze blocks arrived today which means the building is imminent!  Watch around the back of the school as you visit each day and see the new hall being marked out.  You will also see over the coming weeks, large steel works being delivered and the framework of the building being erected.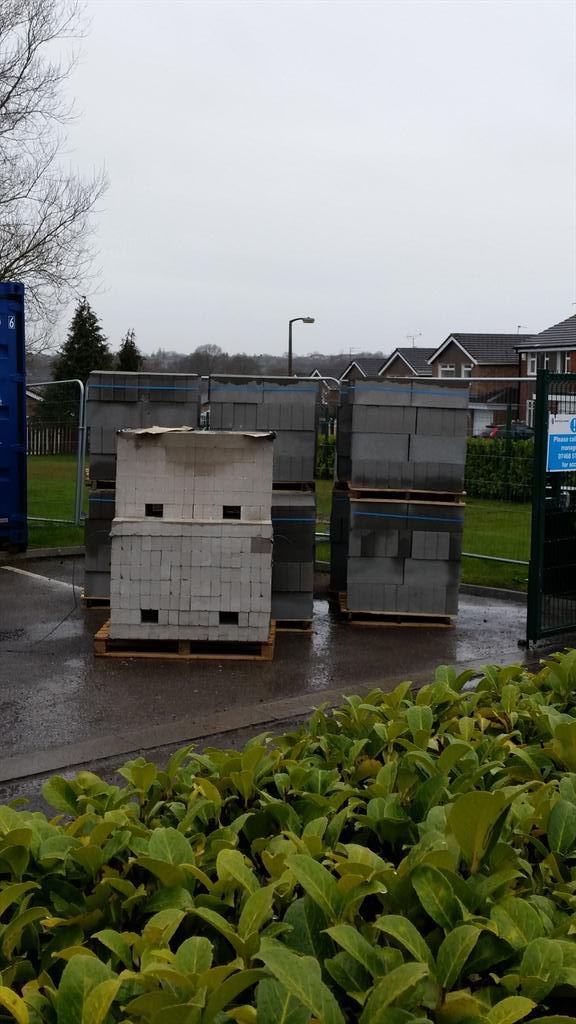 On Monday afternoons in the run up to their SAT's tests, I am working with some Year 6 children on Spelling, Grammar and Punctuation, known as SPaG !  Did you know that all Year 6 pupils have to take a test in this alongside their Reading and Maths tests too?  It is an important time coming up for our Year 6 pupils and we know that every single one of them is working incredibly hard to be the best they can be.  Keep up the hard work!
Friday 27th March 2015
This is the outline of our new library.  It sits outside of the old footprint of the school, slightly behind the old hall and in between the old Y5/6 classroom and Y2 classrooms.  Next week, the footings will be dug, ready for the foundations to be laid.  It is a really visible change and as it lies adjacent to the temporary path, the children and staff get a first hand view of it as it takes shape.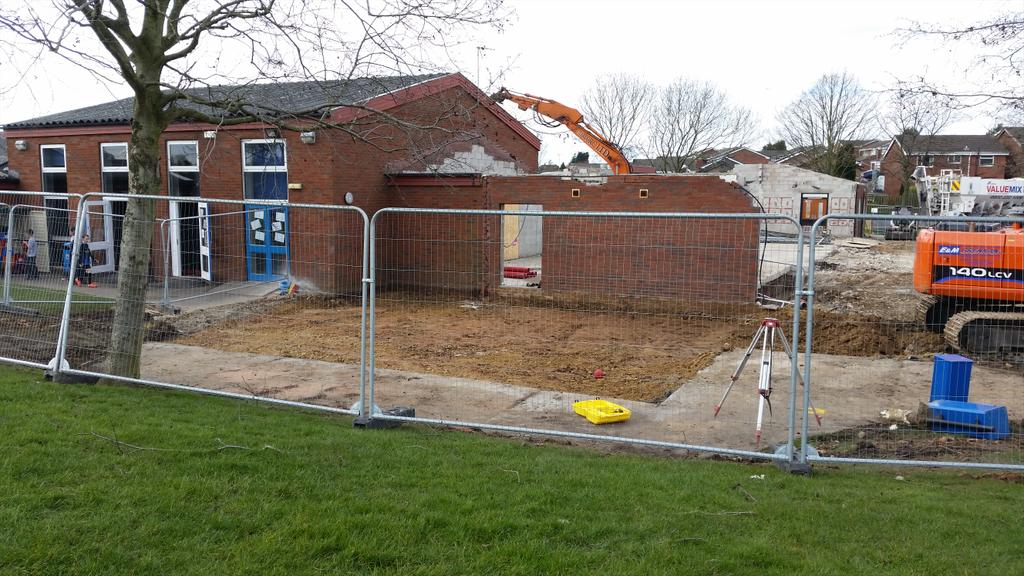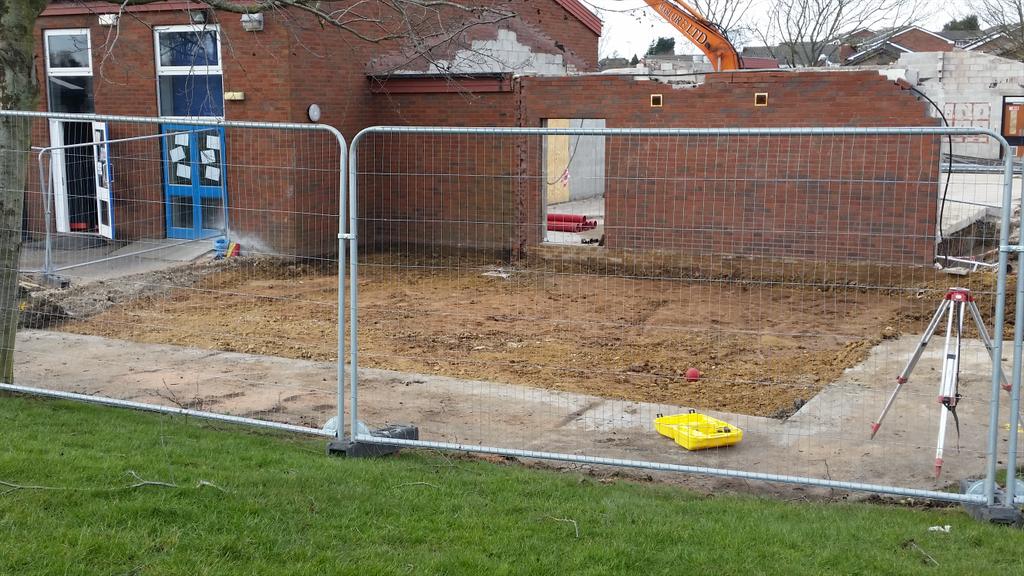 Thursday 26th March 2015
Today we saw the next big developments in our school – the roof was finally removed above the old offices – everything is completely stripped back and ready for the next big changes that are on their way.  After the Easter holiday, you will see some big changes to the front of school as the new office and staffroom footings are dug out.  These will come out further than the current front part of school is.  Therefore you will notice new fencing at the front of school, potentially some scaffolding and most importantly, a realignment of the path to the front of school.  This will make it narrower to use as a thoroughfare although access will still be possible.  Please be vigilant with the new layouts as we all get used to the next phase of school being developed.  We will also reiterate the safety aspects that are necessary for the children to take notice of around school.  It will also become tricky for the large numbers of children to pass through the front entrances as they currently do.  Therefore we will be asking that AFTER the Easter holidays, children in Years 3, 4, 5 and 6 ALL use the back entrances to their classrooms as previously was the case.  The front and side entrance paths are still to be used, but the older children will need to go around the playground and the back of school to gain entrance through the classrooms – NOT the temporary cloakroom and corridor at the front of school.  This is purely to reduce volume of traffic at the start of the day and home time and to ensure the absolute safety of all of you gaining access to school.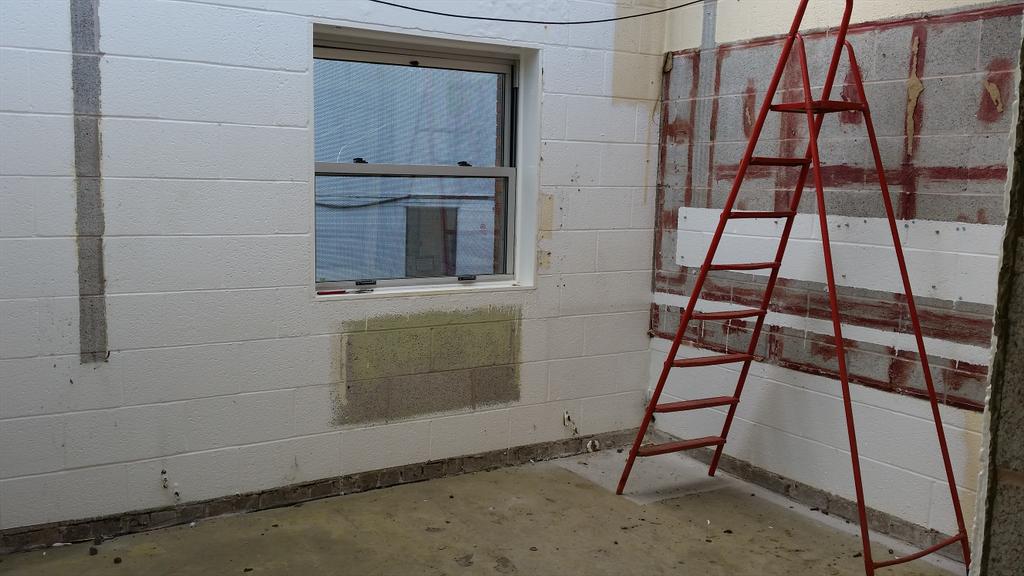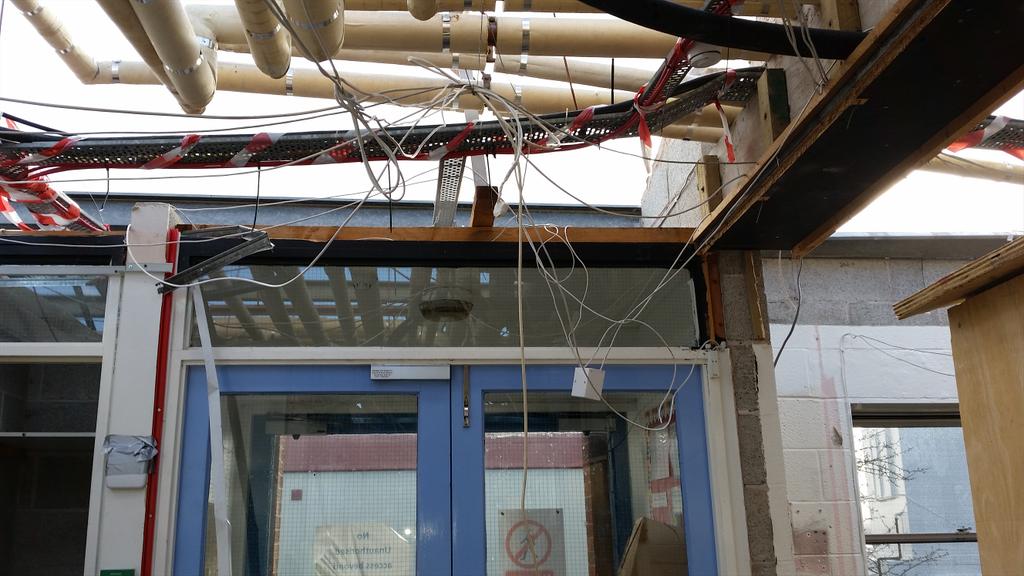 Below shows the trench that marks out where the footings and foundations are at the edge of our new hall.  This is a big development for us as it shows the new layout starting to take shape.  The picture on the right shows the roof having been removed from the kitchen.  We are now in a position where the new layout for the school is being marked out.  Over the coming days, look out for the edging to our new school hall appearing and our new library.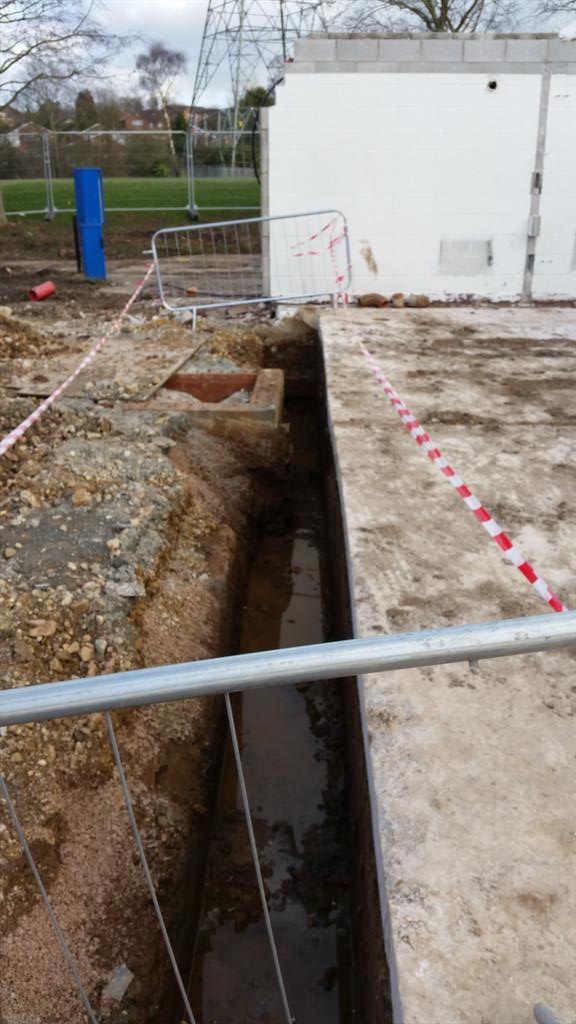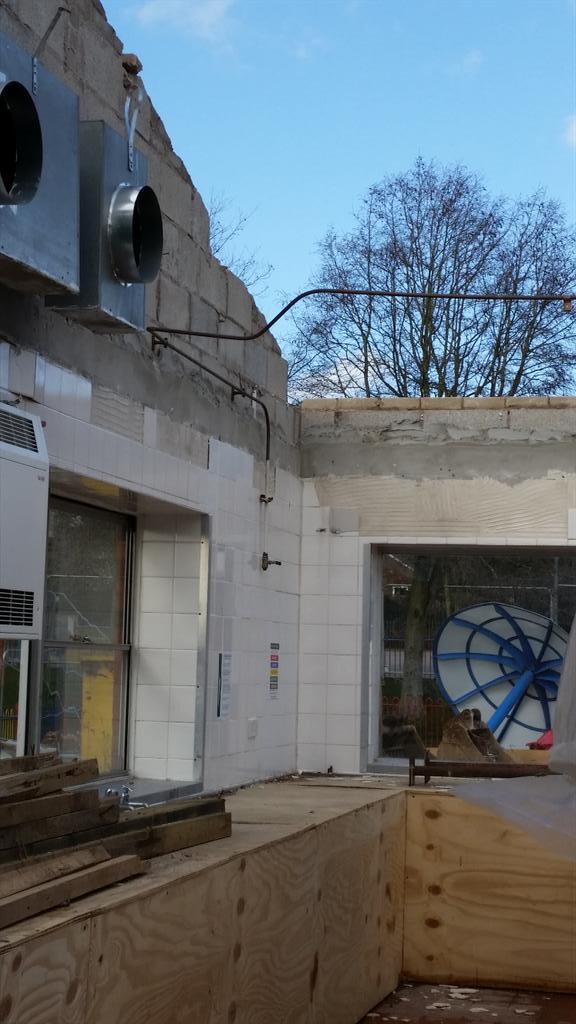 Wednesday 25th March 2015
What a busy day!  Just one part of today has been an exciting opportunity to visit the 'Kids Allowed' nursery and pre-school provision, based on the A6 in Stockport.  It was somewhat of a scouting mission as they have been built in the past two years by our building contractors, Whitfield and Brown.  We went to see how a finished building looked and picked up tips on the design and finish!  However, we came back more impatient than ever now because it was so thoroughly lovely, warm and welcoming and child friendly, that we now want our build to happen even faster so we too can have such a beautiful building to be proud of too!
Tuesday 24th March 2015
Today, we have had some very special visitors to school – Dr. Lynne Bianchi who is the Head of Science & Engineering Education Research and Innovation Hub at the University of Manchester along with two colleagues – came to see how the children learn Science at Warren Wood.  Mrs Taylor and Mrs Prior, who are subject leaders for Science, and I joined them in watching some classes throughout school and have looked at each lesson 'through the eyes of a child'.  We also interviewed some pupils to see how they felt about Science and teaching and learning in school.  We have had some very fruitful discussions around the subject and have arrived at some wonderfully exciting conclusions about further developing our curriculum.  Watch this space!
Monday 23rd March 2015
The trenches for the foundations continue to be dug and over the coming weeks, once these foundations are laid, then building work will truly commence.  It is so exciting to see the project really taking shape and fundamentally nothing has yet been built! It is mind blowing that it is April next week and to think of all the changes that are taking place each day as we see our school evolve.  Exciting times!
Friday 20th March 2015
Today was the much talked about 'Solar Eclipse' which promised so much but unfortunately delivered so little in terms of a spectacular.  The cloud cover over and around school was fairly patchy and therefore made the potential viewing of the eclipse trickier than it might have been.  Children in school though had spent the week sharing in all things scientific and the eclipse formed part of that.  Clearer viewings were made available using the internet where we could safely see the eclipse with specialist equipment to help.  I think it is fair to say that from beginning to end the children and staff have thoroughly enjoyed 'all things scientific' and their enquiring minds have been actively asking questions of the world around them.  Well done everyone for a thoroughly enjoyable week!
Thursday 19th March 2015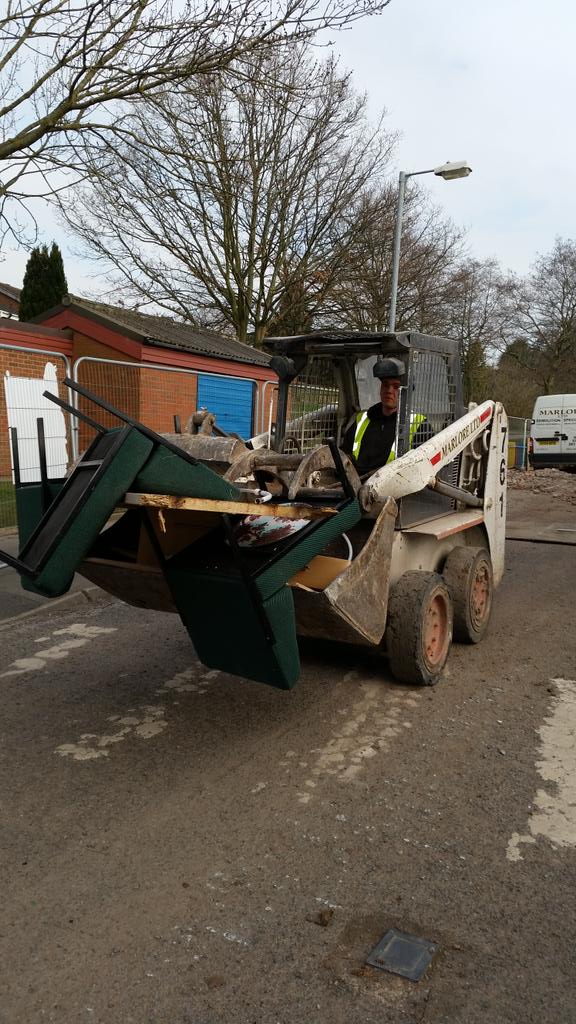 Today saw an exciting development for the staff at school as the old staff room was finally demolished.  This was momentous to us as it is the room that it is fair to say was 'least loved'.   In amongst all of our changes, I do look forward to making this a haven for the teachers to visit at playtime and lunchtime to make their time in between working hard a little more enjoyable!
Wednesday 18th March 2015
In the Lower Juniors today, there has been a carousel of activities taking place all around light, sound and movement.  Years 3 and 4 were split into mixed groups and worked on 5 activities all day, including how a volcano works, how sound and light travel and how to make a rainbow! As you do on a Wednesday!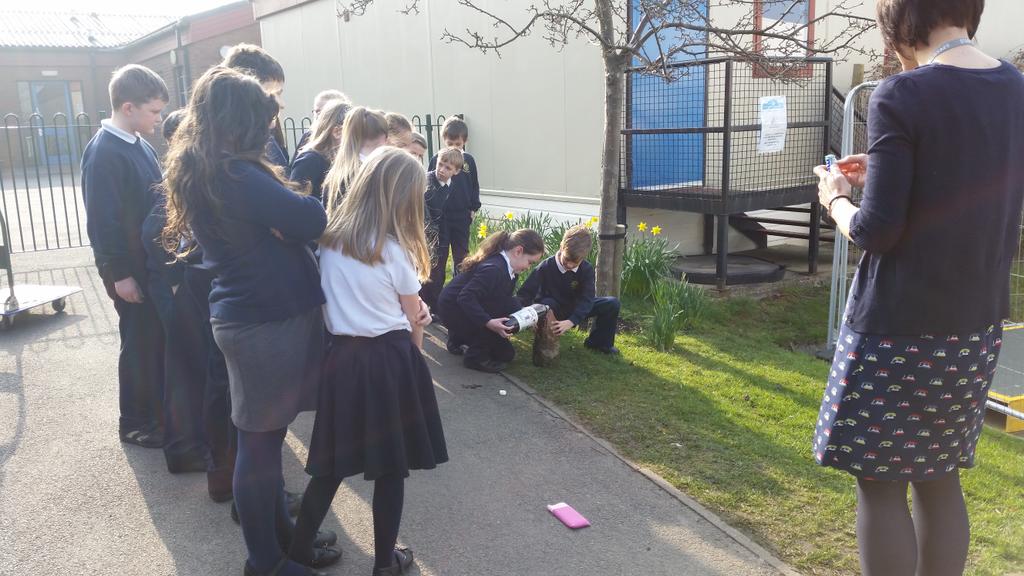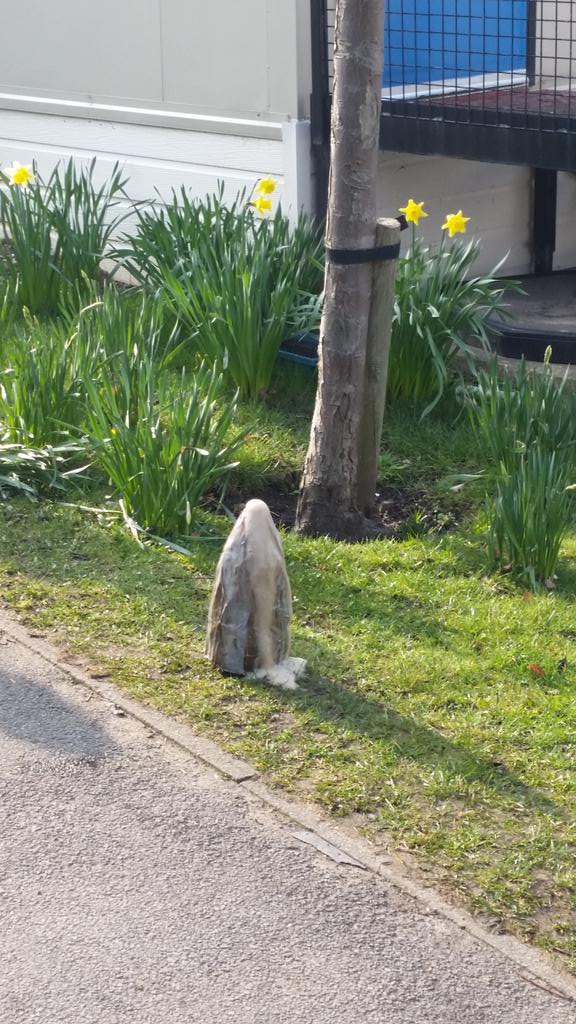 In Early Years, it has all been about floating and sinking and making sound waves.  The Reception children enjoyed discussing their predictions of what might float and sink and why.  One suggestion was that anything that is a dark colour may sink, but light colours may float.  This myth was quickly dispelled by using a pink and red balloon!  Ask your child what Science activities they have done this week.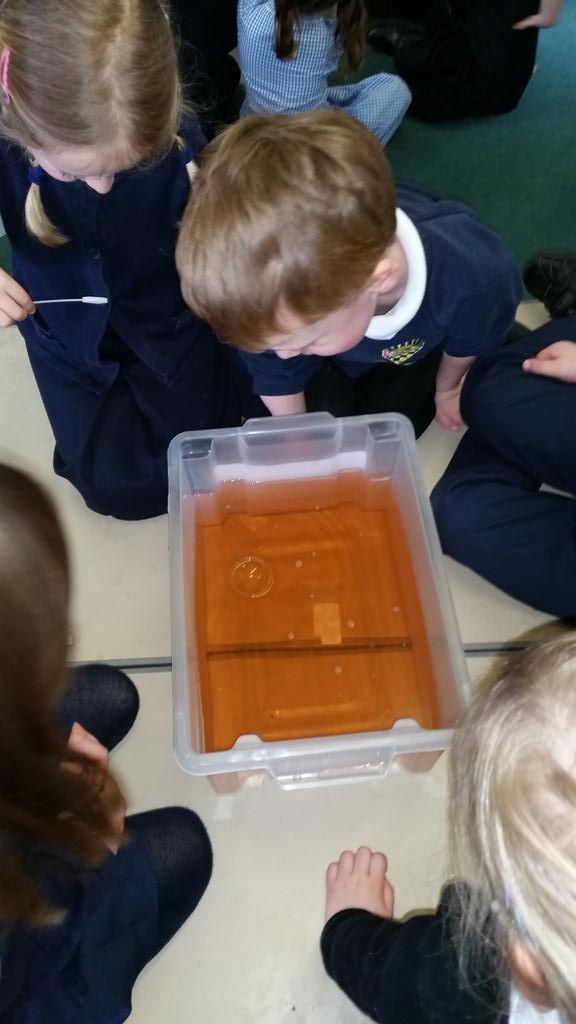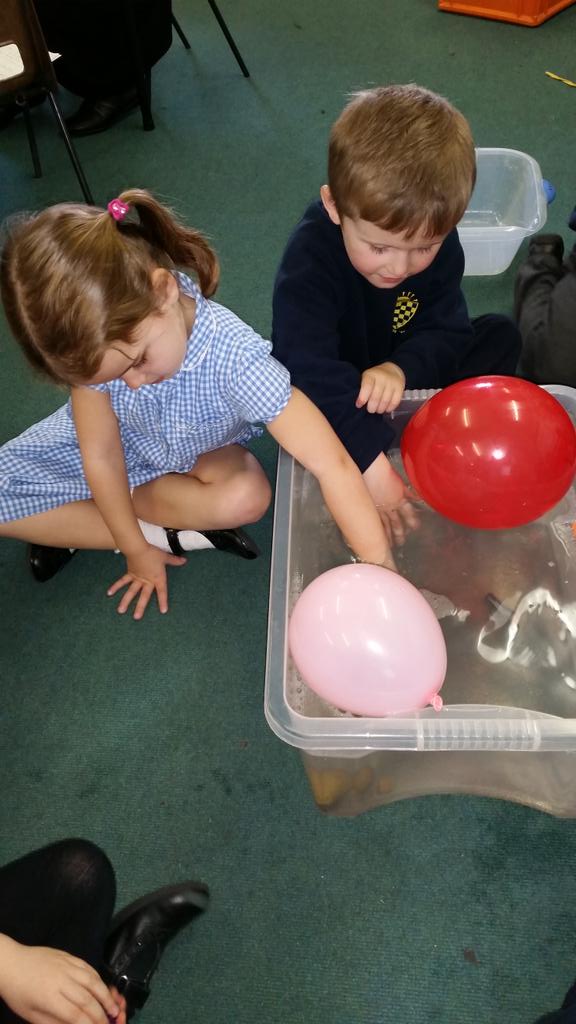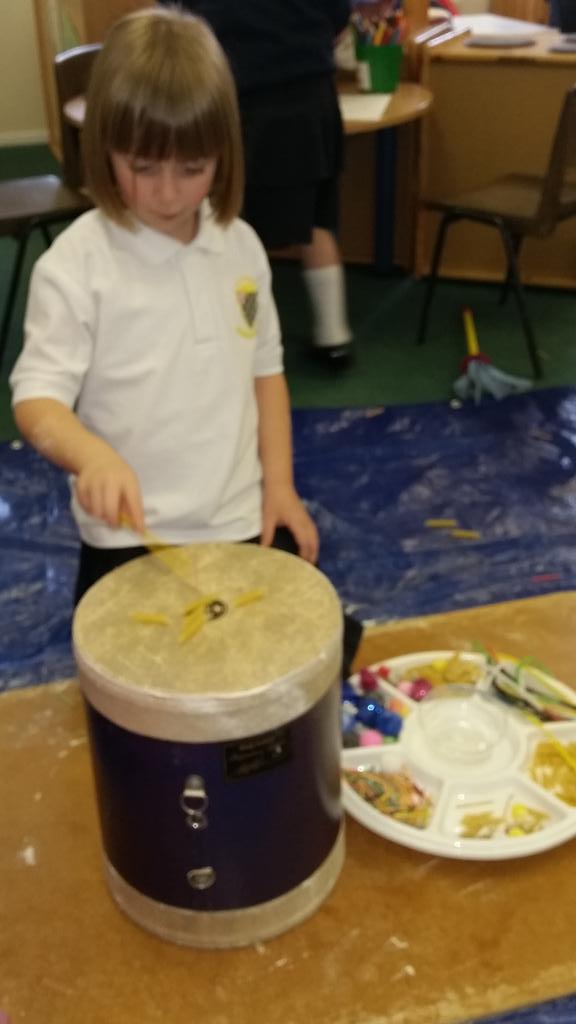 Tuesday 17th March 2015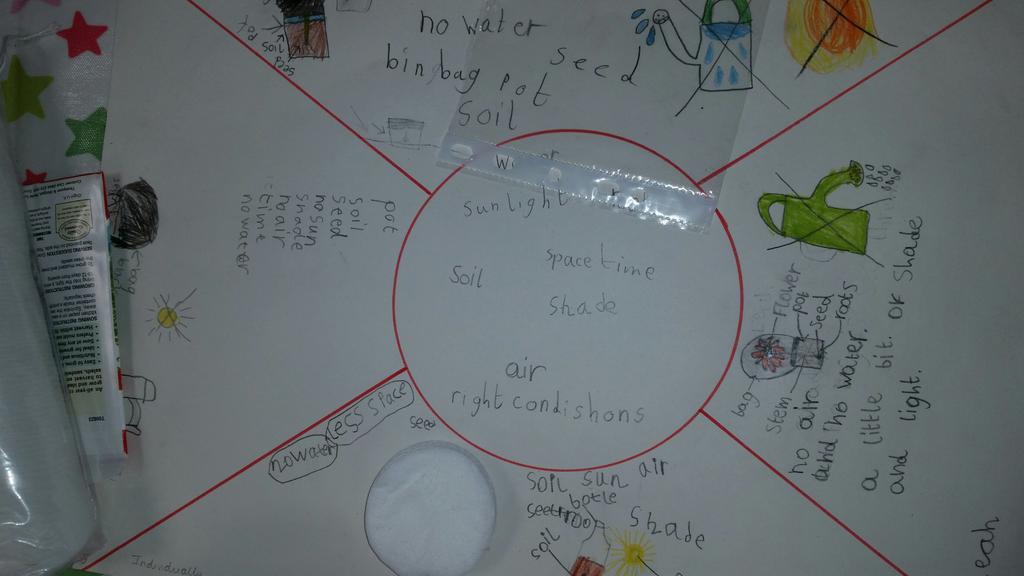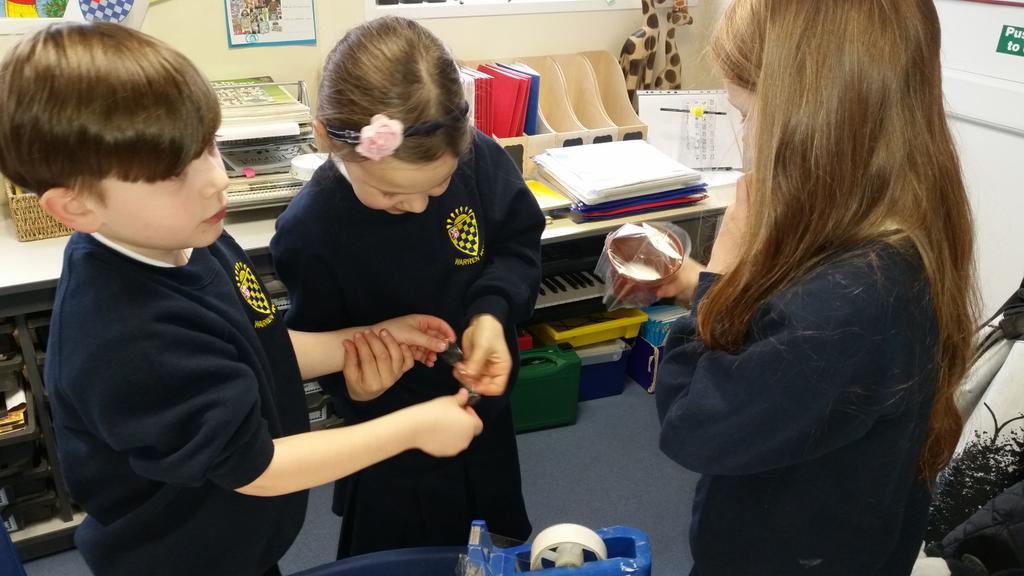 Today as I visited classes around school,  the excitement for learning was tangible from the children.  In the Infants, the children were pondering how to best grow cress seeds using a selection of equipment.  The only thing was, they had to decide how by themselves or through collaboration in groups.  The discussion and thought processes that were taking place were magical.  I look forward to seeing which plan works best.
Meanwhile elsewhere, children in other infant classes were designing a rescue plan for saving an animal who has fallen down a well, just like in the Percy the Park Keeper story.  To see children in all classes sharing in such creativity and collaboration really is what Warren Wood is all about.  The children are using valuable speaking and listening skills, sharing in each others opinions, working out solutions and compromise and having fun, all at the same time.  Keep up the good work everyone!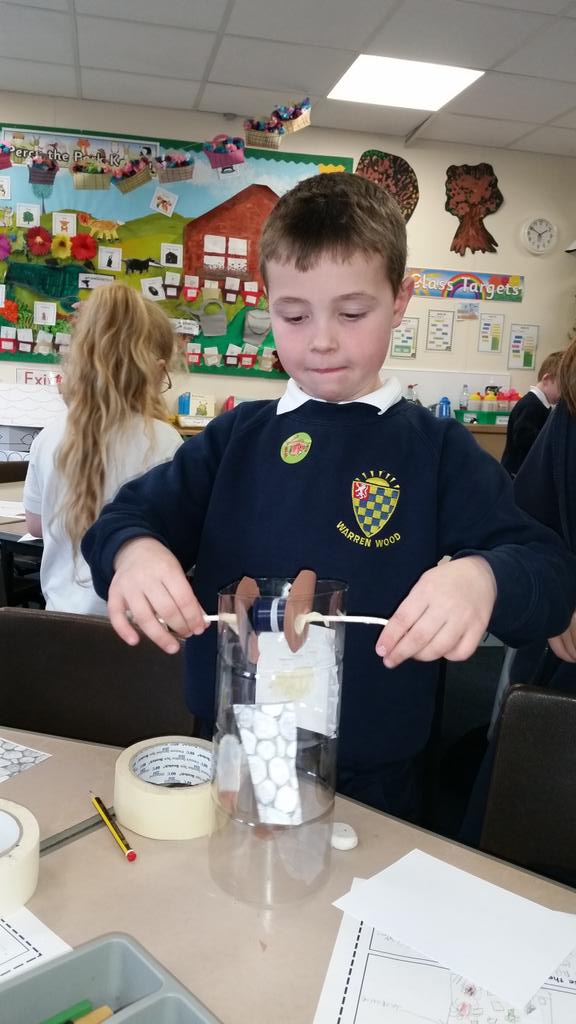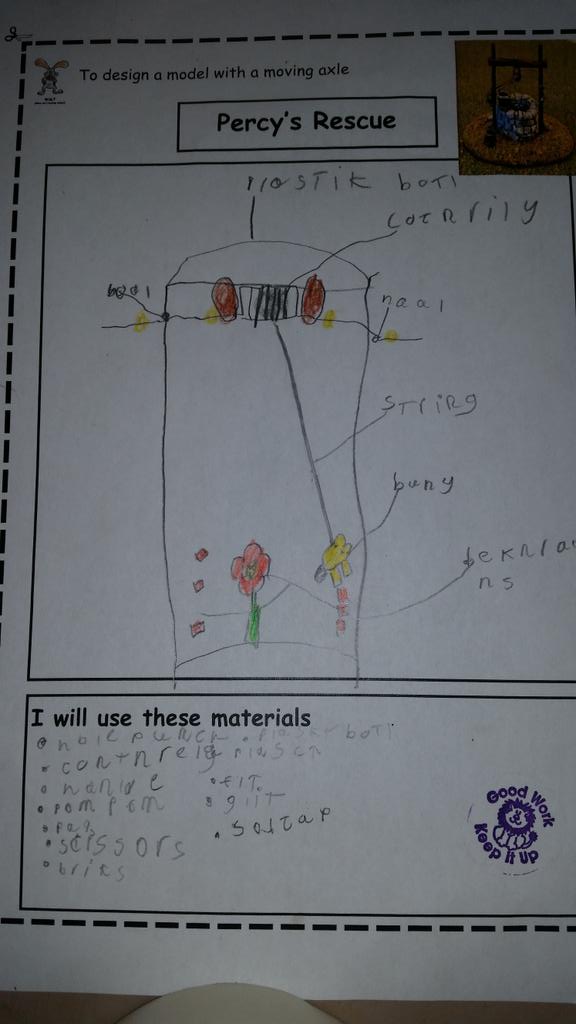 Monday 16th March 2015
Another week begins and this week is National Science Week.  We will be marking this in school with a variety of Science challenges and activities to get us all thinking about how and why things work and happen.  Watch out for pictures during the week of all the fun!
The theme for assembly this week is 'Kindness'. where the children will consider ways in which we can all show kindness at school.  Ask your child what they have done at school today to show kindness to someone else.
Friday 13th March 2015
Today has been a lovely day in terms of variety.  Children all entered into the spirit of another dressing up day, this time for Comic Relief.  It was most interesting doing assembly for Years 5 and 6, stood before a sea of red faces, clothes and noses!
We are now entering the time where the demolition is complete in school and that we are ready to enter the next phase.  This will see the preparation work for the foundations of the new building to be laid.  Watch how the space at the back of school starts to develop over the coming weeks before the Easter holidays!  Have a great weekend everyone and well done on another fantastic week in school.
Thursday 12th March 2015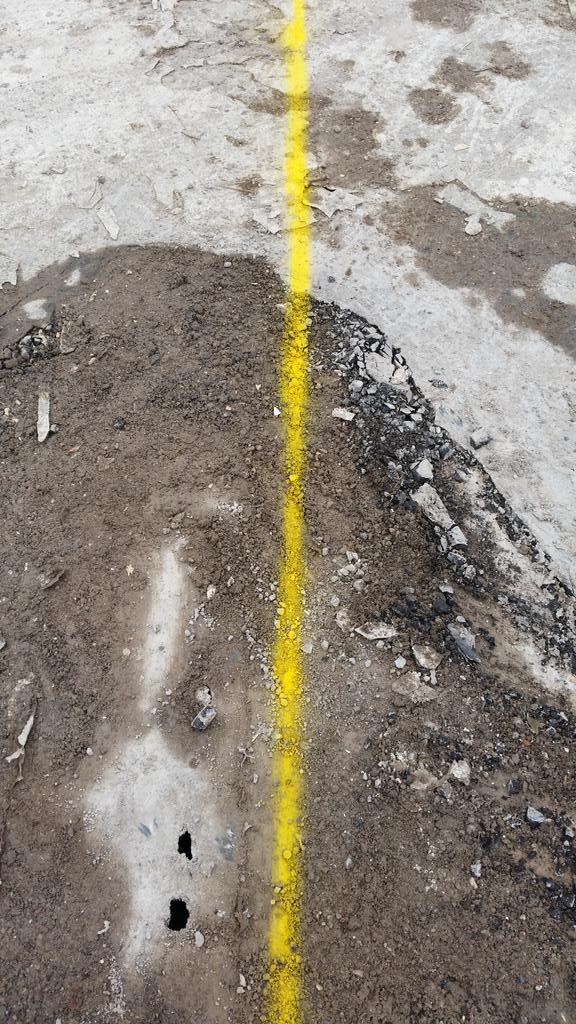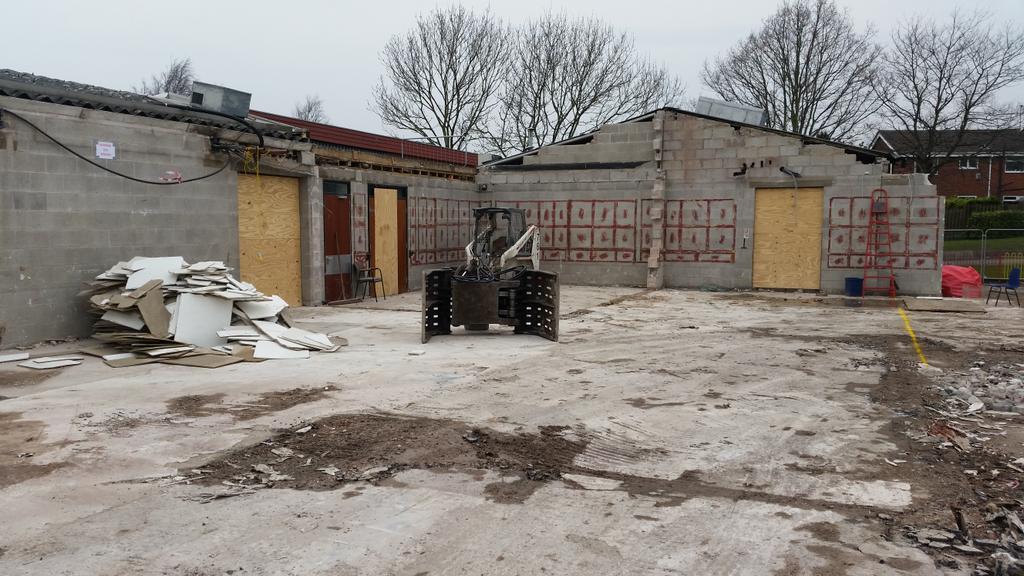 Another significant day and sign for our school.  This yellow line shows where the new hall wall will end, and the new corridor leading to the infant classrooms will begin.  The other picture shows the angle from one corner of the new hall looking down towards the other.  Putting this into context, as you look at the picture of the doorway on the left, that was the old entrance into Y6, which will soon be the door into the hall.  To stand on the edge of where the new hall begins and ends is a truly exciting time as although it is still concrete and building rubble, it signifies the future of our school.
Wednesday 11th March 2015
Today was a very busy day.  We had a site meeting, updating us on the building work.  You will be pleased to know that we are still on schedule for our rebuild.  As things stand, once the debris from demolition is cleared this week, next week they will be 'breaking up the slab', which I am reliably informed means that they are digging up the concrete on the ground in preparation for the foundations to be dug and laid.  The team we have continue to work closely with us to ensure that children and staff are safe as we move towards the next phase of our job.  Exciting times!
Tuesday 10th March 2015
My second assembly of the week, and it's only Tuesday!  Today my audience is the Infant children.  The message in assembly this week is very much one of friendship.  The children and I are discussing the qualities that make a good friend.  We have also been looking at how we treat others and how we wish to be treated.  The children have shared things that are important to them such as sharing, being kind, looking after each other, making each other laugh, being honest, trusting each other and of course our school motto 'care, courtesy and consideration'.
Monday 9th March 2015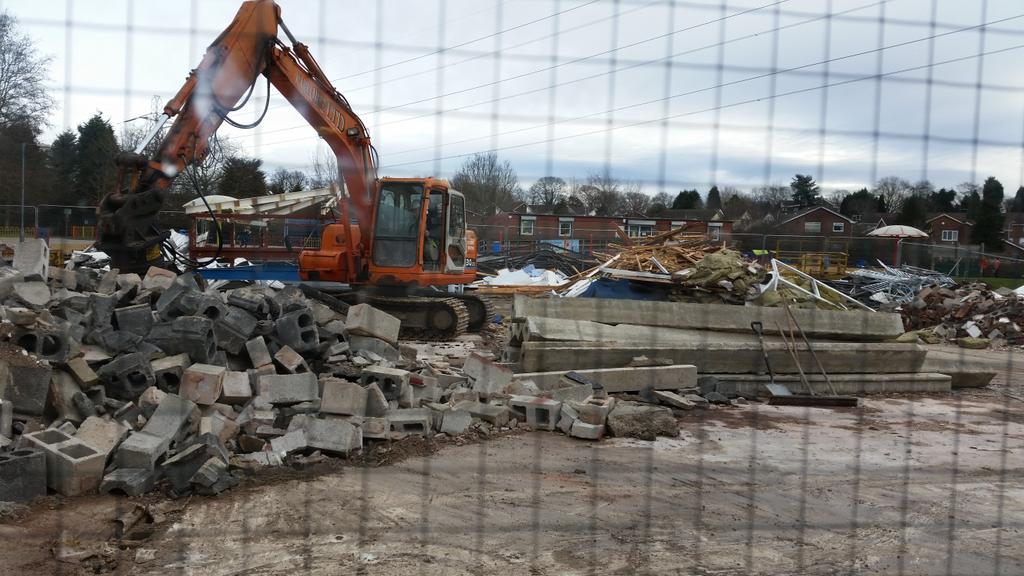 This is the sight that greeted me today as I attempted to walk through to my office!  The view from this window was previously the Year 6 classroom but this morning is quite clearly the view of what has been going developing on the other side of the wall!
The sight that greeted me from my new office window was our Year 3 and 4 pupils coming to school with some really amazing creations!  The volcano below was inspired by their topic 'Vicious Volcanoes' and shows clearly how motivated the children are in their learning to produce such work at home.  Well done everyone!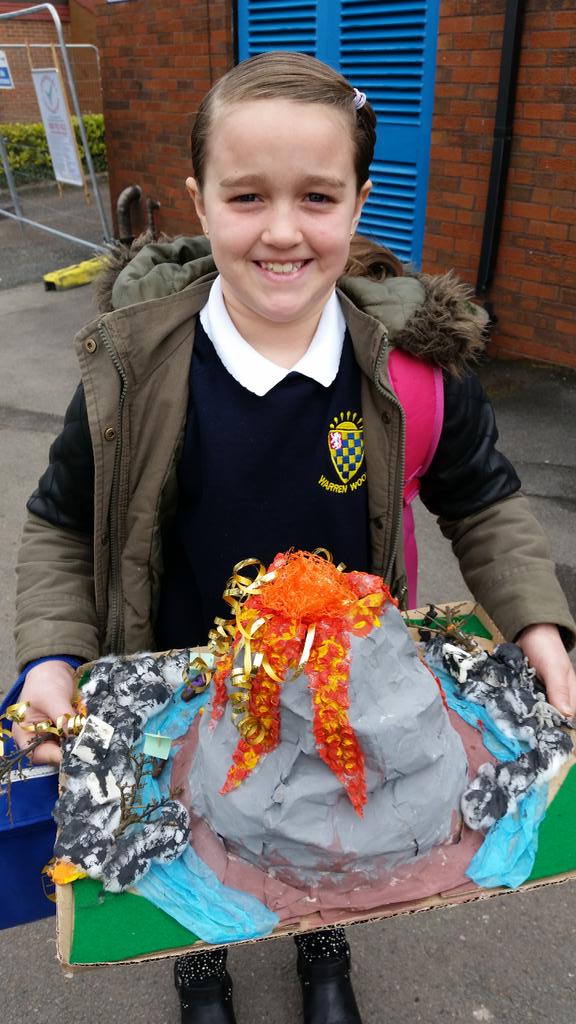 Friday 6th March 2015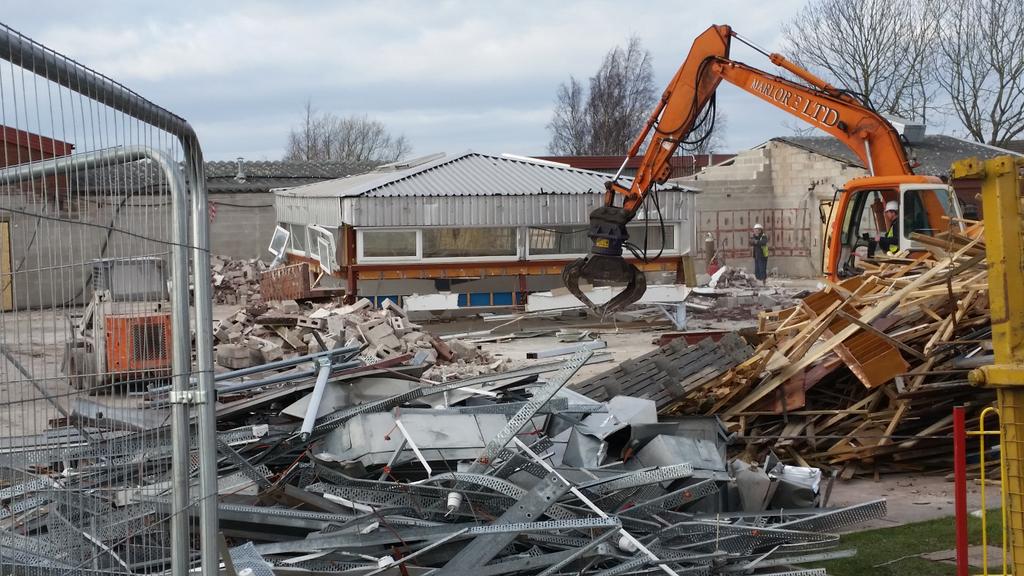 Today, we were visited by some previous pupils of school who now attend Hazel Grove High School.  They came to talk to the Year 5 and 6 children about life at a high school and how they have adapted to this.  Whilst they were here, we went out to look at the demolition of the school site as they knew it.  We timed our viewing perfectly, as the last remaining standing structure of the library fell to the ground.  It was quite a moment as it clearly shows the floor space of what is left of the original school.  It also shows just how much of the school has had to be moved or relocated to get us to the point we are at now.  We have had some help along the way from removal firms, but a big chunk of this has fallen to staff, who have done this alongside their every day tasks and jobs.  It is no mean feat to keep on top of all this and so I want to remind them all how grateful I am of all that they do to continue to provide such a wonderful education under such challenging circumstances.
Thursday 5th March 2015
Today was World Book Day and so all the children (and staff) entered into a dressing up day as some of their favourite book characters.  Not only did the children have fun in their costumes, they also took great delight in sharing some of their favourite books with each other and even our Pre-School children came over to school to share a book with a reading partner in Year 6.  See which characters you can spot who visited school today!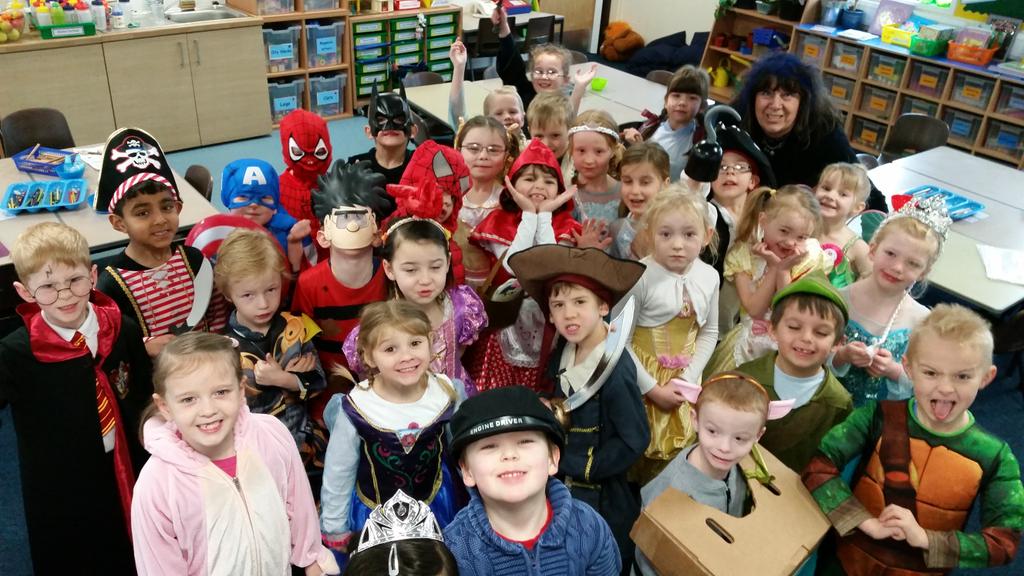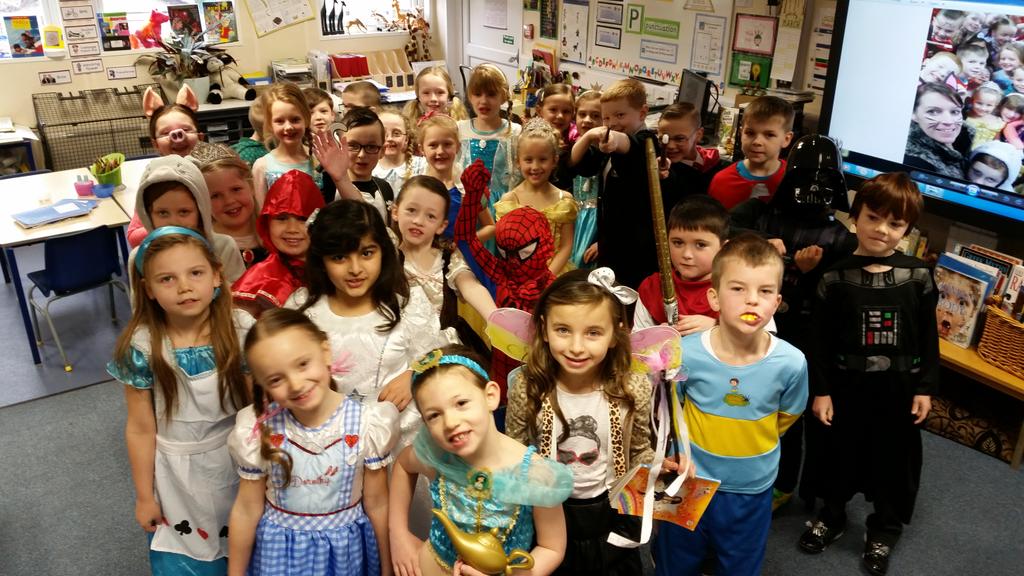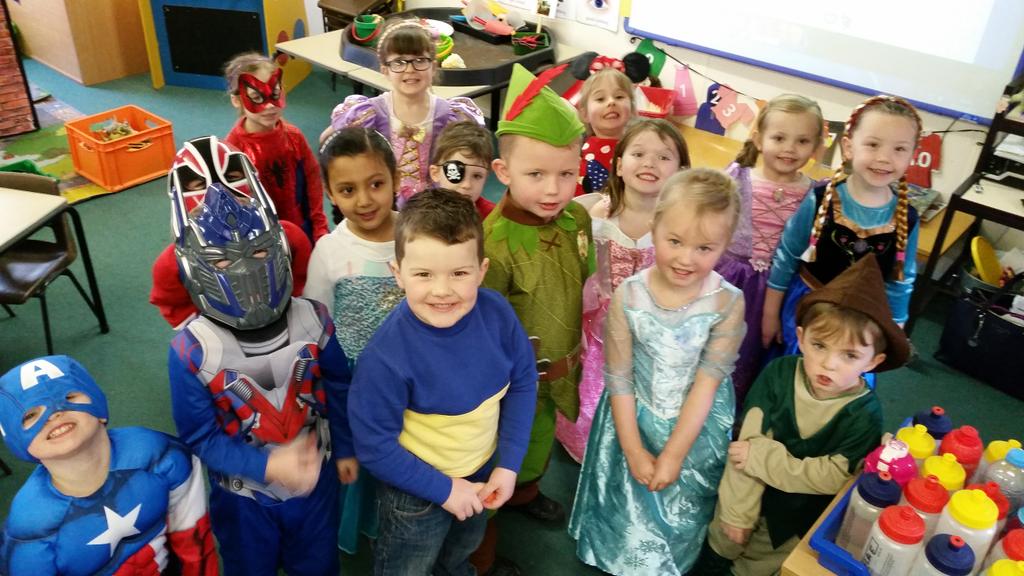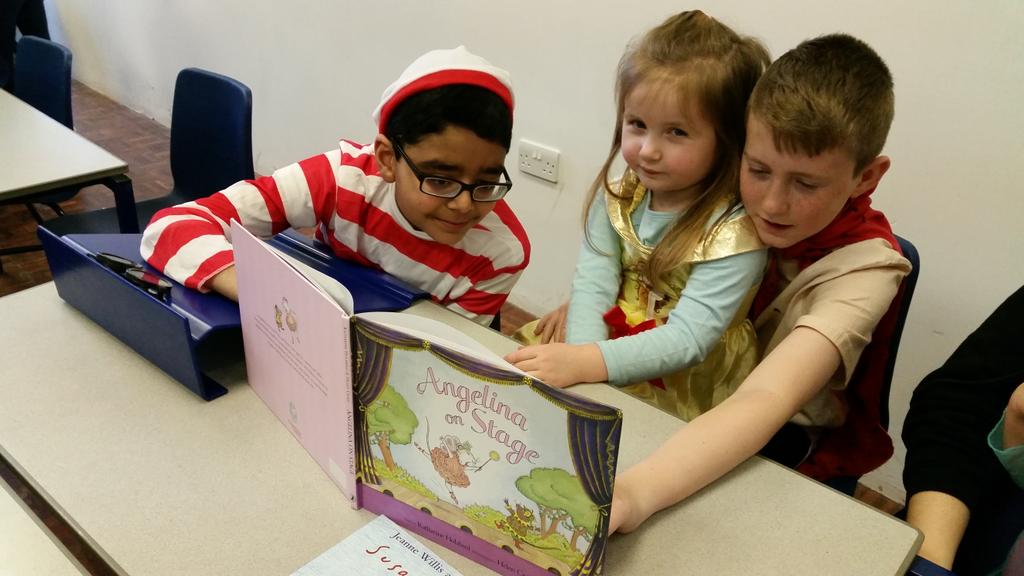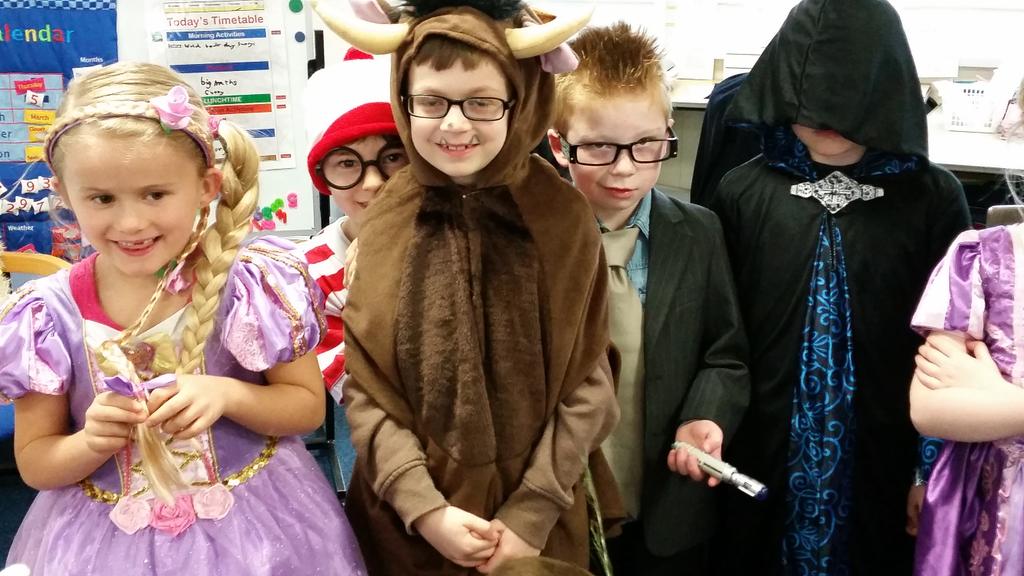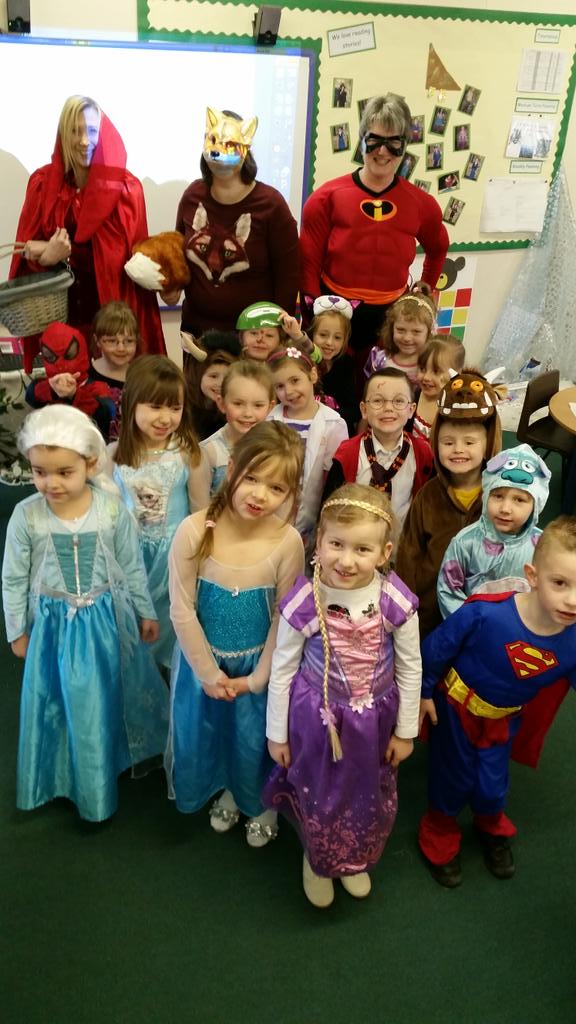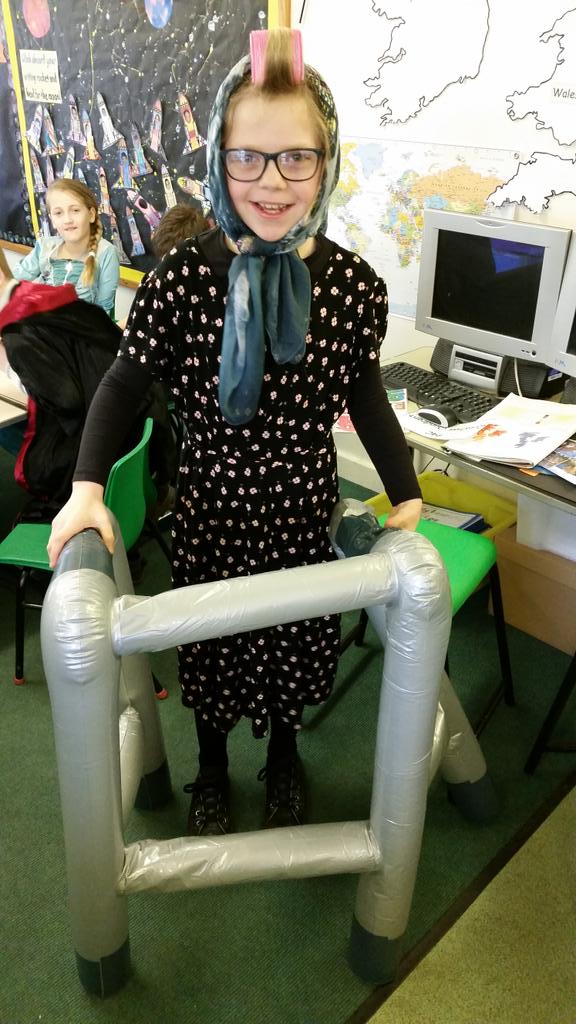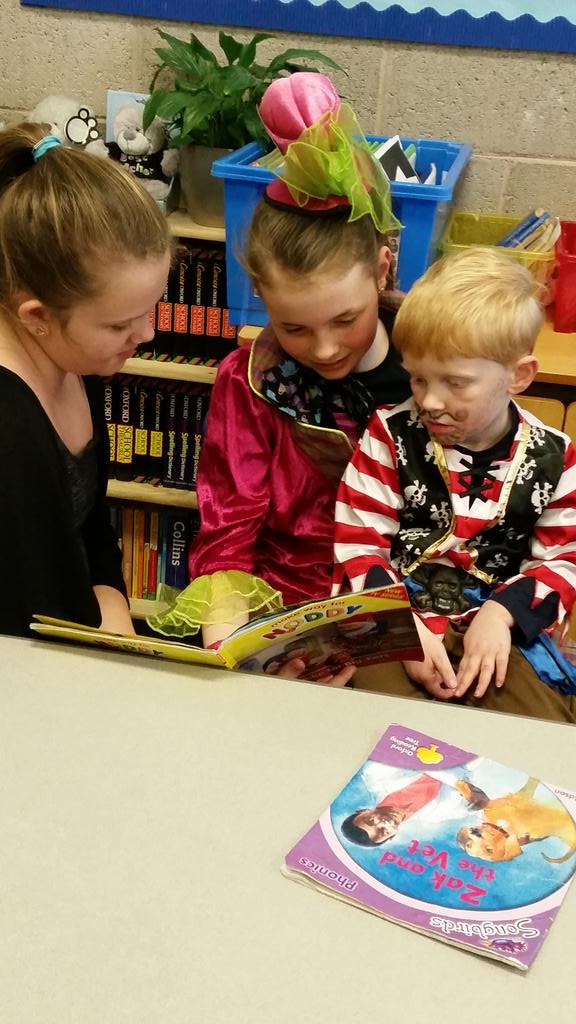 Wednesday 4th March 2015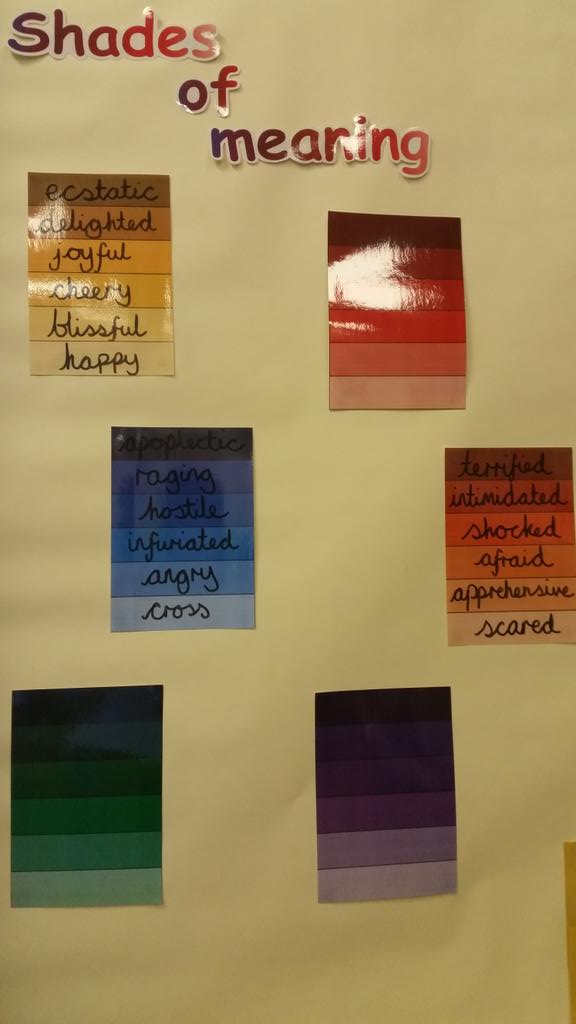 As I have visited classes around school today I have been thoroughly impressed by the dedication of children in always striving to improve their work.  This is called 'up-levelling' and it gives children to identify the individual features of writing and enhance them using a wider vocabulary.  In Year 5/6, the children have visual reminders of this on interactive working walls, as shown in the picture above.  The 'shades of meaning' display gives the children opportunities to enhance their work with synonyms, which are words with similar meanings to others, for more dramatic effect.  Can you think of any other words that you could do this with?
Tuesday 3rd March 2015
We work very closely in school with children on issues to help to keep them safe and this includes E-Safety.  Our focus for assembly this week is on rumours, lies and telling tales and how sometimes this can lead to problems, either on the playground or online.  The need to tell the truth, even if this is not always good news, is the most important thing and we try to instil that honesty really is the best policy.  I think it is fair to say that the world the children now are growing up in is very different from the world that we grew up in and it is our intention to prepare them to face and embrace the world as they grow up.
Monday 2nd March 2015
An early start today with a visit from our school advisor.   He visits each term to talk through important updates for our school and to see how we are progressing.  Today, I discussed with him the changes to the curriculum and how assessment is also changing as a result of this from September.  We are currently developing a plan which we will do as a whole staff.  This will be shared with parents and children towards the end of this school year and at the beginning of next to make sure we all know how best to help children improve in their learning.
Our Reception enjoyed a visit from 'Animals Intuition' today.  They were able to see a variety of creatures up close and personal, and if they felt particularly brave, they were able to handle them too!
Friday 27th February 2015
This year, as part of our drive to improve the achievement of all pupils in Reading, I have undertaken a self imposed reading challenge to show the children how valuable reading is, not only as a skill, but also as a means of relaxing, unwinding and opening your mind to a different world in which to escape.  I was loaned a book by popular author Michael Morpurgo by a Year 5 pupil (Thank you Isabelle!).  In Key Stage 2, many of the children read books written by him, but with the exception of seeing the stage adaptation of War Horse, I have never read one of his books.  I was very pleased to have finished this with a day to spare of my challenge to read one book a month and how glad I am to have read it.  It is a beautifully moving story which has themes in that we could all relate to such as love, loss, friendship and loyalty.  I hope now to be able to borrow a few more of his books to see a range of his work!  Which books are your children reading at home?  Do they see you reading too?  Do you share the stories or information you have read?  It is these simple conversations that demonstrate the importance of reading in every day life.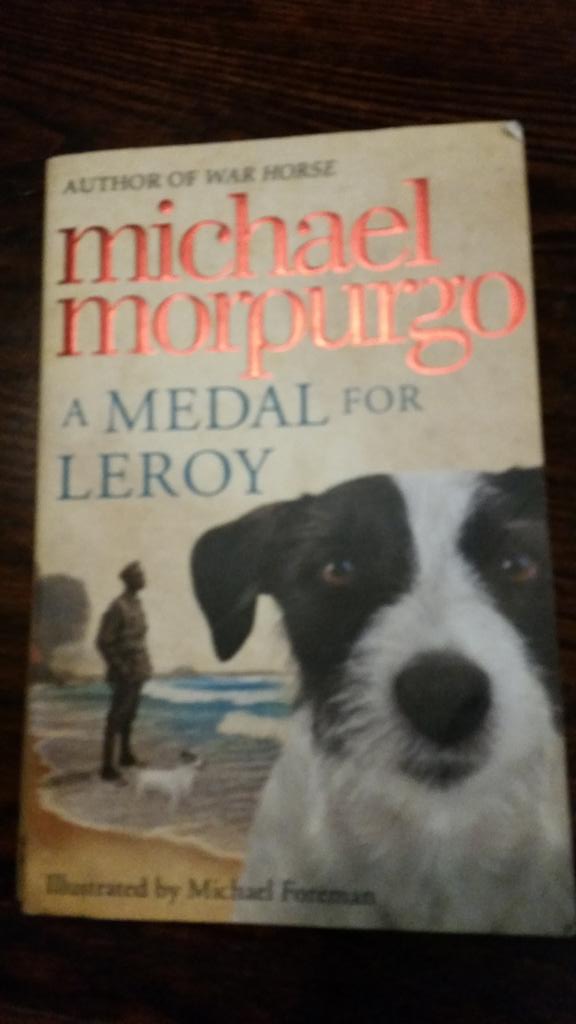 Thursday 26th February 2015
I visited each class early this morning on my daily 'rounds'.  Throughout the infants, each class were involved in a phonics lesson, looking at the way letters form sounds and how sounds blend together to form words.  Throughout all classes, it is clear to see the enjoyment level of all the children, whatever the task.  Some classes were looking a specific sounds such as 'ear' and how these fit into words and what their initial sounds are, building up a word bank of similar sounding words.  Other classes were looking at certain rules of phonics such as 'same look, different sound' .  This refers to words such as 'school', 'check' and 'coach'.  Other classes were putting these words into the context of sentences.  In all cases, children are learning and practising the fundamental skills of reading.
When visiting the juniors, in Year 3 and 4, Maths was taking place.  Each class was undertaking some kind of maths challenge to promote quick mental recall and identifying patterns in number that form the basis of the four operations of number – addition, subtraction, multiplication and division.  It is always amazing to see how children meet these challenges head on.  For those of us who attended school in the 80's/90's, maths often had a certain way that it was taught and so many of us can have a mental barrier about learning maths because 'we might get it wrong'.  It is our ethos in school that we want children to play with numbers, to get used to patterns in numbers and what they look like and how we can work out number problems by 'having a go', using trial and error and our knowledge of number patterns to help us solve problems.  This way, we hope to break down any pre-conceived fears of being 'wrong' and know that it is part of maths to 'work it out'.  Keep up the good work everyone!
Wednesday 25th February 2015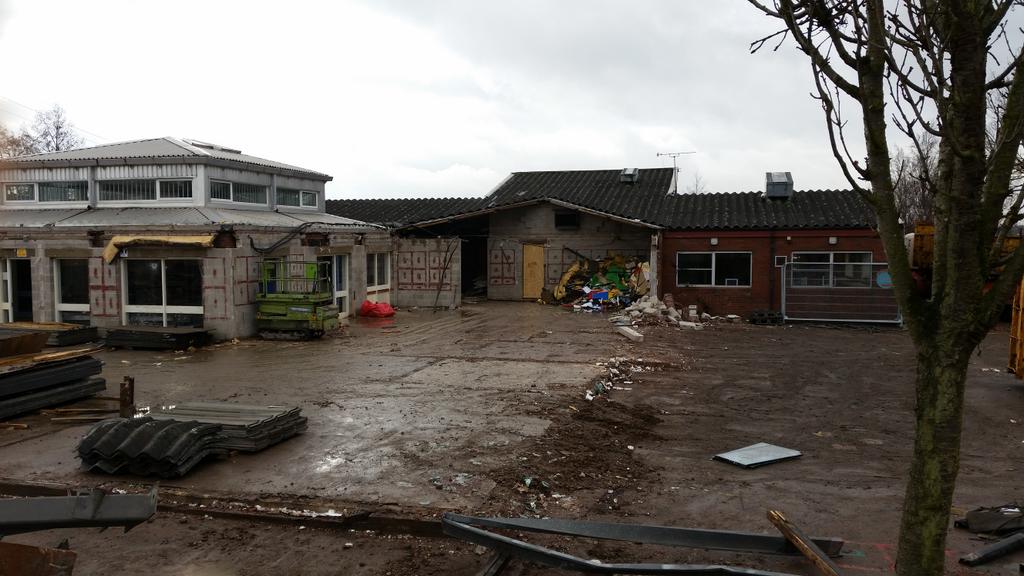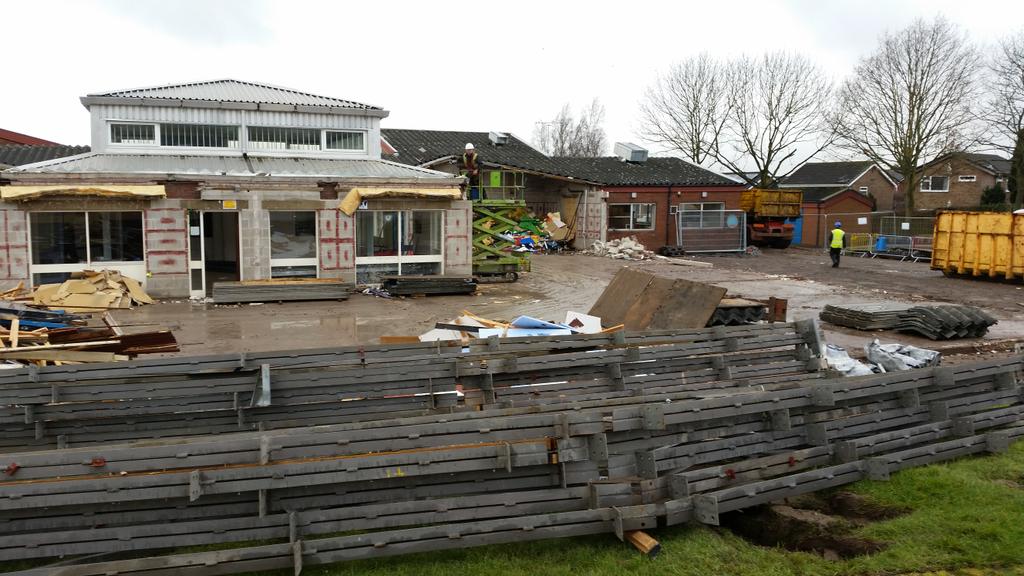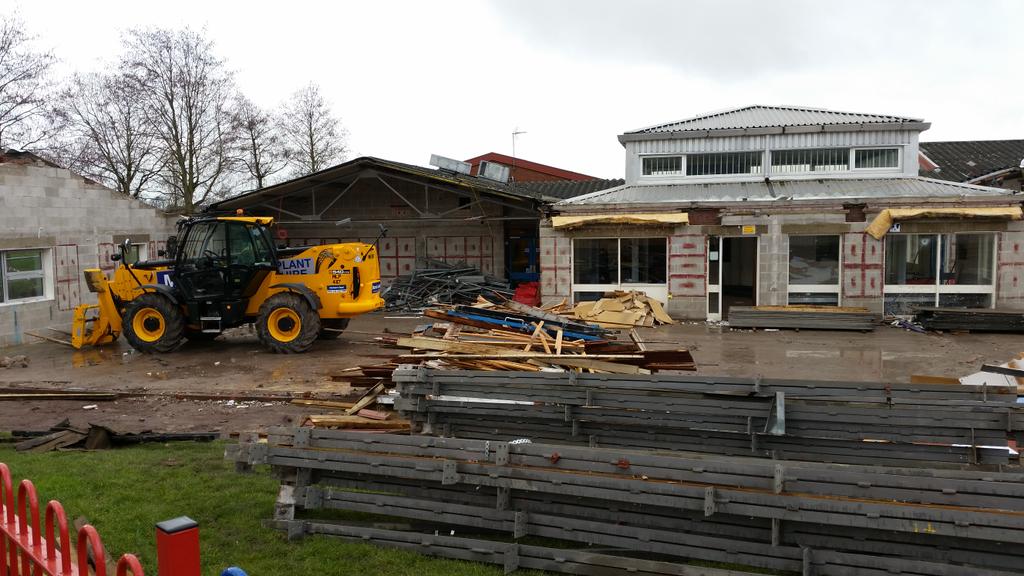 Things are really moving now, with the only notable section of the main building still standing being the old library and computer suite in the centre of the school.  By next week, these will have gone!
Our children in the upper juniors have visited Stockport Air Raid shelters today as part of their topic on Children in World War II.  It was a delight to see them all dressed up in period costume, carrying their lunches in boxes and the rest of their belongings too!  All the children got into character and had a thoroughly enjoyable day.  Thanks also must go to the parents who gave up their time to share in the experience and work with groups and the teachers without whom all of the much needed preparation work and safety requirements would not be met, but are vital in contributing to making the trip so very enjoyable for all.  I look forward to seeing the photographs!
Tuesday 24th February 2015
Today has shown me another example of how close and supportive our school community really is.  Over the years, our PTA, Friends of Warren Wood, have worked tirelessly to support school in raising vital funds for extra equipment for the children such as the Tyre Park and reading books for the reading scheme, for treats such as Christmas treats from Santa and subsidising end of year presents for our leavers, to name but a few.  Recently, some of our key members of the PTA have come to and end of their time with us, due to their children moving onto high school.  This time of transition has coincided with the changing circumstances at school and has presented us with uncertain and tricky times to cope with.  However, this evening we had a great turn out for our PTA meeting, with a mix of experienced and long serving parents to some brand new Reception parents who came along to see how they could offer help.
I would also like to point out at this point, that our PTA is nothing to do with our Governing Body, as these are two different entities.  The Governing Body deal with the formal business of the school, supporting myself in making key decisions about the attainment of children, the quality of teaching, the behaviour and safety of pupils and the leadership and management of the school.  The PTA could not be any more different but are every bit as vital to our school!  The PTA are a group of parents who want to support us in offering the children fun activities to attend, such as discos, fairs and parties.  They also are looking at ways of sharing family fun nights, quizzes, fundraising opportunities in a fun, community minded way.  It can be a great way of meeting new friends amongst the school community, not always just those parents that you might meet on a day to day basis when you drop your child off at school.  They do not make any demands of your time, as we all appreciate how precious this is, but just ask that if you can help with time, ideas, advice, support, donations (or anything else you can think of), that you do.  Please do not hesitate to mention to myself or the school office any offers of help you may be able to give.  It is always appreciated and can make a valuable difference to some of the extra opportunities we can offer the children.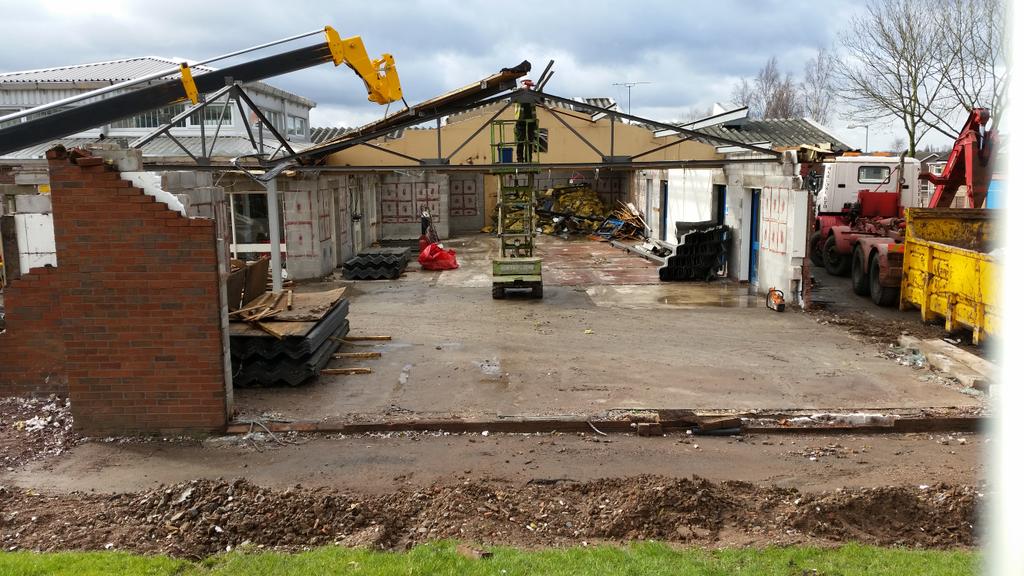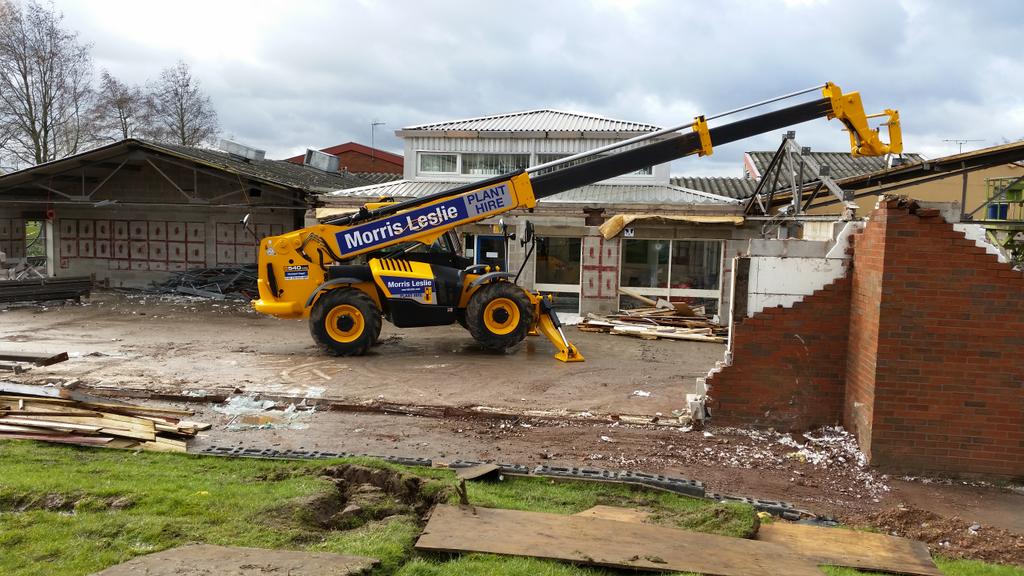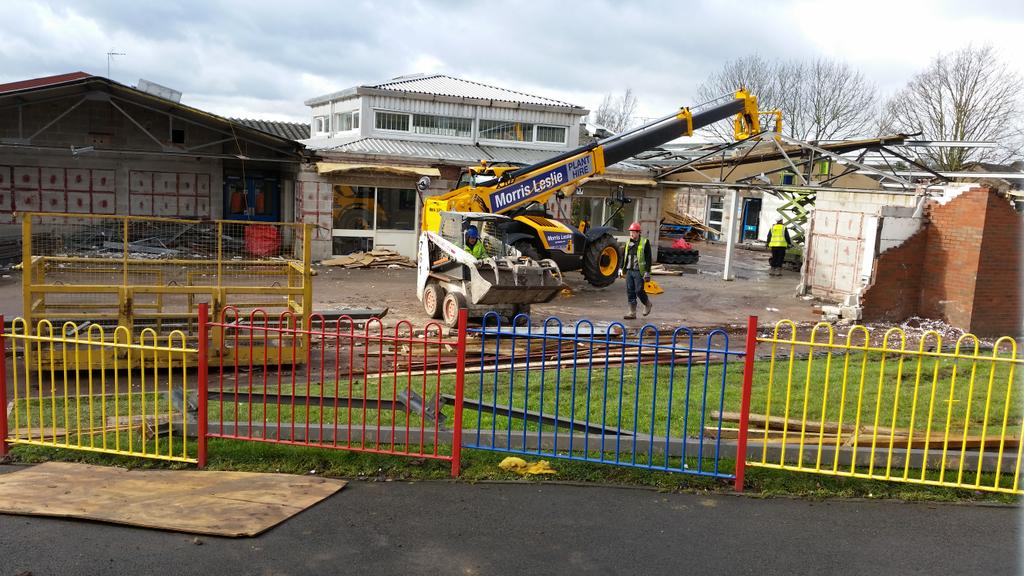 I also cannot let today pass with the next, dramatic changes to the school demolition.  All the outside walls to the old Infant building have now been removed and the footprint and skeleton to the school is clearly visible.  It is fair to say, it was a significantly moving day for some of the staff who have taught here for a long time and learnt their trade here.  I will never take for granted amongst all the excitement of the future which lies ahead of us, that much sentiment and emotional is also attached to this wonderful school of ours.
Monday 23rd February 2015
Our first day back, and what a treat we had in store for us!  The first major signs that school is changing forever.  Over the holiday, the roof was removed for all the non-operational areas of school in just three days.  Today we were greeted by this sight at the start of the day…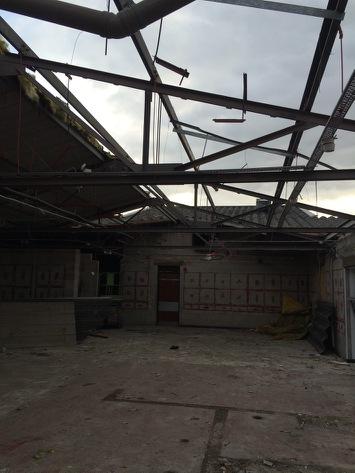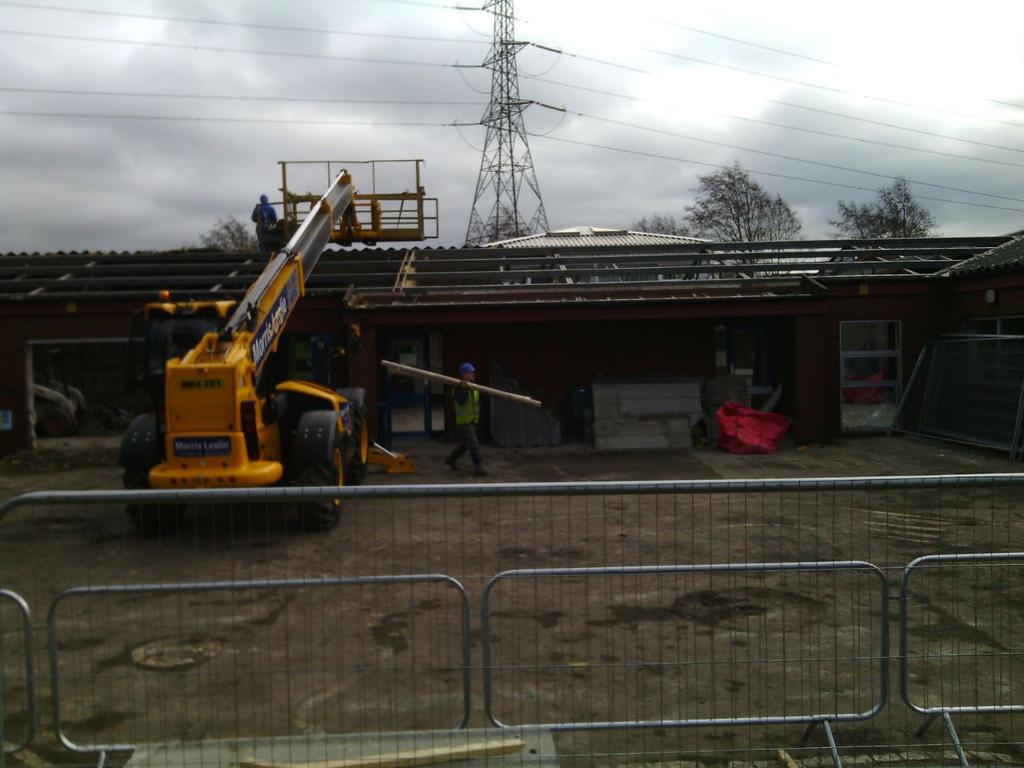 Which soon became this sight by the end of the day!  Section by section, the building is being taken apart like a giant Meccano kit.  It is actually quite awe inspiring to stand on the playground with the children at playtimes and watch the machinery carefully dismantling our familiar surroundings piece by piece.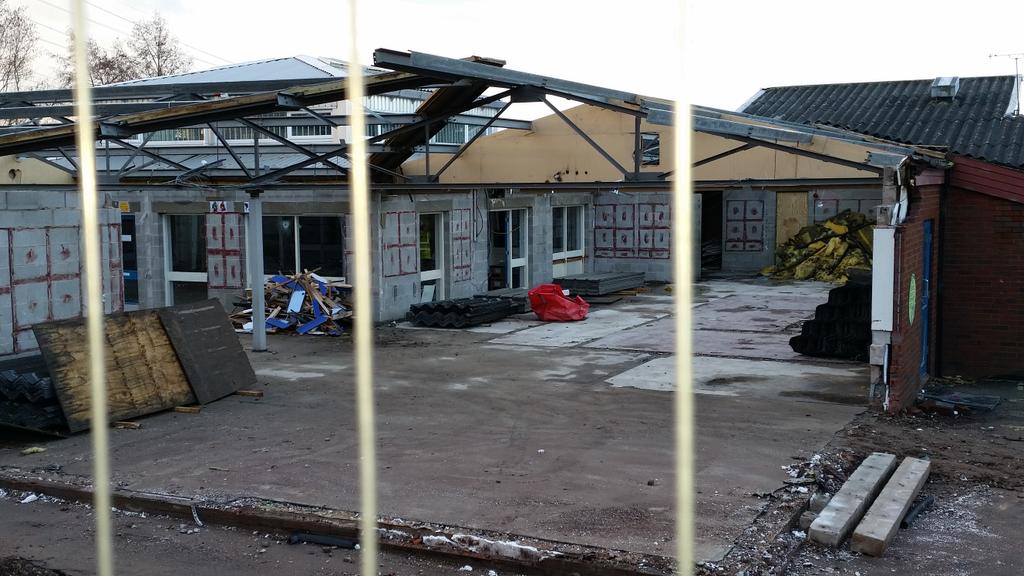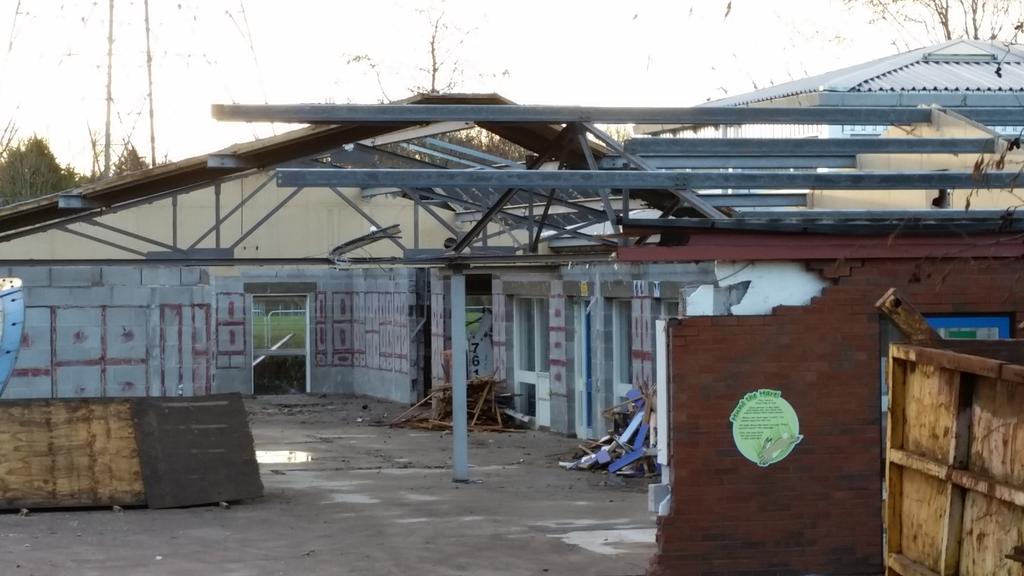 In the functioning side of school, lessons continue like we have never been away.  It is lovely to see everyone back safe and sound and ready to work.  Our focus for assemblies this term are friendship, anti-bullying, E-safety and kindness.  Ask your child this week about the very special 'Who wants to be a Millionaire Quiz' that we have had in assembly on the theme of Bullying.  The extra special 'prize' was an invisible £1,000,000 !
Friday 13th February 2015
Well, what a busy half term we have had!  In terms of the rebuild, it is hard to believe how much has happened already in just 6 weeks.  As all of this has happened, classes have continued working exceptionally hard.  Some of our routines have changed slightly but have become new routines for us to follow.  All of this has been taken in our stride and I just want to say a huge well done and thank you to all of the children, teachers, staff and parents for being so patient to the changes happening around us, but also for embracing it all with us.  We are building for the future of our school and ALL of the children, no matter which year group they are in, are instrumental to shaping this for us all.  Have a great holiday everyone!
Thursday 12th February 2015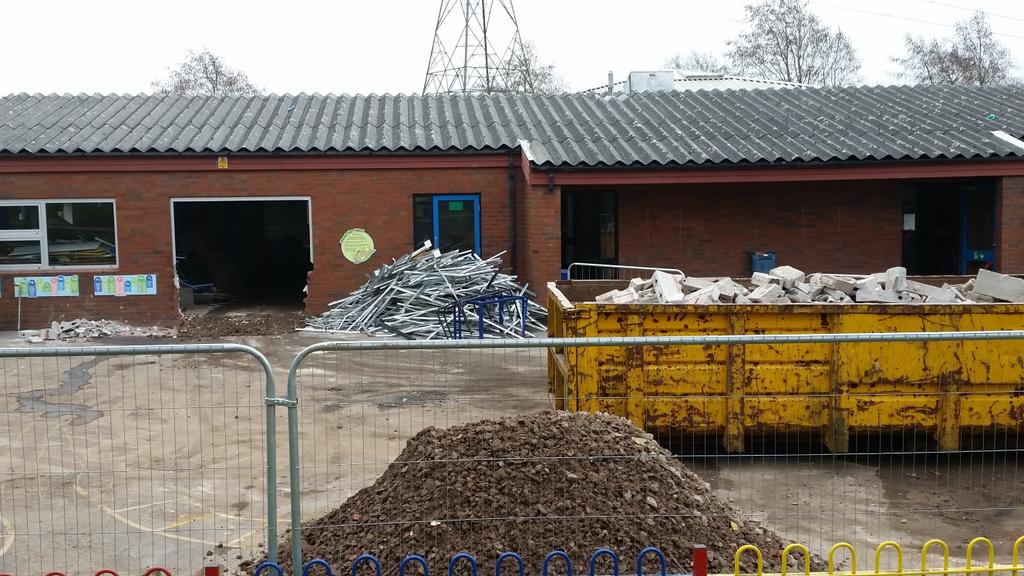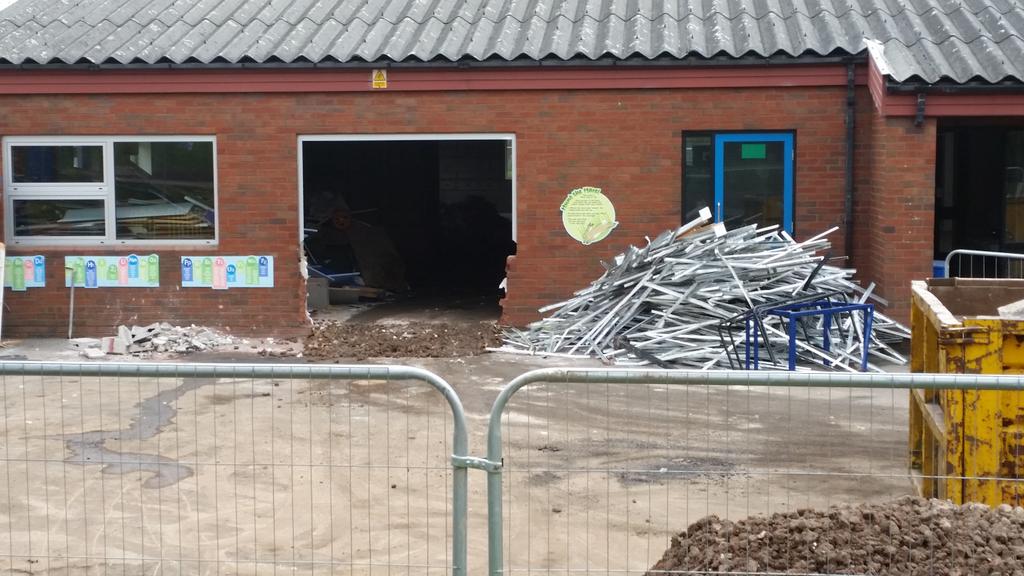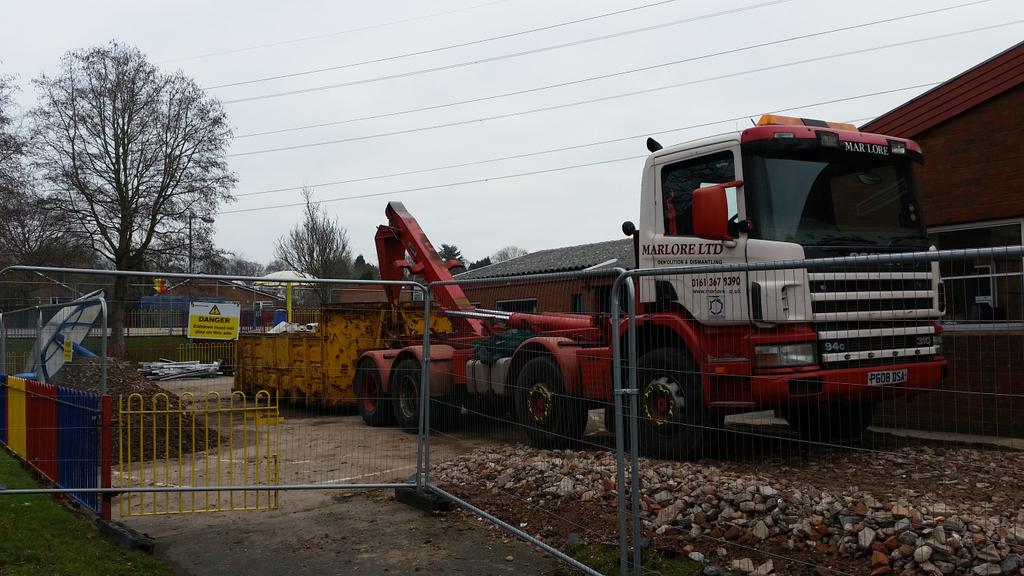 Another momentous day today…the first part of external demolition began!  The classroom that was the old Reception area had the initial stages of the outside walls knocked down and all day the internal debris has been removed.  This has filled two industrial skips already and that was just by lunchtime!  The children and I watched with great interest as we saw diggers moving radiators, walls and old bits of door frames all from behind the safety of our fence.  It is such an exciting time and I am just so pleased that the children are embracing the excitement that this truly unique time holds for all of us.
Wednesday 11th February 2015
On my travels around school this last few weeks, I have been aware of just how much beautiful work is taking place in each classroom.  In the Infants, winter poems have been written which are atmospheric, well thought out and really breath taking, particularly to think that these have been written by children under the age of 7.  The teaching staff expect the highest of standards from the children and display their wonderfully presented work in an interactive way which the children love to share with others.
The Garden Shed has been a fabulous topic for our Key Stage One children to learn about too.  They have been particularly proud of the stories that they have crafted over the past few weeks about Percy the Park Keeper.  I am sure these topics will be ones that last long in the memory as the children for all the fun they have brought them.
Tuesday 10th February 2015
Another early morning delivery today as our new temporary offices arrived.  After February half term, Myself, Mrs Yates and Mrs Brealey can be found in here rather than in the main school building as the rest of the school building is fenced off to be shut down.  These will be set up with all the usual facilities and will be easily accessible to you all should you need us.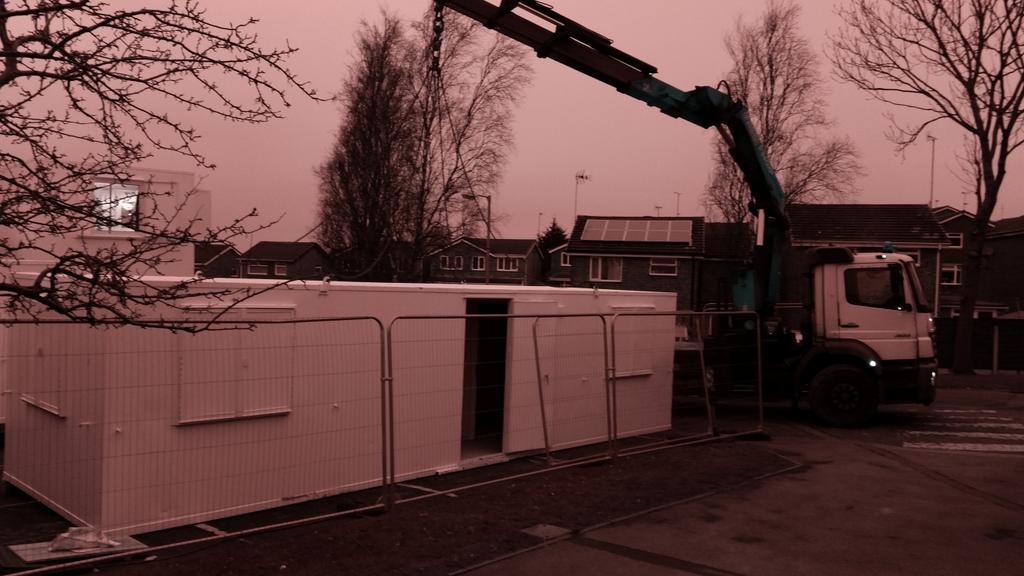 Monday 9th February 2015
Today is a really important day in the history of our school as it is the final day that children will be taught in the main school building before they move to their temporary classrooms as 70% of the school building is finally demolished.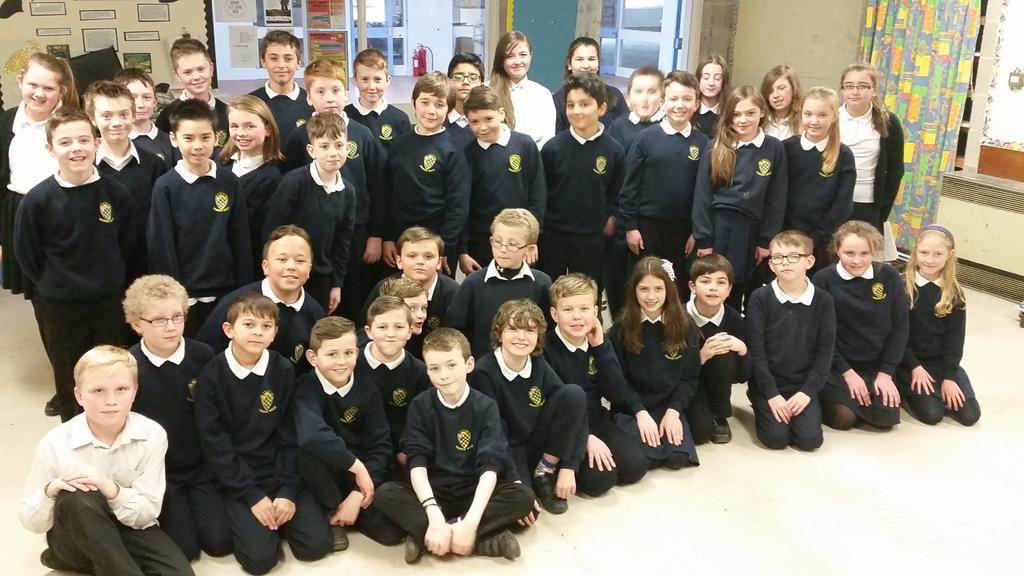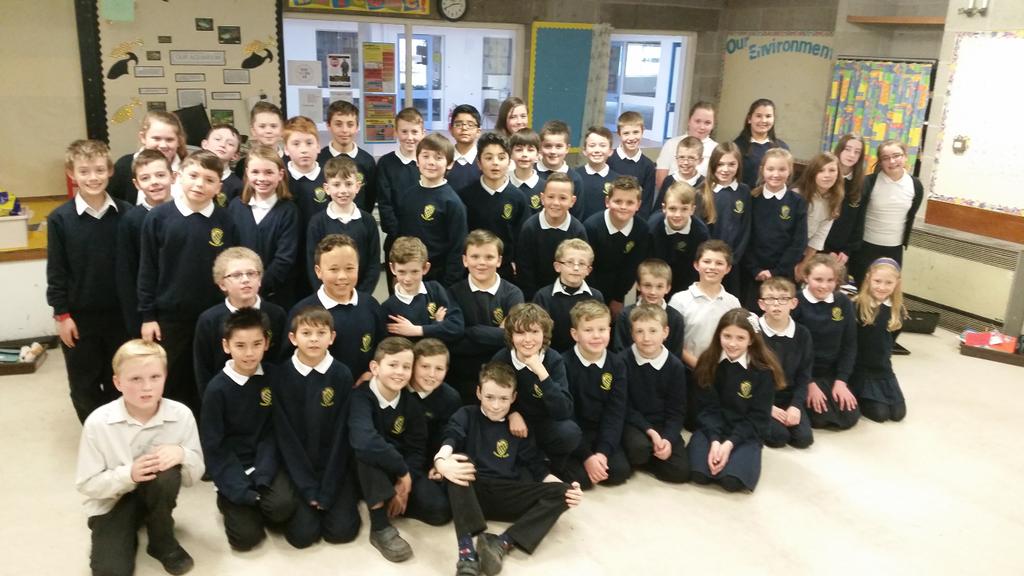 Year 6 (above left) and Years 5 and 6 from Mr Boardman and Mrs Eastham's classes (above right) have taken part in their final lessons in the old building, and have prepared presentations for each other about World War Two.  After careful collaboration, these were presented to each other, helping the children to develop valuable skills of speaking and listening, preparation, presentation and questioning.   Our Year 5 and 6 pupils have had to wait the longest to start their part of the exciting journey of moving classes, but have done so with great maturity, good grace and humour.  As the build progresses, we will be burying a time capsule to commemorate this special time for our school and I shall be asking Year 6 to take the lead with this as their parting gift to our school.  We shall give further information as we move into the second half of the year, after the holiday.
Friday 6th February 2015
Today we have all worn something red and brought a donation in to raise money and awareness for the British Heart Foundation.  From your donations, we raised £240:00 for their 'Wear it, Beat it' day.  In addition to this, the money raised earlier on in the year for our skip-a-thon for the BHF brings our total money raised for them this year to near the £1000 mark.  Thank you so much for your generosity as this will help to support valuable developments in heart disease research.
Thursday 5th February 2015
A busy day today in terms of making sure that the new path and new system of entering and exiting the playground is safe for all pupils.  Lots of extra staff were on the playground at lunchtime to ensure a smooth transition from the old regime to the new one was followed by all and that everyone was safe.  We also had some willing volunteers amongst the children who are just loving the extra responsibility of patrolling the playground to take care of each other.
Wednesday 4th February 2015
Today our new path was completed at the back of school.  This runs from the top playground, parallel to the Tyre Park and then along some of the field and down to the junior building.  This is to be used as of tomorrow in preparation for the fencing going up for the next phase of demolition, which is due to start next week.  All children have been shown at playtimes and lunchtimes where they can walk safely so they should be able to help you all out with our latest addition to the school.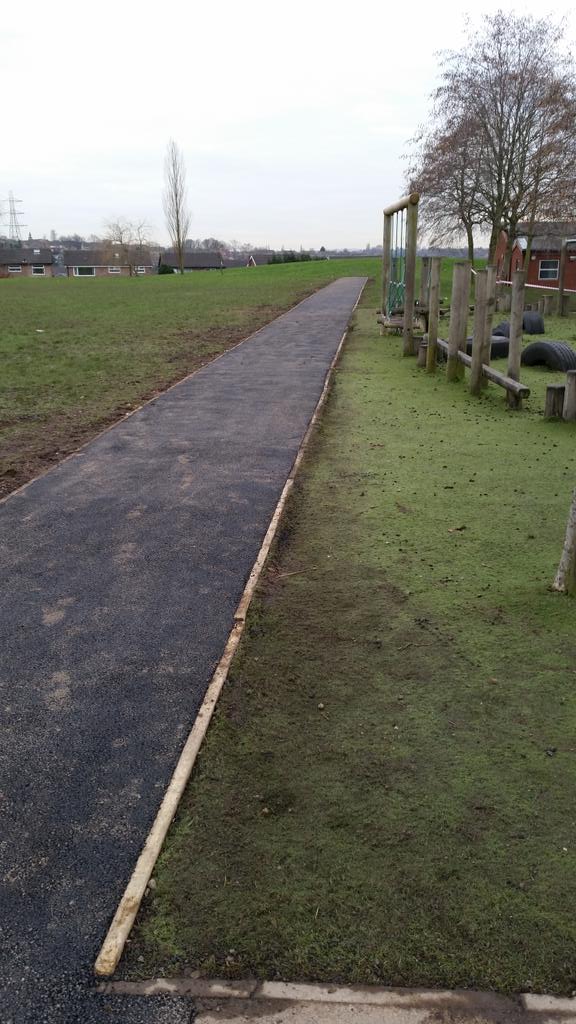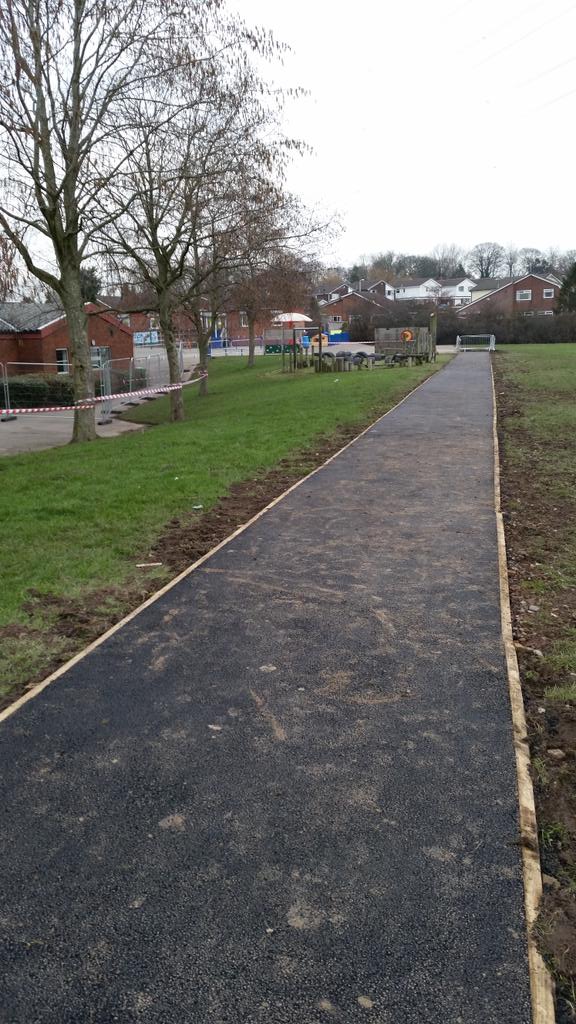 Our Year 6 children went to Marple Hall School today too, to watch their production of 'Annie'.  It is always a great opportunity for our Year 6 pupils to share in events such as this to see what life is like at high school, in preparation for their moving on in July.  It is also a great opportunity for our staff to see some of our ex-pupils performing, flourishing and blossoming.
Tuesday 3rd February 2015
Decoration on the school hall begins today.  Of course when I say the school hall, I mean the new classrooms for Year 6 and Year 5/6.  These are being decorated in preparation for children to move into on Monday, which means all of you will see these next week as you come for Parents Evening.
This week, staff are busily preparing for Parents Evenings next week by preparing assessment data for me to analyse.  This shows the progress of each pupil in school in Reading, Writing and Maths.  We conduct Pupil Progress interviews in teams where I meet the teachers and discuss the progress of each child in school.  We identify where children may need extra support and where they need extra challenge.  This then helps us to direct our timetables specifically for to the needs of the children.
Monday 2nd February 2015
Good morning one and all.  Just to let you know that school IS open and back to business as usual today.  All the snow has thankfully melted away.  See you all soon.
The children soon settled back into the swing of things after our school closure last week due to snow.  However, I couldn't help but notice as we all took to the playground at playtime, that many of the children tried to sneak out without their coats on.  When I asked them why they weren't wearing them, the universal response was 'We are running around so we are warm!'.  This of course makes perfect sense (especially if you are 7-11 years old).  However, reality dictates that in sub-zero temperatures, we need to wrap up warm.  Therefore, if you could remind your child about the importance of keeping warm, then at least I will not be the only one nagging them!
Friday 30th January 2015
I hope that you have all been able to make the most of the snow today and enjoy it safely, where possible.  Teaching staff have not all been as lucky, as they have all spent the day marking books, finishing assessments and planning lessons for next week.  Despite popular myth, teachers would always rather be in school as they are generally creatures of habit – we like to know what we are doing and when we are doing it and a break to that routine never rests easily with any of us. I also am conscious that today, I was due to take Year 5 and 6 for assembly, where over the past few weeks, I have been sharing with them my resolution to read more books.  The children have been keeping me on my toes over the past few weeks, checking in with me to ensure that I was furthering my reading by asking 'What chapter are you up to?'  I was going to share with them today that I actually finished my first book of the year last Sunday and will be starting a new book on Sunday to keep my promise.  I am also hoping that they will see how 'reading for pleasure' is a good way to wind down after a busy day and to broaden the mind and imagination.  If you are in Year 5 or 6, make sure you ask to see my book on Monday.  It's in the top drawer of my desk waiting to show you what I read! Have a lovely weekend and hopefully the snow will have melted and we will see you all bright and early on Monday morning.
7:15am – Thank you for your patience.  It is with regret that school is CLOSED today. This is due to safety advice from the local area.  All other local schools closed including our school meals provider.  Thank you so much for your support.  Enjoy your snow day but please stay safe.
Thursday 29th January 2015
Well…what a day THAT turned out to be!  As I left my house this morning, there was not a flake of snow to be seen. Nor was there any to report before approximately 8:30am.  The sudden deluge that waited until the school run proved challenging for many and by approximately 10:30 am, we still only had two thirds of the school who had made it in.  We appreciate the efforts of everyone who managed to make it into school, and even those of you who didn't make it but tried desperately under very stressful conditions, thank you.  We would never expect you to compromise the safety of you or your family for any reason.  Many of you embraced it as part of the adventure and came armed with wellies and sledges and this was lovely to see, particularly as we do not get to see snow that often. With snow of course comes disruption and we worked hard today to keep school open.  Paths were gritted before 7am this morning as a precaution and again as the snow began to fall. Mrs Field also cleared where she could with a snow shovel, but as the snow came down so unpredictably quickly, this hampered the process.  We acted on advice of the local authority and other local schools to remain open as initially there was no reason to close.  We were considering the option of an early afternoon close to allow parents time to travel safely and in good time, but again we were monitoring this minute by minute.  Our final decision was taken due to the horrendous situation that unfolded at all corners of the estate.  With crashes on the A6, jackknifed lorries and parts of Torkington Road blocked, not to mention Marple Road proving near impossible to gain access to around the Dan Bank area, it became obvious that transportation for our school lunches was unable to get through to be collected and then in turn, were not able to reach school.  At this point, we consulted advice from the Local Authority who confirmed that school closures were being authorised by the Director of Education and without the basic need of food, we had little choice but to close.  What happened next was nothing short of amazing.  A real team effort began, with all hands to the pumps.  Parents and carers were arriving within minutes and were most understanding of the situation we found ourselves in (and judging by the amount of sledges appearing, I think they were as excited as the children!)  The last child was collected at 1:15pm, when the staff began to clear their own cars of snow and start the trek home. It is our intention for school to be open tomorrow as it is every day.  We will monitor the situation overnight and an announcement will be placed on this blog before 8am, hopefully earlier.  We shall also send a text out to everyone that will state if school is open or closed either way.  Likewise, the school Twitter feed ( W_W_P_S) will update you first thing in the morning. Now, to all of you who feel like I do about snow, cross your fingers, wish for a mild evening and we hope to see you all in the morning as usual.  Stay safe !
Wednesday 28th January 2015
Today has seen the internal demolition of the old infant section of school.  The internal walls have been demolished, showing just how much space is there now that the dividing walls are down.  It is really becoming clear now how much space was wasted in the old design of the building and how big and open our new school building will be.
The pictures below show the view of the old Reception classrooms…
…The middle Year 1 classroom…
…And the area that was Y1 and Y2's old areas…
Soon enough, these will be coming down completely and the transformation will begin!
Tuesday 27th January 2015
Today, Mr Philip Clarke, one of our school governors came in to visit.  He spent his afternoon in Year 1 with Mrs Prior's class.  All of our school governors are assigned a class to work alongside each year and we are very lucky that they are so proactive in giving up their time to support us in school.  This is a job they do not get paid for, but do in the faith that they can support teachers, parents and children in getting the best for the children at our school.  Mr Clarke and the class thoroughly enjoyed their time together.  They had a 'Q & A' session where they found out a lot about him and then he shared in the new 'Computing' side of the curriculum where Year 1 were 'coding'.  If your child is in Mrs Prior's class, ask them all about it!
Monday 26th January 2015
The focus of Assembly this week is 'Persistence', where I will talk to the children about keeping on trying your best even when in the face of adversity.  It seems particularly poignant that at this time we are all facing some potential hurdles.  Year 6 and Year 2 are now beginning to prepare for SAT's, we are all facing daily changes to the building and boundaries we can not defy.  However, my message to the children has been clear – that if we give up when the first challenge is put in our way, we will never truly succeed and therefore we must keep on trying and remain positive that we will succeed.
Friday 23rd January 2015
Here are our new classrooms taking shape in the hall.  In just two days, stud walls have been put into place, the walls have been insulated, lighting and electricity has been secured.  Next week, decoration of these rooms will take place and doors are being fitted and then a removal firm will move all the furniture ready for Mrs Eastham and Mr Boardman's classes to move into.  It's all so very exciting and we can't wait to share it with you all.
Thursday 22nd January 2015
More work has taken place on the two hall based classrooms today.  It is a struggle to contain our excitement today because now the hall doors have been sealed up so we cannot sneak in to have a peep until they are fully insulated. Around school, work in classrooms carries on as normal.  Children are excited about the changes but being flexible and showing great resilience to any changes.  We are keeping these to a minimum for the children so behind the scenes and in the office, we are making sure that it really is 'business as usual'.
Wednesday 21st January 2015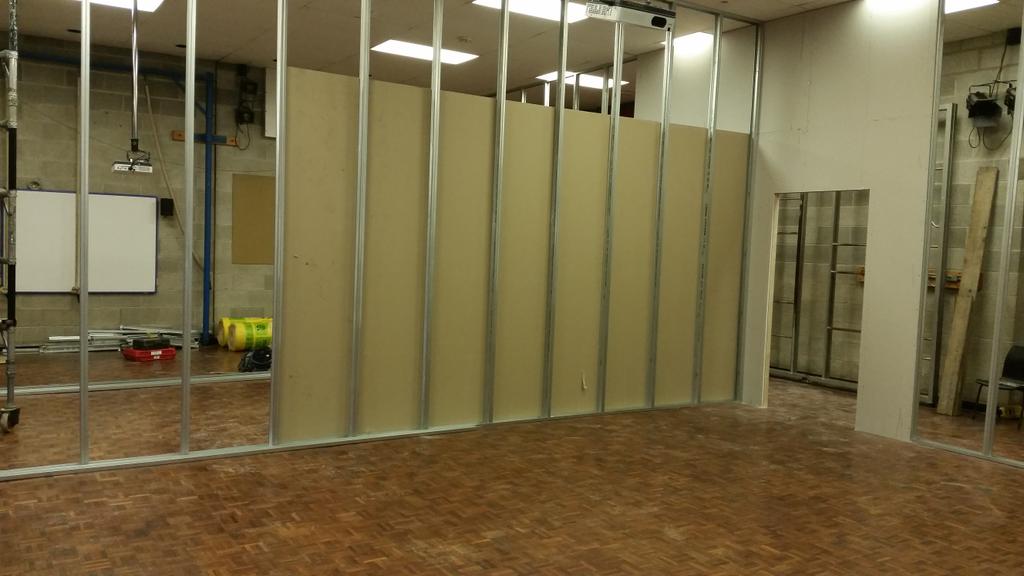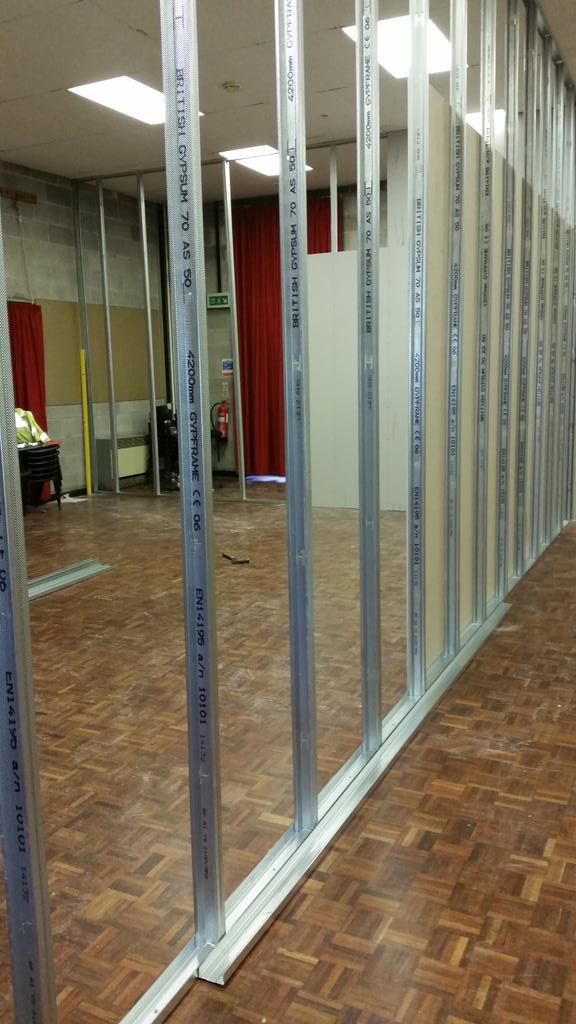 Here it is…the moment we have all been waiting for…our hall becoming 2 classrooms.  Although not finished, within five hours, stud walls were erected and partitions created to make two new classrooms.  These walls are temporary but sturdy and as I type, are also being insulated.  Longer term, these will be replaced by permanent walls which will be more in keeping with the open plan nature of the school. Year 5 and 6 who have been waiting so patiently to move classrooms know that this is now imminent and were desperate to see the changes unfolding before their eyes today.  A truly exciting development.
Tuesday 20th January 2015
Having just been on 'my rounds', I thought I would share with you all how fantastically focused and dedicated the children are around school.  All Key Stage One classes are using a story plan to write their very own stories about Percy the Park Keeper.  For children of 5, 6 or 7 years of age, to show the discipline and concentration they do of shaping their own stories individually is something that makes me really proud to see.  The lower juniors were working on Maths, whilst the upper juniors were evaluating a text, forming opinions and having a discussion on zoos – ask them what their thoughts were! Also happening today, is the arrival of some more equipment ready to lay our temporary path around school for access to and from the junior building.  Please look out for new fencing appearing of where we can and cannot access to keep us all safe.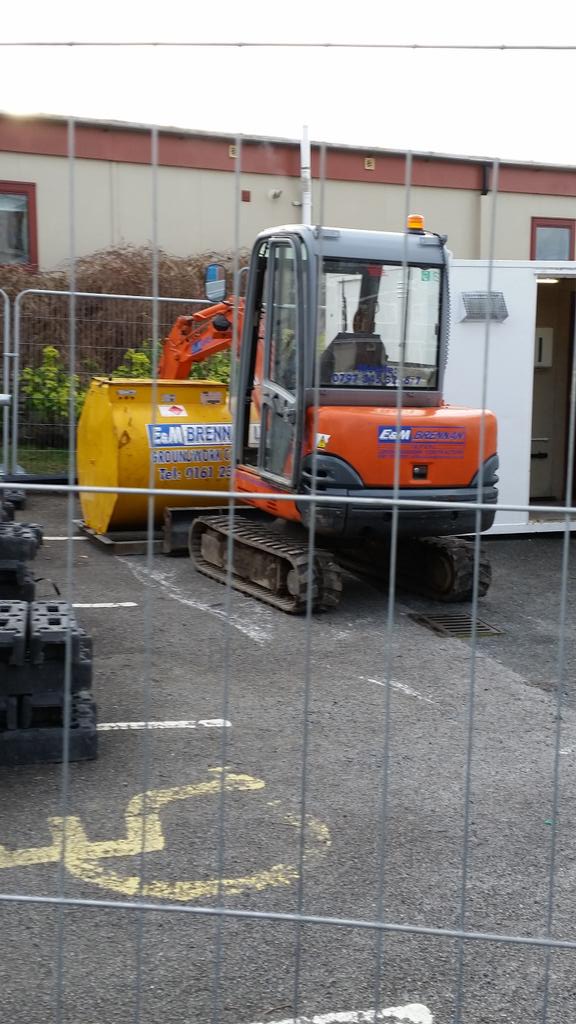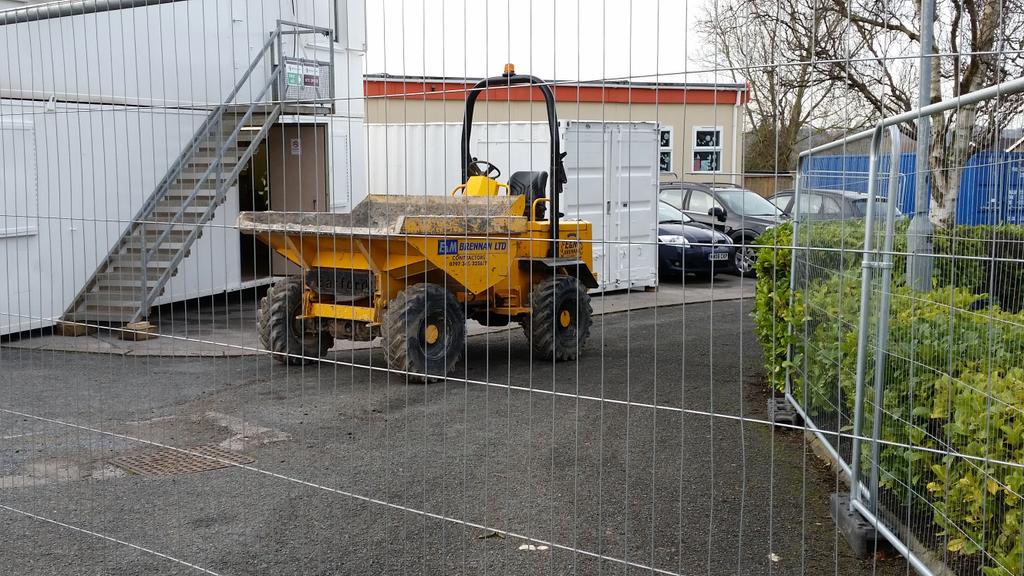 Monday 19th January 2015
The theme of assembly this week is 'The Importance of Reading', which ties in very well with the whole school drive on reading this year.  The children have heard the tale of two kings and how one felt that reading was of no importance to him, and the other felt that reading could make him a wiser man.  This has given the children lots to think about when he explored the moral message from the story.  Ask your child this week when we have had assembly and what they have learnt about the importance of reading.
SAVE THE DATE
Also, please note that we are holding a Parents Evening in the last week of this half term, February 9th-13th 2015.  Staff are busy trying to allocate time slots for your appointments and are organising appointments for those children with siblings on Wednesday 11th February.  Please check your child's book bag next Monday to find the letter with further details about this.
Friday 16th January 2015
Another week draws to a close and I have finished it as I started it – listening to children read, this time in Years 1 and 2.  It has been a joy to share in the obvious love of books that the children have and I look forward to listening to more readers throughout the year, particularly as we look forward to establishing the new library as the rebuild takes shape. Just to note that as of next week, the new temporary path will be created, running from the back of the junior building, across the grass, around the tyre park and onto the top playground.  This is to be used for access as the existing path will be obscured by scaffolding over the coming weeks.  The old Reception playground will also cease to exist and the path that links the front of school to the top playground and pre-school will also be fenced off.  Please use the access paths an both gates to ensure we maintain a free flow of 'traffic' as best as we can to keep school as safe as we can for all.
Thursday 15th January 2015
A light dusting of snow today, which is always a relief to me as it means it is not serious enough to close the school!   This may be the last snow our school sees as we know it, and whilst I know that many of you may well love snow, selfishly, I am hoping that our winter is not too hindered by it as we do not want this to slow down our rebuild in any way at all!
Wednesday 14th January 2015
As part of our staff training throughout the year, we have meetings each Wednesday with specific, directed training which is identified through the School Development plan to best support teaching and learning.  This covers many areas such as curriculum, behaviour, well-being, inclusion and special educational needs.  Training tonight saw a guest speaker attend from the NHS, updating staff on supporting children with specific behavioural needs.  Such sessions are invaluable as we are then fully up to date with new initiatives or thinking on how best to support all pupils in their experiences – academically, socially and emotionally – whilst at school.
Tuesday 13th January 2015
More reading today, where I have spent much of the morning listening to readers from Upper Key Stage 2 in Years 5 and 6.  I am trying to gain a full understanding of the skills that children use when they read so that we can tailor our curriculum to support this learning best.  It is important that the children also realise that reading is many different things.  It is not just 'reading the words' in front of them but it is enjoyment, understanding of what they have read, being able to discuss the implications of a story, locating appropriate vocabulary, discussing the author's use of language and so much more.  Children read to adults in school every week, either on a one to one basis or in Guided Reading sessions.  They will also have chances to 'read for pleasure' on their own or with friends or with a 'Reading Partner'.  Throughout all of their reading experiences, they will read a variety of texts and genres – stories, non-fiction, adventure tales, myths, legends and fables, newspapers and magazines, word games and so much more.  Your support at home is vital to this process and is always appreciated as we know how busy life can be.
Monday 12th January 2015
One week into the building project, and everything that has been planned to happen HAS happened!  So far, so good!  We have contractors on site, a compound has been set up, temporary offices have been delivered, electrical engineers have been along with demolition experts to survey the next stages of the work and the hall is being worked on to create two new classrooms.  Not bad for 5 days work! I have spent my day listening to children from the lower juniors read.  Such a simple part of daily routines to teachers, children and parents and one that I used to love doing daily as a class teacher. Unfortunately, I don't often get the time to do that much of it, but this week as part of our whole school push on reading, I am listening to a selection of children read across school, to gain a wider picture of how children learn to read and how best as a school we can support children's learning.  What's more, I have had the most fantastic time doing it!
Friday 9th January 2015
An unusual post for today but one that we are really very excited about.  For the last 6 weeks, one of our Year 6 pupils Lucy, has been starring in Shrek the Musical in Manchester.  Many of the staff went to watch Lucy tonight as she played the part of 'Young Fiona'.  We are immensely proud of Lucy, as we are of all the children in school for their respective talents.  It was also a warm reminder to us all of the potential that each pupil has in all manner of areas, be it academic, sporting, musical or otherwise.  At Warren Wood, we aim to promote a breadth of opportunities to support these skills throughout school and we are thrilled that Lucy got to live her dream and that we could share in the excitement of watching her.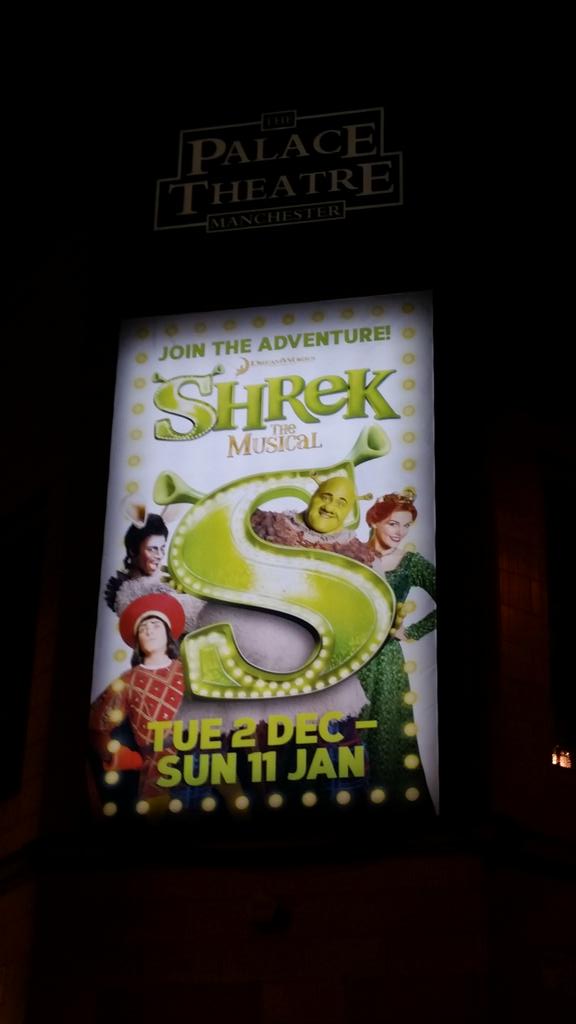 Thursday 8th January 2015
The final stages of packing up shared belongings has now taken place.  At weekend, the removal firm are coming to take away and store our belongings before the building work commences on Monday.  This work will see temporary cabins delivered and enabling works take place to ensure that the hall is safely transformed into two classrooms for our Y6 and Y5/6 classes.   Every day now, we are seeing changes that spell the end of this period of waiting for school and signify the excitement to come.  As part of these changes it will mean we need to make some amendments to our PE arrangements.  Please check your child's book bags tomorrow for a letter outlining these changes.  Alternatively, look at the 'Letters' tab on our website, where you can download this letter too.
Wednesday 7th January 2015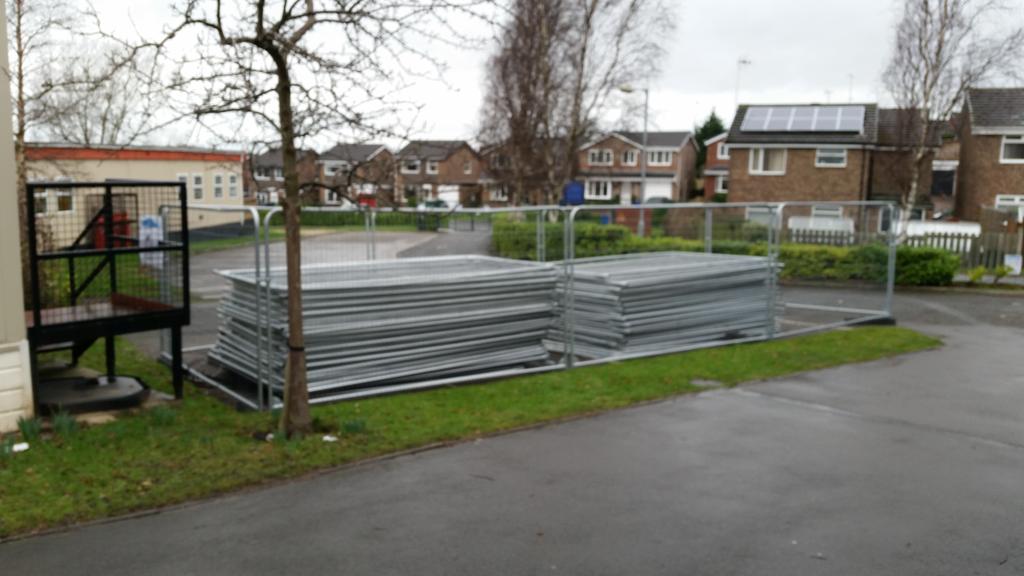 The first visible signs of change for the outdoors…railings, and lots of them!  Lots has been going on behind the scenes in school, in the hall and shared areas such as the library in preparation for our building but now and every day, we are going to see deliveries arriving and changes to the environment every day.  Please remember to keep yourselves and families safe as the changes to our site change and I will endeavour to keep you all updated as regularly as possible.  Please also remember that the school car park is absolutely out of bounds to all.  Only contractors and school organised deliveries will be allowed onto the car park.  This does not include the drop off of equipment for children I am afraid, as it is purely to be used as a compound for the contractors and has been agreed as such for the safety of all.  This has also been signed off on the contract and so must be adhered to.   A necessary yet small price to pay for the gain long term.
Tuesday 6th January 2015
Everyone is well settled after their Christmas break and back into the swing of things for the new year.  We have some exciting new topics that we are learning about.  These are: Reception – Rainforests Key Stage 1 – The Garden Shed Lower Key Stage 2 – Vicious Volcanoes Upper Key Stage 2 – Children in World War II For further information, please check the curriculum planning maps that can be found on the school website.  Just follow the tab labelled 'Curriculum' and check under the relevant tab for a link to show the full year at a glance.
Monday 5th January 2015
Happy New Year to you all!  And what a year it promises to be!  This is the year that our school is to be rebuilt into a building that is befitting one that our children and staff deserve.  It may seem like it has taken a long time to get to this point, but already today, enabling working have begun, with ICT experts re-siting servers, cabling and whiteboards into the hall for our new classrooms for Years 5 and 6.  If you don't already, please follow us on Twitter @W_W_P_S where as new things happen, we will tweet to let you know or show you the pictures as they occur.  We shall also be using the hashtag #newyearnewschool so look out for updates.
Friday 19th December 2014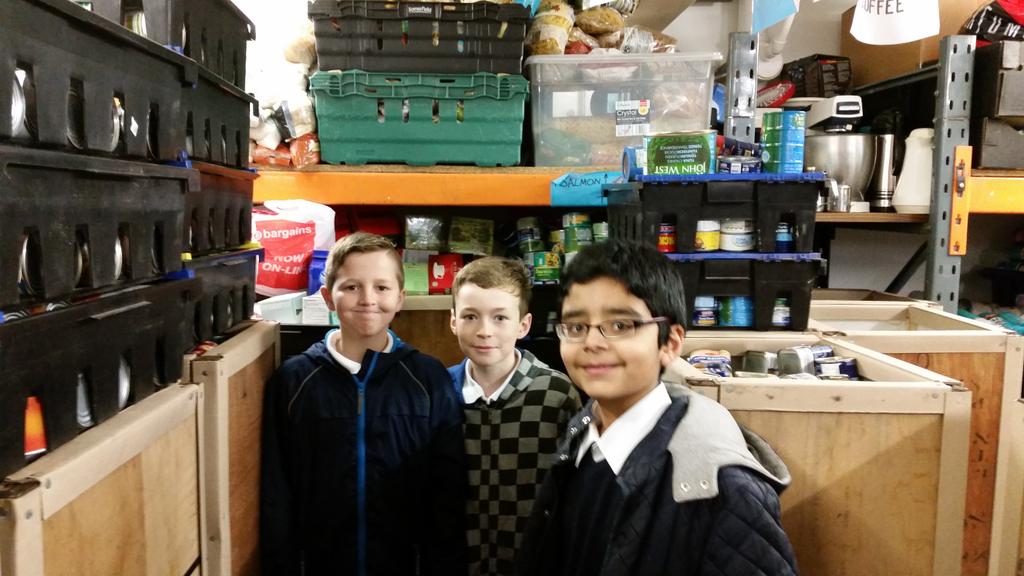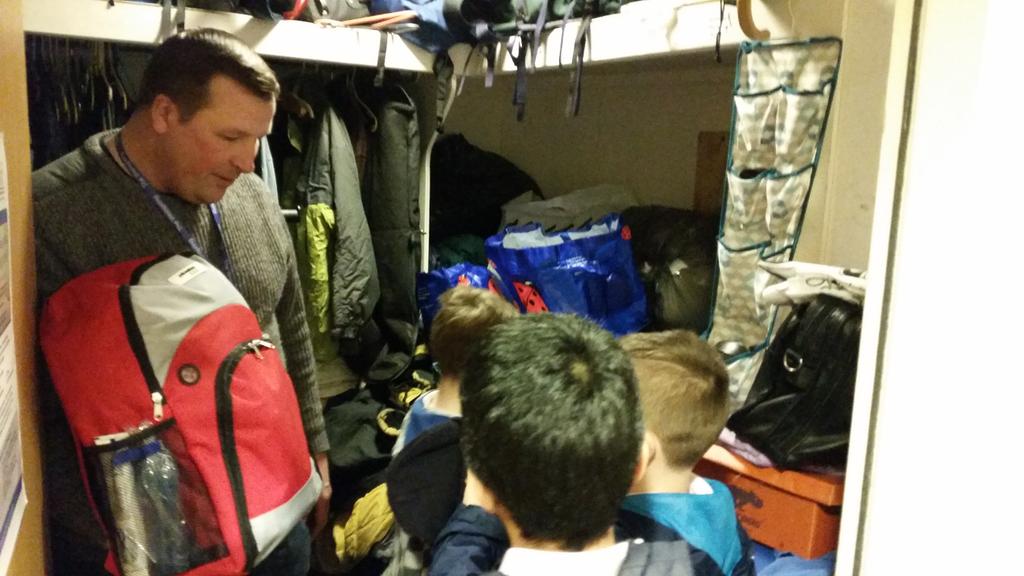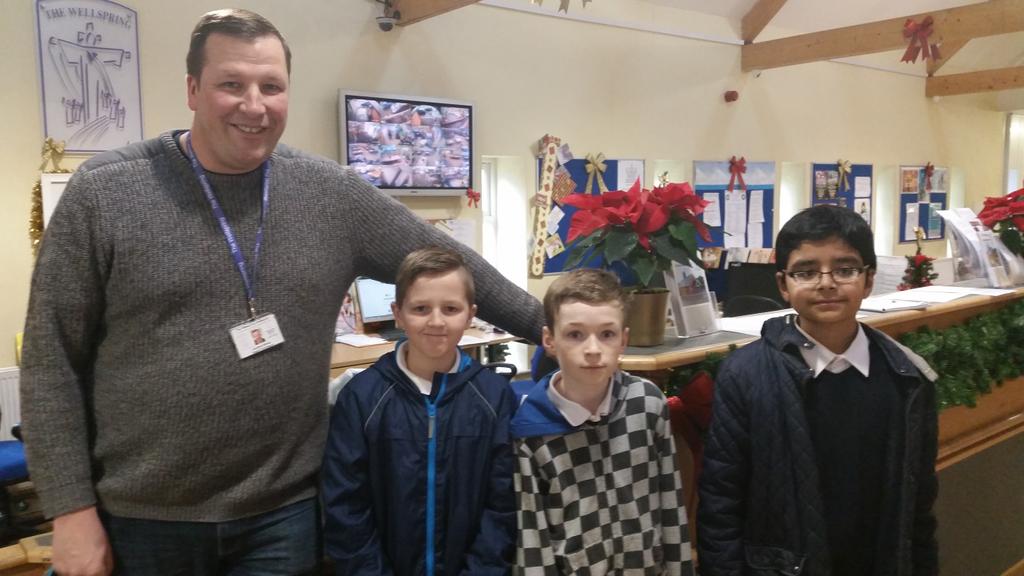 Today, three of our Year 6 students who were responsible for organising our collection for the Wellspring went to visit and deliver a Christmas cake for all the visitors to the centre.  We met Jonathan who is the Project Manager at the Wellspring, who very kindly spared some time to show the boys around the centre.  We saw the food store that serves both families in times of hardship and homeless people.  We also saw the collected donations of rucksacks for this years Rucksack Project and had a tour of the other facilities that visitors to the centre have the opportunity to use.  As we left, three men were waiting to go into the centre and stopped the boys with a humbling message.  They said 'Don't you end up like us boys.  Work hard at school, get a good job and be good for your teachers and parents'.  A stark moment that rendered the boys silent on the journey home.  As we arrived back at school, the boys delivered a speech in assembly, giving the same message to the whole school and reminding the other children just how lucky we all really are.  If you would like to find out more about the Wellspring, please take a look at their website for further details. Personally speaking, today also signifies the completion of two years of Headship at Warren Wood.  I can barely believe two years have flown by in the way it has.  It is fair to say that it has been packed full of lots of hard work, fun and some very tricky decisions.  I appreciate that all decisions aren't always popular but I can assure you that they are always for the best and made with the fullest of information at our finger tips at the moment they are made.  The coming year is going to be the same with the building work starting after the holiday, so rather than worry about change, our motto this year is to embrace it because it will all be worth it in the end when this time next year, we have a beautiful new school to be proud of. Happy Holidays everyone!
Thursday 18th December 2014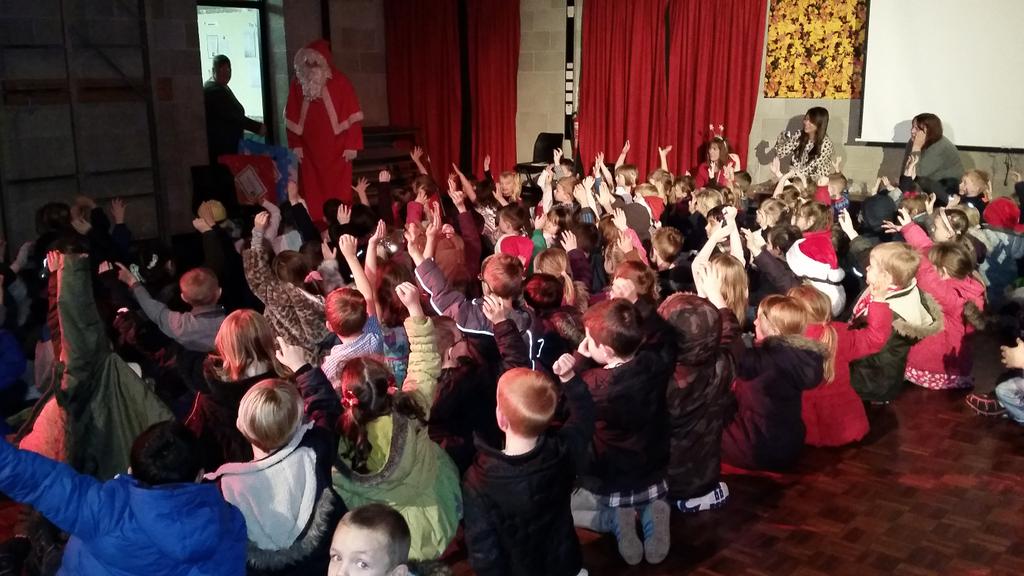 What a fun day today for all of our Infant and Upper Junior children who had their Christmas parties.  Everyone looked glorious in their party clothes and had lots of fun.  In amongst the packed schedule, we had a very special visitor to school – Father Christmas!  He spoke with children about what they wanted and checked to see if they had been good this year, which of course they all have!  Thank you so much for Father Christmas making time to come and see all of us at Warren Wood.
Wednesday 17th December 2014
Today, our Infant children went to watch the pantomime, Dick Whittington, at Romiley Forum.  Today was also Christmas Dinner day at school.  Unlike the past few years, this was only for children who usually eat school dinners.  I understand that this was an unpopular decision for many people but a necessary one.  School has no obligation to offer a Christmas dinner, but has chosen in recent years to do so as it is an exciting time for the school community to share in the spirit of Christmas.  We currently serve 180 lunches in one hour every day, which is no mean feat.  However, Christmas lunch potentially would serve 280/300 lunches.  In our current situation, the space to serve and eat lunch was the deciding factor.  However, all children who ate their own sandwiches were treated to the usual Christmas music, novelty dressing up from staff, Christmas decorations and crackers to enter into the spirit of things.  We also have plans for lunchtime treats as the building programme allows along the way so that children do not miss out, but experience fun in different ways. Please remember, if you have questions or concerns, always know you can raise them with me, rather than generate any speculative ideas which are then brought to my attention by other parents.
Tuesday 16th December 2014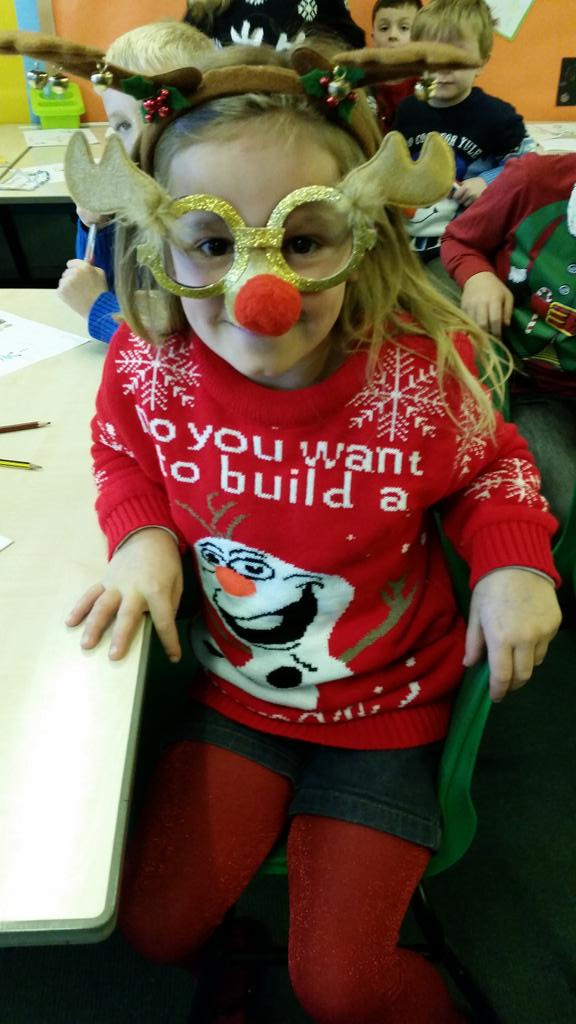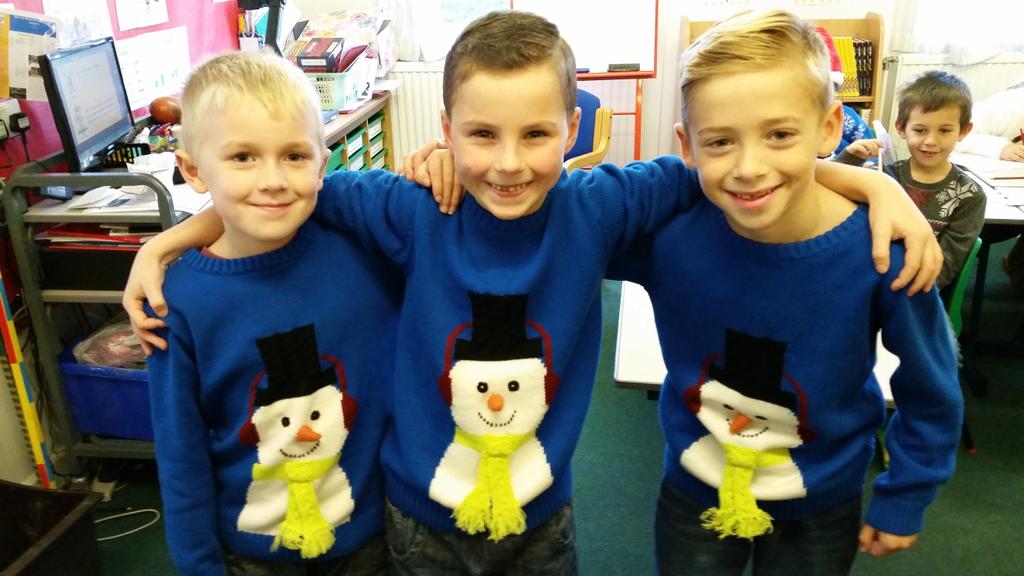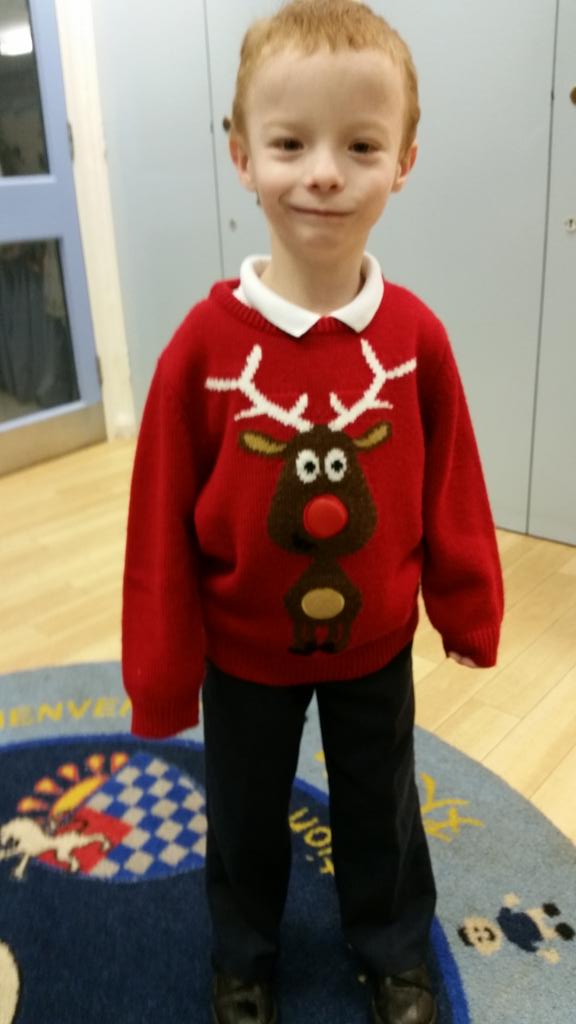 Today was Christmas Jumper day, where everyone entered well and truly into the spirit of things by wearing all manner of festive excitement upon their person.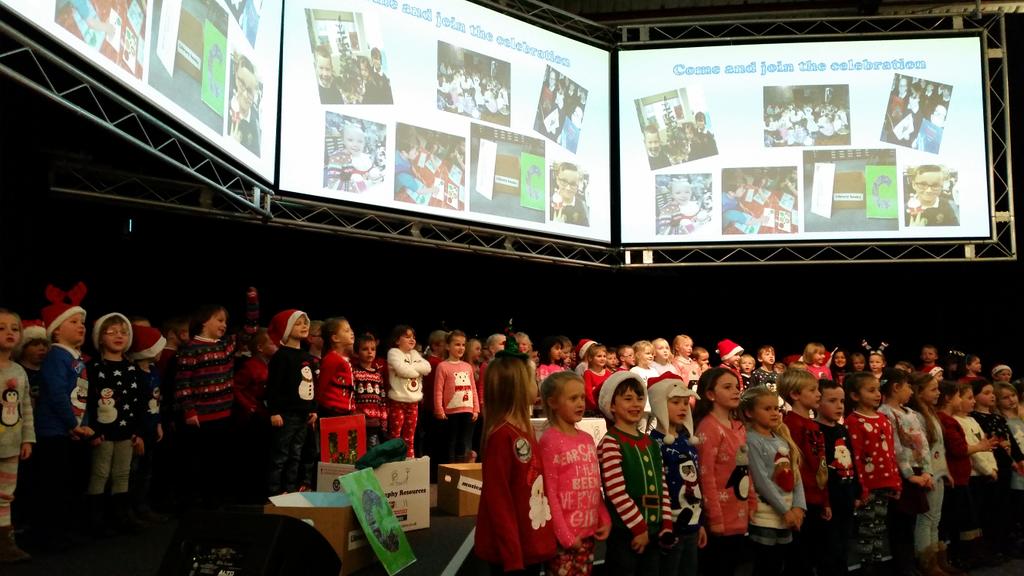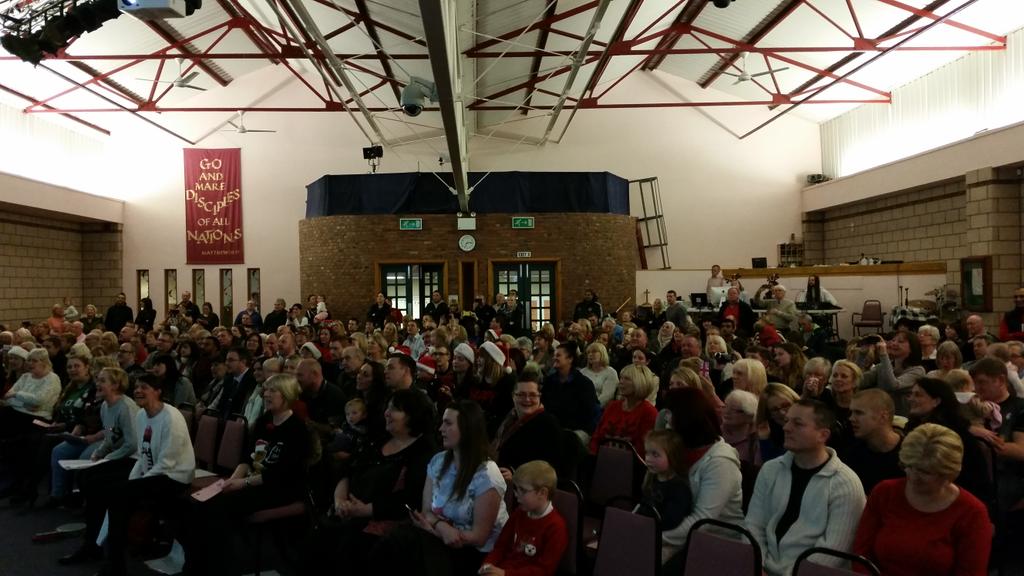 This also tied in well with our Infant Christmas Concert which was held at Hazel Grove Baptist Church.  This was a concert with a difference – a carol concert with a twist and its' own unique take on the building work and the amount of boxes packed so far already!  Thank you so much to all of you who were able to join us and for entering into the spirit of it all yourselves by wearing Christmas jumpers and hats and by joining us in singing along too.
Monday 15th December 2014
Today is the last Monday of the year in school and the last Monday as we know it with our building as it is.  Children are still all learning in their classrooms, even though we have lots of festive fun lined up throughout the week. Final preparations have been taking place for our impending building work too.  Representatives from our contractors and Carillion have met at school to iron out the last few questions and practicalities before the new year sees us begin the work on our building.  A letter will be sent out this week and will be an update on the building work including changes to access points to be considered.  This letter will be stored on the school website under the 'Newsletters' tab, named 'Building Update'.  Please keep checking here for regular updates as and when we have them.
Friday 12th December 2014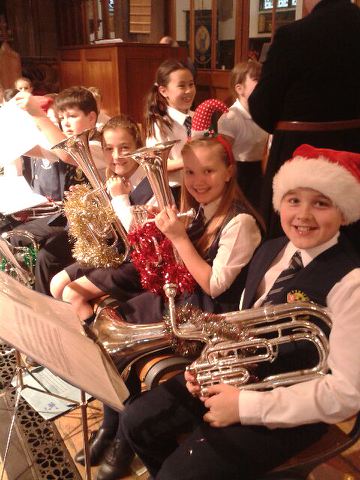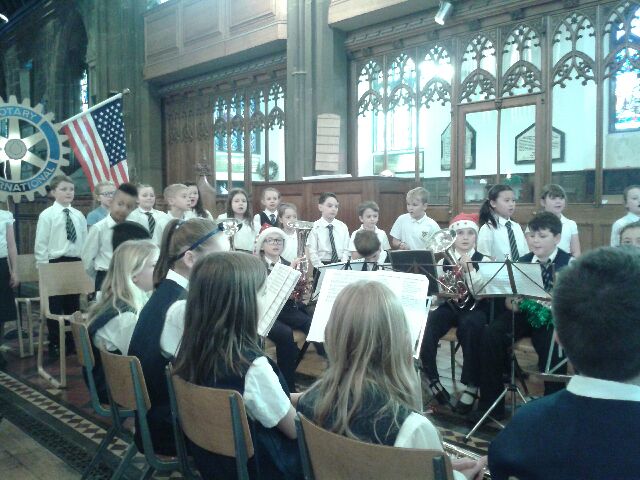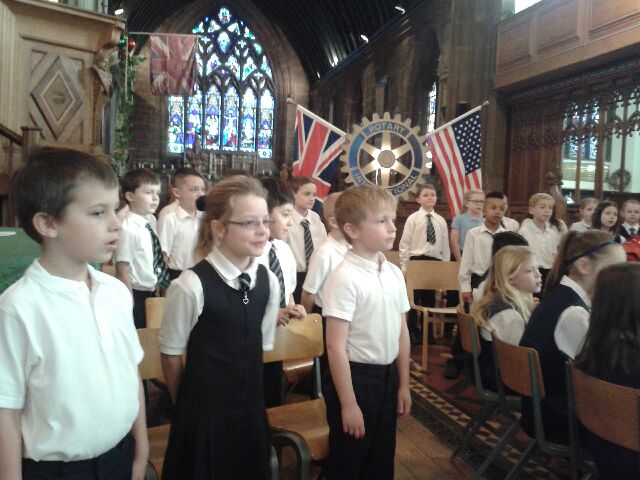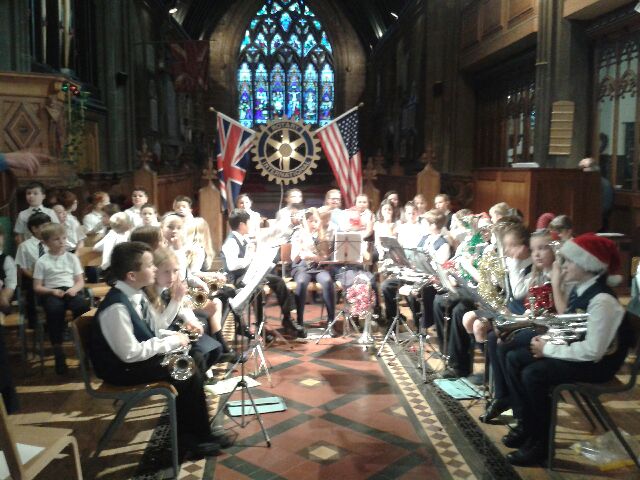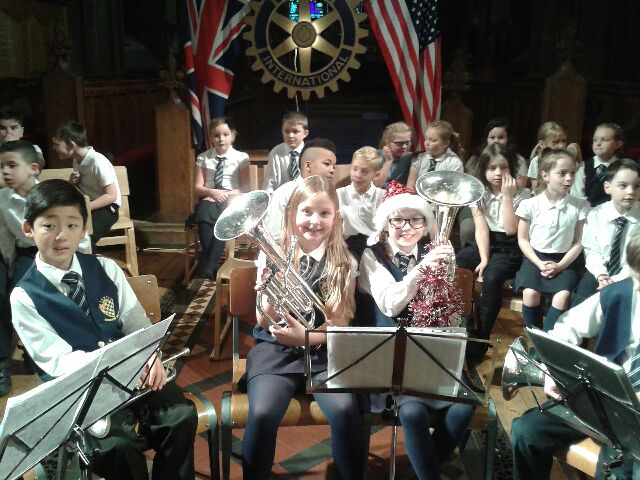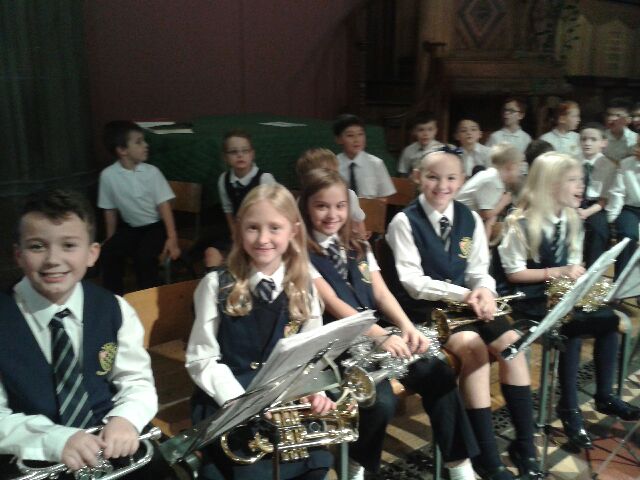 Today, the children in Years 3 and 4, plus the brass band, went to entertain the local community in Stockport with Christmas Carols, singing and music for the Age UK Christmas Service.  It is a really special time for the school and community and we are so pleased that so many of you were able to join us to really enter into the spirit of Christmas.
Thursday 11th December 2014
One of the many visitors school has each term is the Children and Young People's Services Worker, previously known as the Education Welfare Officer.  Ours visited today and takes time to meticulously go through our registers to ensure that all children have a high level of attendance.  If your child is ill, this cannot be helped of course.  However, if there are repeated patterns of absence, school issue a letter to raise your awareness of this.   We do not want this to upset or unsettle, but is just one tiny strand of what we do each day to ensure that your child is safe and well in school.  It is also part of our duty of care to chase up if there has been an absence or illness so that we can fully explain where your child has been.  If you do receive a letter from school, please do not hesitate to come to the school office to have a chat about the finer details so that we can update our records.
Wednesday 10th December 2014
It is not even playtime and already we have a set of singing Infants, some Year 6 children decorating Christmas cakes and some electrical engineers evaluating and assessing the hall prior to works beginning!  This is becoming 'all in a days work' to us at school, recognising the need to be flexible to the changes happening around us, but ensuring that the children and teachers carry on with 'business as usual'!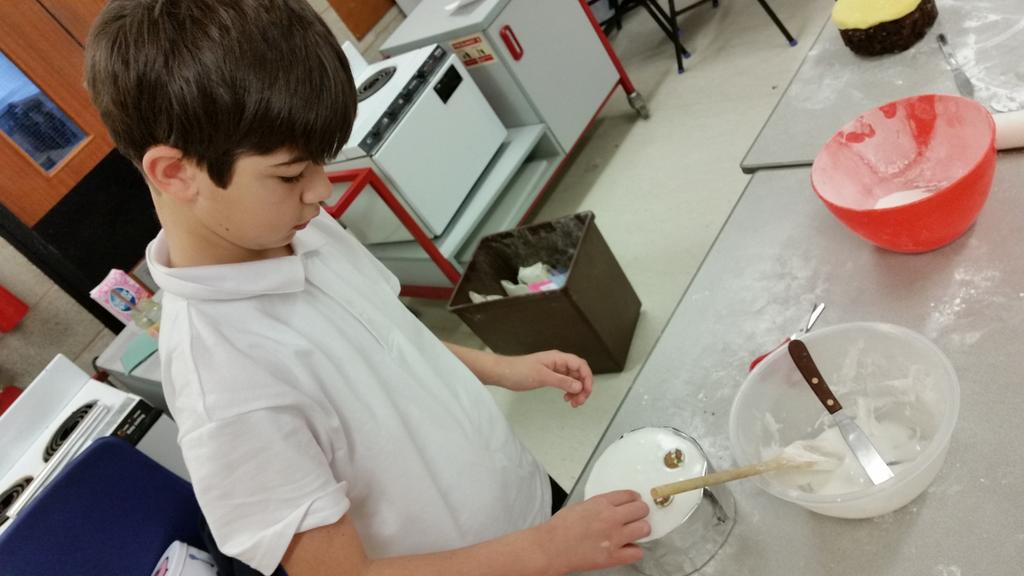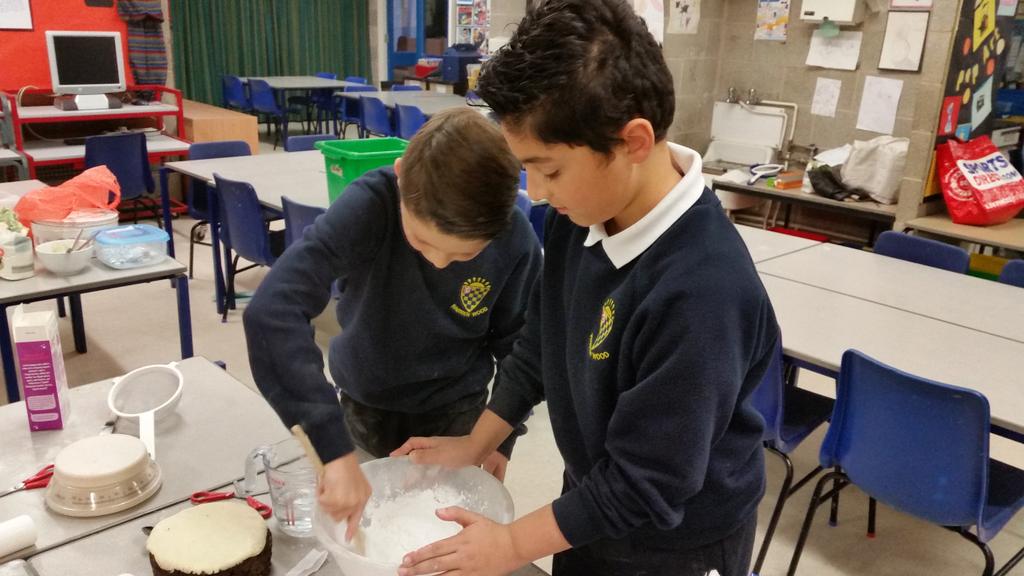 These picture do not do justice to the amazing aroma that was wafting around the corner as I went to 'quality assure' the cakes!  Sadly, I wasn't allowed to sample any, so I can only say to you all that if these cakes taste as good as they smell and look, you are in for a real treat!
Tuesday 9th December 2014
Oh, the weather outside is frightful…so we thought we would have a snuggle day for all of the Infants!  I was really quite jealous of seeing the warm and snuggly pyjama and onesie combinations today but it is well and truly needed today.  It has been a long and tiring term with lots of changes and so a little bit of TLC does not go amiss.  The junior children will not miss out either and they are also sharing in a snuggly lunchtime in the hall watching a DVD to keep away those winter blues.  I hope you have all had a fabulous day!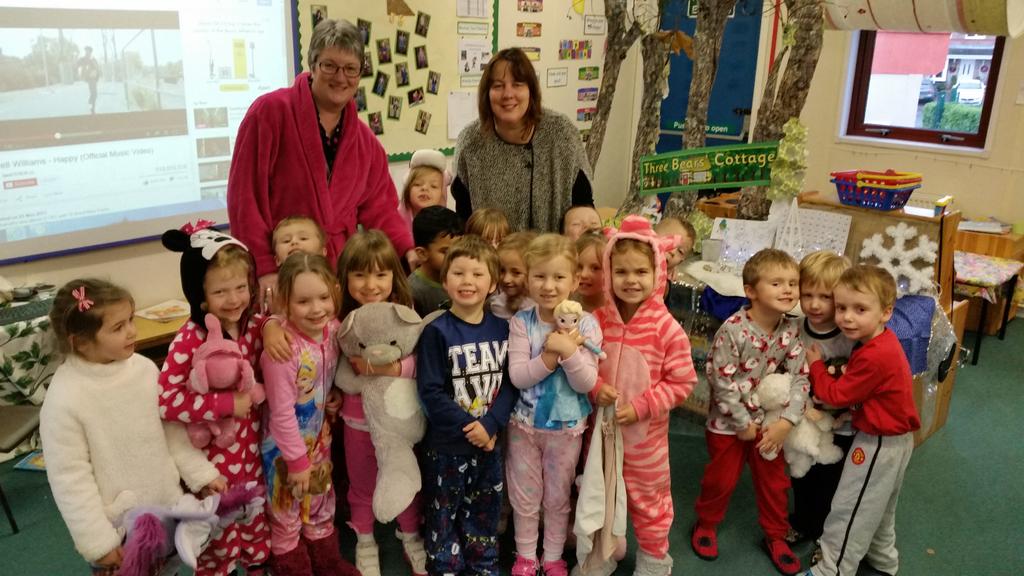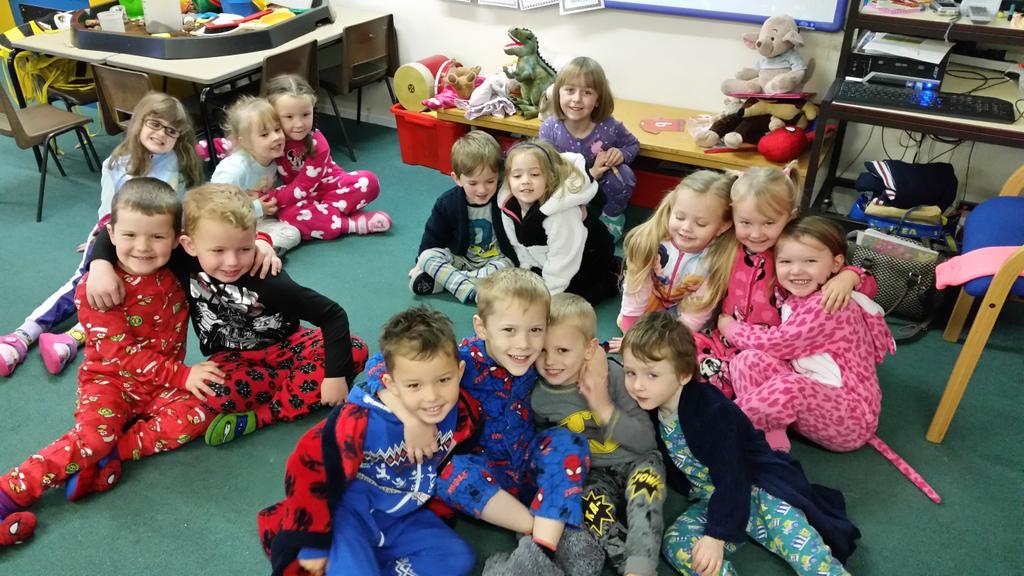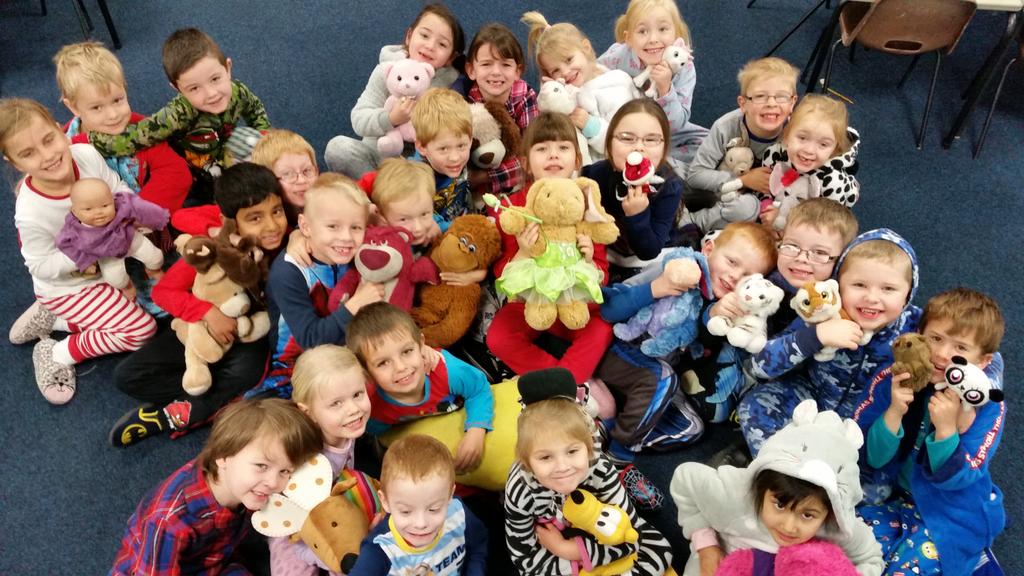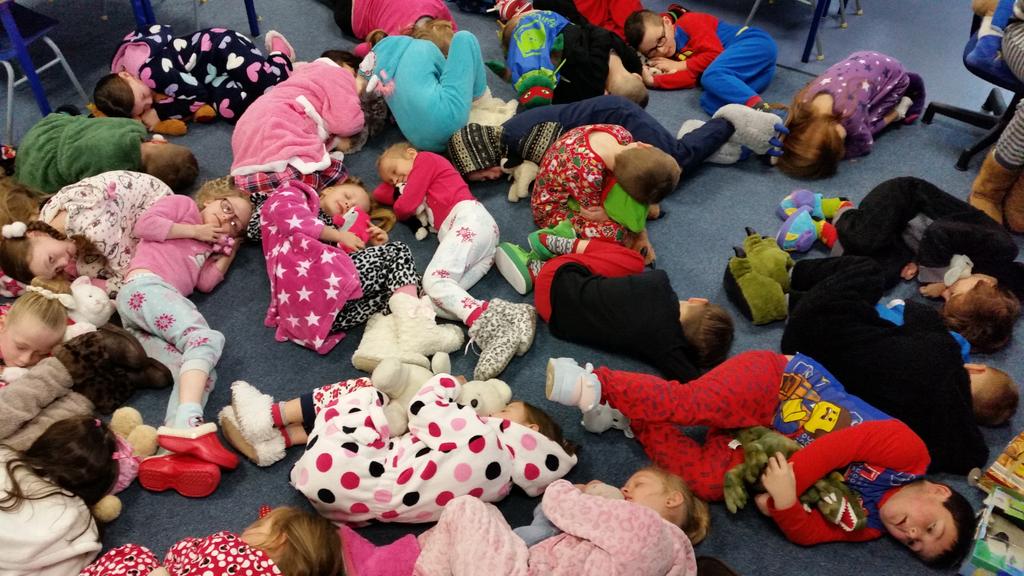 Monday 8th December 2014
Demolition experts who are sub-contracted as part of our construction team have visited school today.  They have taken lots of time to look externally and internally at the building, specifically the roof and how they will strategically deal with the job of removing this safely.  Preparation work is taking place each day now in terms of site visits or behind the scenes and it won't be long before they are on site.  It's all getting so much more real now but still it is very exciting.
Friday 5th December 2014
Well, for those of you doing the 'school' run' at home time tonight, I do hope that you managed to make it home before the hailstones got you!  The sky went an amazing colour and then we were treated to lots of different weather all at once!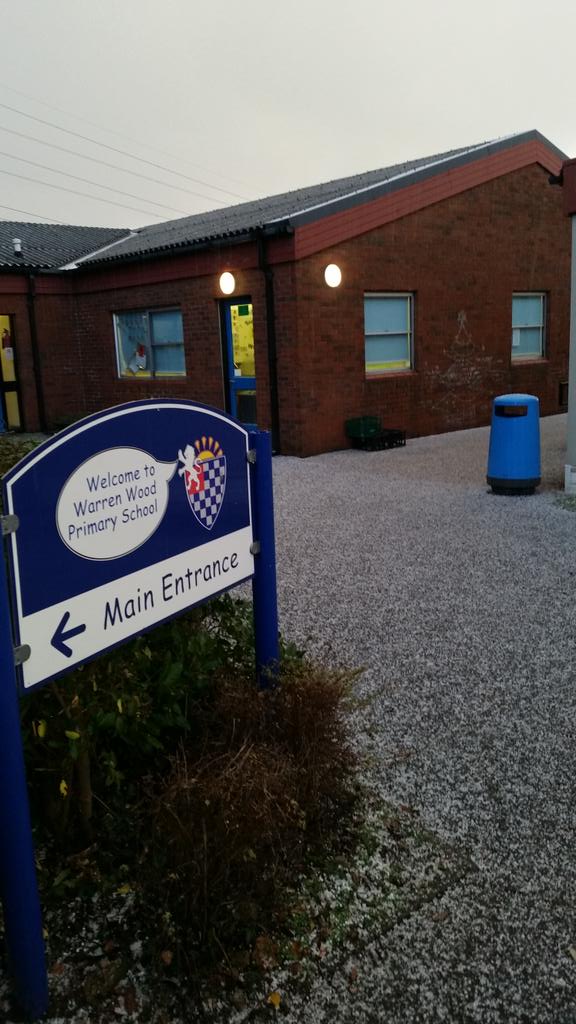 Please use this as your reminder that winter is well and truly on the way and remember to wrap up warm next week.  Please also remember to name all items of clothing as it makes it so much easier to return to it's rightful owner if it does go missing.
Thursday 4th December 2014
Lots of preparations are taking place throughout school towards making Christmas a special one for us at school.  Lots of singing, song lines, music and fun are taking place wherever you go at the moment.  We have lots of treats and excitement lined up to for the end of term.  Everyone is working so hard and it is clear to see that we are all embracing the excitement of this time of year to help us through the tricky bits too.  Keep up the hard work everyone.  Only 2 weeks and a day to go until a well earned rest.
Wednesday 3rd December 2014
One of the jobs I do each term is observe all the classes formally.  This is in addition to the informal visits I pay to each class most days, but serves a valuable purpose in gaining a wider picture of how children learn in our school.  In line with our key focus this year of improving reading, I have watched all classes in Reading sessions of some description.  The children throughout school are able to talk with interest about what they like and don't like about reading, how they can improve their reading skills and how they can move forwards.  They are also very clear in knowing that it isn't always about reading the most difficult book that they can find that counts, but more about the skills that they use to find out information, discuss the story further and understand the vocabulary they are using.  I am thrilled to see such a wider understanding amongst the children and one of my main aims for our rebuild is to provide them with a library and reading resource area that we can all proud of and share in.
Tuesday 2nd December 2014
Our assemblies have now changed slightly due to the preparation work taking place in school.  We can no longer use the hall and so I have my Headteacher assemblies in Key Stages – Monday is Lower Key Stage 2 -Years 3 and 4, Tuesday is for all Infant children and Friday is for the Upper Key Stage 2, Years 5 and 6 children.  Each week we have a theme where the children have chance to listen to a story and discuss the moral themes surrounding this.  This week, the theme is 'Unselfishness'.  Ask your child about the story 'The Selfish Giant' and what they learnt about how to be kind, caring and to share things!
Monday 1st December 2014
December already!  Where is the time going?  Tonight sees some of our Year 3 and 4 children joining in the Carol Service with other schools in Stockport.  It is a lovely way to open the festive period at school and it is always lovely to see so many of you at the church to join in this celebration.  As I type, the children are rehearsing at the church so that tonight the performance will run as smoothly as possible.  It is clear to see from the smiles on the faces of the children that they are enjoying this already.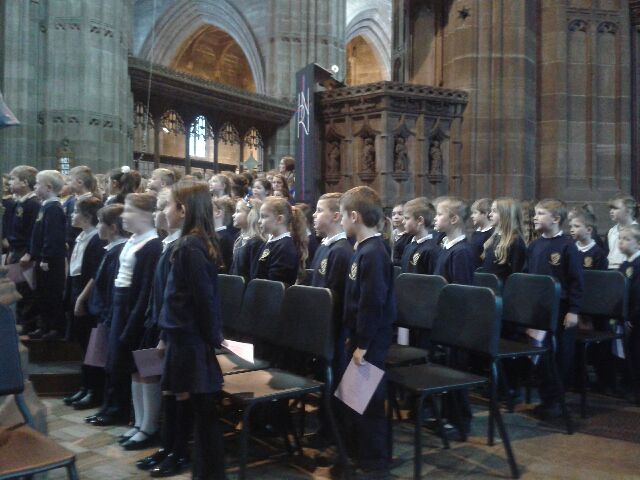 Please do not worry if your child was unable to take part tonight.  On Friday 12th December, our Year 3 and 4 children who could not make tonight, will be singing at St Mary's in the Marketplace, Stockport, for the Age UK concert.  We hope to see you at one or the other performance to join in the festive fun.
Friday 28th November 2014
Did you know that throughout school we have a Class Governor scheme in operation?  Each class has their own representative from our Governing Body who works as a liaison between the governors and school to build a greater understanding of how our school works.  Today, the Year 2 children in Mrs Cowie's class were treated to a visit from their class governor, Mr Guy Otten who spent a whole morning with them.  The class had prepared some questions to ask Guy, who very obligingly had a Q and A session with them all.  He also listened to some children read and was given a guided tour of the old parts to our school and the new parts, even if only temporary.  We are really grateful to Guy and all of our governors as it is not always an easy job to do.  Our governors are volunteers who commit some of their time to attending meetings to support school.  They also ask lots of questions, sometimes fairly tricky ones too, to hold the school to account and to make sure we keep 'reaching for the stars' to make our fabulous school even better.
Thursday 27th November 2014
Today it was lovely to spend lunchtime out on the playground with all the children.  I try where I can to ensure that I see all of the children each day, whether it be in their classrooms or in a more informal setting such as the playground.  It is always nice catching up on their news and being able to see how they build their friendships.  We are very lucky at Warren Wood, because although some children will have the occasional 'falling out', these are often resolved within minutes.  Our children are really supportive of one another, particularly taking a nurturing role of the younger children in school.  It is wonderful to see the proverbial 'arm around the shoulder' as they lead them through each lunchtime and playtime and something that I value as a true strength of our school.  Well done to all the children because I speak on behalf of all the teachers who say that this is one of the things they love most about all of you!
Wednesday 26th November 2014
We have finally had our meeting today regarding the building work.  Many representatives from our contractors, the council and school met together for the first time to discuss plans for the build, logistical details about the beginning and end of the school day, use of the playgrounds and much more, and that's only a drop in the ocean compared to the talk of steelworks, bricks and scaffolding.  All the parties were in agreement that whilst it is disappointing it has been delayed slightly up until this point, that once the job is done, it is going to be amazing.  We absolutely cannot wait and as soon as I have specific details of timescales for the job, I will update you all further.
Tuesday 25th November 2014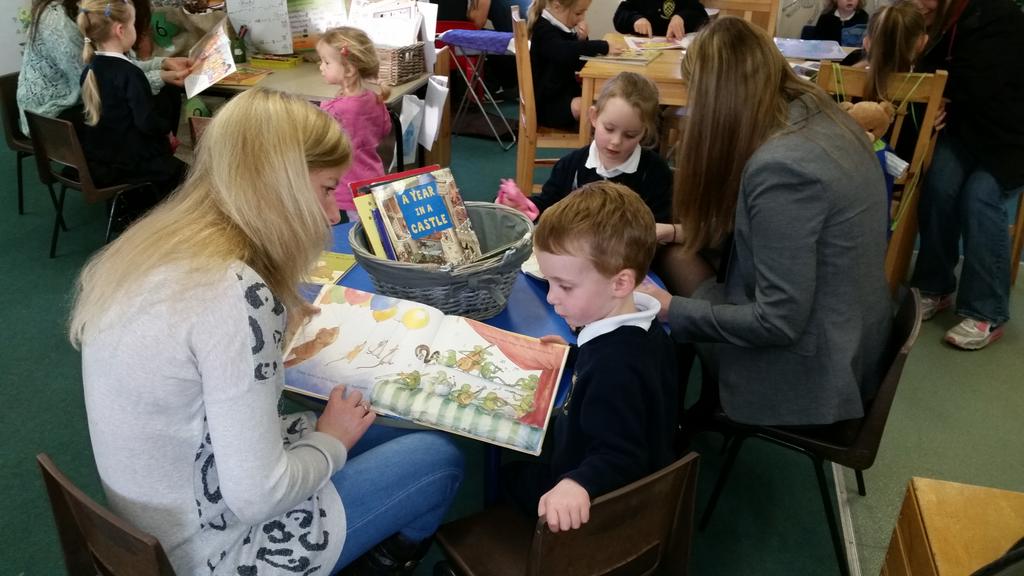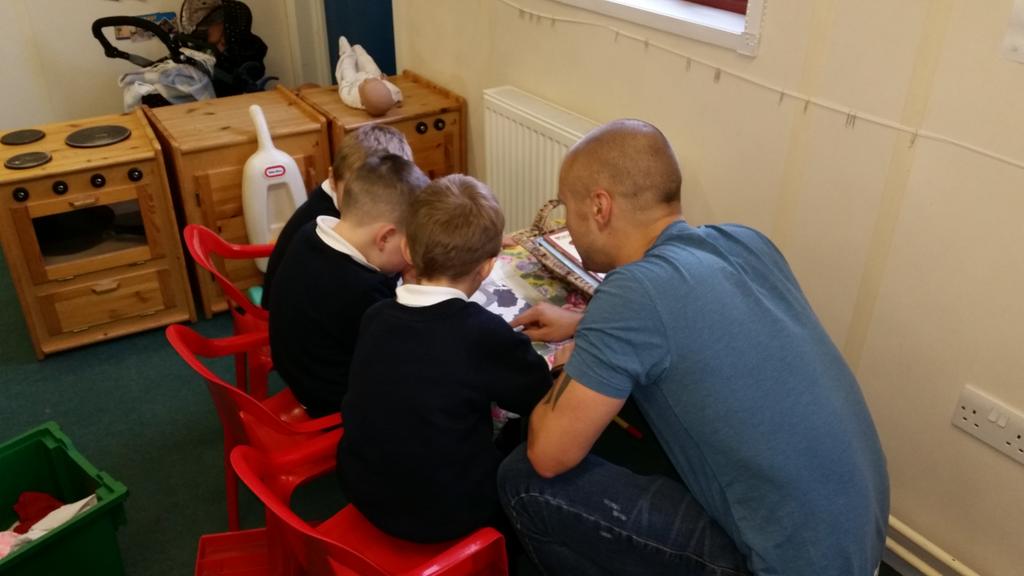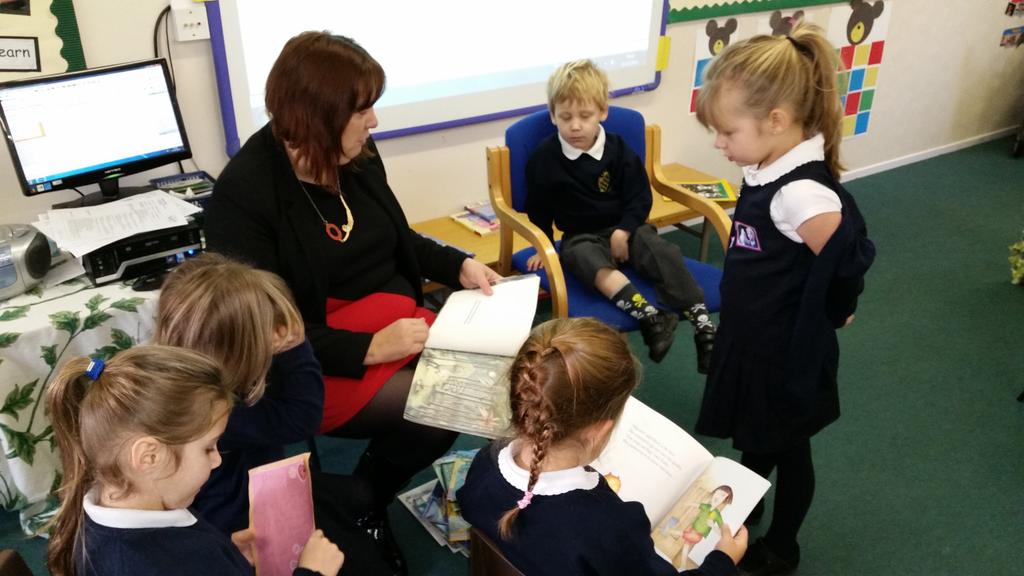 Thank you to all the mums and dads who have come to the Reception 'Stay and Read' sessions.  These happen every Tuesday first thing in the morning until 9:15am and are a great way of sharing in the start to your child's day in school and help to encourage their love of reading.  It has been wonderful to see so many of you over the past few weeks and to see some different faces too.  We appreciate you have busy days and commitments but it is wonderful to see so many of you supporting school and your children.  Thank you!
Monday 24th November 2014
A demolition expert visited this morning – this HAS to be good news!  He came first thing before school and assessed the site prior to our full meeting this week.  I have been sent an agenda for the meeting which is heavily weighted towards the Health and Safety Executive and ensuring that all areas of the site are safe at all times.  One of the things we are to discuss is concerning drop off and pick up times so that you as parents are not affected.  Could I please ask that this works both ways, as we are still seeing parents dropping off at the school gates, on the car park and in the gateway of the car park.  We are trying our best every day to keep your children safe and hope that you will help and support us in this.  This also includes families who walk across the car park or stand on the car park.  It is not safe to do so and we ask that you are vigilant.  Thank you.
Friday 21st November 2014
Today, our Infant children were visited by Jill Henderson-Wild as part of the Stockport Singing Programme.  She works with each class learning new songs, teaching them all manner of skills to help become better singers and performers.  She hopes to hold a performance of these songs later on in the year, when hopefully we will have a school hall to share it all with you.  Watch this space! Our Junior children braved the elements today for outdoor sports.  They are extremely well prepared with their kits and waterproofs and we know who to thank for that!  Thanks as always to all of you for ensuring their kits are here, in school and to hand for all weathers.
Thursday 20th November 2014
Our Infant classes are well and truly in the swing of their new temporary home.  Apart from having an outdoor path to negotiate in the cold and wet, it is very much business as usual.  We are very aware that the path can become congested at drop off and pick up times and ask that you are patient with us in terms of dismissing the children at the end of the day.  The staff and I would far rather take an extra couple of minutes to ensure that your child is safe than rush so please bear with us.  Thank you.
Wednesday 19th November 2014
We received notification today of the rebuild and school expansion plan meeting, scheduled for next week.  At this meeting, we shall iron out the finer details, meet with our contractors and hopefully will create a schedule of work that we will be able to share with you very soon.
Tuesday 18th November 2014
Our prime concern every day is the safety and wellbeing of your children.  This includes their health and care for their physical and emotional wellbeing.  All staff have received INSET training to deal with most paediatric emergencies that may occur in schools.  Today we say a huge congratulations to Mrs Brealey our Pastoral Manager and Mrs Danby one of our Teaching Assistants who also works as a Midday Assistant, who have passed their Paediatric First Aid Qualification with St John's Ambulance.  Well done to you both.  Hopefully, the only issues that they will deal with will be minor ones, but we as always are prepared for anything!
Monday 17th November 2014
Today was our first day in our new and temporary kitchen and canteen area.  Our kitchen staff did a brilliant job, preparing the hot meals at another school, then arriving with them in style, setting up and serving on time with a smile.  Our fabulous Midday Assistants managed to organise the new routine brilliantly and ironed out any teething problems brilliantly.  This is just one of the temporary but necessary changes to make during our rebuild, but everything seemed to go without a hitch.  Well done ladies!
Friday 14th November 2014
An exciting picnic lunch for our last day as we know it with a kitchen!  The children were excited to have a dinner with a difference today before our kitchen was packed up and moved to new temporary premises at another local school.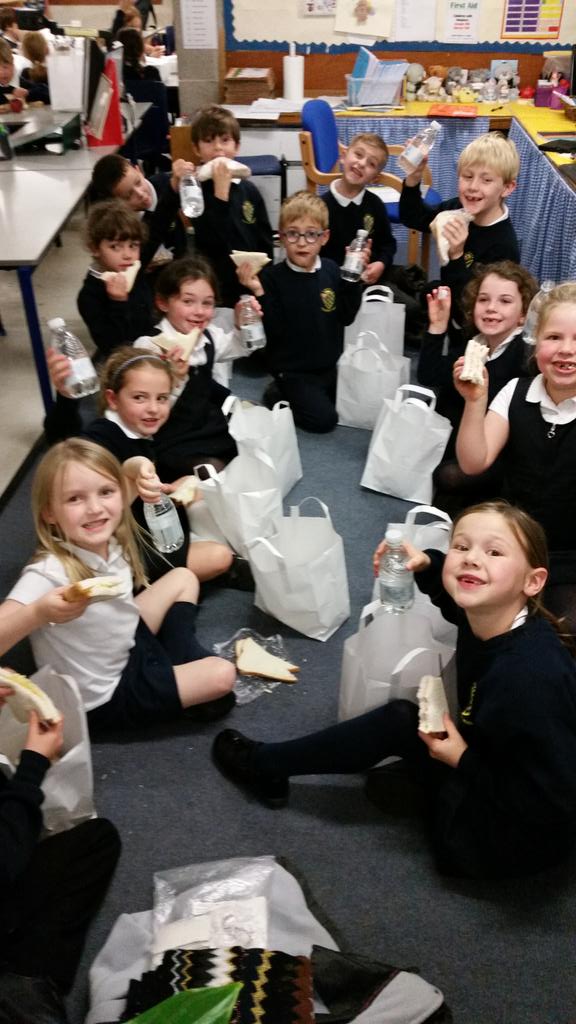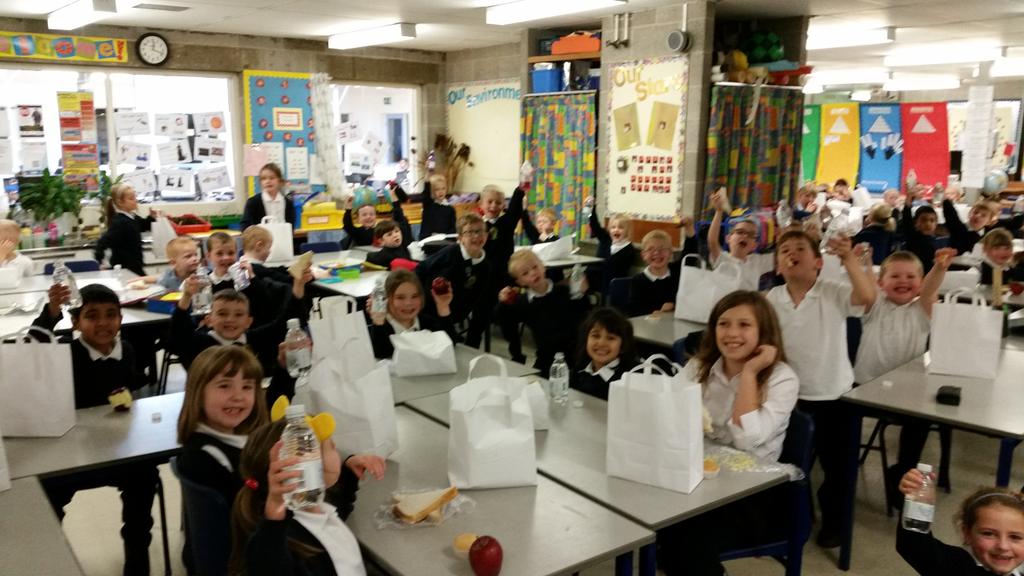 On Monday, lunches will be prepared off site by our cooks, delivered hot to school and then served in our temporary canteen in the third mobile classroom.  Exciting times ahead!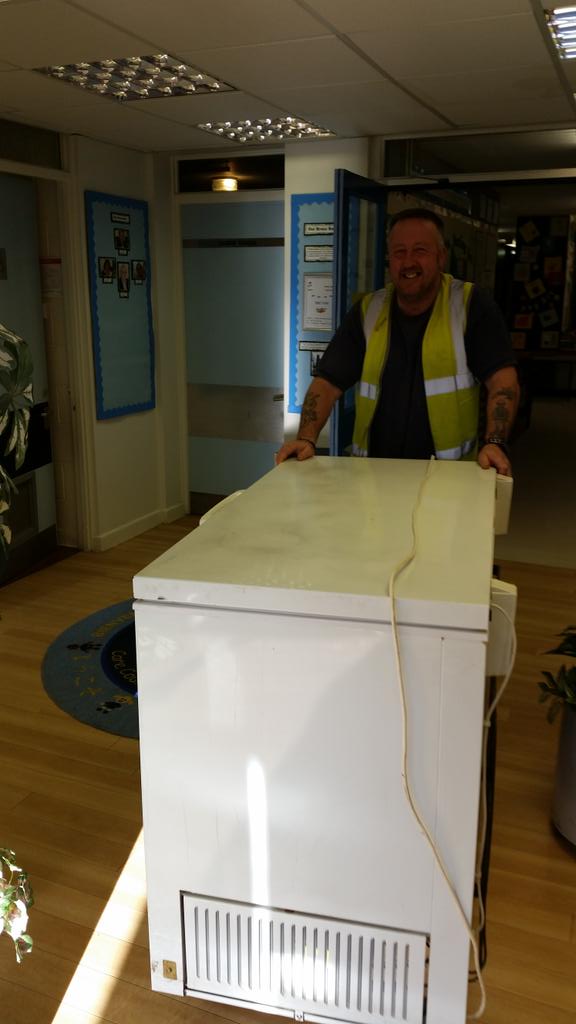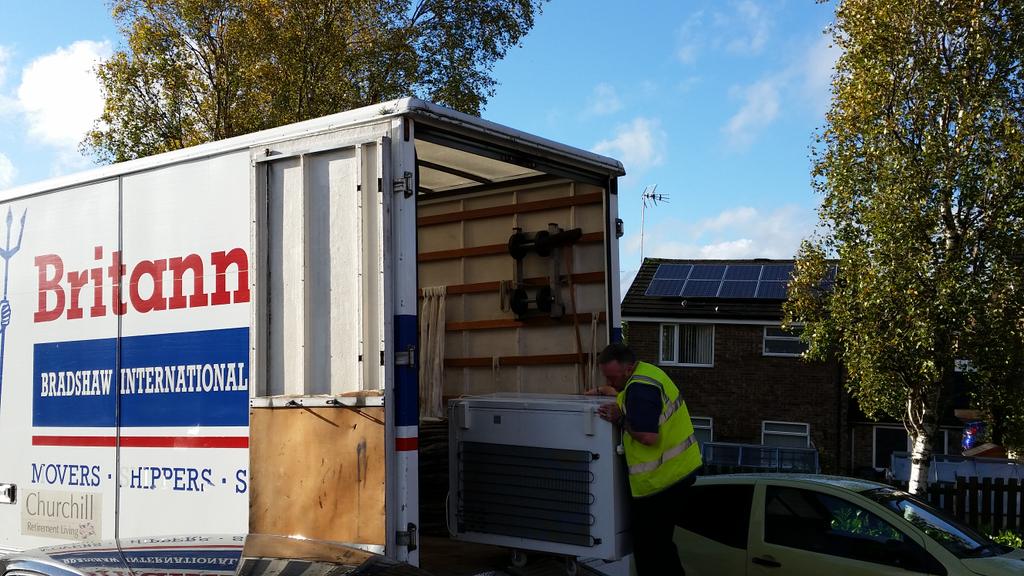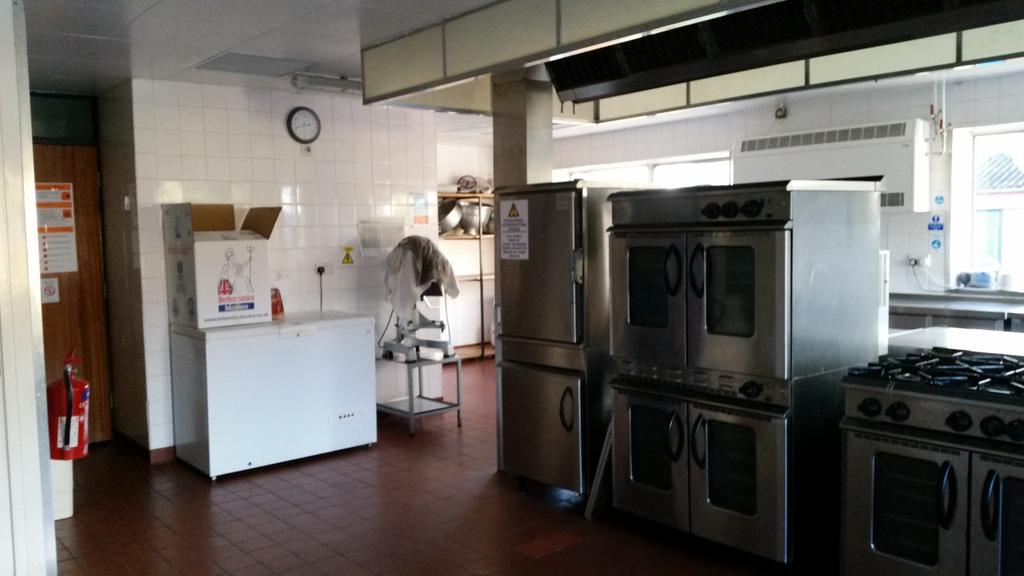 Thursday 13th November 2014
This is what you may remember as being Mrs Broadbent's classroom and Mrs Whittle's old rooms in Reception.  They are currently a storage area until our new storage containers arrive.  Hours of time for staff have gone into sorting and packing away belongings and resources in readiness for our move.  This has all happened down to the good will and team spirit here in school, as staff have given their own time to help co-ordinate this vital preparation work.  They are all so amazing and true testament to our motto of 'Care, Courtesy and Consideration'.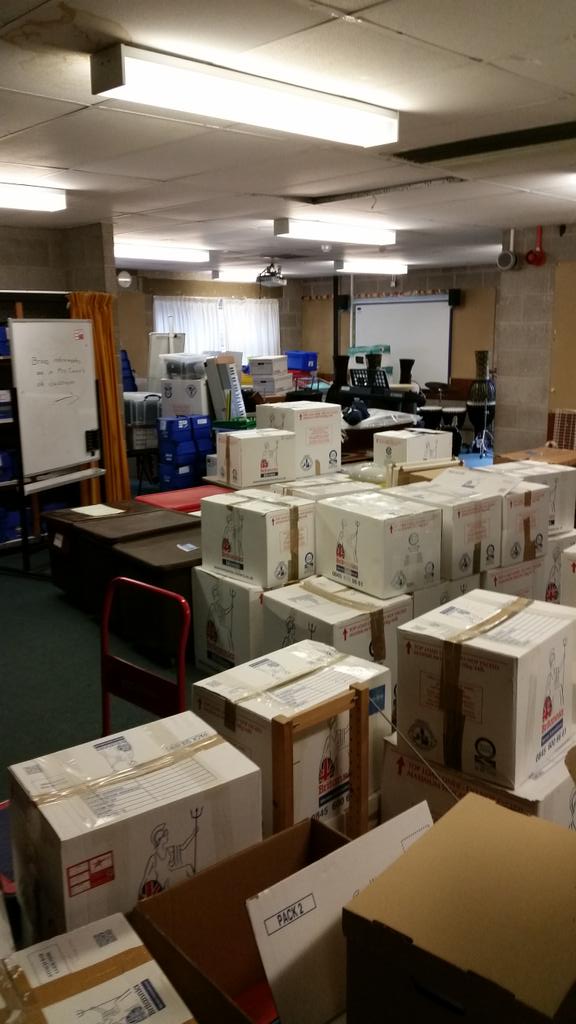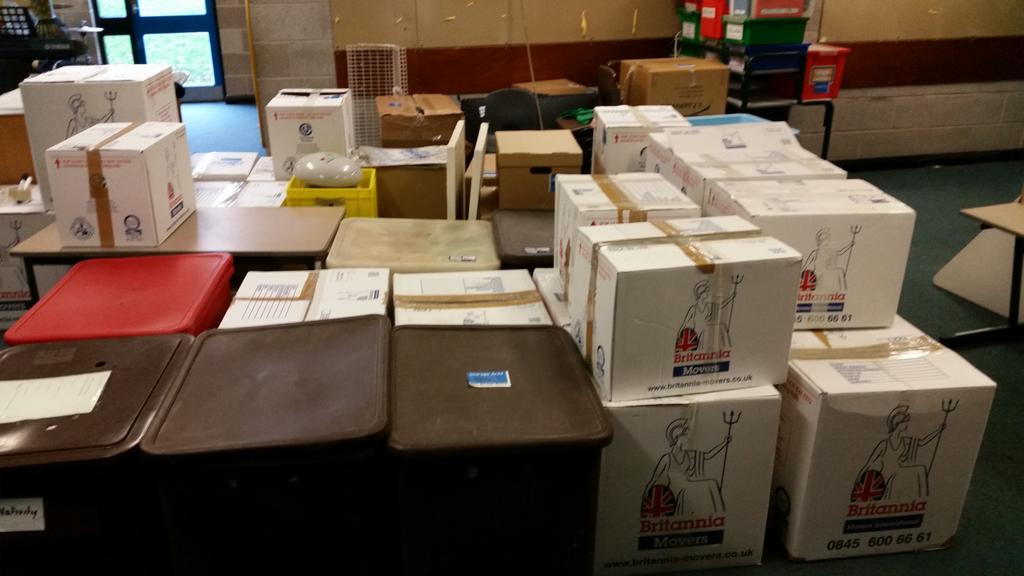 Wednesday 12th November 2014
And so this is where we are up to with our move!  The library is emptied, packed away, boxed up and in its new temporary home in the third mobile classroom.  This area of school is still currently used as a cut through for children going to and from classes, but very soon, this will be no more as it will be part of the demolished section of school.  Many thanks to staff and parents who have given up their time to pack, sort and move boxes already.  This was no small job to undertake and that is just one room!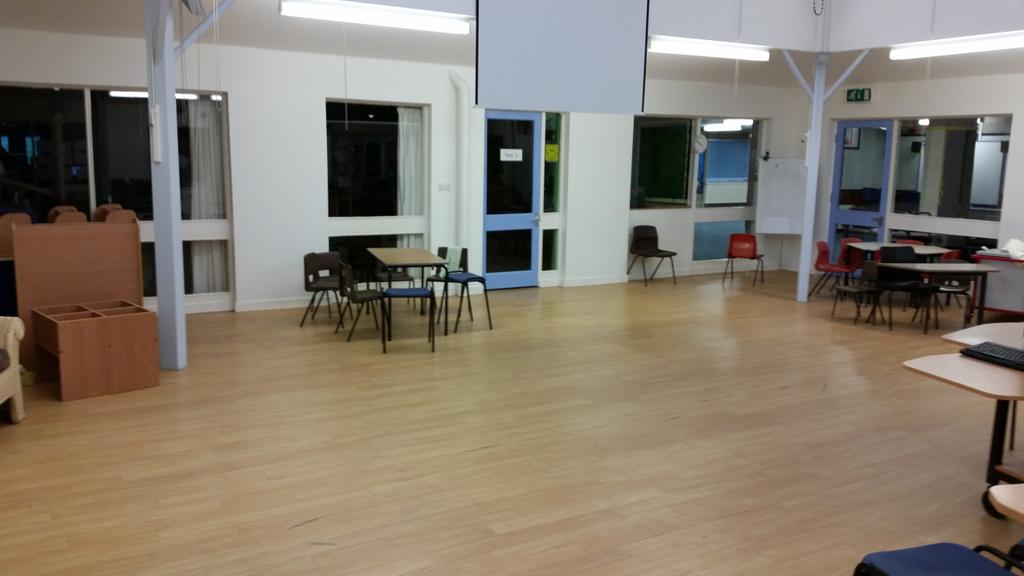 Tuesday 11th November 2014
Another day of lesson observations and looking at how our children learn to read, whichever year group they are in.  I have now seen lessons in Year 5, 2, 1 and Reception and I am absolutely thrilled to see how much the children enjoy their reading sessions with their teacher.  Each child in school works in a small group with their teacher, reading a book and discussing the features of the book and the story.  The children have a warmth when they talk about how these sessions work and truly enjoy this special time working closely with their teacher.  It is wonderful for me to see how the children progress with their skills throughout school and how well they respond to the tasks asked of them.  I look forward to spending the rest of the week in other classes too.  Ask your child if I have been into their class and if I have, asked them what we talked about!
Monday 10th November 2014
This week, I am around and about school performing lesson observations in all the classes.  This is all part of the quality assurance that we all go through as professionals to ensure that we provide a high quality education to your children.  Our focus for these this term is that of reading.  This is one of our key priorities this year which can be found on our School Development Plan, under the curriculum tab on the school website.  This outlines our intentions for the forthcoming year in terms of curriculum provision, Early Years, assessment, Special Education Needs provision, Able, Gifted and Talented provision, Teaching and Learning, Professional Development, along with buildings and maintenance, budget and finance and other areas that you may or may not realise go into the running of a school.  All the staff have an area of responsibility and so share in the writing of this plan.  This is then wholly shared as a full staff as we then take the corporate approach to the achievement of the goals we have set out.  If you are interested, please take the time to have a look at it and see all of our exciting plans for the year.
Friday 7th November 2014
Sometimes, a picture speaks a thousand words…So here is Dressing Up Day in Reception. I will let the pictures do the talking!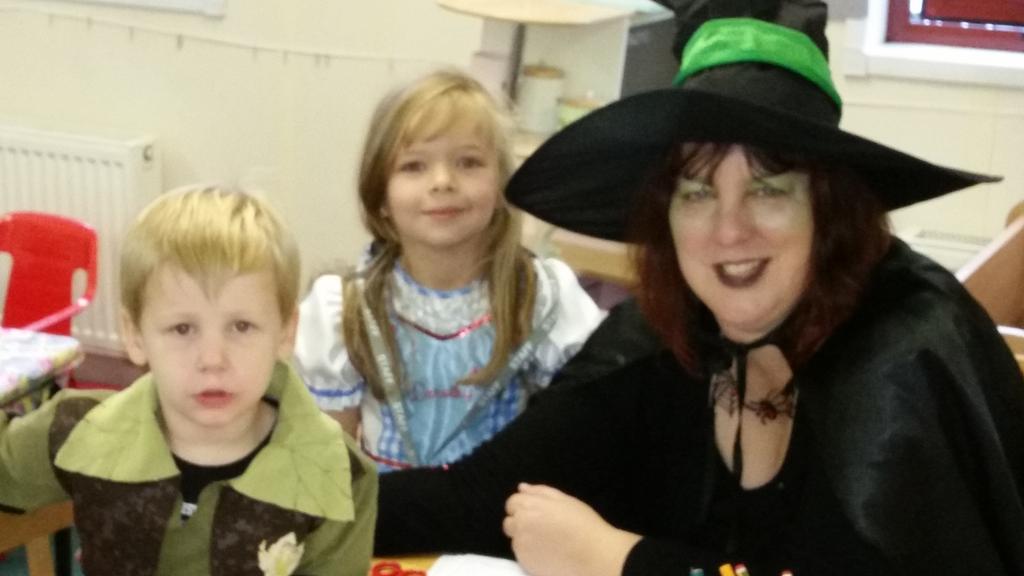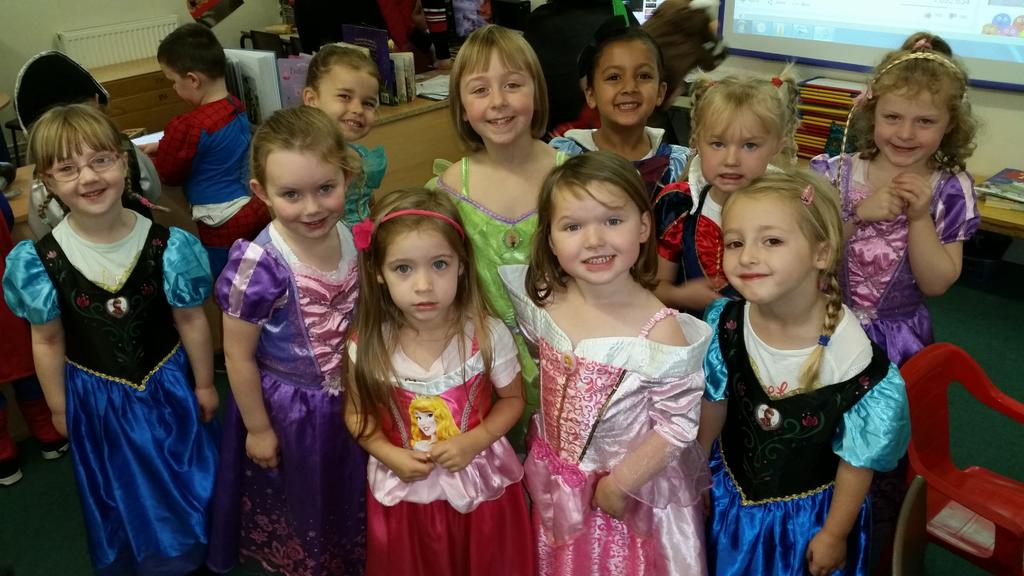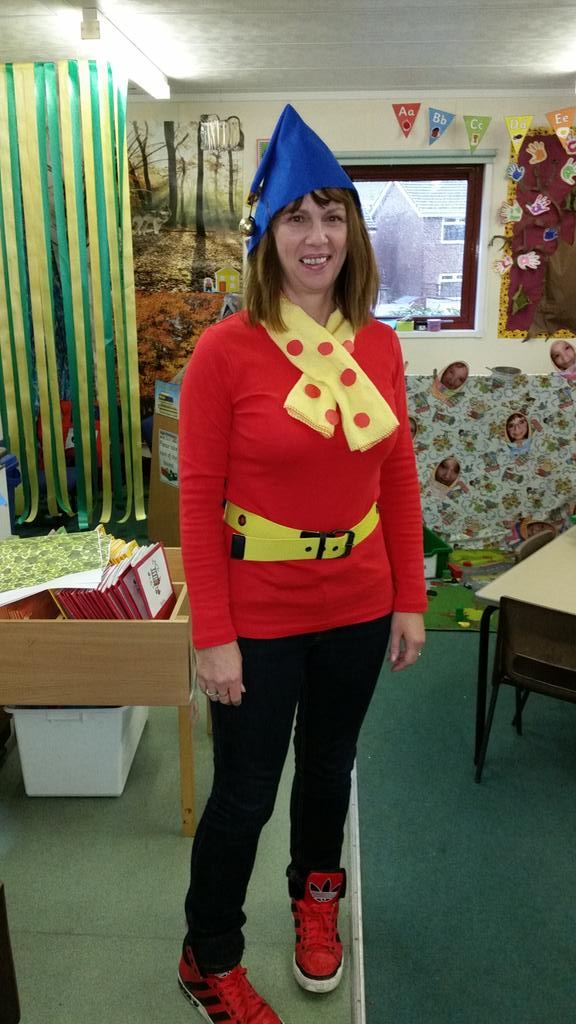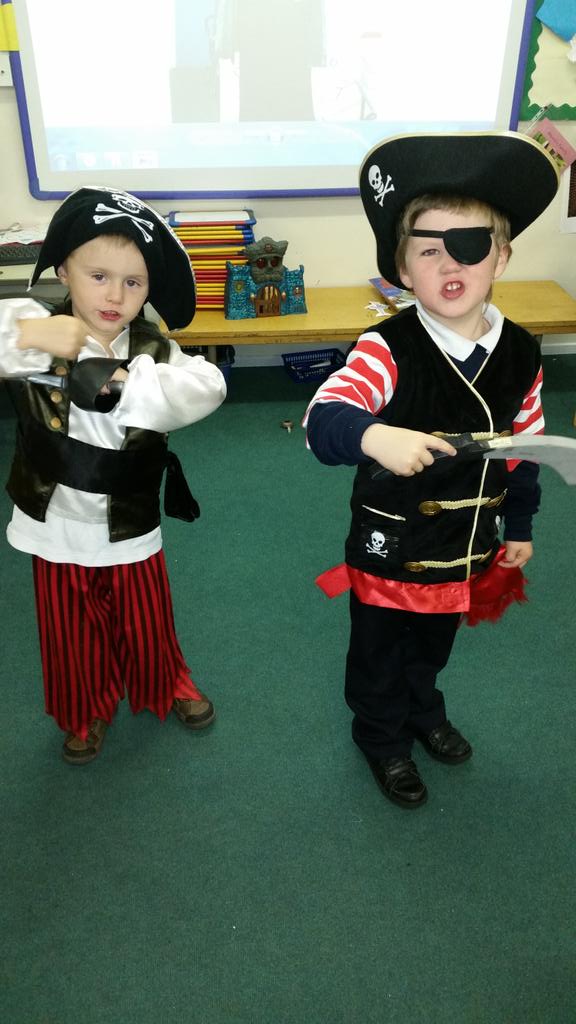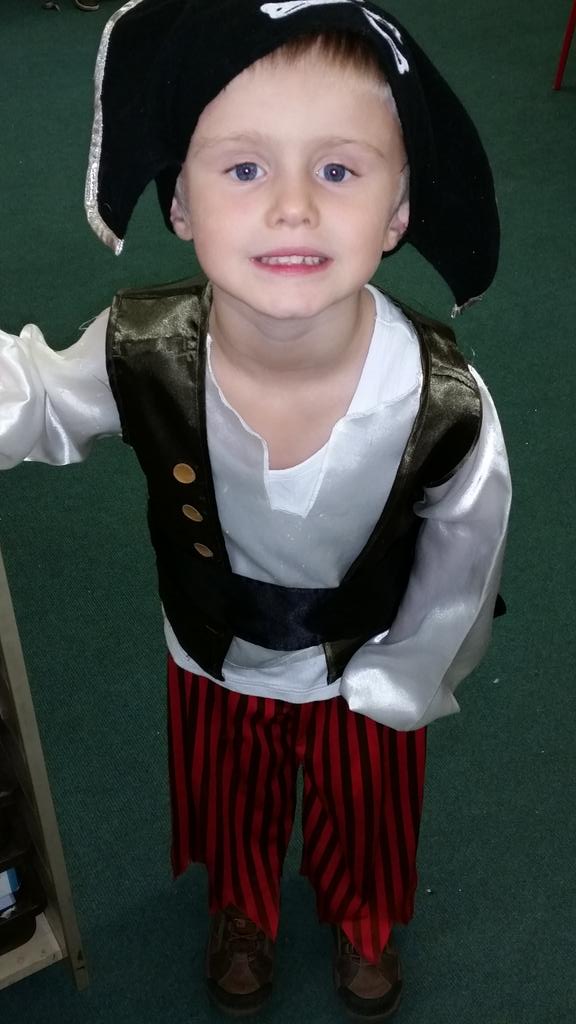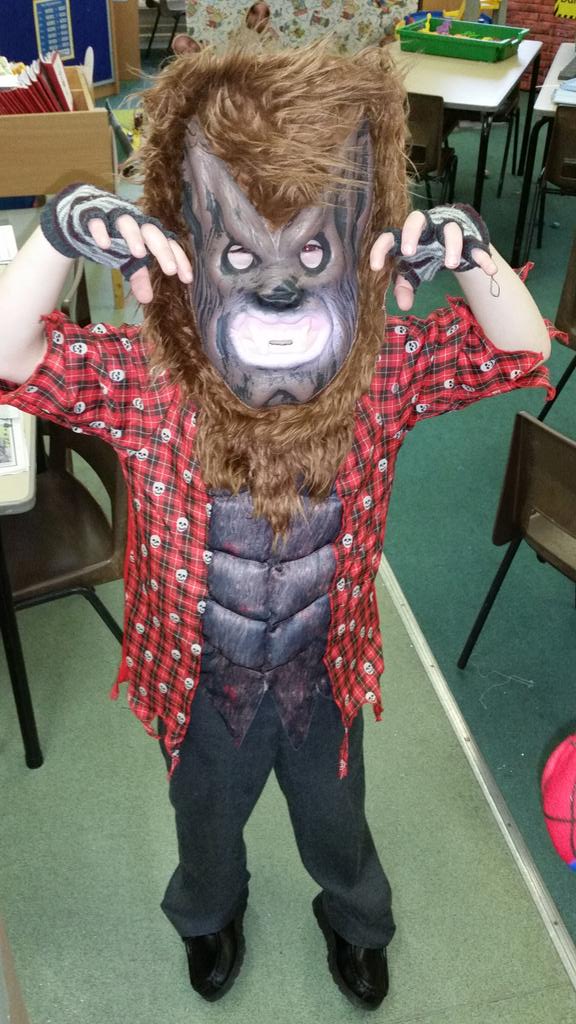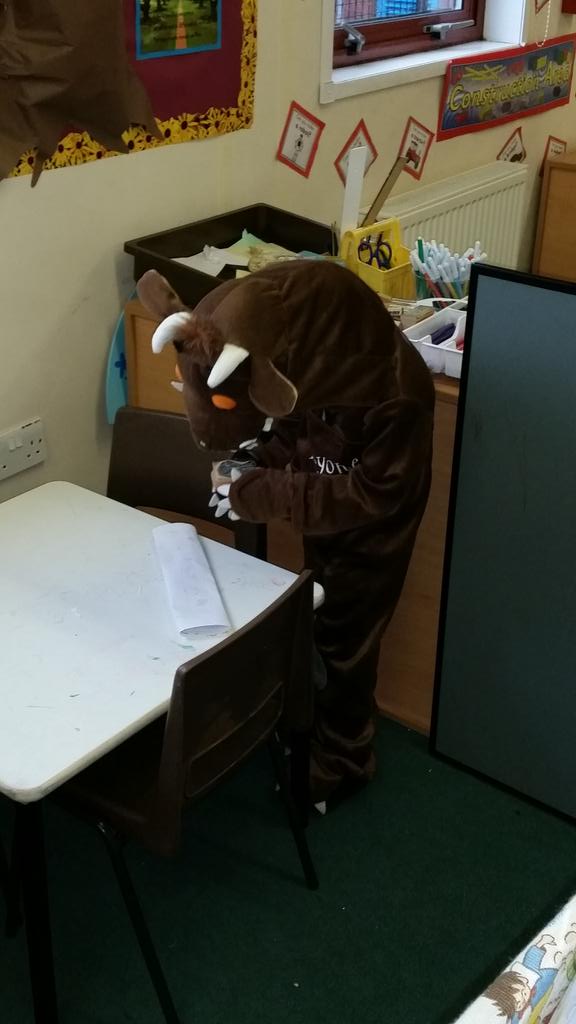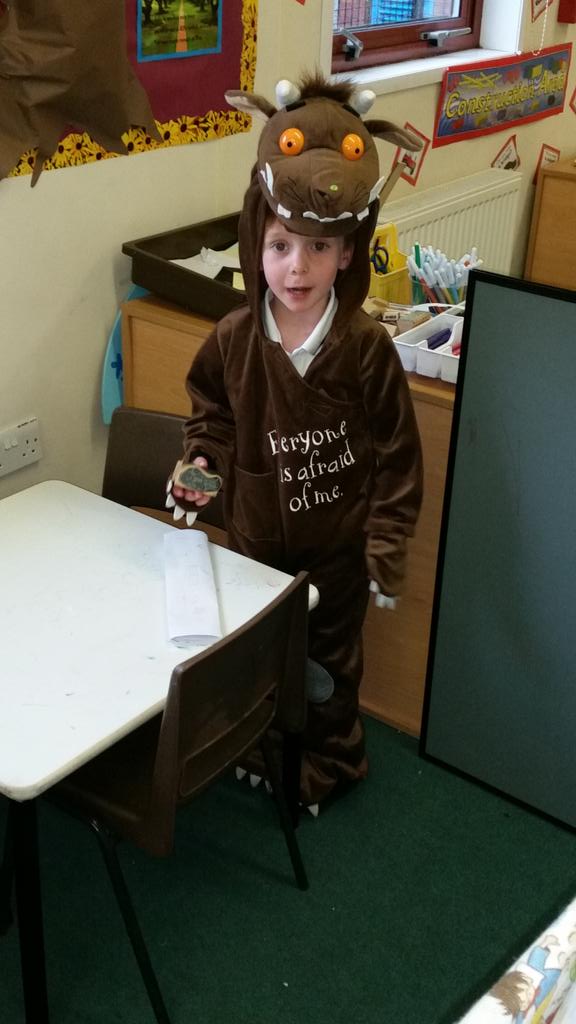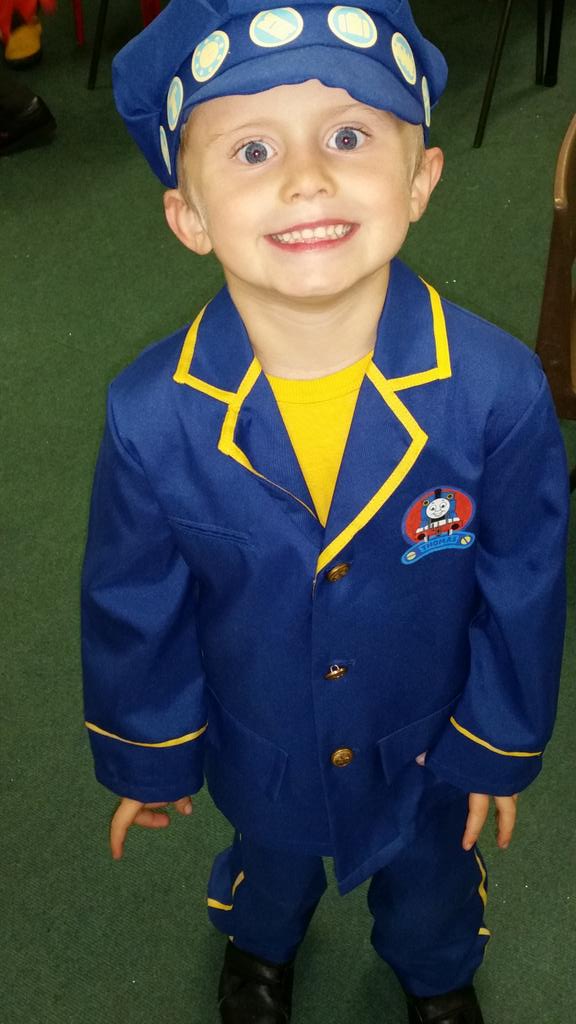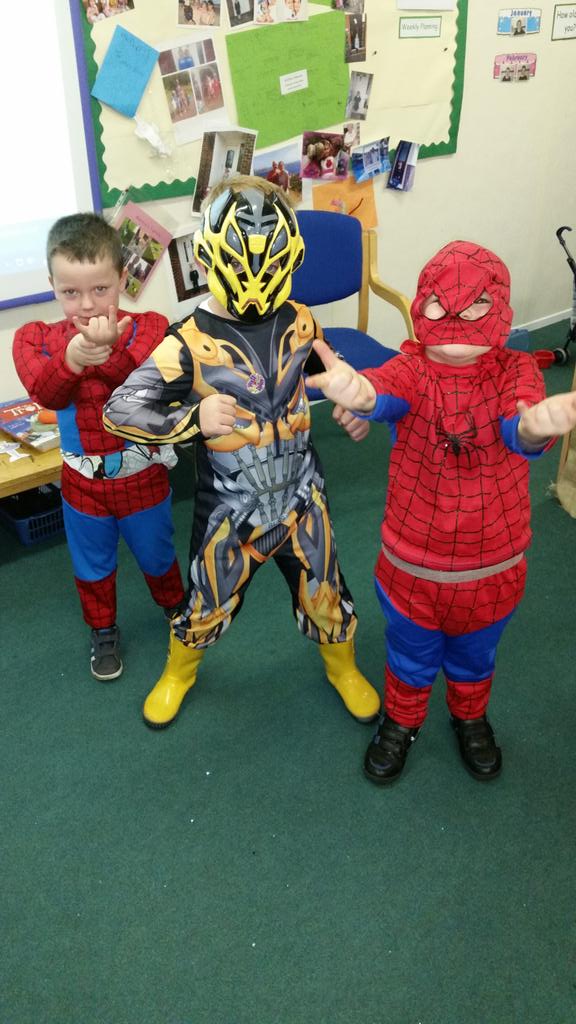 Thursday 6th November 2014
Today saw some major excitement at home time…two 'demolition experts' arrived at school to see the job before them!  As I keep on reminding the staff, the bulldozers are imminent!  Sad to see the old school as we know it about to change but so very exciting for the future!
Wednesday 5th November 2014
Remember, remember the Fifth of November!  A very exciting day for most children (and some adults too!) but also a day where we remind the children to play safe but stay safe.  Our Year 6 children were visited today by GM Fire and Rescue Service today.  Fire Fighters talked to the children about keeping safe near bonfires and fireworks.  They also discussed safety measures such as 'Stop, Drop, Roll'.  Ask your child what this was about…see if they were listening! There was also an opportunity to dress up in the protective clothing that the Fire Fighters use each day.  I think Jude quite enjoyed himself!
Stay safe everyone!
Tuesday 4th November 2014
What a wonderful day today has been.  Sharing in the excitement of each class and their learning has been lovely.  Reception are looking forward to their 'Dressing Up Day' on Friday and I am looking forward to seeing Spiderman, Woody and several Aurora's as they arrive.  The children are adapting beautifully to our changing circumstances and yet again it is credit to them for their resilience that not one bit of this building project seems to be phasing them, exactly as it should be.  It was also wonderful to see so many of our Reception parents stay this morning for their 'Stay and Read' session.  The children were buzzing with excitement that their mums, dads or grandparents had been able to stay in their classroom.
If you weren't able to stay today, do not worry.  This will happen each Tuesday from 9 until  9:30am.  Hope to see you there.
Monday 3rd November 2014
Welcome back everyone!  After a day back, it is like we have never been away!  Having just done my 'rounds' to see how everyone is, I couldn't help but smile at one of our Reception children who was on the verge of nodding off!  It was 2:30pm so I am sure it was nothing more than an afternoon nap!  It's so tricky getting back into a routine sometimes! For all of our Infant Parents, please note the date Tuesday 16th December and keep it free…we have a letter with our exciting Christmas plans on coming your way tomorrow and you will all be pleased to know that CHRISTMAS IS MOST DEFINITELY NOT CANCELLED!
Friday 24th October 2014
What a busy end to our half term it has been!  We have been making the final arrangements to our move which will take place in the forthcoming weeks before Christmas.  Boxes have been packed, then unpacked, then packed again and it has been a real team effort to get us to this point.  However, it is also fair to say that we are all very tired and ready for a holiday.  We wish everyone a happy and healthy holiday and hope to see you all back safely in a week!
Thursday 23rd October 2014
Here are our roving Road Safety Team ready to do their duty for today!  This week they have worked hard with families and children for our school to raise awareness of road safety around our school.  Thank you so much to everyone who has shown them support outside, taking a leaflet from them or listening to their words of advice.  It is to protect all of your children and in working together, we can hopefully help the area around school to become a safer place.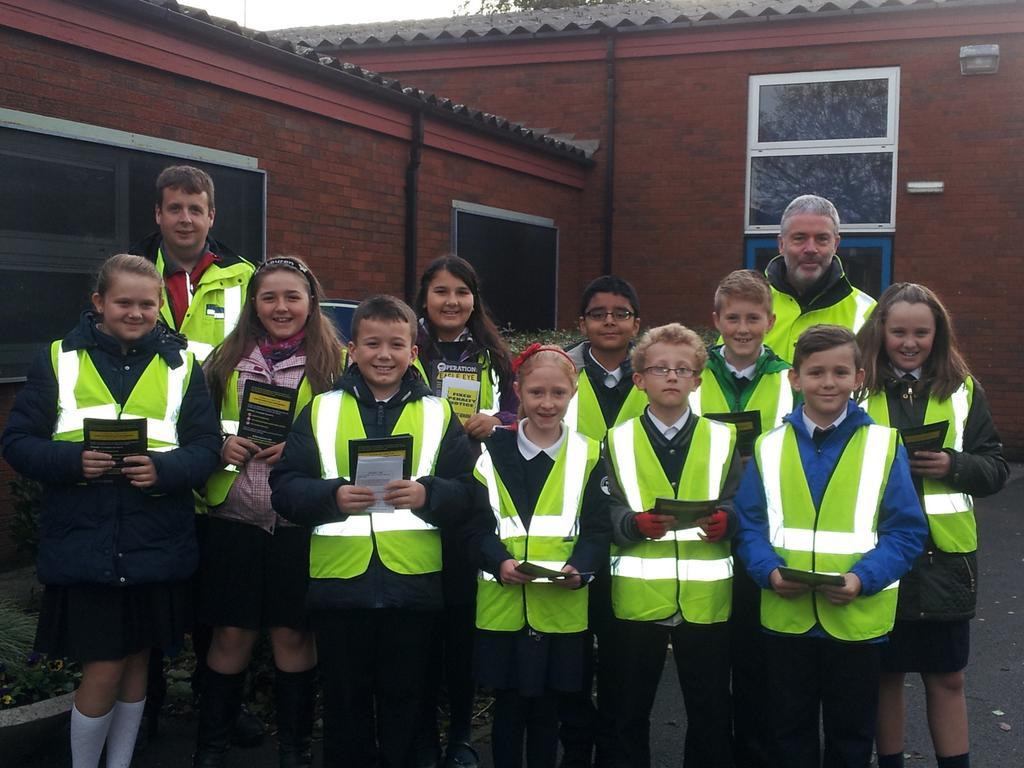 Wednesday 22nd October 2014
Operation Eagle Eye began today.  Our long awaited Road safety initiative in conjunction with Stockport Council, to show our commitment to making the roads around school safer for the children who come to Warren Wood and their families.  Our team were also supported by the local police and gave out leaflets to raise awareness of how and where to park safely.  Our team of road safety children thoroughly enjoyed their experience and the responsibility and the road safety team from Stockport reported that they were an 'absolute credit to the school'.  Well done to all concerned so far!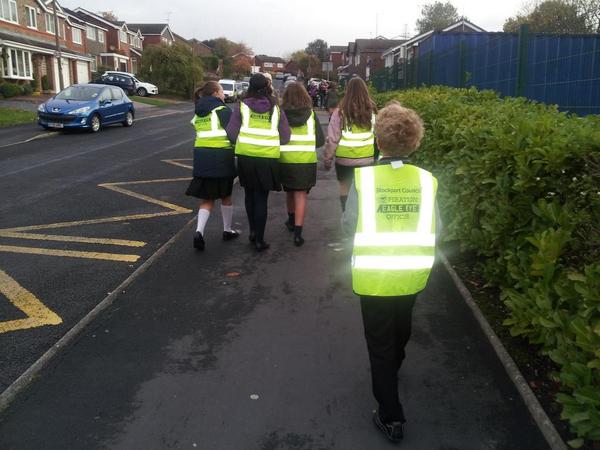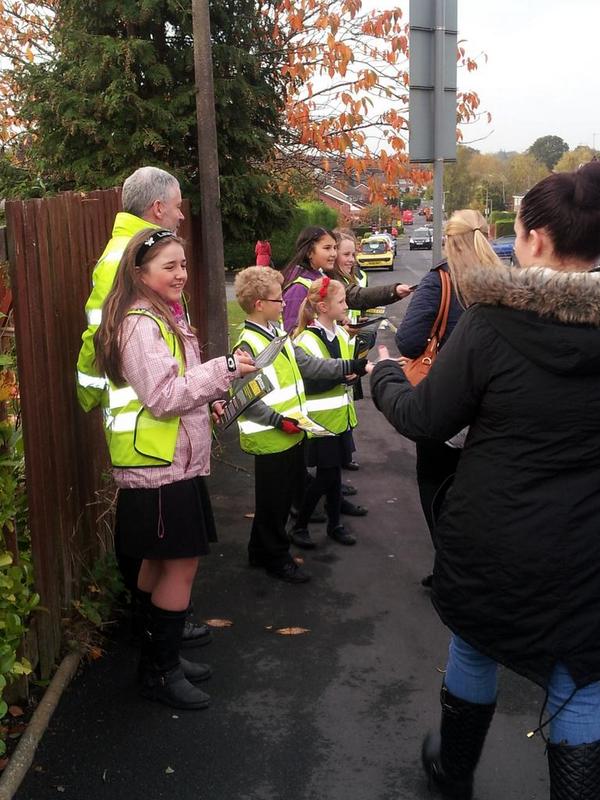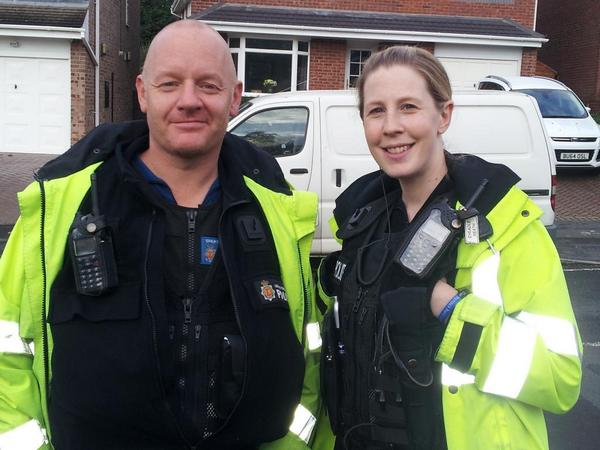 Tuesday 21st October 2014
The building may be about to be knocked down, but it is very much 'business as usual' in school.  Children in Year 6 are continuing the tradition of making Christmas cakes fit for their families to enjoy over the festive period.  A big thank you must go to our army of helpers – Parents and Grandparents, who have taken the time to come in and help with the mammoth task!  We could not do it without you!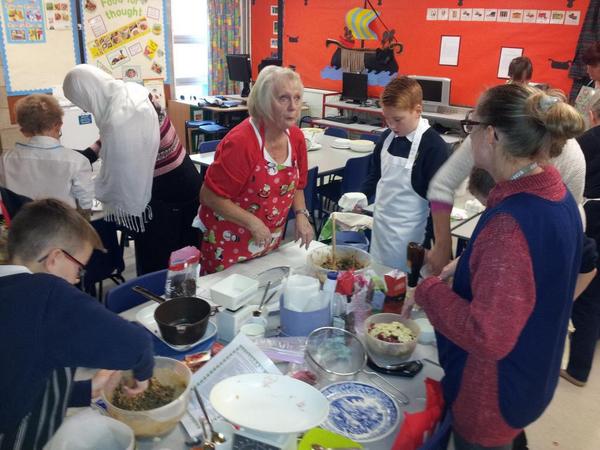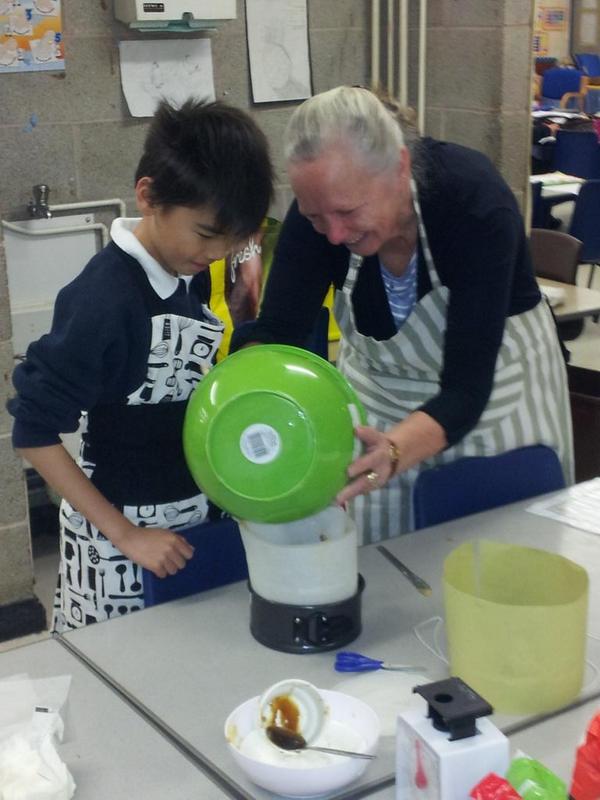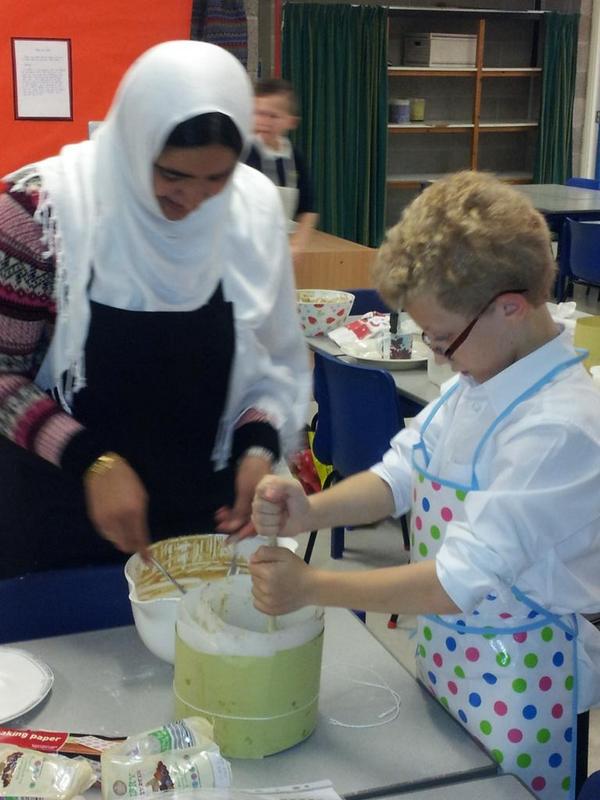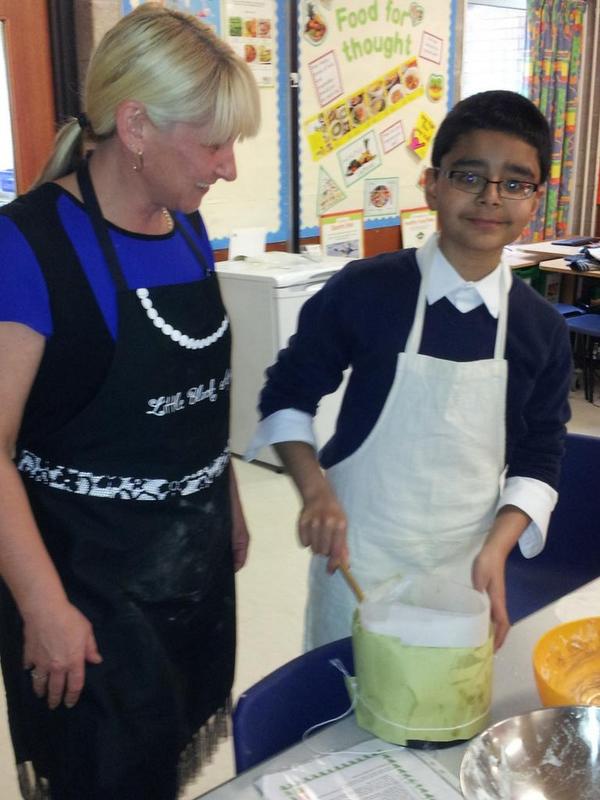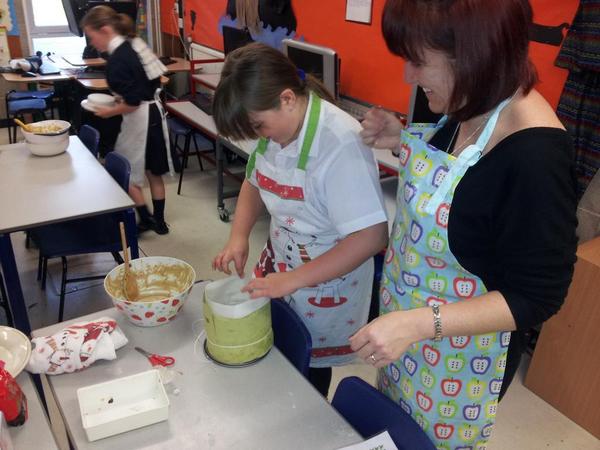 Monday 20th October 2014
Finally!  All of our infants are back together in our mobile classrooms.  Here is the first view of the newest addition to the temporary mobiles, but they are already proving to be a real 'home from home'.  The children have settled into them beautifully and it is credit to them that they have taken all of the excitement in their stride and with minimum disruption.  I just now need to remember to take an umbrella with me when I visit them!   You never can be too sure when our weather will change!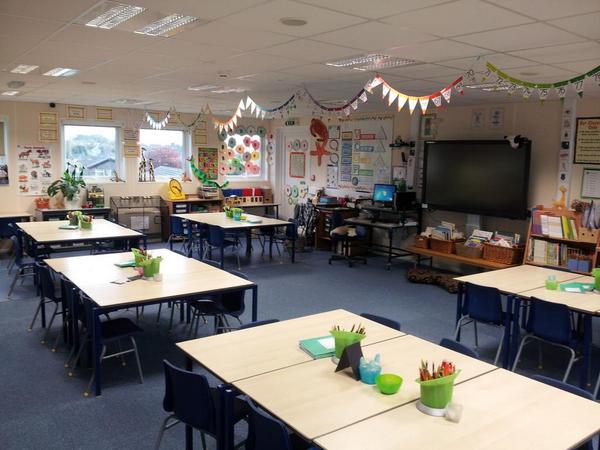 Friday 17th October 2014
Today is the final day that Year 2 will work in the old school building.  They have very patiently waited for their new classroom to take shape and on Monday, they will be able to settle into their new home alongside all of the other infant classes, ready for our new build which will start shortly after the October Half Term holiday.  Exciting times are ahead!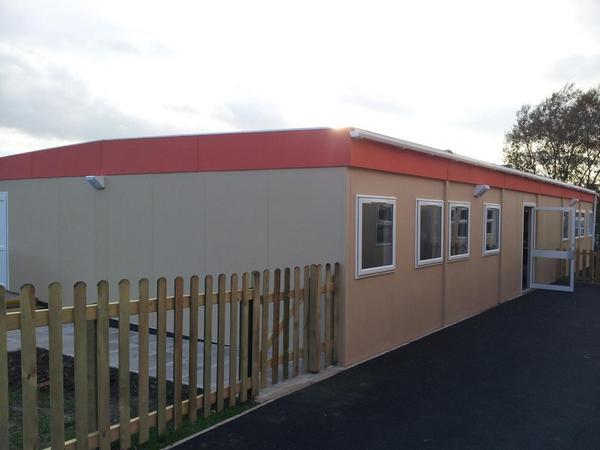 Thursday 16th October 2014
Lots of preparation is going on in school today towards the Road Safety initiative 'Operation Eagle Eye' which is run by Stockport Council and will take place in school next week.  Each year, school has to complete a 'School Travel Plan' which looks at how the school community access school and how we can actively support safety around our school environment.  During next week, all children will have assemblies to discuss road safety issues.  Year 2 will take part in 'Step Outside' which teaches children safety when crossing the road.  Years 4 and 5 will be designing vehicles and safety helmets and some Year 6 pupils will be our 'Eagle Eyes', talking to parents at pick up and drop off times about parking safely, the correct use of mobile phones and seat belts when driving and the 'park and stride' initiative.  Thank you to everyone who has walked in some way to school over the last few weeks.  This maybe in the park and stride scheme, using the Harvester car park, or maybe from slightly further afield.  We know how busy you are and how precious time is and we appreciate any efforts you have made to support this initiative.  Children in Years 1, 3 and Reception won't miss out either.  We have lots of other chances throughout the year to revisit these things to make sure we keep our children safe.
Wednesday 15th October 2014
As we head towards half term, we have already have an ever increasing pile of lost property items.  These are largely unnamed and surprisingly, lots of them are fairly new.  We do our very best to ensure that these items are returned to their rightful owners but it can prove to be tricky when 50 jumpers are all the same but are not named.  Could you pleased try to make sure that you write your child's name on the labels of any items of clothing that come into school.
Tuesday 14th October 2014
As I went on 'my rounds' today to see what the classes were learning, I was thrilled to see just how engaged the children in each class were – Year 5 were buzzing with mathematical facts about how to find the product of a number…Year 1 and 2 were dividing by sharing numbers to 20, but were also able to explain to me that they had learnt 'big, grown up words' like 'adjective' and 'noun' in English too…Years 3 and 4 were mid flow in a PE lesson, making symmetrical shapes!  In each lesson, children were engaged, smiling, happy and learning in an enjoyable way.  Ask your child what they enjoyed about school today and see if these lessons are mentioned!
Monday 13th October 2014
School photographs today!  For some, it is the very first time they shall have a school photograph and a magical moment for all parents and grandparents to see their child or grandchild's very first school photo!  For others, a final chance for their child to be photographed in their primary school uniform before they move to high school.  In between, it is always lovely to see children having their pictures taken in family groups and seeing that moment captured is truly special.  The finished results should be back in school soon and will be ready to order and receive back in time for Christmas!
Friday 10th October 2014
Over the past few weeks, children throughout school have been taking part in a 'Skip – a – Thon'.  This has been in aid of the British Heart Foundation and lots of children have collected sponsor money for this worthwhile cause.  At lunchtimes, children have been skipping on their own, with friends, in groups, having races or just having fun with skipping.  This has raised interest and support for the charity as well as being a fun and healthy activity for the children to take part in.  Due to the interest levels, this will take another week to finish but all children will then have taken part. Alongside this kindness, was a most personal message from a child in our Year 1 class.  She brought her sponsor form to show me the amount of money that she had raised – £123! However, more importantly, she brought me a letter that she had written to explain why she felt that this was so important to her.  These pictures are below.  They speak more than a thousand words can.
Thursday 9th October 2014
Thank you so much to our wonderful Infant children for their superb Harvest Service today.  They sang their songs beautifully and remembered their lines brilliantly.  It is hard to believe that our Reception children have only been in school for 5 weeks too !  Well done to all of you. After the harvest, volunteers from The Wellspring in Stockport came to collect all of the harvest donations that you provided.  The large hatchback vehicle which they sent to collect was completely full of food, blankets, clothing and good wishes and they were truly grateful for our kind donations.  Pictured with the volunteers are Jake, Oliver and Adam who helped to organise the collection.
Wednesday 8th October 2014
Harvest collection day today and all I can say is THANK YOU!  Yet again, your generosity knows no bounds and we are sure that our selected charity, The Wellspring, will be grateful of all of the donated food items.  In addition to those items, thank you for the added extra this year of blankets, jumpers, flasks, towels and layered clothing to contribute towards the 'Rucksack Project'.  If anyone has items they would still like to donate, please bring them to the school hall tomorrow where they will be collected, ready for the charity to collect from us.
Tuesday 7th October 2014
What a miserable rainy day today has been!  We managed to avoid the rain when it came so that we could have some outdoor playtime, but I couldn't help but notice how many children did not have their outdoor coats with them.  With the weather beginning to turn now, please make sure that your child has their outdoor coat with them.  As a result of the bad weather, we had to cancel our football matches versus Banks Lane Junior School.  Hopefully we can reschedule soon.
Monday 6th October 2014
Our Monday assembly today embraced the start of 'Walk to School Fortnight', which, given the weather conditions, was hardly the most inspired start we could have had!  We all discussed ways of travelling to school safely including walking, using bikes and scooters and a 'Park and Stride' scheme by parking at The Harvester and walking down to school.  We also took time to think of the busy lifestyles we all have but that more importantly, we need to keep each other safe.  Ask your child what things were talked about today in assembly!
Friday 3rd October 2014
Having just watched our teams take part in the Festival of Sport, I just wanted to share with you the loveliest story I have heard all week.  One child who has taken part over the past few weeks, went home last week, stayed in her kit until bedtime and then even slept in it!  It makes me so proud to think our children are THAT proud to represent their team that they even sleep in their kits!  We may not have won all the matches we have played in but they capture the essence of this school and I am thoroughly proud of each and every one of you. Have a wonderful weekend everyone!
Thursday 2nd October 2014
This week, I have been on the playground each lunchtime to support our Middays in the supervision of children during lunchtime play.  It has been a lovely time for me as I have been able to see the children in a different context from their classrooms.  I have organised some small group games that have shown me how well the children co-operate, join in and enjoy each others company.  I will be outside next week too and I am just hoping that none of us need our coats then either as this week has been glorious!
Wednesday 1st October 2014
October already?  Wow!  Where has the time gone?  All of our Reception children have already completed their first month in school and have settled in brilliantly.  It has been a joy getting to know them all.  Today also marks our last full month with our school as we know it.  Within the next 30 days, we anticipate that work will begin to change our school forever and so staff are spending lots of time after school not only marking work and preparing resources for the next day, but also boxing up their lives, classrooms and shared resources before the fun begins!
Tuesday 30th September 2014
Today I met with our PTA Chairperson.  Our PTA raise lots of money each year through fundraising events such as school fairs, cake sales and school discos, to name but a few.  With the impending building work at school, we are likely to have to change some of our usual events for this year due to the some of the site being unavailable to use.  However, we are looking at ways to still have some events throughout the year, but these may be after school and of course, weather dependent.  There will be a PTA meeting on Wednesday 15th October in the school hall at 5pm.  This is also the week of Parents Evening, so if you are around that night or you are one of our new Reception parents and are keen to play a role in raising funds for school, we would love to see you there.  Funds raised are going to pay for new Library – a beautiful and valuable resource for school for many years tio come that all of your children will use.
Monday 29th September 2014
Every Monday, I take a whole school assembly.  Each week has a different theme which has a moral message for the children to think about.  Our assembly today was all about 'Responsibility' – Taking responsibility for your own actions and showing respect to others at all times.  It is something we encourage in all that we do in school.  Ask your children about the story of 'The Monkey King and the Bridge'.  See if they are able to remember the story and the message it gives!
Friday 26th September 2014
Today was our 'Festival of Sport' again – our team took great pride in playing for school and truly entered into the spirit of being a team player!  I am proud of every single person who took part this week and last week, regardless of any results.  What you all showed was a commitment to the cause – you showed great sportsmanship, a hard work ethic, respect for all and an enjoyment of the games you were involved in.  You are everything that we stand for at Warren Wood.  Well done!
Thursday 25th September 2014
Today we had a visit from our school advisor.  He is new to our school but has worked in Stockport as a Headteacher at another school for a long time.  It is his job to come and look at our school results, the new curriculum, the work we do in class and other school wide issues.  He had a guided tour of our school and met each class and staff member to gain a feel for our school.  He was very complimentary about the atmosphere in each room and how hard working the children all were.  We see this every day, but it is lovely for visitors to comment on this too.
Wednesday 24th September 2014
Today saw another important meeting about our new building.  The final touches are being put into the mobile classroom now which means Mrs Cowie's class will soon be able to move in.  We are awaiting a meeting with our contractors over the next few weeks and then hopefully the demolition of the old infant department will take place at the end of October!  Watch this space for more details.
Tuesday 23rd September 2014
What a wonderful day Years 1 and 2 have had at the farm today!  All the children were buzzing with excitement as they piled onto the coach in the morning and apparently had 'the best day ever' whilst visiting Stockley Farm.  It seems that the high point of the excitement was when the baby goats 'escaped' from their feeding shed but Mrs Taylor bravely managed to do her very own brand of 'goat herding' in order to round up the goats.  This is a thought we could bear in mind if we decide to have any animals after our rebuild!!!
Monday 22nd September 2014
On Friday, our team for the Festival of Sport had the most wonderful time playing in a football 'round robin' tournament against children from All Saints Primary in Marple and Mellor Primary school.  They played two games, losing 3-0 to Marple and beating All Saints 3-1.  In between these games, the children had a coaching session with Cheshire  Primary Coaches where they learnt passing and dodging techniques to help with their game.  All the children reported the fun they had, how they liked making some new friends and that they even bumped into some familiar faces too.  The highlight was apparently 'free biscuits and drinks'!  We look forward to hosting this event again on Friday, but this time for visiting schools.
Friday 19th September 2014
Today sees the first event in our 'Festival of Sport'.  This is a new initiative that we are proud to be hosting over the coming weeks on Friday afternoons after school.  Our sports coaches 'Cheshire Primary Coaches' are running the event for us which is an inter-school sports event for local schools from the Marple, Romiley and Offerton areas.  Primarily, a mixed team of 10 children from Years 4, 5 and 6 will represent school.  It gives our children a chance to mix with other local children, making new links and bonds whilst having fun at the same time.  The aim of the game is fun, team work, strengthening our community and making friends.  If we happen to win too, then that will be an added bonus!  We'll let you know the results on Monday.  Have a lovely weekend everyone!
Thursday 18th September 2014
Each morning we see just how busy it gets at the front of school at pick up and drop off times.  We appreciate how hectic it can be and are working closely with the local council and residents to ensure that we are safe and respectful to everyone at these times.  Our long awaited 'Operation Eagle Eye' will be beginning in October and we are hopeful that we can reduce traffic around the immediate vicinity of school.  An information leaflet will be heading your way soon.  Please look out for this in your child's bag and on the 'Letters' tab on the website too.
Wednesday 17th September 2014
A busy day for the teachers who have been making plans for the coming year.  We have begun to write what's know as our 'School Development Plan'.  This means that we look at the things we accomplished last year, the areas we want to develop further this year, whilst building for the future too.  When this is finalised over the next few weeks, you will be able to find it published on our school website.  It is just another way you can share in our journey of change and look forward to the future with us.
Tuesday 16th September 2014
Just when you thought the children couldn't be any more dedicated to their school work, they decide to stay for more after home time!  This was for the Year 5 and 6 children who wanted a quiet place to work and some support from their teachers in completing their homework.  I was thrilled to see 50 or our 77 upper juniors who chose to stay behind.  Well done all of you, and thanks to mums and dads too for being so supportive of this new initiative!
Monday 15th September 2014
Another busy day on both sides of the building – in class, children came in ready and settled for the start of their school week.  Well done everyone.  Our Reception children all came in together for the first time too.  They are so settled already and I had a lovely chat with some children who were painting.  I was also treated to an impromptu performance of a Katy Perry song from a very confident little girl too! In terms of the building, the final mobile is coming along a treat and is looking like it will be finished very soon.  As you know, these are temporary classrooms that will house children during the course of the rebuild.  Apart from the actual placing of the mobile on site, they have to undergo stringent planning, testing and securing to ensure that all the features of each mobile are safe for use.  This includes plumbing in new toilets, providing heat and light, not to mention the normal classroom provision of whiteboards, sink areas, flooring to suit all purposes and that's before we even think about moving the furniture.  It can seem like a long and drawn out purpose, but as those of you who have had any home improvements will know, this can be a big enough job as it is, never mind doing this for 120 children and their staff!  The workmen on site are working closely with school staff to make sure that these mobiles, even though temporary, become a home from home for everyone.
Friday 12th September 2014
Today has been busy and filled with lots of organisational issues, primarily trying to find a venue for our Christmas Nativity performance for the infants.  Although nothing is confirmed yet, we definitely have some positive vibes for the use of a potential venue and once dates have been confirmed, we hope to be able to share this news with you very soon.  I promised you that we wouldn't cancel Christmas! We have also had our first class assembly this week, courtesy of Mrs Eastham's Year 6 class.  This is always my favourite time of the week where we share our work and successes with our Warren Wood Family.  Year 6 treated us to a maths quiz, told us all about their reading partners and some early work on their new topic too.  Ask your child what they found out from today's assembly. Have a lovely weekend, stay safe and we will see you all on Monday morning!
Thursday 11th September 2014
It was lovely to see so many of our Year 1, 2, 3 and 4 parents last night at our Information evenings.  We hope to see lots more of our new Reception parents at 6pm and Year 5 and 6 parents at 7:15 tonight too. We have been most musical today in the lower juniors – Mrs Brealey, Mrs Yates and I could hear bursts of singing from down the corridor of 'Mamma Mia' and to our delight we could see 100 smiling faces singing at the top of the voices on the other side of the hall door.  What a treat!
Wednesday 10th September 2014
What a super, sunny day!  Our Year 1 and 2 children have been enjoying their first PE session this year with our sports coaches.  Elsewhere in school, I have seen Year 3 and 4 using adjectives in sentences, Year 4 using the internet to find a variety of different fairy tales, Year 5 working on their new topic and Year 6 sharing some quality time with their Reception reading partners.  It is one of the most lovely things to see around school – how well the children work and play together, showing their 'care, courtesy and consideration' at all times.  Well done!
Tuesday 9th September 2014
Today has seen lots of visitors connected to our imminent building work.  We have had some more work completed on our temporary mobile classroom and it is shaping up, ready for Year 2 to move into soon.  We have also had a 'demolition expert' visit school this afternoon to check how this job can be carried out safely.  Things are certainly moving on!
Monday 8th September 2014
Today we have been busy settling into our routines throughout school.  Part of our new routine is to be aware of all the changes that are taking place around us in preparation of our rebuild.  Could I please ask all parents to please be mindful of this and to remind their children to behave sensibly around any temporary equipment as this process takes place.  It is our absolute priority to keep everyone safe and we would appreciate your help with this. Teaching staff are also working hard to prepare for Parents Evenings which will take place this week.  These are information evenings for parents that will give you an opportunity to put faces to names for all the staff who will be working with your child and to gather some general information about routines and expectations for the coming year.
 Wednesday: Years 1 and 2 parents will meet in the Hall at 6:00pm
 Years 3 and 4 parents will meet in the Hall at 7:15.
Thursday: Reception parents will meet at 6:00 in the mobile classroom 
Years 5 and 6 parents will meet in the Hall at 7:15pm.
We appreciate how busy you are, especially in the evening with the demands of family life, but it would be lovely to see as many of you as possible.  Each meeting should take less than an hour.
Friday 5th September 2014
Well, that's our first week over! Where has it gone?  It has flown by, but they do say time flies when you are having fun! It has been lovely to see everyone so settled and happy.  It has also been great to see so many of our past pupils this week who have come back to say hello and to show us their brand new high school uniforms.  Enjoy your weekend everyone!
Thursday 4th September 2014
There is a lovely calm and settled atmosphere around school since we came back.  Everybody is getting on brilliantly in their new classrooms with new teachers and new friends.  Lots of work has been taking place to fix up our new mobile classroom too, ready for Mrs Cowie's class to move into very soon.  Did you know, our library and reading books will also be moving into the new mobile too?  Exciting times are ahead for us all!
Wednesday 3rd September 2014
Welcome back to school all of you!  My favourite part of coming back to school is seeing you all today, how much you have grown and how smart you look in your new uniforms.  Mums' and Dads' – I have just visited all the classes and the children are all settled in beautifully like they were never away!  A special welcome too to all of our new Reception children.  We met some of you this morning and we will see the rest of you this afternoon.  It is so lovely to have you at Warren Wood!
Tuesday 2nd September 2014
All the staff spent yesterday learning new things about the work you will be doing this year and spent a lot of time talking and making plans for our exciting new building work to start.  We even took delivery of three big storage containers to put all our things safely into whilst our new school gets built.  Very exciting times!
Monday 1st September 2014
Our first day back at school today…and that's just the staff!  Everyone is in and is busily preparing for our new school year.  We'll see you in a few days time!